Have you ever had dirty shoelaces, along with dirty shoes? How to clean white shoelaces can be challenging to learn without some help. After all, clean shoelaces don't happen by themselves.
By using some laundry detergent and an old toothbrush, you will discover how simple a basic stain remover can be.Once again, your white shoes and white laces will impress your friends.
Did you buy something and get it dirty right away? This article will clean up your problems! As a bonus, this remedy also works on a pillowcase and tennis shoes.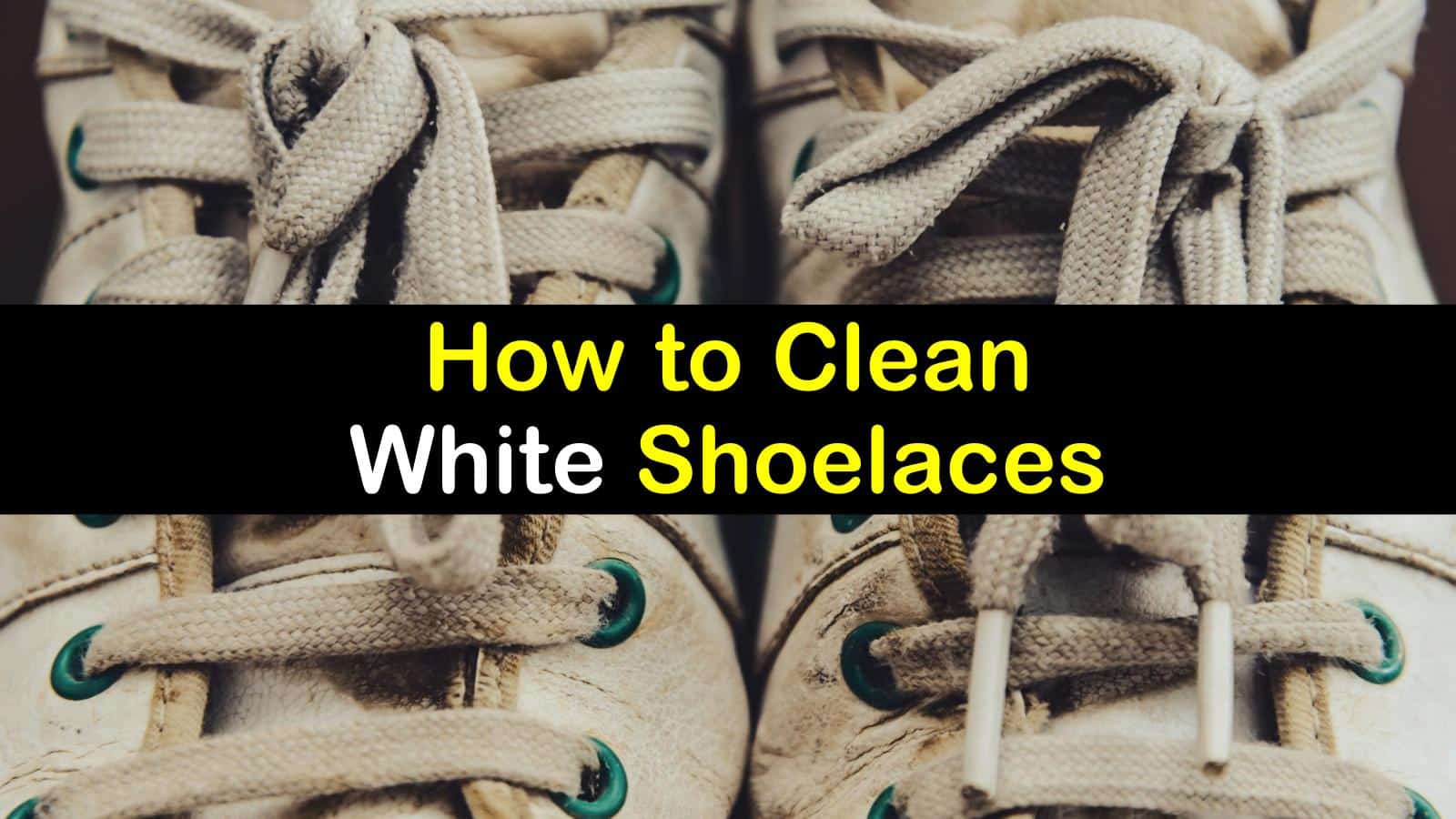 Our Tips for Cleaning White Shoelaces
Our tips follow an easy-to-implement process. Some of these hints are also in our article on how to clean white Converse.The first step is to take the laces out of the shoes while cleaning white Vans.
Clean off the shoe laces with a brush, pre-treat them with a cleaning solution of your choice, and then throw them into the wash in a pillowcase or mesh bag so they don't get lost. After that, you should have sparkling clean shoe laces, along with bright white sneakers.
How to Clean White Shoelaces with a Toothbrush
It's complicated to clean white laces without removing them from the shoes first. Pull them out slowly and carefully – don't damage them any more than we already have. Grab that old toothbrush you have hanging around and lightly brush off all the dirt particles you can.
Do this on paper towels, so you don't have to clean up the dirt later.Unfortunately, how to clean white shoelaces isn't as easy as it may appear. Most tricks, like a Magic Eraser, won't work on the laces because they are not a smooth surface. But don't worry, we have some different tips listed below.
How to Clean Shoe Laces with Bleach and Water
Let's clean white shoelaces with a bleach solution. This mixture will also get rid of the grime in your eyelets too, with a little extra elbow grease.
This shower cleaner is diluted enough not to damage the shoelaces or your white sneakers, and bring them to a glowing white. Use your Clorox mixture to fill a tub or bowl and soak your laces in it for an hour.
Before you put the shoelaces back in your shoes, rinse the laces with cold water and make sure you let them try on some paper towels. We don't want wet shoelaces back in our sneaker.
If that doesn't work, you might need additional help with how to clean shoe laces. You can learn more from this article, how to clean Toms.
Cleaning White Shoe Strings in a Washing Machine
You can't just put white shoelaces in the washing machine. There are too many things that go wrong. You have to be careful when you do it.
You could consider soaking the laces in a hydrogen peroxide solution. After you've soaked them, put the shoelaces in a laundry bag to prevent them from getting stuck in the drum. Run the washing machine and load in the regular detergent, and maybe even a little Clorox.
Your white sneakers' laces should come clean and sparkling white out of the washing machine. Don't throw them in the dryer until you check to see if they are clean. If they are clean, throw the laces on the drying rack in direct sunlight to finish the cleaning process.
How to Clean Shoelaces with Laundry Detergent
Laundry detergent and hand washing DIY tips can also be a big help. This soaking solution will also clean up your laces, leaving them looking brand new.
In this soapy water soaking solution, drop your shoelaces. Whisk them around for a minute, to cover every surface with cleaning products. These instructions are how to clean shoelaces and should be suitable for even white leather shoelaces.
Let them sit for an hour or two. Pick the laces up and rinse them in running water to rinse off the dirt and extra solution. Even the scruffs should be much whiter.
Put the laces in a lingerie bag and throw them in the laundry to get them white again. You should have clean leather shoelaces afterward.If the shoes are not salvageable, you are going to need to know how to get rid of smelly shoes.
How to Get Rid of Dirt with Detergent
All you need for this cleaning solution is dishwasher detergent, baking soda, and a toothbrush for sparkling white shoelaces.
Mix all three ingredients in an old Tupperware container. Make sure your shoelaces are going to fit into it. Soak and whisk them around, making sure every inch of the laces is covered.
Since this recipe is a little less harsh, you may try this with suede shoelaces, too. After an hour, take out the laces and throw them on a drying rack to air dry.
This mixture can also remove gasoline smell from shoes if you accidentally spill a drop or two at the gas station. Add the solution to a small brush or old toothbrush and scrub it into the stain to remove it and the odor.
Not all shoelaces go in tennis shoes. Take care of the laces in your dress shoes, as well. After cleaning the laces, give your leather shoes a nice cleaning and finish with a natural shoe polish to leave them shining and looking like new.
These tips are a comprehensive guide for how to clean white shoelaces. You should remember to not throw them into the wash without putting the laces in a bag, and also remember to pretreat them with a solution. With those two simple steps, you will have a foolproof way to get your shoe laces clean.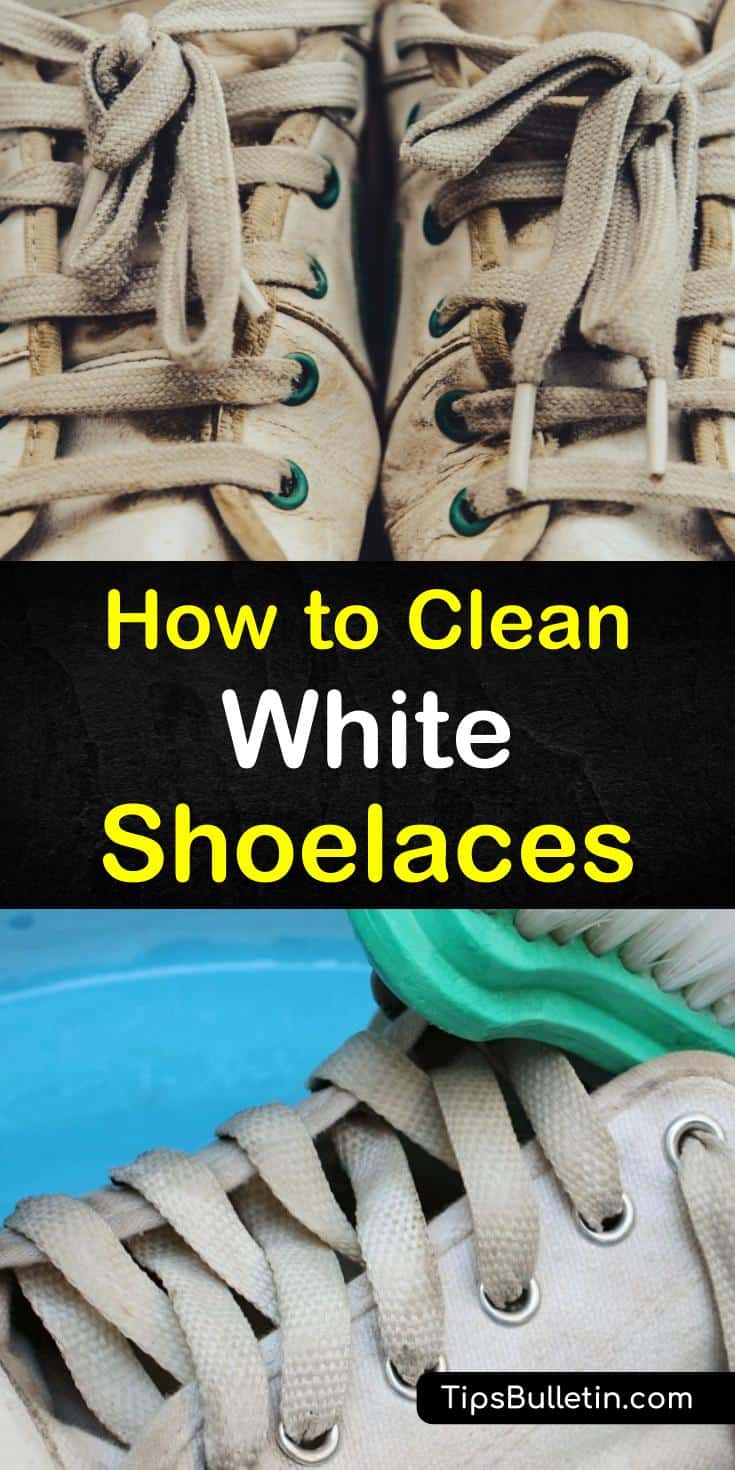 Since how to clean white shoelaces can be a problem, share your new insights about white shoe lace cleaning on Pinterest and Facebook!