White suede shoes are a daring addition to any wardrobe; they're incredibly chic but challenging to keep spotless. Discover how to clean white suede shoes with a few simple suede-care tips and cleaning hacks. Learn how to keep your suede footwear crisp and white for every occasion.
Suede is a soft, pliable leather with a thinner and more fragile texture than full-grain leather. The delicate fabric nap of suede leather requires a bit of care and maintenance to ensure it stays looking luxurious. Unfortunately, you can't simply toss your suede shoes in the washing machine the way you would synthetic or athletic shoes.
Suede leather is at its best with regular care and attention; there are many handy cleaning tools and mixtures for suede leather. It might seem complicated, but cleaning white suede sneakers is super-easy; all you need is some know-how and the right tools.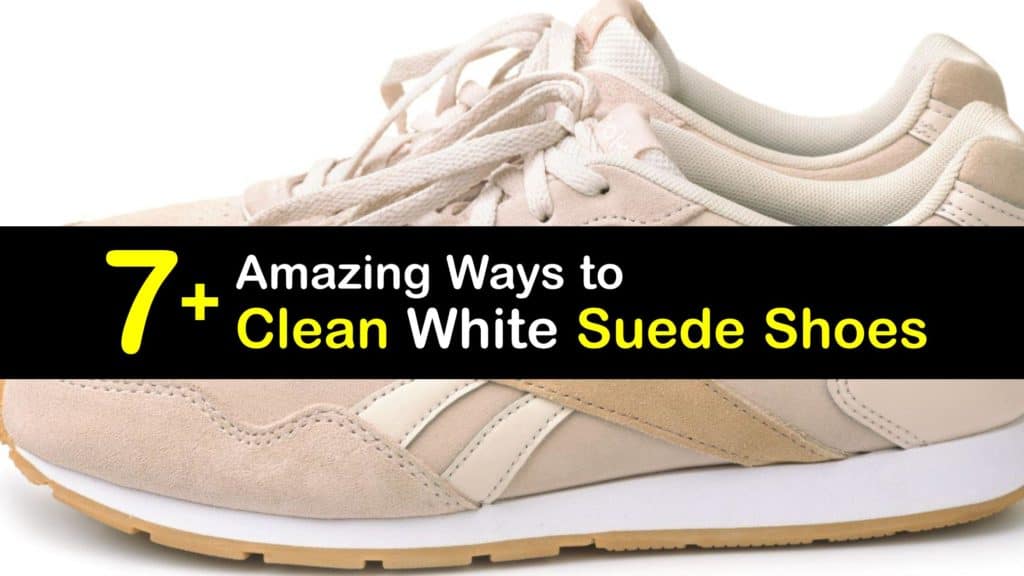 Discover the Best Way to Wash White Suede Sneakers
If you're struggling with dingy white suede or sole yellowing, it's time to up your shoe-care game with these terrific tips. Learn all about the best suede-care and cleaning techniques to refresh your white suede and keep it sparkling for every adventure.
Try a Suede Eraser for White Suede Footwear
A suede eraser might be the answer to all your suede-related problems, and its great for cleaning suede sneakers that are just a bit dirty. These ingenious little gadgets come as a little block of crumbly material that lifts away excess dirt and some tougher stains from suede fibers. Every suede eraser is slightly different, but they're generally under ten dollars and last for ages.
Cleaning white suede sneakers is as simple as a few delicate circles when you have a good suede eraser. While it's tempting to try whatever you have around the house in a pinch, such as a Magic Eraser or a pencil eraser for cleaning suede shoes, it's best to avoid using abrasive materials on fabric shoes that aren't specifically manufactured for that purpose.
Get a Suede Brush for Your Boots
Suede gets its unique feel and texture from the fabric nap. Like a plush, expensive carpet, suede fibers compress regularly and require fluffing to look their best. A good suede brush is a specialized tool designed to refresh the delicate napped fibers by gently pulling them back into position while removing loose dirt and grime.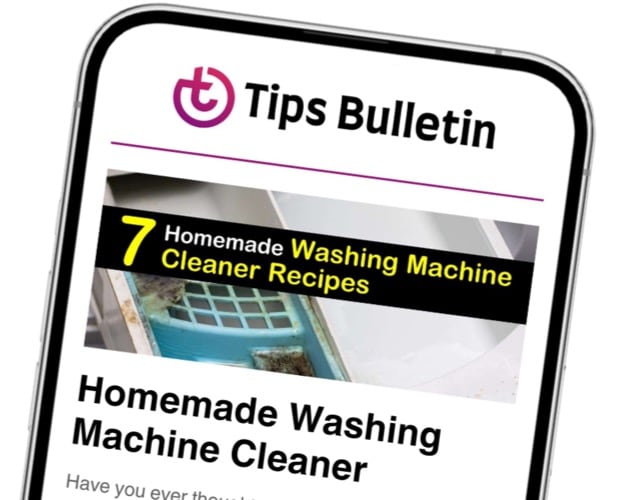 Finally, an email that Transforms Your Home.
Get the latest home and garden tips from our experts, delivered straight to your inbox.
There are several styles of suede brush, including a natural-bristle brush, a combination brush, and a crepe brush. The natural bristle and combination brushes are great to get grass stains out of shoes, while the crepe brush helps re-fluff the fabric pile.
Use short, back-and-forth strokes with medium pressure, and brush after every wear. Cleaning white suede sneakers with a suede brush is the best and most recommended way to restore your suede shoes to their natural state.
Cleaning White Suede with Vinegar
Once you know how to clean white suede shoes with vinegar, there's no stubborn stain you can't handle. Vinegar contains a concentration of mild acetic acid, strong enough to dissolve dirt and mud without damaging the fabric of your suede boots and suede sneakers. White vinegar also works as an excellent spot treatment to clean white canvas shoes that turned yellow or for a stain on your white canvas shoes.
Before you begin with this home remedy for cleaning suede shoes, stuff your suede shoes with newspaper to help them keep their shape. Get rid of excess dirt in the fabric nap with a soft brush like a toothbrush or nail brush. Brush over the stain in one direction and lift what you can before going in with the vinegar.
It's important to clean with a white cloth when dealing with water stained suede; another color fabric may stain your white sneakers. Dab the cloth in vinegar and work it into the stain in small circles as the best way to clean faux suede shoes or real suede. Be patient; it may take several applications to pull deep-set stains. Allow your suede shoes to air dry, and fluff the nap with a suede brush.
Cornstarch for Oily Stains on White Suede
Greasy, oily stains aren't the end of the world when you know how to clean white suede shoes with cornstarch. As soon as you notice a drip on your suede or white leather shoes, sprinkle cornstarch liberally and let it soak up the oil stain. Brush the cornstarch away with a paper towel or suede brush as soon as the cornstarch starts to look oily or after an hour.
The process may take several attempts, but the oil should absorb and dissipate with a bit of elbow grease. It's a great way to clean your Uggs® without harming the delicate material. After lifting the stain, remember to re-fluff the suede fabric on your clean white shoes for that fresh suede look.
How to Clean Salt Stains on Black Suede
Common road salts have many ingredients that contribute to the salt stains on your boots, like sodium chloride, calcium chloride, anti-caking agents, and insoluble clays. These ingredients stick to black suede shoes and boots, causing unsightly white stains, which are difficult to wash away.
It only takes one trip out into the snow to get salt stains on your black suede boots. An unchecked salt stain is a constant source of frustration. However, it's possible to dissolve the minerals sticking to your shoes with a bit of white vinegar and water.
Fill a small bowl with two cups of water and one tablespoon of vinegar. Dip a clean cloth in the mixture, and start scrubbing the salt in circular motions. You're not limited to suede; use white vinegar to clean salt stains from your black canvas sneakers or canvas shoes.
Cleaning White Suede Sneakers with Baking Soda
If you notice a small drip on your white shoe, reach for some trusty baking soda. There's almost no problem that sodium bicarbonate can't help with, and suede cleanup is no exception. Many shoe-care professionals say the best way to wash white suede sneakers is with dry cleaning methods like a suede eraser, suede brush, or absorbent powder.
When cleaning suede with baking soda, it's best to sprinkle a light dusting over the stain and then let the powder sit for 24 hours, similar to cleaning white mesh shoes with stains. Gently brush away the baking soda with a soft cloth and notice how the stain goes with it.
Of course, the suede must be re-fluffed after cleaning to look refreshed. If you don't have a traditional suede brush, use a clean toothbrush or nail brush to comb the suede back to its natural texture.
DIY Suede Cleaner
Sometimes there's more dirt and grime than a suede brush can handle. In such instances, the best way to wash white suede sneakers is to make a homemade shoe cleaner. This recipe is easy, inexpensive, and works on tough, ground-in grime clinging to the suede fibers.
Stuff your suede leather shoe with newspaper to help it retain its natural shape while you clean. Add liquid dish soap to a small container full of warm water, and stir it. The water shouldn't be the color of the dish soap; that's how you know you've used too much soap.
Wet the toothbrush and go over the suede in small circles. As the dirt lifts, use a soft cloth to wipe away the soapy water and continue to alternate between scrubbing and wiping until your suede shoe looks brand new.
Suede Protectant Spray
Give your suede shoes the best chance at longevity; never leave the house without a waterproof protector. Suede protectant spray saves your favorite suede shoes from environmental damage like dirt, oil, and water. Most suede protector sprays are inexpensive and last for multiple applications.
Before treating your suede shoes with a waterproofing spray, ensure they're clean and free of debris; you don't want to seal dirt into the suede fabric. Give your shoes a quick brushing, spray the suede generously, and then allow them to dry overnight.
Shoe-care professionals recommend a monthly application of your preferred suede protector spray to keep your favorite shoes in excellent condition for years.
We hope you enjoyed this article and that it helps you feel more confident about your suede-care routine. Use these tips to refresh every pair of suede shoes and boots in the closet. Remember to brush your suede boots regularly, and use a suede eraser on scuffs and set-in stains. Preserve your suede footwear by applying a suede protector spray every month.
Prevention goes a long way with suede leather; good suede shoes and boots can last for decades. Regular care guarantees a long life for your favorite suede pieces and fresh-looking footwear. Every event is your catwalk once you know how to clean white suede shoes.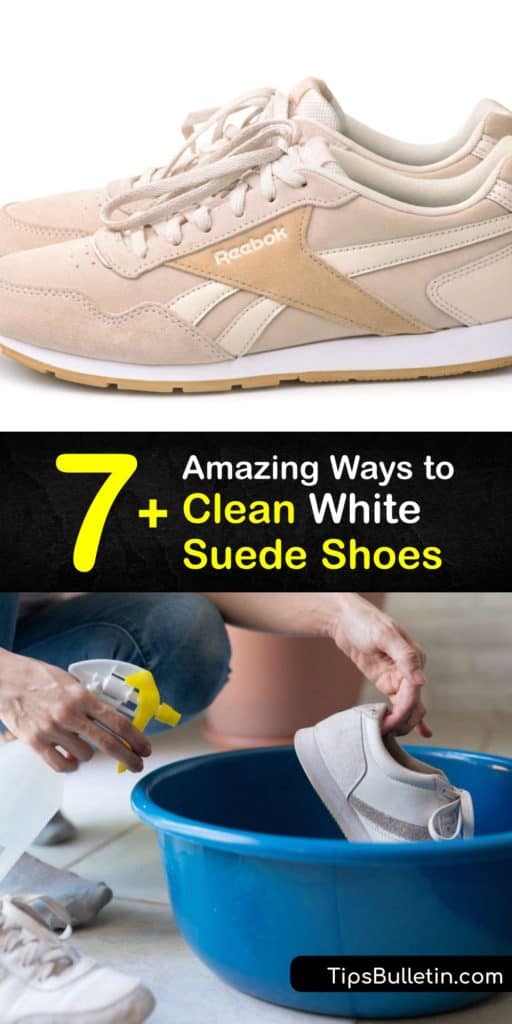 If you enjoyed learning how to clean white suede shoes, share this article with a friend on Pinterest or Facebook who loves suede leather and DIY cleaning strategies.