Remember how fantastic those white sneakers looked the first day you wore them? Bright white and stylish on the first day, a little dingy by the next week, and downright sad by the end of the month. By that time, you were probably wondering how to clean white tennis shoes.
White shoes have always been one of the many wardrobe staples that people keep in their closet. Whether they are white leather or canvas shoes, their style always seems to fit with any occasion. The only flaw is the fact that they are white. White shoes have an incredible knack of attracting dust, dirt, and stains.
It takes time for running shoes to form to your feet and fit you in a way that is comfortable for you. Unfortunately, those tennis shoes are a dingy gray by the time they fit you perfectly.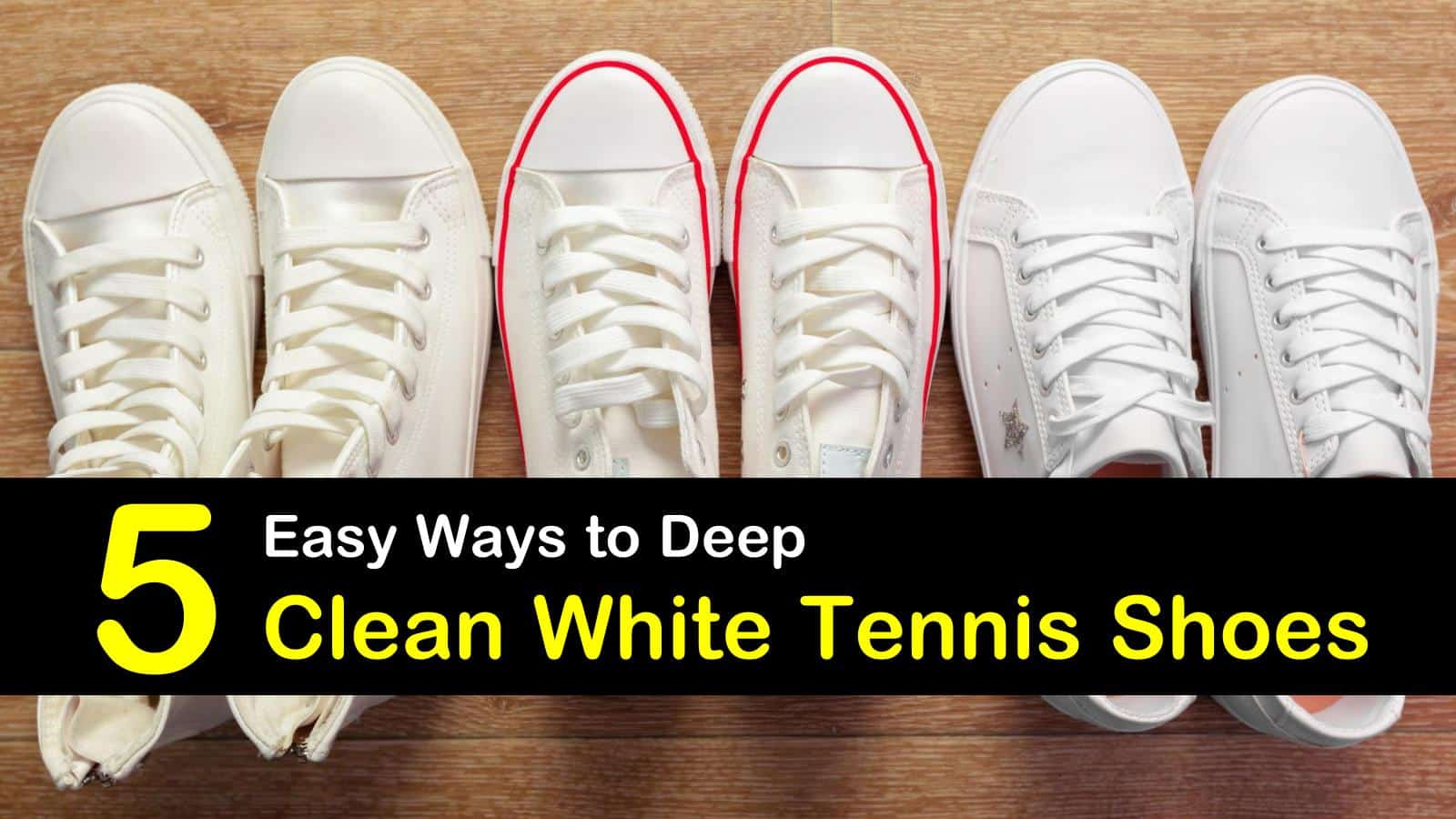 Cleaning White Tennis Shoes
There are many ways to keep your kicks looking like brand new and get white sneakers white again. Whether they are Nike, Adidas, Converse, or another brand of favorite leather sneakers, we have some tips to help you with washing tennis shoes to get them back to the clean white sneakers you love.
Cleaning White Tennis Shoes with Bleach
This cleaning process is an ideal method for use on white fabric tennis shoes. It is essential to use this cleaning method in an area that has proper ventilation and that you do not overdo it with the bleach.
Applying too much bleach to your shoes while cleaning them could cause them to turn yellow. Following proper shoe care by using these instructions will restore those sneakers to brand new.
Wearing the nitrile gloves to protect your hands from irritation, carefully mix the warm water and bleach in a container. Remove the shoelaces and insoles. Dip the old toothbrush into the bleach solution and gently scrub the shoes in a circular motion as the way to clean white shoes that turned yellow and to loosen grime.
Begin at the fabric and work your way to the soles. Rinse the shoes under a faucet of cold water and allow the shoes to air dry.
Cleaning white shoe strings can be done in a mesh bag in the washer or you can scrub them with the solution above to get them nice and bright again.
How to Clean Leather Tennis Shoes with Soap
How do you clean leather sneakers? Using simple, old fashioned soap is how to clean tennis shoes made of leather. It's more gentle than bleach, yet still gets the job done.
While some people prefer to use laundry detergent or dish soap, leather doesn't readily absorb water. This particular cleaning method works wonders on leather shoes and gets rid of stains or gives the shoes an overall clean.
Wipe down the outsides of the shoes using a damp paper towel to remove excess dirt. Moisten the Magic Eraser and rub it along the soles of the shoes until they are clean. Dampen the soft cloth and lather it with the Ivory soap.
Using the cloth, massage the leather of the shoe in a circular motion, removing dirt as you go. Wipe the shoes off with a paper towel and allow them to air dry. Don't put the shoes in the dryer, as it will damage the leather and cause it to shrink.
Try this DIY remedy to clean white soccer cleats or football cleats to get them white again.
Cleaning White Canvas Sneakers
It is not recommended to put canvas shoes into a washing machine and dryer due to their tendency to shrink. However, if your shoes are a little too big to wear comfortably, the washer is one of the best ways to shrink shoes.
Cleaning Toms and the best way to wash Vans and other canvas style shoes may seem tricky at first, but it is possible with the right cleaning solution and a bit of your time. You probably have all the ingredients you need in the kitchen or bathroom to clean white mesh tennis shoes or canvas ones.
By far the best way to clean white cloth shoes is to mix the vinegar and baking soda into a smooth paste. To wash sneakers, dip the toothbrush into the mixture and scrub the shoes in a circular motion with the bristles of the toothbrush to remove dirt and stains. Be sure to scrub the tongue, too, as this area is sometimes neglected in cleaning and it gets dirty, too.
This DIY recipe is ideal to get rid of yellow shoe soles or simply grimy ones, as well.
After a thorough cleaning, let the shoes air dry. Putting them out in the sun is even better, as sunlight adds to the cleaning power of this recipe. Once the shoes are dry, clap them together to remove any loose dust and baking soda.
Suede Tennis Shoe Cleaning
The tennis shoe cleaning procedure for suede is a little different than traditional shoe cleaning. Suede is a delicate material that stains easily. Therefore, special measures need to be taken to protect this type of fabric.
Begin by wiping down the shoes with a soft cloth to remove debris and moisture. Using the pink pencil eraser, gently rub any marks on the shoe until the stains are gone.
For stains that remain, dip the soft cloth into the vinegar and gently rub the stains away. Allow the shoes to dry and finish up the process by brushing them with a suede brush to get back their initial texture.
Removing Stains with Toothpaste
You buy yourself a new pair of white shoes, and you're feeling quite stylish. By the end of the first day of wear, they are still white except for that one glaring smudge. This cleaning method is perfect for removing those small stains and scuffs from your white shoes.
Wipe the shoes down with a damp, soft cloth to remove any loose dirt. Lightly spray the shoes with water to wet them without soaking them. Put a fingertip-sized amount of toothpaste directly onto the heavy stains and scuff marks.
Brush the paste into the stain with a toothbrush using circular motions. Let sit for ten minutes before wiping the area with the damp cloth. If you are running short on time, shoes air dry faster when sitting in the sun.
You don't have to continually replace those white tennis shoes just because they've gotten dingy or stained. Using the right sneaker cleaner will help those kicks stay bright and new day after day. The key is to use household cleaning products such as vinegar, soap, bleach, and baking soda to keep shoes in tip-top shape.
Now that you've learned some DIY tricks for getting dirt stains out of white shoes and turning them into clean white shoes, the next step is to deodorize shoes to get rid of that old shoe smell.
Maintaining kid's shoes is a challenge within themselves. These tips are especially handy for keeping children's shoes looking and smelling like new. You'll never have to buy new shoes again!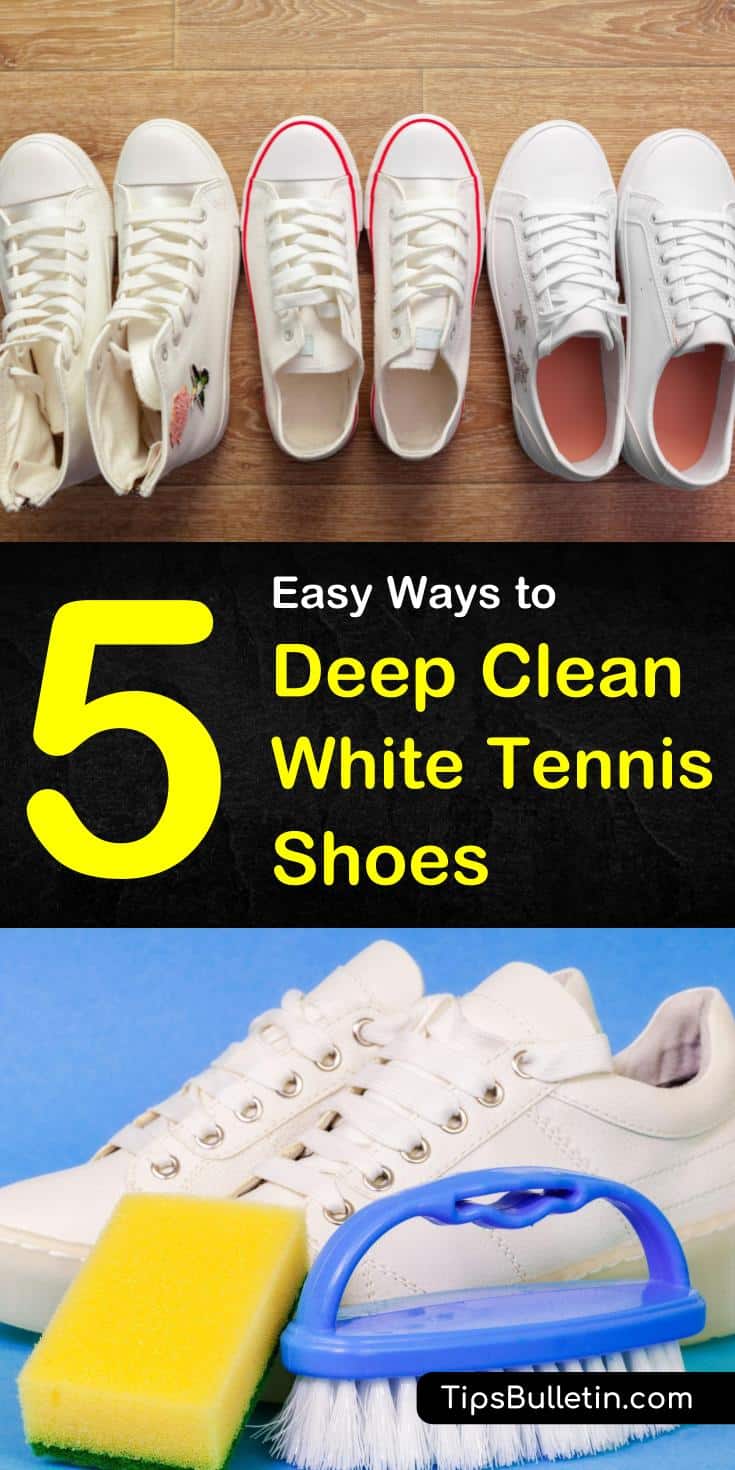 Now that you know the secrets on how to clean white tennis shoes to the point that they look brand new, why not share those secrets with your friends and family on Facebook?