Have you ever cleaned your windows and stepped back to admire your hard work only to see smears and streaks reflecting in the sunlight? Avoiding streaks is especially tricky on outdoor windows. Before calling in a professional window cleaner, learn how to clean windows without streaks using simple household ingredients and cleaning products.
Spot-free windows that are so clean and clear that you barely see the glass bring more natural light into your home. Not only that, but a streak-free window gives you the feeling that there is no barrier between you and the outdoors, giving you the illusion that you have more space in your home.
Cleaning glass surfaces seems pretty straightforward, but removing grime and dirt build up from outside windows without streaking is challenging. The key to streak-free windows is using the right cleaners and cleaning process to wash windows.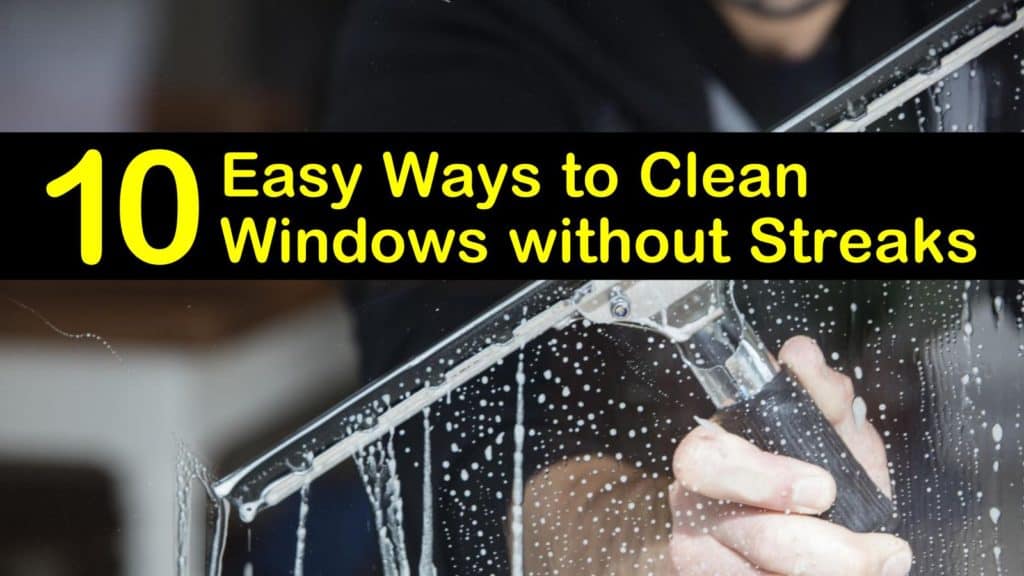 Cleaning Windows without Streaks
While washing windows and mirrors, it's essential to use the right types of cleaning solutions to remove dirt without leaving streaks. Find streak free solutions for cleaning your TV screen or windows and mirrors throughout your house.
We'll show you several different ways to get those windows clean and shiny and how you can tackle cleaning a mirror streak-free with some simple ingredients and just a few minutes time.
Preparing a Window for No-Streak Cleaning
There are many ways to clean windows without streaks, but first, it's essential to clean the window to remove tough dirt, bird droppings, stubborn stains, tape, and other hard-to-remove gunk.
The surface of the window gets coated with dust, cobwebs, and other debris. Use a vacuum cleaner with an upholstery attachment to suck away loose dirt before cleaning glass without streaks.
Fill a sprayer bottle with white vinegar and spray the liquid on the surface of the window. Let it soak into grimy areas for five minutes before wiping away with a sponge.
For areas of the glass that have old tape or large bird droppings, use a plastic paint scraper to pry away the debris. Start by holding the scraper at a 45-degree angle and then press the blade beneath the gunk to peel it away. Use care to keep from hurting yourself or damaging the glass.
Be careful and avoid scratching your car's windows with the paint scraper. If you do scratch the glass, follow our guide to get a scratch out of a glass window. It will be easier to remove the scratch if you do it as quickly as possible.
How to Clean Windows without Streaks
Several things are helpful to know when cleaning windows without streaks. Choosing the right time of day, avoiding certain types of cleaning materials, and using specific ingredients to clean windows are all useful tips that help to create a streak-free window.
Streak-Free Window Cleaning Tips
Before cleaning your windows, check the weather for the current day's condition. Streaking occurs on windows mainly because the cleaner dries before you have a chance to wipe it away. Therefore, make sure to clean the windows on a calm and cloudy day with no rain.
Try and clean the windows twice a year during spring and fall. Don't dry windows with absorbent cloths because they move moisture and dirt around the glass rather than wiping it up.
Likewise, another cheap method to avoid streaks is to wash windows with newspapers. It has the same effect and doesn't leave any marks or pieces of lint while cleaning.
When making a window cleaning solution, use distilled water. As non-distilled water evaporates from the window, it leaves behind trace minerals and elements resulting in visible marks on the glass.
Ways to Clean Windows without Streaks with White Vinegar
This homemade window cleaner with vinegar works well for cleaning the outside of windows or filthy indoor windows. It uses equal parts of water and white vinegar for heavy-duty cleaning.
Combine equal portions of white vinegar and water in a large bucket and mix the ingredients. Dunk the cloth into the window cleaning solution and start at the top of the window. Use circular motions to loosen up dirt and grime, making sure to clean every inch of the glass.
After cleaning the window and before it dries, use a squeegee to wipe the cleaner away. Start at the top side of the window and use horizontal swipes from one side to the other without lifting the squeegee from the glass.
Wipe the squeegee clean after each stroke and repeat in the next section down, making sure to overlap each stroke. Use a soft cloth to clean away any excess water from the glass surface and windowsill.
Not only can you use this recipe to clean windows but you can also take care of mirrors in the house. As a natural mirror cleaner, vinegar and water clean and sanitize all types of surfaces with ease.
This solution can also be used as one of the ways to clean metal blinds in your house or RV. Vinegar has all kinds of uses for cleaning.
Streak-Free Outdoor Window Cleaning with Soapy Water
If you don't have any white vinegar, use plain soap and water to clean windows. The type of cleaner you use on windows is not as crucial to streak-free cleaning as the tools and technique.
Begin by using a water hose to spray the surface of the glass to loosen up any dirt and grime. Fill a bucket or tub with hot water and add the dishwashing liquid. Agitate the solutions to make a sudsy cleaner.
Dip the sponge into the hot, soapy water and clean one window at a time. Start at the top and clean with circular motions for scrubbing away dirt. Dunk the sponge back in the water as it gets dirty.
Use a squeegee to remove dirt and liquid from the glass by starting at the top side of the window. To prevent streaking, use a continuous motion by pulling the squeegee blade from one side to the other, and then down one section and back to the opposite side. Use a paper towel to wipe away any excess water from the windowsill and glass corners.
Making a Streak-Free Window Cleaning Spray
White vinegar works wonders at removing dirt. Not only that, but it is an inexpensive way to clean windows. This cleaner recipe is ideal for cleaning mildly dirty windows while leaving a streak-free shine.
Fill a bottle sprayer with warm water and vinegar and shake well to mix. Lightly spritz the cleaner on the entire window surface, making sure not to apply too much solution. Start at the top of the windowpane and use a lint-free cloth to wipe away the residue.
Use quick, circular motions as you make your way to the bottom of the windowpane. The faster you clean the window, the better. If the cleaner dries before you get to it, it leaves behind streaks.
This recipe also works well for cleaning blinds. To clean vinyl or deep clean metal blinds, spray the blinds and wear a cotton glove to wipe each blind individually to dry it and leave behind a nice clean shine.
Cleaning Indoor Windows with Rubbing Alcohol
Rubbing alcohol is a solvent that cleans away grime, and vinegar breaks up greasy residue left behind by fingerprints. These ingredients are also useful when making a DIY dry erase board cleaner.
Combine water, white vinegar, and rubbing alcohol in a bottle sprayer and shake well to mix. Begin at the top of the window, spray a light mist of solution, and then quickly wipe away dirt using circular motions.
Move down to the next section of the window and repeat, making sure to overlap each section as you go. Use dry paper towels to wipe away any leftover residue and streaks.
Use this solution for cleaning inside of car windows to get rid of water spots and other areas that decrease visibility. Car window cleaning in the shade is better than doing it in the sun as streaking is less likely.
How to Get a Streak-Free Window using Cornstarch
Glass surfaces have tiny pits in them that trap water, which cause streaking while cleaning. Cornstarch breaks down water bonds, resulting in a streak-free shine. This recipe works well for both indoor and outdoor windows.
Pour the water, rubbing alcohol, and vinegar into a bottle sprayer and add the cornstarch. Shake the container vigorously to ensure that the cornstarch dissolves.
Spray the entire surface of the window with a thin coating of solution. Use a sponge to clean the glass from top to bottom. Wipe the whole surface area with paper towels to make sure that no cornstarch residue is left behind.
Cleaning Indoor Windows with a Squeegee
Using a rubber squeegee is the best way to clean windows without streaking. Unfortunately, they tend to be a little messy while cleaning. Here is how to use a squeegee inside your home without creating a mess.
Combine all ingredients in a bottle sprayer and shake well. Remove any curtains and blinds from the window and set them aside. Place a drop cloth or old sheet beneath the window to catch any droplets of cleaning solution.
Spray the entire surface of the window with the cleaner. Position the squeegee blade at the top right corner of the window and pull it sideways to the opposite side. Use paper towels to wipe the squeegee blade dry and then repeat the process by moving side to side, down the window, overlapping each section as you go.
Use a lint-free cloth to wipe away excess cleaner from the window edges, windowsill, and any other areas. Remove the drop cloth and replace the window coverings.
Streak-Free Window Cleaning with a Fresh Scent
We all know that cleaning is a chore, so why not make it more enjoyable by freshening the room while you clean? This recipe not only cleans away grime without leaving streaks but masks the vinegar smell with a fresh scent.
Pour the water and white vinegar into a bottle sprayer and add the essential oil. Any scent of oil works, so feel free to use your favorite. Shake the container well and spritz a light layer of the solution over the surface of the window.
Start at the top of the glass and use a soft cloth to wipe away grime using circular motions, making sure to get along the edges and corners of the glass. Use paper towels to wipe away streaks and residue.
Using Commercial Glass Cleaners to Clean Windows
If you do not have the time or the ingredients to make a homemade window cleaner, use a commercial cleaner that is ready-to-go. Most commercial window cleaners are acceptable, but we prefer using Windex.
Spray the window cleaner over the entire surface of the glass. Use a soft cloth to wipe the window clean by starting at the top corners and working your way down. Use paper towels to wipe away any cleaning residue and streaks.
The key to getting a streak-free clean on your windows is speed. The faster a solution dries, the chances of getting streaks increase. Therefore, clean your windows, even if they are indoors, on a cloudy day to prevent the sunshine from drying the cleaner.
When you're cleaning the windows, don't forget about the frames. Cleaning aluminum window frames or those of another material is easy and the shiny surface will highlight your streak-free windows.
While the first step in window washing is using the right cleaning solution, using the proper cleaning technique to remove dirt while eliminating streaks is equally important.
Using the wrong cleaners and tools leaves you scrubbing windows all day with no positive results. Now that you know how to clean windows correctly, go ahead and take a step back from your windows and admire the streak-free shine of your efforts.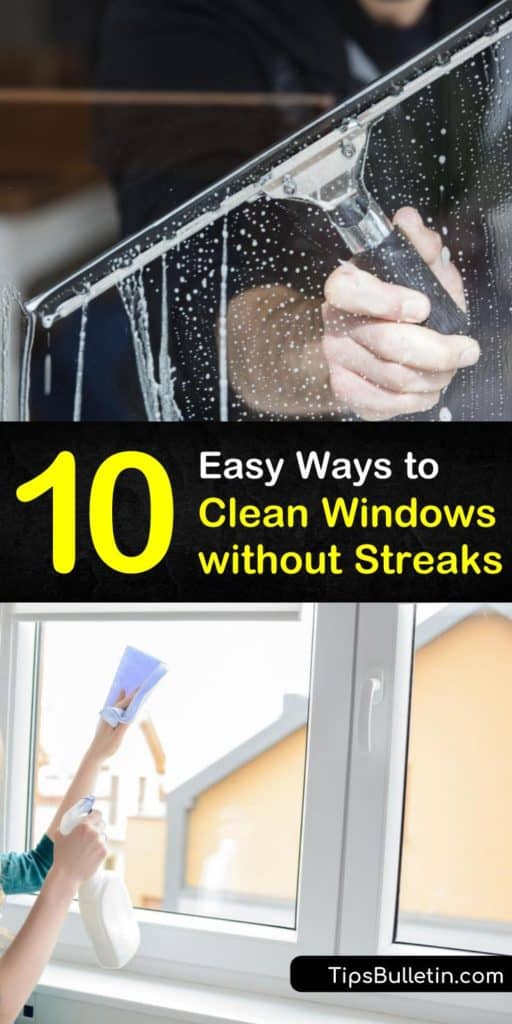 We're glad that we could show you how to clean windows without streaks using simple household ingredients, and we'd love it if you'd share our window cleaning tips with your friends and family on Pinterest and Facebook.