It's early evening, and you're setting the table for a dinner party with a small group of friends. The guests are about to arrive, and as you pull out your wine glasses for the perfect finishing touch, you realize your glassware is cloudy, spotted, and stained. Knowing how to clean wine glasses sets a relaxing ambiance for you and your company.
Stemware is in its most beautiful state when polished until crystal clear and glimmering under dimmed lights. When you're knowledgeable about the type of glasses you're using, water spots and red wine stains are completely avoidable.
Take all the pros and cons into consideration when deciding between glass and crystal stemware. Glass is cheaper and more durable, but crystal offers a higher quality feel. Regardless of what you choose, there are some essential things you should know.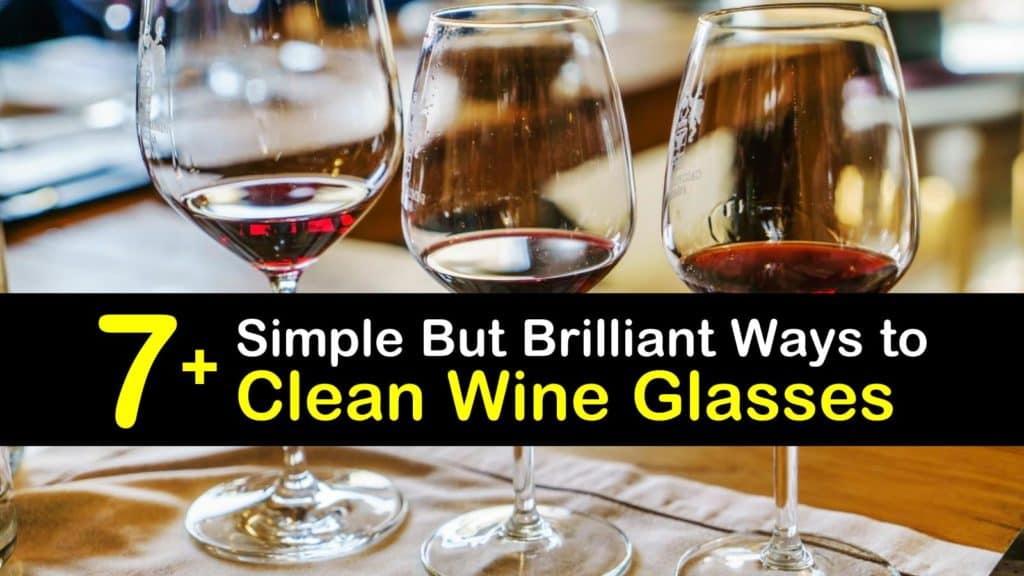 The Difference Between Glass and Crystal
Crystal glasses are porous, meaning they absorb flavors and stains much more quickly than their glass counterparts. It is never safe to wash crystal in the dishwasher without the possibility of baking the detergent into the crystal.
Crystal stemware is also sensitive to hot water. Glass stemware, on the other hand, isn't porous and is dishwasher safe. The biggest con to glass is that it often has a lip on the rim of the glass, affecting the overall flow over the drinker's tongue.
Regardless of whether you're buying glasses from the dollar store or Riedel crystal, do a little research to make a decision that best suits your budget and lifestyle.
Basic Ways to Clean Wine Glasses
Hard water, soap residue, and red wine are the enemies of clean glasses. A lint-free towel, microfiber towel, and flour sack towel are your leaders in cleaning a cloudy glass vase and removing water spots from wine glasses.
These are all super absorbent and allow the glasses to dry quickly. Run to the store and grab a proper drying cloth before you start washing wine glasses.
Washing Wine Glasses in the Dishwasher
We won't deny the convenience of throwing our dirty containers in the dishwasher and letting the machine do the work. Dishwashers have a wash cycle and a drying cycle that usually do a decent job of removing stubborn stains, but be careful when cleaning cloudy wine glasses in the dishwasher.
If it's dirty, old grease and dishwashing liquid could end up on your glasses. If your dishwasher is clean, it is one of the easiest ways to clean wine glasses. Before you clean your glasses in the dishwasher, double-check that your stemware isn't crystal.
Check if a wine glass is made of crystal by lightly tapping a metal object against the glass. If it makes a delicate ring, you likely have crystal stemware. If it sounds more like a clunk, then you have glass stemware.
Are you still having trouble determining which type you have? Hold the glass under a light. If the refracts the light and creates rainbow colors, you have crystal, which is not safe for the dishwasher.
Once you determined that your stemware is dishwasher safe, place the glasses upside down on the top rack. Wash wine glasses separately from all other dishes to avoid grease residue.
Use a mild dish detergent, like Castile, instead of liquid dishwashing soap to prevent soap scum. Run your washer as usual. Use a polishing cloth to buff away any watermarks, and you'll have clean wine glasses free from soap scum.
Handwashing Stemware
The hand-washing technique is safe and effective for cleaning cloudy wine glasses. Fill a sink with lukewarm to hot water. Crystal is sensitive to heat and cracks if too hot. If the water is too hot for your skin, it's too hot for the crystal.
Soak wine glasses for five minutes. Add mild, odorless dish soap to a wet sponge or cloth and begin rubbing inside and outside the glass. After rinsing, place each glass upside down on a dishtowel to air dry.
It's also possible to dry wine glasses by hand by gently rubbing the glass with a microfiber cloth. Do not use any steel wool or similar scouring pads when hand-washing stemware. The sharp material easily scratches the glass and crystal.
Makeshift Bottle Cleaner
When hand-washing stemware, it's challenging to fit your hand through the glass's rim. If you're having trouble trying to clean the bottom of the glass, wrap a dish towel around a fork and gently scrub the glasses after they soak.
This makeshift bottle cleaner is useful when you have no other tools. It's also the best way to clean a coffee carafe or any other product with deep and hard to reach areas.
Start to think about investing in a proper bottle cleaner or a sponge with a long handle that is okay to use on wine glasses.
How to Clean Wine Glasses with Vinegar
Vinegar is an ingredient used on fabric stains, rust, and window blinds. What else can vinegar be used for? Vinegar is especially useful in ridding your stemware of cloudiness.
The acid strips away any lingering stains. It's no surprise that glass cleaning with vinegar is a smart choice if you like to make your wine glasses sparkle.
To remove water spots on wine glasses, fill a dry wine glass with white vinegar and a spoonful of baking soda. Let sit for five minutes and scrub the glass using a wet sponge or cloth. Rinse with water and dry with a microfiber towel.
For this DIY hard water cleaner and to eliminate ugly stains on your glassware, line the bottom of a large plastic bowl with a soft cloth. Fill the container with warm water.
Add five tablespoons of white vinegar and one teaspoon of washing soda. Lay the glass in the container until fully covered and let sit for one to two hours.
Rinse with hot water and thoroughly dry with a lint-free towel. The acid from the vinegar dissolves stains, and the washing soda acts as a sidekick for an even more reliable clean. This recipe is excellent for foggy glasses or tough stains.
Using Nylon Net to Clean Wine Glasses
Shop for nylon nets at your local craft store. The mesh fabric and small holes act like bristles and assist in scrubbing away stains without damaging the glass. The vinegar is a powerful agent against cloudy glassware.
To use this cleaner, fill a sink with hot water. Place a bottle of vinegar in the hot water for two minutes, allowing it to warm. Drain the sink and pour the vinegar into a container large enough to submerge a wine glass. Place a glass in the vinegar and let soak for one hour.
Remove the glass and use the nylon net to remove any film or stains. Rise with hot water and dry with a lint-free or flour sack towel.
Vinegar can also be helpful as one way to remove algae from fish tank glass. Remove your fish and growing plants, and drain some of the water to keep from harming them before cleaning.
Clean Stains with Denture Cleaner
Nope. We're not joking. Denture-cleaning tablets are a surprising yet trustworthy stain fighter for your glassware. Denture cleansers contain oxidants that act as a bleach against stains.
They also include a detergent that helps lift leftover debris from a surface. It sounds odd, but you won't be let down by this unorthodox wine glass cleaner.
Fill a wine glass with water. Allow one denture tablet to dissolve and let it sit overnight. In the morning, pour out the solution. Rinse thoroughly and dry with a flour sack towel or lint-free towel. Repeat as necessary.
Sanitizing Wine Glasses
Even if you think your stemware is clean, it's never a bad idea to sanitize your glasses before a dinner party. There are two smart ways to disinfect and polish your wine glasses quickly.
Cleaning Cloudy Wine Glasses with Grape Brandy
Grape brandy, otherwise known as grappa, makes a great homemade glass cleaner recipe. The alcohol in the grappa sanitizes the glass. Because grappa comes from grapes, there are no unusual odors left behind. Grape brandy is also our secret weapon for removing lipstick stains.
Spray grape brandy on any stains or lipstick spots. Grab two microfiber towels. Hold the bottom of the glass with one cloth and the bowl with the other. Rinse with warm water and polish the glasses with a polishing cloth.
Steaming Your Wine Glasses
Steam is another sanitizer that people often forget to utilize. This technique is easy to do and safe on crystal and glass stemware. Bring a pot of water to a boil. Hold the glass upside down, placing the base of the glass between two fingers.
Without touching the water, hold the glass close to the pot, allowing it to steam for one minute. The steam sterilized the glass, leaving it ready for your next glass of wine.
Try this sanitizer on other glassware in your home like a rocks glass or a decanter. Cleaning wine glasses and other glassware has genuinely never been more straightforward.
A sparkling clean glass makes all the difference in setting the mood for an event. Whether you're cooking your loved one dinner for your anniversary or hosting a dinner party for friends, knowing all the ways to clean cloudy wine glasses sets you up for success.
When you try these wine glass cleaning tips, you'll soon be drinking your favorite red from stemware suitable for Michelin-starred restaurants.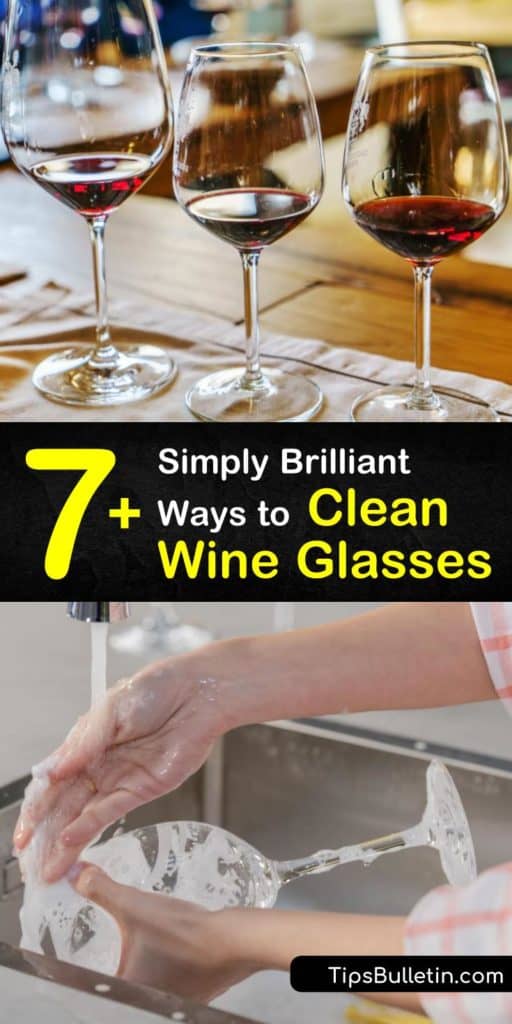 If you've been gearing up for a dinner date and enjoyed learning how to clean wine glasses, share these ideas for cleaning your stemware on Facebook and Pinterest.