Wood furniture is a beautiful and practical addition to any home. The warm colors and pleasant appearance that wood brings to your home are marvelous and incomparable. Wood furniture can be functional as well as lovely, too; wood cabinets are as useful as they are attractive.
That's why it's essential to how to clean wood cabinets and ensure that your home stays as neat and engaging as possible. In this guide, we go over effective methods for cleaning wood cabinets.
We show you ways of cleaning wood kitchen cabinets daily that won't cause long-term buildup or damage, and take a look at deep cleaning methods that you can use to put a little more muscle behind your wood cleaners.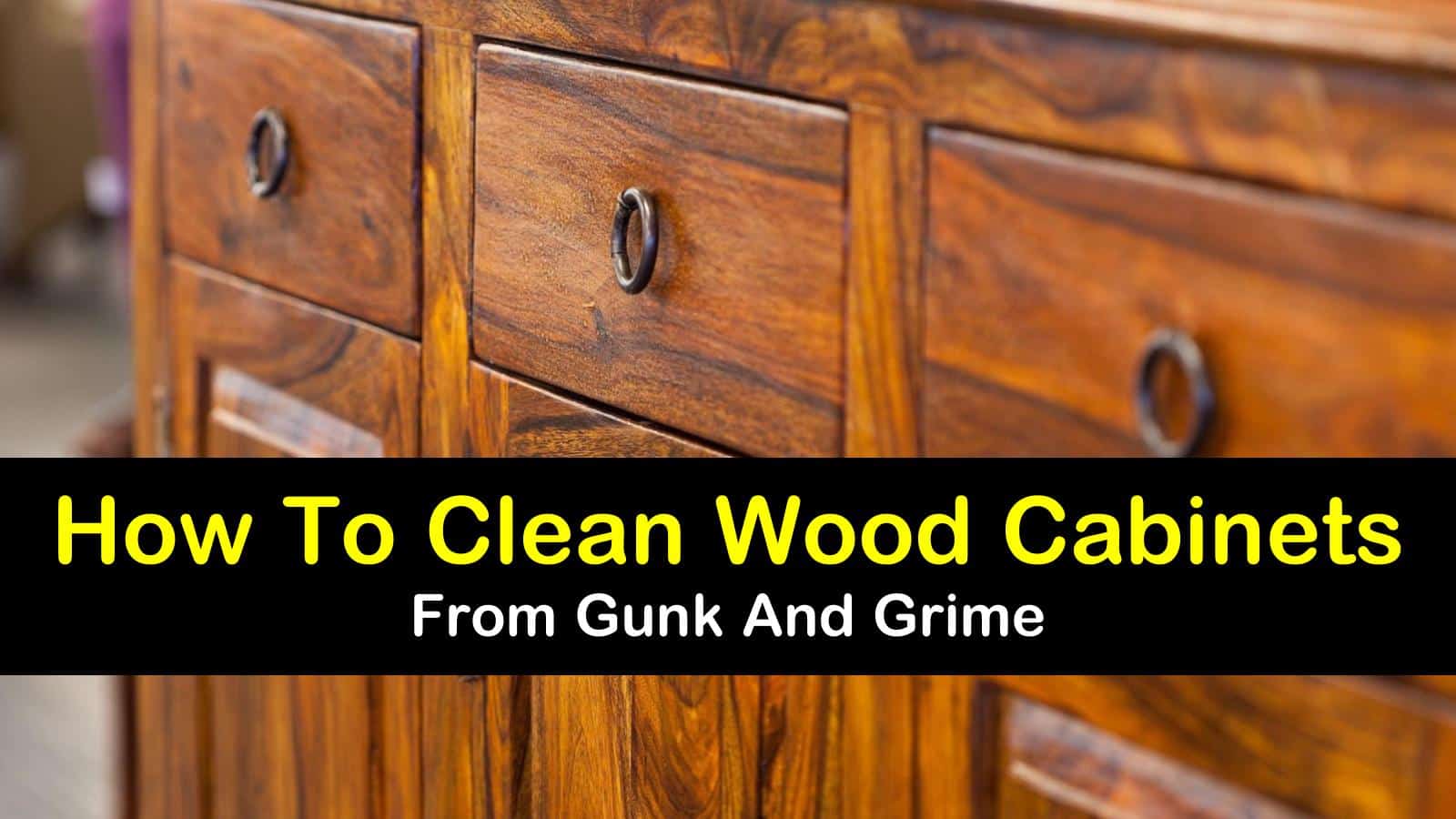 Regular Cleaning of Wood Cabinets
Find cleaning solutions for all wood types and the information and recipes you need to avoid staining your beautiful untreated wood furniture. Lastly, we show you ways to preserve your wood and protect it from future wear and grime. With our guide, you'll be on your way toward a clean and beautiful home!
One of the keys to having clean wooden cabinets is to make their maintenance part of your cleaning routine. There are all sorts of grime and dirt buildup issues you can avoid by engaging in a regular cleaning ritual. Use a house cleaning checklist template to organize your cleaning schedule, and make cleaning wood cabinets a standard task on your list.
In this section, we examine some cleaning methods that you can use on your wood cabinets every day. We look at both commercial and DIY ways of cleaning wood kitchen cabinets and focus on any potential disadvantages of each cleaning agent.
Clean Your Wood Cabinets with Murphy's Oil Soap
One of the old standbys for making wood floors shine, Murphy's oil soap is an effective all-purpose cleaner for wood cabinets, as well. You can use Murphy's regularly on any finished wooden cabinet to clean away simple stains or to tackle more difficult grime and grease spots. Do not use Murphy's on unfinished wood.
Wipe away any dust using the microfiber cloth. Combine the oil soap and water in the bucket, and fill the spray bottle with the mixture. Spray a light coating on the cabinets, and wipe them dry with paper towels or a soft cloth. This is also an excellent method for how to clean antique wood without damaging it.
Use a Commercial Wood Furniture Spray
If you're concerned more with speed than anything else, you might do well with a commercial wood furniture spray such as Pledge for cleaning kitchen cabinets and other wooden surfaces around the home. Desks, tables, and chairs all respond well to this type of cleaner.
These cleaning solutions are designed to remove any dust and dirt and leave a protective coating to mitigate future damage and dust accumulation.
Because these wood cleaners have been designed specifically to clean wood in the form of a wood dusting spray, you can use them with the knowledge that you won't damage your wood kitchen cabinets or leave stains on wood furniture.
However, watch for buildup over time; the protective coating the commercial cleaner leaves will thicken and eventually dull your wood's finish if you're not careful and use it too often.
Use Vinegar and Warm Water
Vinegar is one of the most versatile DIY cleaning solutions you have in your home, so it should come as no surprise that it makes a fantastic homemade wood cabinet cleaner.
Use this vinegar and water wood cleaner to clean your finished wood cabinets regularly. Vinegar can stain unfinished wood, though, so test the mixture on an inconspicuous spot inside the cabinet when working with unfinished wooden cabinets.
Combine water and vinegar in the spray bottle. Spray all surfaces, and wipe them dry with the paper towels or a soft cloth. Repeat as needed on stubborn stains.
Use this remedy to remove paint from cabinets if you accidentally spill some during a kitchen remodel or as a way to remove wax from wood if a candle drips on it. Vinegar has all kinds of household applications.
Try vinegar and water to clean furniture before painting, too. It leaves behind a fresh surface that will hold new paint better.
Wood Cabinets – Deep Cleaning
Sometimes, the usual cleaning methods won't cut it, and you'll need something stronger to clean sticky wood kitchen cabinets. When you need to do some deep cleaning to wipe grime off wood, you can't go wrong with a wood cabinet cleaner recipe from this group.
In this section, we look at powerful cleaning options that you can use to clean wood kitchen cabinets and get greasy cabinets looking like new. We provide cleaning tips and recipes that will cut through the worst grime and make your wood cabinets glow. Give these cleaning products a try when you need a little more oomph in your wood cleaner!
Scrub Away the Stains with Vinegar and Salt
When you need a cleaning solution that can take on any chocolate or syrup stain and walk away undefeated, consider using vinegar and salt.
Take advantage of vinegar's natural mild acidity to clean away most stains, and when you combine it with salt, it becomes an unstoppable cleaning machine. Test this cleaning agent on an inconspicuous spot before using it on cabinet doors or other visible sections to ensure that it does not remove the finish or cause other types of staining or scratching.
For this teak cleaner recipe or to use it on your kitchen or laundry room cabinets, mix the vinegar and salt to form a paste, and apply it to stains. Rub the area gently with the paper towel or cloth (don't scrub too hard to avoid scratches), and rinse the area with a sponge dipped in clean, warm water.
Try Using Baking Soda and Water
Like salt, baking soda is a mild abrasive agent. Because baking soda won't scratch your wood as quickly as salt can, though, you can apply a bit more force when using it to clean greasy kitchen cabinets.
As a bonus, baking soda also contains natural cleaners that will work on your wood as it scrubs any spots away. You should not use baking soda on unfinished wood, however, and should test it on an out-of-the-way area of your cabinet before general use on cabinet surfaces to ensure that it will clean them safely and effectively.
Combine the water and vinegar into a paste. Apply the mixture to stains, and let sit for a half a minute or so. Then, gently scrub the area with the cloth.
You can also add the paste to a sponge to scrub larger cabinet surfaces. When the stain or greasy spot is gone, dip the sponge in the warm water and clean away residue so that your cabinets will shine.
Clean Wood Cabinets with Vinegar and Baking Soda
When you need a little more energy in your wood cabinet cleaner, you can't go wrong with baking soda and vinegar. Baking soda and vinegar have well-known natural cleaning abilities, and when you combine the two, you produce an energetic reaction that adds extra cleaning power to the mix. Because baking soda can stain unfinished wood, take care when using this cleaning agent.
Mix the baking soda and vinegar into a thick paste, and paint it on stains. Rub the area gently with a paper towel or damp cloth, and clean any remaining grit or residue with a sponge dipped in water. Try this simple solution to clean paint off trim around the cabinets, too, if you discover a couple of drips while you're cleaning.
Learn How to Clean Wood Cabinets with Dish Soap
Our final wooden cabinet cleaner recipe is an oldie but a goodie. Thanks to its mild cleaning action and ability to cut right through grease, dish soap is a beautiful option for all kinds of jobs.
Use it to clean clothes or jewelry, and it's one of the best ways to clean grime off wood, too. Dish soap is gentle enough that you can use it on most wood surfaces without damaging them, but as always, test the solution out on a hard-to-see spot before proceeding, and dilute the mixture further if necessary.
Combine the dish soap and water in a small container. Dip one end of the paper towel in the soapy mixture, and gently scrub the stained area. When the stain is gone, wipe down the area with a sponge dipped in the water bucket.
Preventative Care
While all of our ways to clean grime off wood are effective, the best outcome is to avoid deep clean solutions entirely. You can do that with regular preventative care.
In this section, we examine the best way to make sure that your wood cabinets stay their loveliest and cleanest. We look at the best recipe that you can use to preserve your wood furniture, and we go over how to apply it for optimal results.
Treat Your Wood Cabinets with Oil and Vinegar
Oil and vinegar work well in a salad, but they also make an excellent wood preservative. Apply this vinegar and oil recipe to your wood cabinets regularly, and your kitchen will shine with a vibrant, mellow glow. This natural and straightforward option makes a fantastic all natural wood polish that will change your world!
Combine the oil and vinegar in the spray bottle, and shake well. Spray the mixture on your cabinets, wipe with paper towels, and then buff with the dry cloth until the wood shines.
If you have a few minor scratches in your cabinets, you may find that this simple treatment is one way to remove scratches from wood. Deeper gouges may require a different remedy.
We hope you enjoyed this article on how to clean kitchen cabinets. Wooden cabinets are a beautiful addition to your home, so it's essential to know how to take care of them properly. The recipes and tips we've provided will help you with that and will make your home a more attractive place!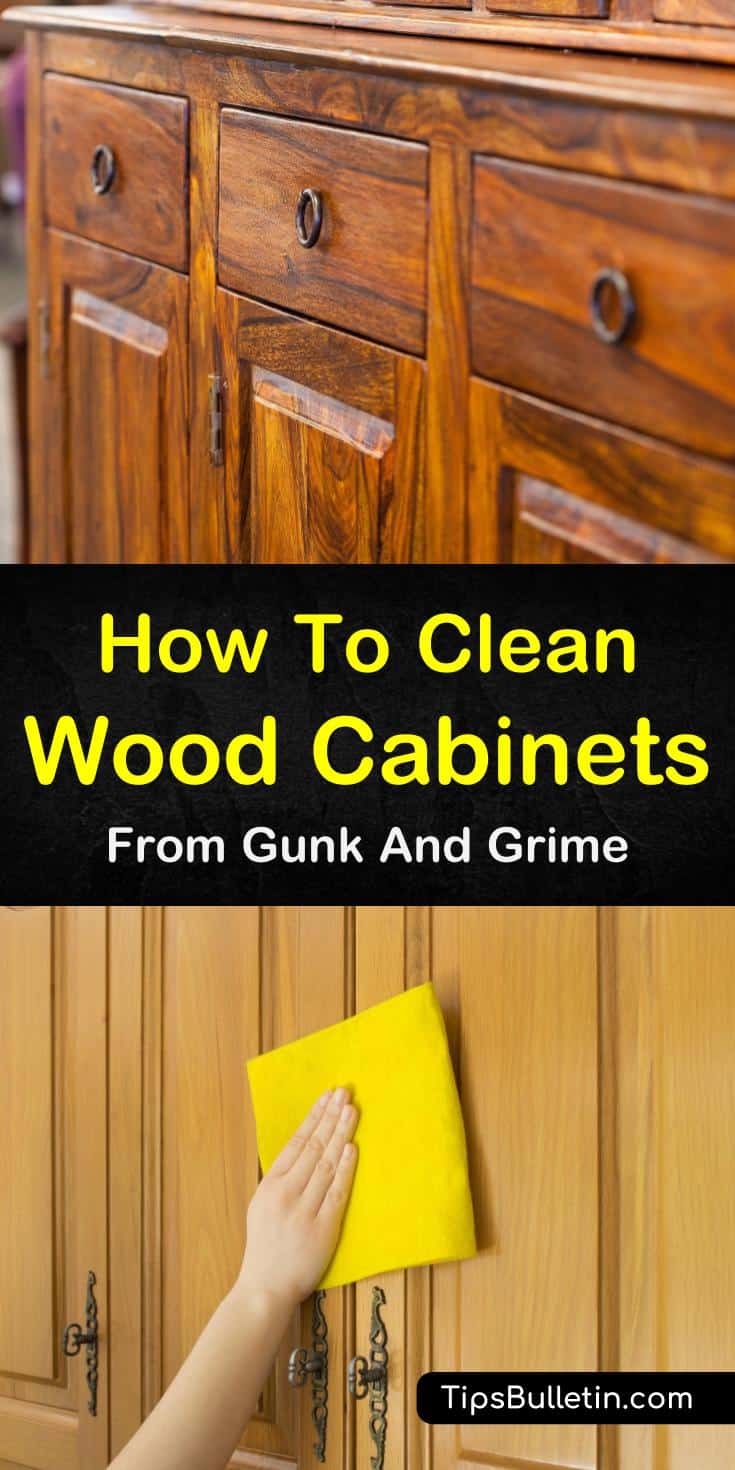 Thanks for reading this guide on how to clean wood cabinets. If you found our wood cabinet cleaning tips helpful, we'd love it if you'd share our solutions to cleaning wood kitchen cabinets with family and friends on Facebook and Pinterest.