Wood furniture is a natural choice for most homes. From cherrywood tables to oak hutches and antique rocking chairs, your wood furniture is not only a statement piece in whichever room it inhabits, but it's also an integral part of your household. Because it is such a critical centerpiece, knowing how to clean wood furniture properly is just as essential as the piece itself.
When it comes to cleaning wood furniture, there are numerous factors to consider. These facets include the finish on the wood, whether it is painted, and the location of the furniture. Wood furniture for patios requires a different treatment than those kept indoors.
Equally, you may want to avoid specific cleaning solutions when maintaining wood with a lacquer finish. Whether you are curious about how to clean grime off wood furniture, how to make it shine with a brilliant polish, or what's the best way to protect the surface, we have all the answers for you here!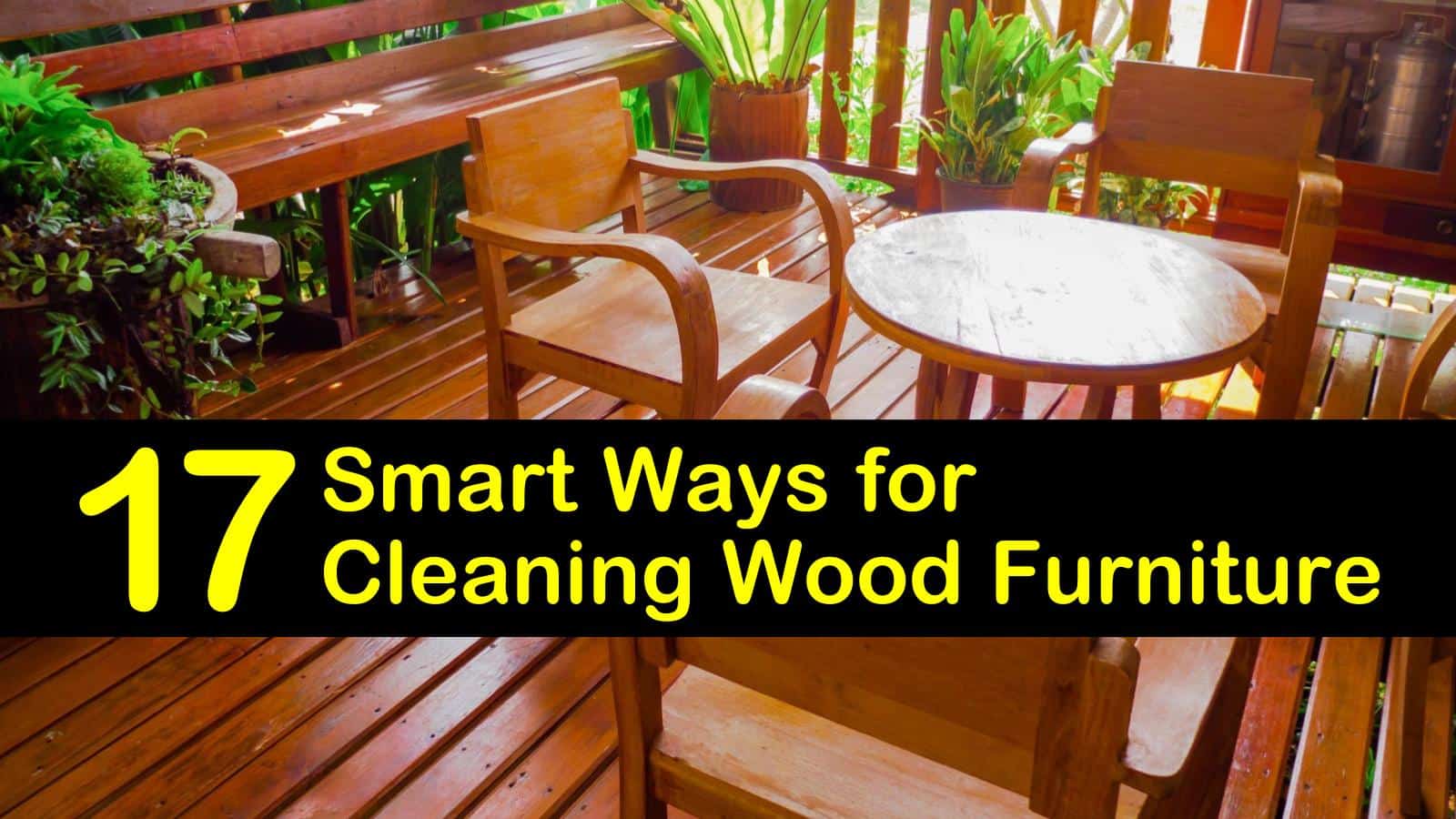 Natural & Effective Ways to Clean Wood Furniture
Not all wood furniture is created equally, and as a result, you need a complete arsenal of techniques and strategies at your disposal to handle all your cleaning needs. Luckily, this article contains numerous ideas and helpful tips to suit every occasion and circumstance.
It's important to note that there are different levels of cleaning, too. Simply removing grime is not the same as when you remove paint from wood furniture, when you remove paint from windows and frames or even if you are removing candle wax from wood surfaces from a spill. Use the best method for your particular application.
Cleaning Wood Furniture by Dusting Regularly
Dusting is a touchy subject when it comes to cleaning wood, especially since most homeowners don't want to damage the wood. The common misconception is that regular dusting forces tiny dust particles to work their way into the surface of the furniture, scratching it and ruining it.
While this may happen without the proper cleaning tools, dusting is still an essential part of maintaining the integrity of your furniture piece.Using a lint-free cloth, such as one made from microfiber, or using a feather duster is a perfect way to remove dust without scratching the wood.
Regular dusting keeps dust particles from settling on the furniture and leaving behind a filmy residue. This layer of dirt causes damage to the surface, so removing it before it gets too far out of control is critical.
Vacuuming with a brush attachment is a good start if you complete a drywall DIY project and need to clean drywall dust off furniture. Wiping afterward with a damp cloth gets the little specks left behind.
Start With a Gentle Wood Cleaner
Wood furniture requires a little more TLC than dusting. No problem! The best way to remove sticky residue from a table top is by using gentle cleaning products first.
This option is also your best plan of attack when you don't know what type of finish you have on your wood. Rather than using something that may ruin a delicate finish, using mild dish soap and a microfiber cloth preserves the look of your wood and keeps it clean.
The type of essential oil used is not important. Just add a few drops of your favorite essential oil to fill your home with that incredible scent you love. Once you mix the ingredients, either add them to a spray bottle or leave them in a large bowl.
Do not spray the wood directly. Instead, lightly mist the formula over the microfiber cleaning cloth and wipe down the wood, following along the grain. If using a bowl, do not soak the fabric before using it.
Wring out the cloth before applying it directly to the wood, since too much moisture may damage the furniture. This method works best on lacquer wood finishes and protects them from being ruined by vinegar or other acidic cleaners.
If you have the problem of getting burn marks off a wood table or floor, sometimes all you need is this strategy. Try soap and water for removing burn marks from wood, too. If the burn is not severe, this should clean it quickly.
Combining lemon juice and wood ash is another way to get heat marks off wood surfaces. Rub into the stain and watch it disappear.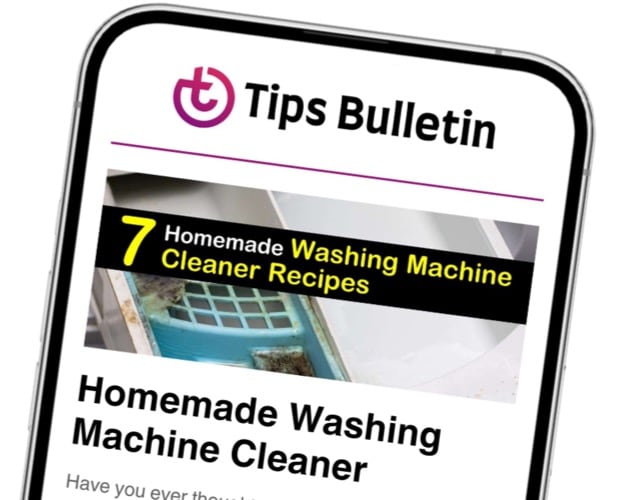 Finally, an email that Transforms Your Home.
Get the latest home and garden tips from our experts, delivered straight to your inbox.
Cleaning Painted Wood Furniture
If you have painted wood furnishings, you can use another kind of cleaning solution to safely treat them without removing the paint. The most effective recipe is a diluted form of white vinegar that disinfects the wood without peeling away the paint.
The same procedure for cleaning unpainted wood applies to this formula. Remember to wring out the cloth before wiping it down along the surface of the item.
Dry the wood when finished with a soft, clean cloth to remove any additional moisture. This strategy works exceptionally well on white painted wood that accumulates dirt and grime quickly.
Cleaning Wooden Surfaces With Tea
Another surprising way to clean wood furniture is by using black tea. Similar to the acetic acid in vinegar, the tannic acid in black tea removes dirt and grime from your floor or furniture with ease. Use it as a natural cleaner for wood floors when quantities are doubled or tripled.
To make this homemade wood cleaner, start by steeping the bag of tea in the cup of boiling water for approximately ten minutes. Allow the tea to cool before using, since the boiling water may warp the wood.
Next, dip a cloth into the drink, wring it out, then wipe along with the wood furniture. Dry the surface of the item off with a soft cloth when finished.
While tea doesn't take care of removing scratches from wood, it can hide them, particularly if they are small ones.
Remove Musty Furniture Smells With Baking Soda
If you've just scored the greatest deal on an old piece of furniture at a yard sale or thrift shop, then you may need to look for signs of bed bugs in wood furniture and treat some musty wood smells first. This issue is resolved easily with baking soda or talcum powder, both of which easily absorb foul odors. Baking soda is also a great way to remove oil stains from wood.
Sprinkle the wood with the baking soda. Leave it to soak up all the nasty odors overnight, then sweep it away with a broom the following morning. You can also use a vacuum to collect any remaining bits of powder. Repeat the process as many times as necessary until all musty odors disappear for good.
How to Clean Grime off Wood Furniture
Sometimes cleaning wood furniture requires a little stronger solution to get the job done, especially when the surface is caked with icky grime or to remove sticky tape residue from wood. In this case, the best strategy to use is equal parts turpentine and linseed oil with a dash of vinegar for good measure.
For getting sticker glue off wood or other messes, start by mixing the ingredients in a container, then dip a small corner of a cloth into the mixture. Wipe the area with the gunky residue and gently scrape it away. Do not soak the wood, or wipe down the entire piece. This solution is just for a small area with a sticky substance and grime.
Use a toothbrush to work in between small cracks and crevices whenever necessary, then dry with a clean cloth. If your wood piece has a polyurethane finish, then use mineral spirits in place of turpentine.
Removing Water Stains From Patio Furniture
Another common problem our wood furniture sees is water damage. The most natural solution for preventing this is to clean up the mess as soon as it occurs. While this is ideal, there are still those occurrences where we don't notice the water stains until it is too late.
This dilemma is especially true when it comes to our outdoor furniture that is repeatedly exposed to temperature and weather extremes. In those cases, to clean patio furniture, applying a little heat from an iron or hairdryer does just the trick. When using the iron method, place a towel over the stain first, then press the iron over the cloth.
Do not leave the iron on the wood for longer than five seconds, as too much heat warps the wood. Check your progress as you go, then repeat as necessary. Using a hairdryer acts similarly to the iron.
The key is to use a little bit of heat to dry up the water without destroying the wood itself. One way to do this is by placing the hairdryer on its lowest setting, then gently blowing over the surface. Remember to continuously move the hairdryer so it doesn't overheat the wood.
Remove Water Stains From Wood Furniture Indoors
An additional way to remove water stain from wood is by using mayonnaise. The oil-based condiment works great at seeping down into the wood and drawing out the moisture. All you need to use this technique is a small amount of the creamy food item and a clean cloth.
Start by rubbing the mayonnaise over the water spots using a circular motion as one of the more unusual ways to get water marks off a teak table or other wood. Let it soak into the furniture piece for at least an hour, ideally overnight for tough stains. After enough time passes for the mayonnaise to do its job, wipe the area clean and dry the spot.
Removing Stains From Unfinished Wood
For another excellent way to remove stains, use a combination of salt and vinegar. While the vinegar quickly lifts away stains on its own, the salt acts as a soft scrub to dig deep down into the stain without damaging the wood. This method can be used for removing crayon from wood and other pen or marker stains. Only use this technique on unfinished wood so you don't damage the coating on the furniture.
First, create a paste by mixing the ingredients. If the consistency looks a little off, add more salt to the mixture. Next, rub the salt paste into the stain using a soft, damp cloth.
Gently scrub the surface until the stain vanishes. You may need to dry the area first, then repeat the process before achieving full results.
Diminishing Stains on Wood With Toothpaste
If you're still struggling to find ways of removing water rings from wood, then toothpaste also helps. The type of toothpaste you use for this procedure is essential since you don't want to use something too harsh or not harsh enough.
Gel toothpaste is too soft and doesn't contain the appropriate ingredients to remove water stains. Equally, don't use any toothpaste containing bleaching agents or additives, as these ingredients damage the wood.Once you've found the right toothpaste, smear a small amount over the water stain with a cloth and work it into the wood.
Wipe it away with a clean cloth, then let the area dry. If that doesn't work, add baking soda to the toothpaste until it forms a thick paste. As with the other stain fighters and cleaning recipes, follow along the grain of the wood when scrubbing.
Create a Furniture Polish With Mineral Oil
Once you've cleaned your wood and removed all those horrible stains, you want to bring out its lovely shine with a natural polish. After you use oil as a way to get old hair dye stains off wood, it needs to sparkle.
One of the best ways to accomplish this task is by using natural oils to restore moisture to the coating. Some of the best candidates to use are mineral oil and lemon oil.
To use this furniture polish, blend the ingredients, then add them to a soft cleaning cloth. Wipe the oil along with the wood following along the grain. The wood should appear shiny, though not too oily. So smooth it along the surface until you achieve the perfect balance of shine and polish.
You may also find that this solution is the ideal way to remove adhesive from wood, too. Get rid of annoying price stickers or children's "art" with this easy mixture that smells great.
Clean Old Wood Furniture Naturally
Moldy smells are not the only problems you face when purchasing used wood furniture. Sometimes, these treasures also require a little extra refinishing before they're ready to wow your guests. Using the furniture polish below not only makes the wood shine, but it even restores the luster in old wood.
For cleaning old wood furniture, combine the above ingredients in a small container or spray bottle, then shake well. Add to the surface of the furniture piece using a cloth, then wipe along with the grain of the wood. Be sure to get into all the cracks and crevices and intricate designs, if applicable.
You should notice the shine and brilliance gradually returning to the piece. If not, repeat this procedure until you achieve the desired results.
Use this simple recipe not only to take care of wood furniture, but also as the best way to clean wood cabinets that have greasy stains. Remove grime and polish the surface at the same time.
If your furniture has visible mold, removing mold from wood with vinegar is effective and helps sanitize the surface. No more mold and no more moldy, musty smell!
Using olive oil by itself is also a great way to remove hand sanitizer stains from wood, whether on a table or the arm of a chair. Rub a little into the stain and wipe away the excess.
Make Your Own Lemon-Scented Furniture Polish
If you love the refreshing scent of commercial sprays, but don't want to harm your wood with harsh chemicals, then make your own furniture polish with these simple ingredients. Not only does your wooden furniture shine, but it also gives off that lemony-fresh scent you crave.
To get your lemon juice, either squeeze fresh lemons or use the already packaged version from your grocery store. Mix this juice with the two oils and apply a small amount to a cleaning cloth. Wipe along the surface of the wood, then buff dry.
Using Coconut Oil to Polish Wood
Coconut oil is excellent furniture polish, especially when combined with other shine-inducing ingredients like lemon juice and vinegar. When storing your coconut oil polish, store it in a nice, cool place. Since it is a food-grade oil, it does spoil. Toss it out after about a month if you haven't used it.
Melt the coconut oil in a small saucepan, then pour it into a heat resistant container. A spray bottle is preferable to make mixing it with the other ingredients more accessible.
Add the vinegar and lemon juice to the mix, then stir well. Allow the mixture to cool slightly before applying directly to the furniture.
Natural Furniture Polish and Cleaner
If you're looking for a double threat, this cleaner and polish combo is just the recipe you've been searching for all along. Not only does it work as an all-purpose cleaning agent, but it also restores shine and healthiness to your wood furniture.
Begin by blending the ingredients in a spray bottle. Unlike the other cleaning recipes, you can spray this directly to the furniture when using it. After spraying, wipe the surface clean with a microfiber cloth, then buff dry.
Use Beeswax to Protect Wood Finish
Applying a wax finish is the best way to protect the surface of your wood furniture, especially if it has a shellac finish. When waxing, there are two different options you can use. Among the two, using a creamy type of protectant like beeswax is the easiest and requires minimal prep work.
After cleaning the wood, spread the wax over the entire piece using a cheesecloth. Starting from one end of the furniture to the next, wipe the wax across it in one stroke to smooth out the application. Allow the wax to dry before buffing it off.
Applying Paste Wax to Wood Furniture
If you don't have access to beeswax or want to use something different, another option available is paste wax. While some paste waxes may contain beeswax, it's a little firmer than the creamy consistency of traditional beeswax.
Though experts argue over which wax is better, the significant difference between the two is how they handle different stages of wood restoration. Liquid beeswax is generally simpler to apply. Paste wax, however, works better when smoothing out uneven surfaces and removing dirt particles or paint from wood surfaces.
Start by pouring some mineral spirits over the surface of the wood. Lightly spread the paint thinner over the furniture to even out the finish with sandpaper. Do not sand down the wood itself. This step is solely to provide an even surface when waxing.
Next, apply the paste wax to the surface using the 00 steel wool. After evenly distributing the wax across the wood, buff the remaining wax off using 0000 steel wool. Make sure you follow along the grain throughout the entire procedure.
Advice About Cleaning Wood Furniture
Still have some questions about how to maintain your wood furniture? We've added a few extra tidbits to help clear up any lingering questions you may have about cleaning and protecting your favorite home furnishings.
How often should I clean my wood furniture?
There are many avenues to answer that, all of which revolve around the type of cleaning method you choose. While the amount of dusting needed throughout your year depends on the item's use and how quickly dust collects in your home, you typically should dust wood furniture at least once a week or once a month.
A full-scale deep cleaning of the item is only necessary about once or twice a year and, again, is dependent upon the wear and tear.As for waxing, however, there are many different opinions about how often to wax the furniture. Some experts, like Better Homes & Gardens, advise that a monthly "feeding" of the wax is necessary, which entails restoring moisture to dry and cracking wood.
Others recommend waxing no more than once or twice a year to prevent overdoing it and causing an unsightly buildup on wood surfaces. The rule of thumb, in this case, would be to use your best judgment. Every two to three months is suitable. If you notice your wood drying faster than you like, add a little oil or wax to keep it shiny and healthy.
What should I avoid using when cleaning wood furniture?
The worst enemies to your furniture include all the major elemental players, such as heat, water, and sunlight. Since these may damage your wood furniture over time on their own, it's important not to introduce these elements to the wood when cleaning either.
Water is particularly damaging to wood and soaks deep beneath the layers. When cleaning, avoid using water whenever possible, or only use it in limited quantities, such as applying it by way of a damp cloth. Afterward, always sop up excess moisture with a soft, dry cloth.
The same goes for avoiding heat and sunlight. Always use warm or room temperature supplies. Do not boil formulas or apply them when hot. Doing this warps the wood and leaves a white stain.
Keep your furniture out of direct sunlight as part of regular maintenance to protect the wood. The ultraviolet rays in sunlight often bleach the color of the wood and dull its shiny appearance.
Now, you have all you need to know to keep that stunning piece of wood furniture in your home looking as shiny and beautiful as the day you brought it home.
The best part about maintaining your wood furniture properly is that most of the ingredients we used today are natural, non-toxic, and already available in your pantry. Nothing is holding you back from restoring that brilliant shine to your favorite piece in the room.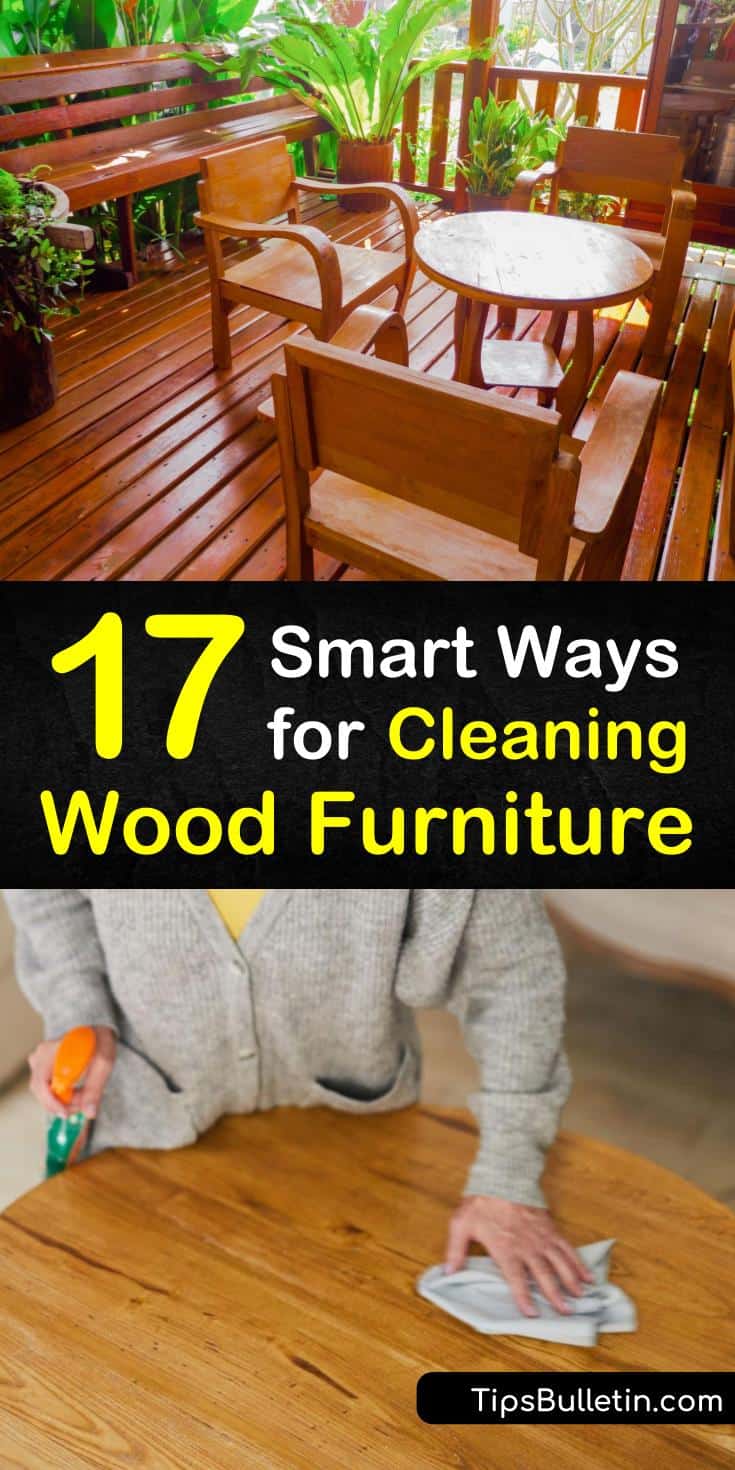 If you enjoyed these wood cleaner recipes and polishes, then please remember to share how to clean wood furniture with friends and family on Facebook and Pinterest.