Nothing says warmth and comfort like a charming wood stove nestled in the corner of the living room. However, your wood stove needs regular care and maintenance during the burning season to function safely. Discover how to clean wood stove glass, and pick some helpful tips for all-over wood stove care in this thorough guide.
Wood stoves are an elegant and effective solution for chilly rooms. They are most commonly made of iron, steel, or stone and are much more economical than a traditional masonry fireplace. Wood stoves are well-regulated by The Environmental Protection Agency, making them safer and more efficient than ever.
The EPA recommends burning only dry seasoned wood or wood that has dried for at least six months. Burning wet wood or green wood produces large amounts of smoke and soot, contaminating your wood stove and negatively affecting the air quality in your home. Stick to dry wood, and use our handy guide to keep your wood stove burning bright.
The Best Tips for Cleaning Wood Stove Glass
Learn to deep clean your wood stove to function at peak performance. We have all the information you need if you're a determined DIYer looking to discover the ins and outs of wood stove maintenance. Follow simple tutorials for every level of expertise, and watch your wood stove thrive.
Tackle the Ashes Before the Glass
Before cleaning wood stove glass, it's a good idea to address ash buildup in the firebox. If your wood stove is constantly in use, clean the ashes every three days to keep the start-up air housing, air vent, and loading doors free of ash debris.
Most people use a small, fireproof shovel to remove wood ash. However, there are specially designed vacuums to help with safe ash removal. Leave an inch of ash layer in the firebox to insulate and make the subsequent fire easier; always clean the ash completely at the end of the season.
How to Dispose of Ashes Properly
If you're generating a lot of wood ash, you need a plan for disposal. Improper dumping of wood ash can melt plastic recycling carts, set fire to garbage heaps, and possibly even damage your home. Additionally, leaving ashes to sit can draw moisture from your stove and eventually lead to rust.
Fortunately, there are a several ways to eliminate all that wood ash without incurring too much inconvenience. The most popular method is investing in a metal, fire-safe storage canister with a lid. Shovel the ashes in, wait for them to cool completely, and dispose of them in a bag or box for regular garbage pick up.
Another more eco-conscious method is recycling thoroughly cooled calcium-rich wood ash into the compost heap or organic soil amendment. Wood ash provides an excellent magnesium, phosphorus, and potassium source. It includes many other helpful micronutrients needed for healthy plant growth.
How to Clean Wood Stove Glass with Newspaper
Now that you have a nice clean firebox, it's time to tackle that dirty glass. Cleaning wood stove glass doesn't necessarily require anything fancy. Recycle your old newspapers as a practical wood stove glass cleaner.
Before you begin, check for radiant heat and hot glass; you don't want to burn your fingers. Fill a small spray bottle with clean water. Crumple a newspaper sheet and moisten it with a few sprays of water. Use the wet newspaper to wipe away the black soot and grime gently. A microfiber cloth is ideal for buffing the glass.
Cleaning Wood Stove Glass with Wood Ash
Using dirty wood ash might not come to mind as a first choice to clean a filthy fireplace glass door, but it works surprisingly well. Explore our handiest tips for how to clean wood stove glass with wood ash.
Fill a small bowl with water, and crumple a few sheets of newspaper. Moisten the newspaper in the water, dip the wet newspaper into a bit of ash, and scrub the stove glass. Repeat once or twice until the stubborn buildup breaks down.
How to Clean Wood Stove Glass with a Razor Blade
Sometimes getting rid of soot and smoke scum requires a little extra elbow grease. Rather than turning to a heavy-duty chemical cleaning agent, try a good old-fashioned razor blade.
Hold your razor blade or razor paint scraper at a 40° angle and slowly scrape in a straight line, making your way across the entire section of woodstove glass; follow up with a damp cloth to remove any lingering soot.
Exercise caution when using a razor blade or scraper on your wood stove glass. Ceramic glass, like the kind found in many wood stoves, has a coating of polycrystalline structures. It's possible to scrape or chip the coating, which is expensive to replace.
Try Pro-Rated Fireplace Glass Cleaner for Ceramic Glass
Understanding your wood burner glass is essential if you want the best results when it's time to clean. Tempered glass is heat-treated glass, whereas ceramic glass is made from translucent ceramic; both need special considerations. Follow our guide for cleaning tempered glass if your wood burning stove has this type of glass cover.
Because wood-burning stoves run with the door closed, ceramic glass is rated to withstand much higher temperatures than tempered glass. The glass on your wood burner is likely ceramic and might do best with a professional stove glass cleaner.
A cream or spray glass cleaner is gentle and effective on even the most delicate wood stove glass. Use a powerful DIY oven cleaner on glass stove tops, too. However, consult the owner's manual for recommended care instructions or check the manufacturer's website for further information.
Make a DIY Cleansing Spray for Sooty Grime
Discover how to create a homemade cleansing spray that will clean wood stove glass without breaking the bank. Use simple ingredients and a repurposed spray bottle to make this incredible cleaning agent that works just as well to remove built up grease on stove surfaces, glass, and interiors.
Grab a small, repurposed spray bottle and fill it with distilled white vinegar, water, and dish soap. You can also mix your own DIY glass cleaner with alcohol or vinegar. Spray the wood burning stove glass, let it sit for a moment, and gently rub the soot residue away. Use small circles and be soft on the glass. Repeat until the glass is clear and sparkling.
Use this same mixture to clean your oven and stove with Dawn dish soap. Stubborn stains may require more energy or a different cleaner.
How to Clean Creosote from Your Wood Stove
Creosote is a flammable byproduct of burning wood; it develops over time and clings to a wood stove and chimney walls. Creosote forms in stages; light sooty grounds are stage 1, a flaky buildup is stage 2, and tar-like liquid is stage 3, the hardest to remove.
Prevent a chimney fire by addressing the buildup of creosote regularly. Whenever you add fresh wood to your stove or every morning during the burning season, open the damper to the fully open position for 15 minutes to help burn off and expel pollutants.
For coal-burning stoves, try low-sulfur smokeless coal. However, traditional house coal is being phased out in many countries; it's important to know the rules in your area. Try a pellet stove to convert to something cleaner burning. A pellet stove burns wood pellets that make a longer-lasting fire and produce less creosote.
How to Clean the Outside of Your Wood Stove
Don't stop at clean wood stove glass; take some time to tidy up the outside, too. The occasional wipedown works wonders for any wood stove. It's much easier to stay on top of soot when all you need is warm, soapy water and a clean cloth.
Fill a bucket with warm water and drop in a teaspoon of gentle dish soap. Grab a soft cloth, wet it in the bucket, and use it to sponge down the wood stove surface. If your stove is particularly grimy, add a half cup of vinegar and continue until all the soot and smoke residue lifts.
Craft Some Homemade Polish for an Iron Wood Stove
You've come so far in your wood stove maintenance journey that it wouldn't be right to leave metal accents unpolished. Quite a few commercial polishes are available for wood burning stoves, but nothing beats an all-natural alternative.
To start shining up your wood stove, pour a cup of olive oil into a bowl, and get two clean cloths; one for application and one for buffing afterward. To apply, dip the clean cloth into the oil and use circular motions to create a layer of oil across the metal.
Absorb and buff away the oil with a microfiber cloth, leaving a glossy shine behind. It's crucial to ensure your stove is clean before attempting to polish it; dirt and grime prohibit the oil from conditioning the metal.
We hope you enjoyed our beginner-friendly guide to wood stove care and continued maintenance. Knowing how to clean wood stove glass is only part of the puzzle. Your stove has several pieces that work together to keep things running smoothly: the stove, chimney, damper, and baffle.
If you're unsure how to service or inspect the individual parts, hire a professional. Schedule a professional cleaning twice a year to ensure no flammable creosote buildup and that all the airways are free of obstruction.
In between inspections, there are several responsibilities to carry out yourself. Empty the ash and dispose of it safely; don't set any plastic bins on fire. Keep the wood stove glass clean and free of soot residue, and wipe down the exterior when possible. Consistent care keeps your home safe and your family warm.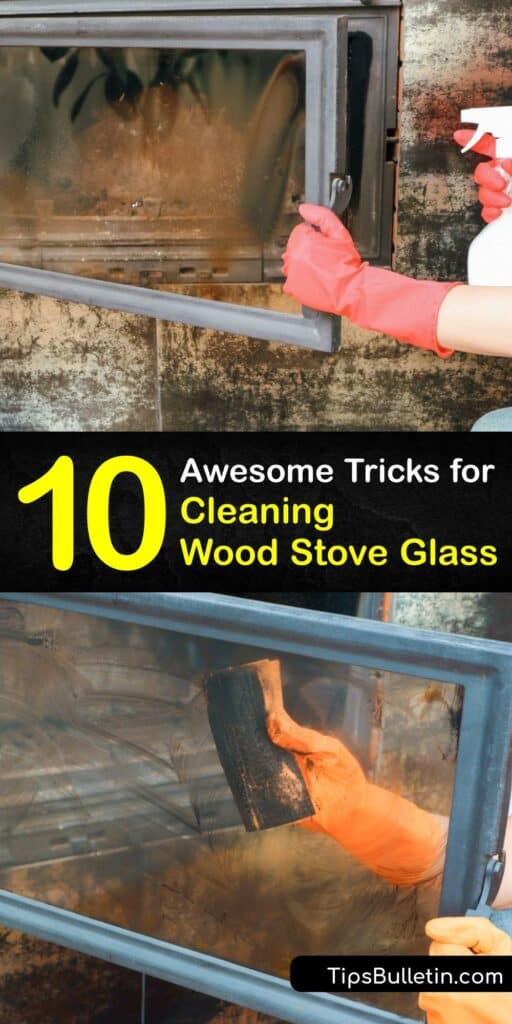 If you loved our hearth and home-related tips on how to clean wood stove glass, share this article with your friends on Pinterest and Facebook who need a wood stove maintenance plan.