Regardless of how much we try and keep our cars clean, hair, dust, dirt, and other unpleasant things end up building up in them over time. This is especially true if we eat, drink, or transport animals in our cars. It's critical to know how to clean your car interior so that you aren't letting the dirt and grime build-up.
This can be tough at the best of times, though. For those of us that commute for a significant portion of our day, we end up stockpiling various things in our cars. Food wrappers, drink cups, and all other manner of things end up accumulating in our car's interior if we don't take the time to get rid of them.
Since cars have many different interior surfaces, it's tough to clean your entire car out in one swoop. Usually, you'll need several different cleaning products and tools to get the whole car done.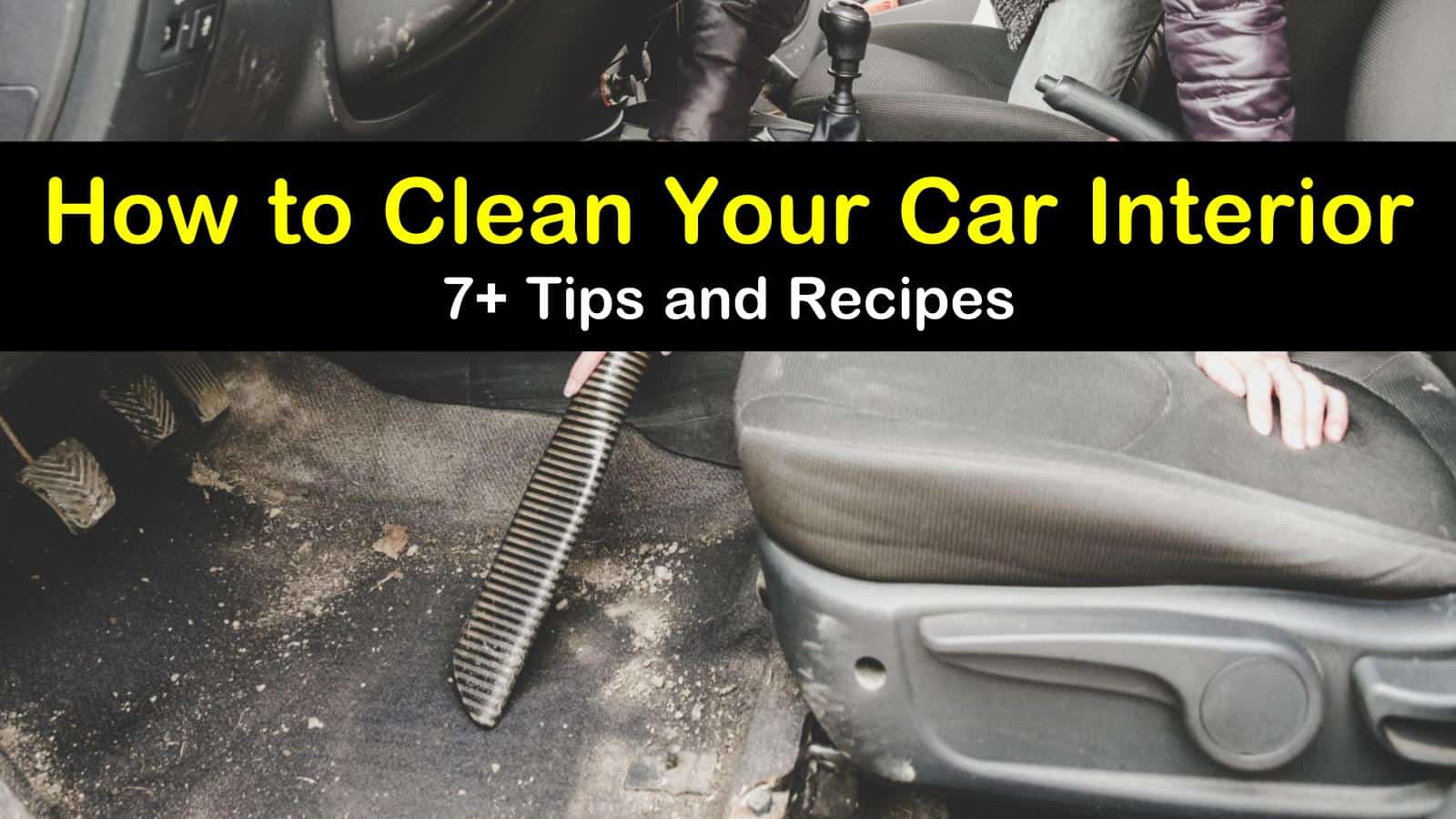 Clean a Car Interior the Easy Way
In this guide, we'll lay out the most important things you need for how to clean your car interior. If you follow our recommendations, you'll be prepared to clean all of the critical surfaces in your car, regardless of whether you choose to do it all in one day or break it into steps.
Cleaning your car interior isn't always the same few steps. Leather car seats have different cleaning requirements than cloth, for example, and rubber floor mats can tolerate some cleaners better than cloth ones. Remember this as you read this guide, and you'll know how to clean your car interior in no time.
Keeping Your Car Interior Clean with Trash Solutions
Trash and clutter are the two main culprits when it comes to unclean car interiors, but they're also the easiest to eliminate. They also need the most attention, however.
The chances are that you probably leave some trash or object behind every time you use your car, whether that's a receipt, soda bottle, napkin, or something else. One excellent way to cut down on car interior clutter is to invest in a trash-organizing solution.
This can be a trash can that straps on the back of a seat, a designated bin for recyclables in the trunk, or a trash can next to where you park your car every day. If you stay on top of the clutter and trash in your vehicle every time you use it, it won't have the chance to build up and become an unsightly problem.
Best Way to Clean the Car Interior with Detailer
Detailer spray is one of the most versatile products for use on the interior of your car. There are many car interior cleaning products, but detailer spray is hands-down the best way to clean the car interior. It's so easy!
Most detailers are safe to use on all non-porous interior surfaces of your car. Avoid using it on upholstery or carpet, but it's fine to use on leather, plastic, chrome, and glass.
You can always make your own DIY car interior cleaner, too, instead of buying it already made. One of the main benefits of interior detailing sprays is that they act as a protectant against UV rays, also. Few DIY cleaning solutions can boast the same advantage.
While an all-purpose interior detailer is the easiest to use, you can get more specialized if you prefer, as well. Upholstery cleaner and carpet cleaner are best for cloth surfaces, for example.
While detailer is safe to use on windows, you probably want to use window cleaner and paper towels instead to remove streaks and fingerprints better. You may prefer to use a leather cleaner or leather conditioner for your leather seats and steering wheel, too.
Remove Lint, Dust, and Crumbs with a Shop Vac
Anyone who has owned a car knows that you can't avoid vacuuming it forever. Eventually, dirt, crumbs, hair, and other bits build up around the crevices of your vehicle. There's no way to brush or pick these out unless you want to spend all day at it.
The best way to tackle crumbly messes and to get pet hair out of the car is with a shop vac or a vacuum cleaner with a brush attachment. Regularly vacuuming your car is especially important for vehicles with fabric seats. These seats tend to trap dirt, lint, and all sorts of unpleasant debris in the cloth, and vacuuming them out is about the only way to clean them.
It's important to vacuum carpeted surfaces in the car, too, along with crevices around cloth seats, in air vents, around door panels, and inside the glove box. The best way to clean car carpet is to start with a good vacuuming.
Don't forget to vacuum your car's ceilings during this cleaning process, too, especially if you smoke, and always make sure to slide your seats backward or forward to clean underneath them, as well.
Cleaning the Interior of a Car with Dish Soap
Perhaps you're not keen on using a car detailer, or maybe you don't have any on hand, and you'd like to get started on cleaning the inside of your car right away. Fortunately, cleaning the interior of a car with dish soap is safe and straightforward.
Learning how to make car wash shampoo with dish soap should be high on everyone's priority list, as it'll be your go-to for quick car cleanings in the future.
For this recipe, start by filling a bucket with warm water. Add a bit of dish soap to it, then combine them until the mixture is soapy. Use a microfiber cloth to clean non-porous, non-glass surfaces in your car.
Rinse the rag frequently as it gets dirty.This dish soap and water mixture is also an excellent way to start attacking stains and discolorations on cloth upholstery or carpet floors.
While it may not be strong enough to remove set-in stains, anything on the surface should come out with the help of a scrub brush, bristle brush, or clean cloth. If not, try adding your dish soap solution to a bit of baking soda, then scrubbing the paste into the stain to remove it.
Excess moisture in your car can often lead to mold. To get the mold smell out of a car, add some rubbing alcohol to your soap and water mixture if you don't exactly know where the odor is coming from. Treat moldy stains with vinegar and baking soda.
Clean Sticky Cup Holders with Socks
Sticky cup holders full of food crumbs or dried, sugary drinks can be the bane of many a mom's existence. Despite our best efforts, even adults can get grossness and grime stuck in our cupholders from time to time. However, did you know that you can get this dirt and grime out quickly with socks? That's right – socks!
First, adjust your sock (hopefully one that you don't plan to wear again) around a glass that fits snugly in your cup holders. Spray the sock with an all-purpose cleaner, glass cleaner, or a DIY cleaner (the dish soap cleaner from before put in a spray bottle should work for this, too).
Push the sock-covered glass into your cupholders and swirl it around – most of the sticky grime in the cupholders should come right off without touching it. If the cup can't get into the nooks and crannies in the center console, you can always slide the sock over your hand and scrub things out that way if necessary.
Use the same strategy with a toothbrush or paint brush for smaller nooks and crannies, such as around dials, too. If you don't have any socks handy for this method, it should work with a clean rag, also.
Hose Off Floor Mats for a Clean, Carpeted Floor
Because floor mats are removable and durable, they're one of the quickest things to clean in your car. We recommend hosing them off, especially if they're plastic or rubber floor mats.
However, some cloth mats can benefit from this treatment, too, especially if they're muddy or otherwise stained. Check for stains and clean mold out of a car with vinegar or peroxide if you see it so that it doesn't spread spores in the tight confines of the vehicle.
If you're cleaning cloth floor mats, you may want to pair the hose-off with some carpet cleaner or conditioner, too, to lift any stains and keep them looking and smelling fresh. Make sure to remove your floor mats before you vacuum out your car for the best results.
After cleaning the mats, vacuum the flooring and check for stains. Address those and then take care of cleaning car carpet as a whole so the entire surface is fresh. Allow to air dry thoroughly to prevent mold and mildew in your nice clean carpet.
Add Air Freshener for a Fresh, Clean Effect
Once you've cleaned out the clutter and dust in your vehicle, you want the air inside to be clean, too, right? Installing a small air freshener in your car will help make it smell as fresh as it looks, especially if your car is older.
In older vehicles, there are sometimes smells that we can't get out no matter how hard we try. It's also a smart idea for removing smoke odor that may be lingering inside the vehicle.
A small air-freshening unit will help your car smell fresh and new again. You can even get ones specifically made to have that "new car" smell.
However, keep in mind that installing an air freshener is no replacement for cleaning stains and smells from your car. It's a great way to help compensate for any musty odors that you can't remove, but it shouldn't be done in place of actually cleaning your car.
Finish Things Off by Airing Out Your Vehicle
After you've cleaned your car, always remember to let it air out thoroughly before you close it. Using any moist cleaner on your car and leaving the doors closed afterward is a great way to invite mold and mildew inside, and is especially true for any porous surfaces you've washed.
If it's warm outside and you can keep an eye on your car, the fastest way to air it out is to park it outdoors in the sun. However, if that fails, it can dry out in your garage with the help of a fan or two. Be sure not to close the car until it is thoroughly dry on the inside.
If you liked these tips and tricks for cleaning car interiors, make sure to share this guide on how to clean your car interior on social media so it can help more people!