Cows provide us with many extraordinary gifts; milk, meat, and fertilizer. Cows eat nutrient-rich grasses and grains, and when those materials digest, they become a very nutritious garden soil amendment. Discover how to compost cow manure with this easy go-to guide.
If you've ever looked at a bag of pre-mixed garden fertilizer and noted the letters" NPK," you'll be surprised to know that cow manure carries the same three ingredients – nitrogen, phosphorus, and potassium. These macronutrients are essential for healthy, vigorous plant growth, and there's no better way to get them than through organic means.
When we grow crops in our vegetable garden, those plants take the nutrients found in the soil and use them to further their growth cycle. Bringing cow manure into your nutrient management strategy is a great way to return vital nutrients to your garden soil after a long growing season.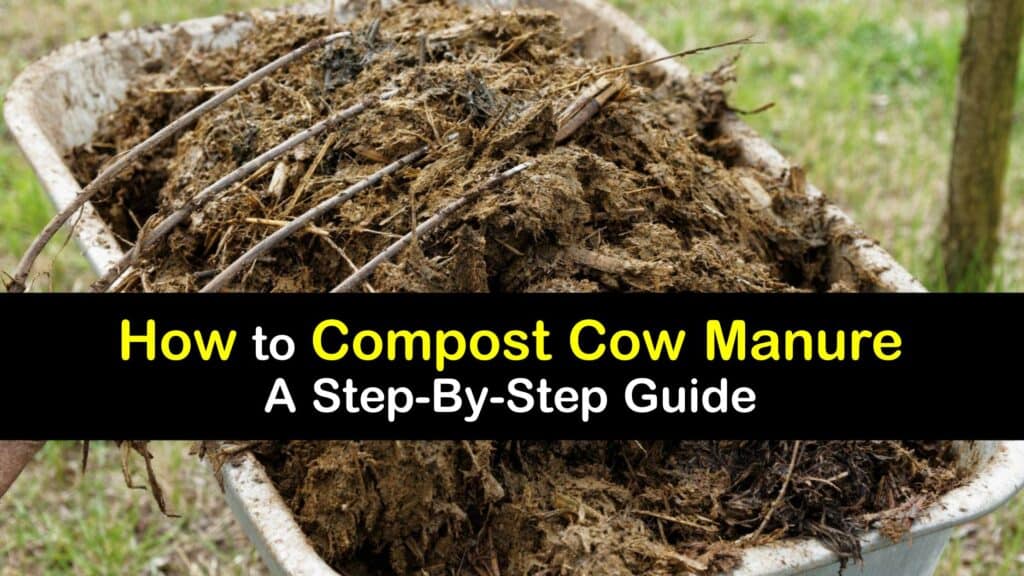 Discover the Benefits of Cow Manure Compost
The composting process is simple, inexpensive, and totally natural. Compost is one of the best organic fertilizers for vegetable gardens. Tomatoes will grow bigger and your lettuce will grow faster with this natural addition. Let's dive into the essential facts about composting cow manure.
Self-sufficient home gardening is what we're all about. If you're curious about how to put cow manure in compost for exceptional results, we've got the best tips and tricks.
What Exactly is Compost?
Compost is fresh, raw manure collected from plant-eating animals, which we then process for use in the garden. The natural heat generated through the composting process sterilizes the raw dung, making it safe for use in organic gardening. Put leaves and manure in the compost pile to decompose and create rich "black gold" for your plants.
While some gardeners use raw manure, composting removes pathogens found in animal manure and ensures a higher level of safety when used directly on food crops. Nutritious manure compost for a vegetable garden comes from many animal sources, and they all have their own benefits and drawbacks. Add a DIY compost booster to accelerate the process or leave it on its own.
Chicken Manure Compost
If you ask most vegetable gardeners what kind of animal compost they prefer, they'll usually say chicken manure fertilizer tops the list. Chicken manure is very nutritious, with an NPK rating of 1-1.5-0.5., and works best when applied in spring or fall to condition the soil for the planting season.
Chicken dung has a pretty high nitrogen content, so composting chicken manure is a great idea. Nitrogen in the soil encourages lush green growth; that's why many grass fertilizers have such an insanely high nitrogen number. However, too much nitrogen burns delicate plant tissue. We'd argue that cow manure is more versatile because it's well-balanced and has broader applications in the garden.
Pig Manure Compost
Pig manure is an inexpensive livestock-based fertilizer with an NPK rating of 0.6-0.4-0.3. Farmers used to shovel raw pig manure right into the soil to encourage hardy yields. Pig manure is sometimes called "black gold" in the farming world.
However, today we know that composting pig manure is vital because pigs carry some pathogens like E Coli and salmonella. Pig manure takes at least 12 weeks to compost, and there should be no smell by the time it goes into the garden.
Horse Manure Compost
Horse manure compost is a popular soil conditioner used by commercial farmers and home gardeners. Horse manure compost is a nicely balanced fertilizer that works nicely for garden veggies that enjoy a nitrogen boost.
Horse manure is similar to cow manure compost in composition, but horse manure doesn't digest as thoroughly as cow. That means it is richer in organic matter but has the potential to carry more whole weed seeds, which then sprout up and become a nuisance later. Horse manure composts in about four weeks and has an NPK rating of 0.5-0.3-0.4.
Steer Manure Compost
Most of the cattle manure we use for compost comes from dairy cows, though sometimes steer manure is also readily available. There is a difference between cow manure compost and steer manure compost. Both types of dung are nutritionally similar, with steer manure having a slightly higher nitrogen content.
The real difference, though, lies in the salt content of steer manure. High salt content alters the quality of your soil, and many plants find it intolerable. Consider your soil type, crop requirements, and nutrient deficiencies before choosing an animal manure compost.
Cow Manure Compost
Before we learn how to compost cow manure, let's talk about its composition and why it's helpful in the garden. Cow manure is considered a well-balanced fertilizer. Cows have unique stomachs that digest a lot of the cellulose in the plants they eat, helping the manure break down and compost more readily.
The nutrients in manure vary depending on what the cow eats, but the NPK rating generally reads around 0.8-0.5-0.5. Composting cow manure is fantastic for almost everything in the garden, from ornamentals to hardy vegetables.
Why You Should Use Cow Manure Compost
Is cow manure good for compost? It is; composted cow manure is a fantastic choice for anyone looking at organic fertilizer options and natural ways to improve the health of their garden soil. Over repeated harvests, your soil becomes depleted and unable to sustain healthy microbial life, meaning no more robust plant growth.
Integrating organic material from your compost pile helps restore nutrition that converts into food for your plants. Cow manure compost allows you to garden without using chemicals and helps to amend fussy soil conditions.
It's frustrating to have overly sandy soil or tough clay soil in the garden, and adding a bit of organic cow manure helps those solid become more hospitable.
The biggest selling point of making cow manure fertilizer is how inexpensive it is. We raise a lot of cattle in North America, and there's no shortage of affordable manure.
Seek local farms and speak with the farmers about getting your hands on a steady supply of fresh, organic cow manure. It's inspiring to be a part of the whole lifecycle of your fertilizer and to have your questions answered about what exactly is in that cow dung.
How to Compost Cow Manure
Let's talk about how to compost cow manure with hot composting because it's a safe, popular method that uses self-generated heat and few bells and whistles. Fresh manure needs a good blend of carbon and nitrogen to become adequate compost. Create the best conditions for decomposing microorganisms to do their work naturally.
To make cow manure fertilizer, you need a manure pile. Make a big, dome-shaped pile of manure to help generate heat. Be sure to place the pile away from your house and water supply. Give the pile quick spray with the hose to get that moisture content up and kickstart the composting process. Don't worry if you see a few maggots in the compost bin. These fly larvae help decompose compost material.
A big part of composting is waiting; it takes anywhere from a day to a month for the pile to heat up and be ready as organic fertilizer for potatoes or other garden veggies. It's a good idea to check the temperature regularly; try a composting thermometer to make your life a little easier. Once the pile measures 130°F for three consecutive days, it's time to turn.
Use a compost turner, like a shovel or pitchfork, to move the compost from the edges to create another pile. Shovel the compost from the middle of the original pile onto the new one.
Water the manure again and let it sit until the cow dung compost reaches 130°F for three straight days. Once you're satisfied with the temperature, turn the compost pile again and allow it to sit until it becomes loamy.
Composting Cow Manure – How Long Does It Take?
How long does it take for cow manure to compost? Monitor it daily, and always take accurate temperature readings. Depending on the pile size and your climate, the decomposition and composting process may take days or weeks.
Remember to use manure from reputable farms. Uncomposted manure or manure from carnivorous animals opens the door to pathogens in your garden. Ensure your compost pile reaches at least 130°F to kill bacteria or lingering weed seeds.
Note: It's not recommended to compost cat or dog feces; it takes about two years to break down, and you can't use it directly on food crops. While you can compost dog poop, it takes a lot of extra effort and care to ensure all pathogens are gone before using it.
We hope you enjoyed learning about soil fertility and how it affects plant health. Knowing the basics of how to improve your soil structure and quality with organic cow manure fertilizer is rewarding. Even organic waste has its place, and now you know how to compost cow manure safely and efficiently.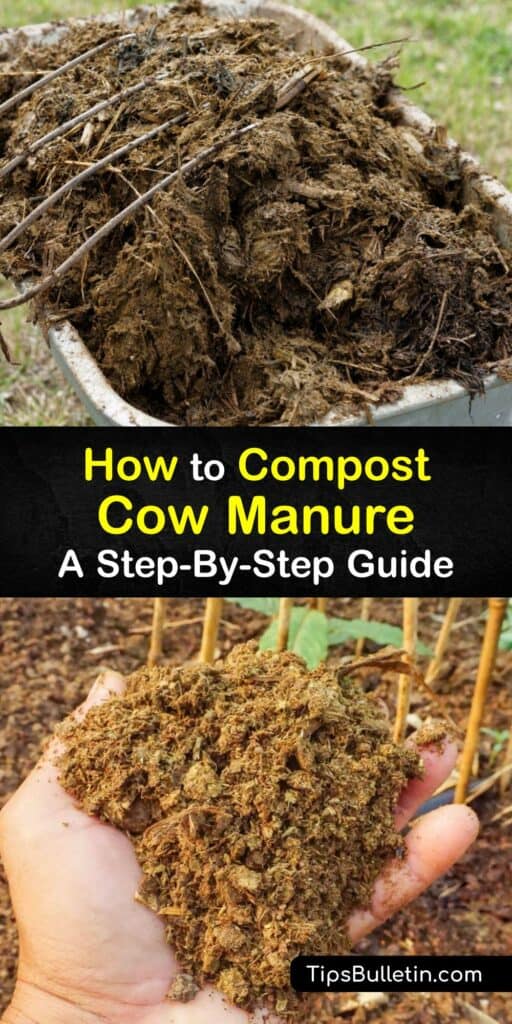 If you love learning new facts about how to compost cow manure, share this article with a friend on Pinterest or Facebook who loves organic gardening.