Learning how to compost horse manure eliminates one of the significant challenges of being a horse owner – dealing with the volume of manure produced. Manure piles are unsightly and smelly and take a long time to decompose. Composting horse manure is an innovative and eco-friendly solution to manure management, and learning how to make horse manure compost is straightforward.
Composting encourages the breakdown of organic waste like manure, food scraps, and yard trimmings into valuable finished compost. When done correctly, composting manure is odorless, and your composted horse manure is a helpful garden aid to gift to local farmers or friends.
Composting options exist for every budget, from a compost pile to a bin or a tumbler. Get started with a simple compost pile and turn your horse waste into something useful. Hauling off manure is expensive, and a big stinky manure pile ruins your farm's aesthetic. Discover the procedures and benefits of adding cow manure to the compost bin and take advantage of horse manure with this clever recycling technique.
Composting Horse Manure
If you're a horse owner, you've probably wondered how to compost horse manure and if it has any real advantages. While manure piles break down extremely slowly, leaving you with a large mass of waste to contend with for a long time, making horse manure compost hastens this decomposition significantly.
Composted manure and bedding reduce volume and emit very little odor, making a much more pleasant disposal experience. After the composting is complete, you're left with an abundance of finished compost – a high-quality organic fertilizer to sell or share with your gardening friends and neighbors.
What is Composting?
Composting transforms organic material, such as leftover food and dried leaves, into beneficial organic fertilizers for plant food. Materials fall into the green or brown categories, with brown materials containing carbon and green materials nitrogen.
To create a mixture suited for decomposition, green and brown products are combined in a 3:1 carbon to nitrogen ratio. Microorganisms and, sometimes, worms hasten the breakdown of the waste to generate finished compost for use in the garden.
Although composting is easy, a healthy, practical compost pile needs a few essential components. Working with horse dung necessitates taking extra precautions to guarantee your safety during the decomposition process and provide a product suitable for your garden.
Avoid composting weeds, as even hot composting is sometimes not enough to prevent accidentally spreading weed seed when using fertilizer to enrich the soil.
Techniques for Composting Horse Dung
If you're ready to ditch the manure pile and make composting the technique for manure management for your horse farm, the first step is choosing the best system. Each mode of composting has advantages and can be built or purchased to size depending on how much raw manure and organic matter you expect to generate.
Due to the volume of stall waste and horse poo going through the composting process, vermicomposting is inappropriate. While bins, heaps, and some tumblers, are built on a large scale, electric and vermicomposters are usually reserved for smaller indoor or patio settings. They cannot process a vast amount of soiled bedding material.
Depending on the organic material output, a compost pile is easy to set up and grow larger or smaller. A bin is enclosed and portable for a cleaner look and increased practicality. Large scale tumblers take the work out of turning compost and come in all sizes and styles.
How to Compost Horse Manure
While most fresh manure must be combined with a carbon-rich material before being incorporated into the composter, this is often not the case for horse manure. Preserving the carbon-to-nitrogen ratio (C to N ratio) is simpler when working with horse manure over other kinds.
Horse poop is often mixed with wood shavings or bedding materials, which are high in carbon, at a rate similar to the compost ratio, meaning it's safe to put directly onto your pile. If you pick up a large volume of manure without bedding, consider waiting to include it with a carbon source to maintain balance in your compost pile.
Turn your compost pile by hand or with the tractor every 4-5 weeks, and use clean water to increase moisture if it becomes dry to produce composted manure quickly.
How Long Does It Take for Horse Manure to Compost?
If you own horses and want to eliminate the organic waste they produce through composting, you may be unsure how long it takes to compost fresh horse manure. Stall waste should be safe to use in gardens after roughly a year if left unattended on a manure pile; however, hot composting shortens this time.
Due to its high nitrogen content, horse feces is compostable in as little as six weeks when placed in a compost system. Composting unlocks the nutrients and rapidly reduces the ammonia content of manure and bedding, preventing plant burn when applying it as a fertilizer.
Benefits of Horse Manure Compost
Is horse manure good for compost? Horse manure fertilizer is nutrient dense, completely organic, and safe to use in your garden. Though fresh horse manure burns your plants if applied to them directly, thanks to its high nitrogen levels, it's a fantastic addition to your compost piles.
Horse poop raises the nutrients in your fertilizer, offering more to the soil and plants. Horse manure compost does more than add nutrition to the earth. Compost improves soil structure, increasing water retention and creating air pockets to support plant growth and production and help prevent diseases.
Other animals on small farms will also create beneficial manure to use in fertilizer. Sheep manure makes a good plant fertilizer for the garden.
Other Animal Manure for Your Compost Pile
If you have a horse farm, equines are usually not the only animals you keep. Fortunately, all the benefits of using animal manure for the garden at home from different farm animals is shown below.
Though some people are put off by the idea of composting dog or pig poop and using the resulting compost in their garden, the hot compost process breaks down the manure and any germs to make it safe to handle finished compost.
Never place manure on the compost pile in a plastic bag, as this disturbs decomposition. Purchase compostable bags to make cleaning up small animal poop and adding it to the composter a breeze.
Add manure and other organic matter like food scraps, dried leaves, or shredded paper. Maintaining balance is key to keeping your compost bin working efficiently and odorless.
Composting horse manure is a modern-day manure management practice for any equine facility. Making large, ugly, stinky manure piles and paying high transport fees for manure haul-off is outdated and expensive.
Setting up a compost system for your bedding and manure hastens the breakdown of these waste products and leaves you with valuable organic fertilizer to use or sell. Choose a composting technique based on how much stall waste your farm generates and get started with composting.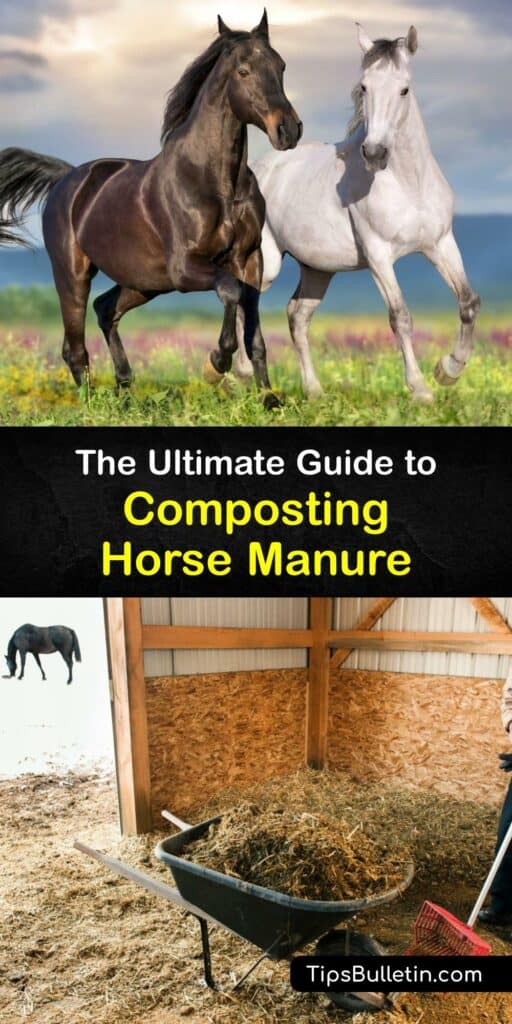 If you loved this article on how to compost horse manure, please share these brilliant tricks for composting horse manure with a few friends and family on Pinterest and Facebook.