If you're an apartment dweller, you may have wondered how to compost in an apartment so you can take advantage of the resulting material for your plants. Compost piles and huge bins are inappropriate for apartment composting. However, smaller systems like a worm farm or tumbler are excellent for indoor composting.
Composting is the process of intentionally allowing organic matter to decompose in a controlled system to create a useful organic fertilizer called finished compost. Making compost in your apartment provides you with a convenient and responsible method of disposing of food scraps, scrap paper, and plant cuttings while saving money on plant food.
Figuring out how to compost at home is challenging for those living in a smaller space. Some people automatically oppose indoor composting as they worry about microorganisms or odor. However, indoor composting vessels are self-contained and when used correctly, are odor-free. Explore indoor composting ideas and begin composting in your apartment home to reduce your footprint and have an endless supply of organic fertilizer.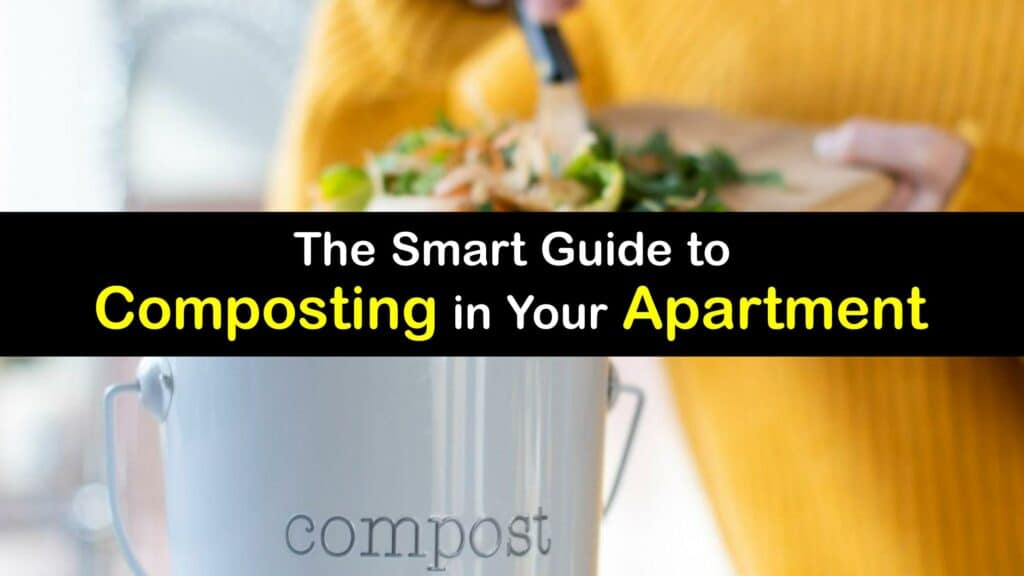 How to Compost at Home in a Small Space
As we learn about the benefits of composting, many homeowners are eager to try it themselves. Living in a smaller residence with little outdoor space makes this feel unobtainable. Discover how to compost in an apartment to reduce food waste and save money on plant food for your houseplants.
Composting is a straightforward process, and though it deals with waste, it produces no obtrusive odor when implemented correctly. In reality, apartment composting is achievable with a suitable setup. Allocate space and explore your options to begin composting inside your apartment home.
What is Composting?
Composting transforms organic waste, such as food scraps or grass clippings, into a soil additive known as finished compost through decomposition. Compost improves sandy or poor-quality soil, so plants grow healthier and more prolific.
Organic waste is separated into brown and green components and combined in a specific proportion under precise circumstances depending on its carbon or nitrogen content. For optimal results, mix green waste and brown material in your composter in a ratio of 1:3.
Microorganisms use aerobic respiration to help break down organic matter during composting. The heat produced by decomposing materials hastens the process. Composting encourages deterioration and is a natural technique to recycle waste materials, including paper, yard waste, and kitchen scraps.
Common Myths About Composting Indoors
Though composting is widely accepted as an intelligent practice that supports the environment and yields a valued product, composting indoors is less well received. Whether it's the prospect of handling waste or having the decaying matter in the home, some people object to composting in the house.
None of these concerns is valid. Indoor composters come in all shapes and sizes and are ergonomically designed to fit into the tightest spaces and appear aesthetically pleasing. A composter works just as well hidden under the kitchen sink as it does on the countertop.
A balanced composter never emits an odor. The beneficial organisms aiding in breaking down the organic material are contained inside the composting vessel, so they pose no threat to your home or family. If you have concerns about smell, an aromatherapy candle makes your apartment smell good and is perfect for placing near the bin.
How to Compost in an Apartment
Practicing indoor composting inside a small apartment might seem impossible, yet it can be done. Composting requires determining which organic waste materials are appropriate, separating them into green and brown categories, and adding them to your compost system. Here is a list of items you can compost at home, whether you have an indoor bin or outside pile.
Green items tend to be damp and are high in nitrogen, including food items like vegetable scraps or green garden waste. Brown things are high in carbon and likely to be dry; scrap paper and dry plant cuttings are brown materials.
Other kinds of organic waste are compostable, though they don't fall strictly into either green or brown matter. For miscellaneous waste, only add small amounts at a time to avoid upsetting the carbon-nitrogen balance in your composter.
Coffee grounds, animal products, tea bags, and egg shells are examples of additional compostables. There are certain things you do not want to compost, too. Inorganic items that don't break down are never suitable for composting. Avoid placing plastic trash bags in your composter. If you prefer to keep your scraps in a baggie, purchase compostable baggies.
The Best Apartment Composting Methods
Most people think of composting and imagine a compost heap in a yard. Unless your apartment has a community garden, a compost pile is out of the question for the apartment dweller. Fortunately, several options exist for making compost on a smaller, contained scale.
These scaled-down methods are mess and odor-free, making them perfect to put a compost bin indoors and in homes where space is a commodity.
Creating a DIY composter outdoors is much easier, yet there are still options to craft rather than purchase something for your apartment. Electric composters and compost tumblers are challenging to fabricate and likely better bought than built, but worm composters are craftable, and a simple plastic bin makes a good starter composter.
Look at the available space, and consider the budget and time you plan to invest in setting up before deciding on the best aerobic composting technique for your home.
Vermicomposting in Small Homes
If you're interested in apartment composting, a worm composter might be the ideal solution, especially if you have a higher volume of organic material to compost.
A worm farm relies on worms to break down kitchen waste and other compostables. Worms work faster than microorganisms in traditional composting, degrading waste into compost in a shorter time.
Vermicomposting, or composting with worms, is done in an enclosed container, takes up very little space, and produces especially rich compost thanks to the presence of worm castings or feces.
The compost produced from a worm farm is excellent to apply to your plants directly or make into convenient compost tea. Some homeowners build their worm farms using plastic containers or drawers, and others purchase commercial systems.
Benefits of Composting in an Apartment
Making apartment compost has many advantages, from slashing food waste to producing fertilizer and worm tea for your indoor plants. You can even compost coffee filters and other paper waste. If you make more compost than you can use, consider selling it at a farmers market or gifting it to a community garden or your friends to use on their plants.
Finished compost provides plants with the nutrients they need to thrive. It improves the structure of the soil and creates air pockets around plant roots which cuts down on issues such as root rot.
It's straightforward to use as a soil amendment by mixing it into the potting soil of your houseplants or make it into compost tea by combining it with water and using this in place of regular watering.
Precautions for Composting in Your Apartment
While setting up a small compost system is advantageous in many ways, it requires caution. Since food waste goes in your compost, it may attract insect pests like cockroaches or vermin like mice and rats if not correctly managed.
Pay attention to your system and keep it balanced by using an appropriate carbon to nitrogen-rich matter ratio. A balanced system is odorless and doesn't attract pests.
When your compost material smells and looks pretty wet, it likely has too much nitrogen. Use carbon-dense matter like shredded paper to remedy it. If your composter seems dry and decomposition seems slow, add greens like vegetable scraps to moisten the mixture and hasten decay.
If you make your own apartment composter, seal any openings, such as air vents, by covering them with fine mesh. Mesh allows air to circulate while ensuring pest insects can't get inside to feed and reproduce in your compost.
It's also important to note that while you can put dog poop in your compost bin, it's not ideal for indoor situations. Manure is best used in outdoor compost bins or piles.
As we become increasingly conscious of the global impact of food waste and the effect of using landfills on the planet, many people want to learn how to compost at home. Being in an apartment or working with minimal space doesn't mean you can't have a composter.
Though composting is associated with a large heap out in a garden, it's possible on a much smaller and more contained scale to make it apartment friendly.
Well-managed composters are odorless, very discreet, and able to fit in a small amount of counter space or under the sink. Find a composter to suit your family and get started making apartment compost to reduce food waste and enjoy free fertilizer for your house plants.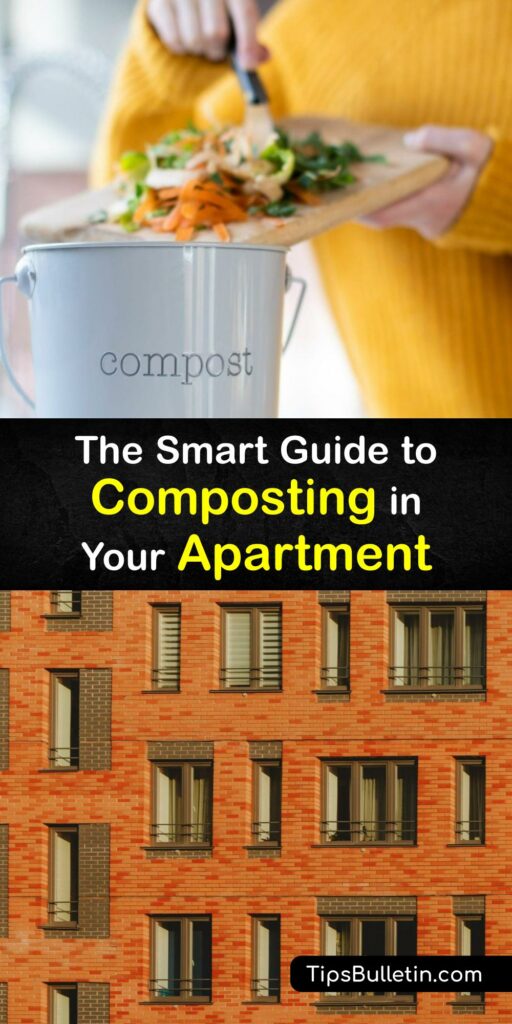 If you loved this article on how to compost in an apartment, please share this brilliant information on apartment composting with your friends and family on Pinterest and Facebook.