Can you compost pumpkins? Every part of a pumpkin is compostable, though they are best cut into smaller pieces before you mix them into your compost heap or bin. Exploring how to compost pumpkins gives you a new way to reduce food waste and produce complete organic fertilizer to feed your garden and house plants.
Whether you already have a composter or plan to set one up, composting pumpkins is easy. The rind, flesh, stem, and seeds contain nitrogen and other compounds that enhance your finished compost. Pumpkins contain a large amount of nitrogen, combined with carbon-rich materials, oxygen, and moisture, giving rise to an ideal setting for microbes to break down organic matter rapidly.
Food waste is a global problem. Try putting pumpkin in your compost to support the environment and make plant food. If you cook with pumpkins, use gourds for decoration, host a pumpkin smash, or set out lanterns at Halloween, you no doubt have leftover pumpkins.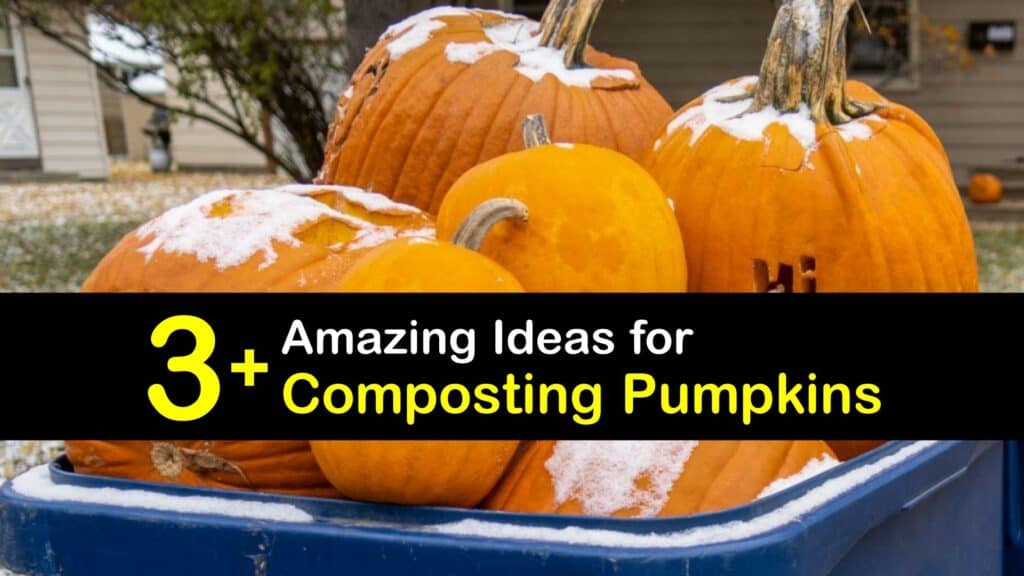 Composting Pumpkins for Organic Garden Fertilizer
Growing pumpkins is a fun family activity. After you care for your gourds and make a DIY fertilizer for pumpkins, harvesting is the best part. Growing pumpkins indoors is even possible. Knowing how to compost pumpkins gives you a greener avenue to dispose of them after holidays or cooking while improving finished compost.
Anyone who hosts a Halloween party or pumpkin smash has probably wondered, "Can you compost pumpkins?"
Composting pumpkins is an intelligent way to generate less food waste and cut the cost of fertilizer. Whether you have pumpkin leftover from making a pumpkin pie or need to get rid of several jack-o-lanterns, compost your pumpkins rather than sending them to a landfill.
Can You Compost Pumpkins?
Can pumpkins be composted? All types of pumpkins and gourds are entirely compostable. The rind, flesh, and seeds all break down well and add nutrients to compost to improve its quality.
Pumpkins are considered a green or wet composting matter thanks to their high nitrogen levels. Include them as part of your green composting material to level up your organic fertilizer. Kitchen waste is good for your compost as it maintains a balance for optimal decomposition.
What Is Composting?
Composting is a unique recycling option to use natural resources to make nutrient rich compost for the garden. It keeps kitchen scraps out of the landfill to reduce food waste without producing abundant greenhouse gas. Installing a compost system at home helps you move closer to zero waste. Read on for helpful ways to compost corn cobs, pumpkins, and other organic material.
There are many different at home objects that can be composted. You can compost grass clippings, pumpkins and other leftover fruit and veggies to combine moisture and oxygen in an optimal atmosphere for microbial breakdown.
You can even compost chicken bones and small amounts of cooked meat. Though many things are compostable, never add household hazardous waste to your compost tumbler.
How to Compost Pumpkins
Depending on how much waste you produce, a compost pile, compost bin, or compost tumbler makes composting simple. Choose a suitable area and size your composter to accommodate the amount of organic matter you'll turn into finished compost.
Add pumpkin products to your pile as you have them, or freeze them until you have enough and include them in larger quantities.
Remove candle wax and compost your old jack-o-lanterns, waste from a pumpkin smash, or old gourds used for decoration.
Put Pumpkins in Compost
Cut uncarved pumpkins into smaller pieces to prepare them for composting. While pumpkin seed is compostable, there's a chance the seeds may overwinter in your composter, resulting in pumpkin sprouts growing where you use your compost.
Dig down into your compost material and bury a food scrap like pumpkins toward the middle of your pile where animals are less likely to dig up the food to eat it. Spread a thin layer of yard waste, like branches or leaves, on top of the pile for increased protection.
Are pumpkins good for compost? Whether you like cooking with pumpkins or want to repurpose a Halloween pumpkin lantern, you can compost citrus peels and pumpkin rinds for an environmentally friendly technique. Pumpkins are a nutritious inclusion for your compost bin, and their abundance of beneficial compounds enriches garden soil when you apply the resulting fertilizer.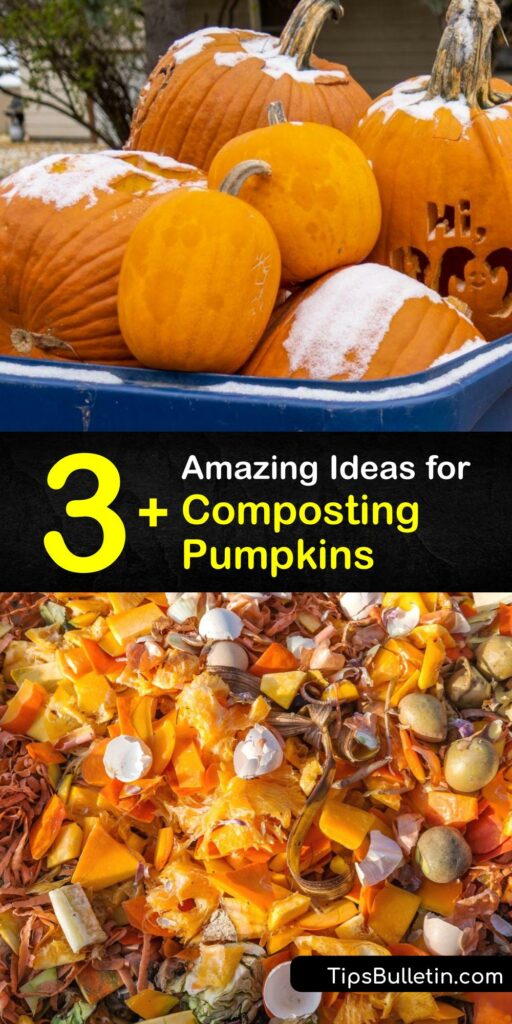 If you loved this article on how to compost pumpkins, please share this fantastic information on composting pumpkins with your friends and family on Pinterest and Facebook.