Your tennis shoes are comfy and stylish. However, the cool factor quickly ends once you take them off, and the room fills with an embarrassing and unpleasant odor. Discover how to deodorize shoes to remove unwanted odors and leave them clean and fresh smelling.
You finish your workout, shower, and change into your street clothes when you notice a foul odor. A quick whiff inside your gym bag answers the question, for inside the bag lay your smelly shoes. You quickly zip up the bag and head home, but now you have a pair of stinky white shoes to deal with. There are several reasons for a smelly shoe odor, including sweaty feet and odor-causing bacteria.
It also depends on the footwear, since shoes made of plastic, rubber, and synthetic material cause over-sweating while leather shoes are more breathable. Luckily, there are many excellent ways to get the bad odor out of stinky shoes.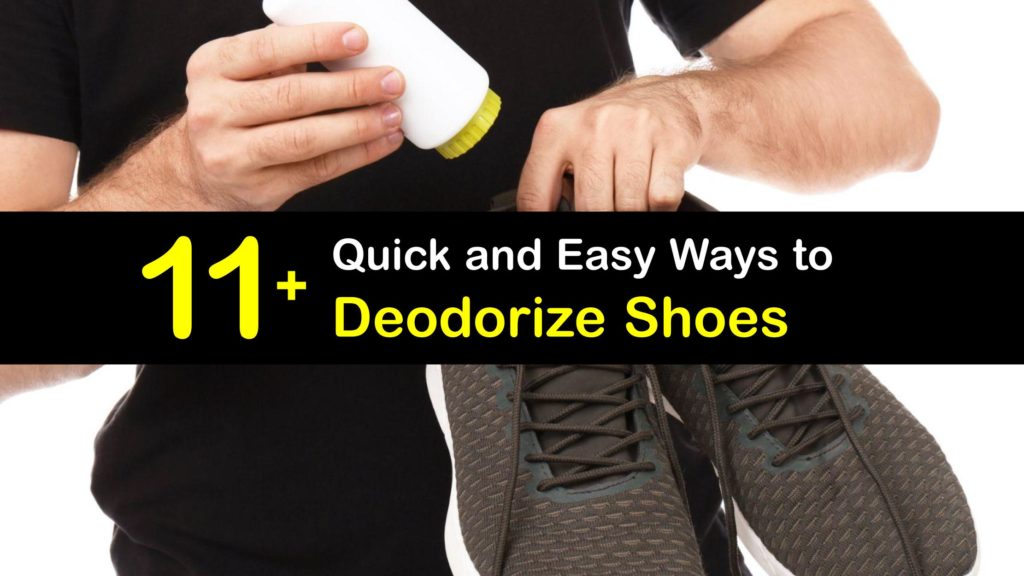 Ways to Deodorize Stinky Shoes
There is nothing more mortifying than having an unpleasant smell follow you wherever you go.
Before you give up and throw your workout shoes in the trash, we have several easy ways to deodorize a smelly shoe and eliminate foul odors.
How to Get the Smell Out of Shoes With Newspaper
A stinky shoe is often due to sweat, and the best way to eliminate the odor is to absorb the odor-causing moisture. Here is how to get the smell out of shoes by absorbing the foul odors.
Bunch up some old newspapers, pack them into your stinky shoes, and set them in a dry area for a couple of days as the papers absorb odors.
To freshen the shoes with a pleasing scent, try adding a few drops of your favorite essential oils to the paper before packing them into the sneakers.
How to Remove the Smell From Shoes Instantly
Baking soda is one of our favorite household products since it has many uses, from baking to cleaning. Learn how to remove the smell from shoes instantly, whether you need to get gas smell out of shoes or another smelly problem, with the odor-absorbing power of baking soda.
For this simple but awesome way to make shoes not smell, loosen the laces on your shoes to make the opening wider, and sprinkle some baking soda inside each shoe. The powder absorbs the bad smells while drawing out moisture, making it difficult for bacteria to thrive.
For the best results, perform this routine at night after you take off your shoes and then shake out your sneakers in the morning.
How to Deodorize Shoes With Kitty Litter
While we often think of cat litter as having one job, and that is to give your cat a place to do their business, this product is helpful for many other things.
Since it works wonders to absorb kitty smells, it is also ideal to soak up foot odor from your shoes.
Each night before you go to bed, sprinkle a tablespoon or two of cat litter into each shoe and let them sit overnight. The litter absorbs the odors while you sleep. Shake out the granules in the morning before putting on your shoes. You can deodorize cleats the same way, as well as any other type of footwear.
This remedy is also perfect to get cat urine smell out of shoes. To save the mess, add cat litter to a pair of old socks and slip them in your shoes overnight. The smell should be gone in the morning.
Getting Rid of Bad Shoe Odor With Fabric Softener
If you're in a hurry and don't have time to disinfect your shoes to get rid of stinky foot smells, a dryer sheet is a good option for fast shoe freshening. Here is how to get the smell out of shoes using a fabric softener.
Slip a sheet or two of fabric softener down into each shoe and let them sit overnight or as a way to remove smoke smell from shoes from cigarettes or a campfire.
Make sure to position the sheets over the entire inside of the shoe to absorb all the odor while leaving a fresh scent. Remove the sheets before putting on your shoes and repeat as necessary.
Using Coffee Grounds to Eliminate Bad Shoe Smells
If you're a coffee drinker and you're looking for a quick way to get bad odors out of your shoes, you're in luck.
Coffee grounds are great at removing odors while leaving behind a pleasing aroma. Discover how to remove the smell from shoes instantly with coffee.
To take care of stinky shoes and smelly hiking boots, widen the opening of each shoe and sprinkle a handful of dry coffee grounds inside. Do not use wet coffee grounds since they leave your shoes damp and stain the fabric.
Leave the coffee in your shoes for a couple of hours and dump them out before wearing them.
How to Use White Vinegar to Freshen Shoes
White vinegar is an acidic liquid that is also a mild disinfectant. Not only does it help to remove bad smells from your shoes, but it also serves as a cleaner, breaking down dirt and stains. Using it in your shoes is a great way to clean and deodorize.
Dampen a paper towel or hand towel with a little bit of white vinegar and use it to rub the insides of your shoes, or make a DIY shoe disinfectant spray by filling a spray bottle with vinegar and spray it lightly inside each shoe.
Clean the sides and insole to remove bad smells and let them dry completely before putting them back on. If you need them to dry faster, stuff the insides with newspaper to absorb moisture.
Getting Rid of Shoe Odors With Rubbing Alcohol
If you have really smelly feet and your shoes are holding the odors, consider rubbing alcohol. This powerful disinfectant is great for killing a range of odor causing bacteria and microorganisms, and it's readily available.
Pour rubbing alcohol on a cotton ball to dampen it without soaking and rub the insides of the shoes, making sure to get in all the curves and corners of the fabric. Use fresh cotton balls as needed. Let the shoes dry before wearing them.
Using Freezing Temperatures to Get Rid of Shoe Odor
While it may seem unorthodox, your freezer is an excellent tool for eliminating foul odors in sneakers. The freezing temperatures kill the bacteria growing in the shoe from a stinky foot, eliminating the stink.
Place your shoes in a plastic bag, set them in the freezer, and leave them there overnight or longer if necessary. Allow your shoes to sit out at room temperature until they thaw, and wear them as usual.
Microwave Your Shoes to Eliminate Bacteria-Causing Odors
Heat is another way to get rid of the stench in your footwear since high temperatures kill bacteria, and your microwave is the easiest way to cure a stinky shoe.
Note: Water-sensitive and leather shoes are not good candidates for this method.
Start by getting a rag wet with water and then wipe the moist rag over the inside and outside of each shoe to make them damp without soaking. Place the shoes in the microwave and heat them on high for half a minute.
Check the shoe's temperature to see if they are hot and reheat them at 30-second intervals until they are hot to the touch. Use an oven mitt or tongs to remove them from the oven and let them air dry.
Adding Scented Powder to Bad Smelling Shoes
If the smell in your shoes is not that bad, and you want to freshen them up a bit, why not make a homemade shoe deodorizer? Here are some DIY tips for removing shoe odors and adding a fresh scent.
To make a homemade shoe deodorizer with charcoal, place a scoop of activated charcoal into a coffee filter, add a couple of drops of your favorite essential oil like lavender or tea tree oil, and wrap it up in a piece of cloth.
Place one in each of your shoes to absorb odors while releasing a fresh scent. This is a smart way to get smell out of leather boots without harming the leather material.
Another way to freshen up shoes is to make a DIY shoe powder. Pour some baby powder, baking soda, or foot talc into a jar and add several drops of your essential oil of choice.
Screw the lid in place, shake the jar to mix, and sprinkle the powder into your shoes whenever they begin to smell bad.
Washing Your Shoes to Eliminate Bad Shoe Odor
The most efficient way to get rid of nasty smells in your footwear is to clean them in the washing machine. However, it's crucial to make sure your shoes are machine washable. The way to wash slippers or how to machine wash your shoes to eliminate odors is easy if you follow a few simple tips.
Wash your shoes with your standard laundry detergent and use the warm or hot setting. If you're not concerned about the shoes shrinking a little, transfer them from the washer to the dryer and use the low or medium cycle.
Although some people recommend it, it's not the best idea to put shoes in the dishwasher to clean them. High water temperatures in the dishwasher can damage your shoes.
To dry your shoes without damaging the inside of the dryer drum and creating a lot of noise, hang the shoelaces outside the door before you close it to keep your shoes from bouncing around inside the machine.
If you do not dry them in the clothes dryer, set them outside in the sun, a natural disinfectant.
Ways to Prevent Shoe Odor
It's much easier to prevent bad smells from taking over your shoes than to eliminate them. Here are some helpful tips to keep your footwear smelling fresh as you wear them day-to-day.
One of the easiest ways to prevent tennis shoes from getting stinky is to always wear socks. The sock material absorbs sweat and prevents it from soaking into shoe fabric.
Another good way to absorb moisture is to sprinkle baby powder or foot talc on your feet before slipping on your socks and shoes.
Place your shoes on a shoe rack when they are not in use so they have room to breathe. Shoe trees are also handy for preventing stinky shoes.
They open up the inside to allow air circulation and help keep the shoe's shape. If your footwear is extra smelly, consider replacing the insoles.
Walking around in shoes that emit a foul smell is an unpleasant experience, especially if those around you get a whiff.
While you may feel it's time to toss your footwear in the trash, there are easy ways to freshen your shoes and eliminate shoe odor.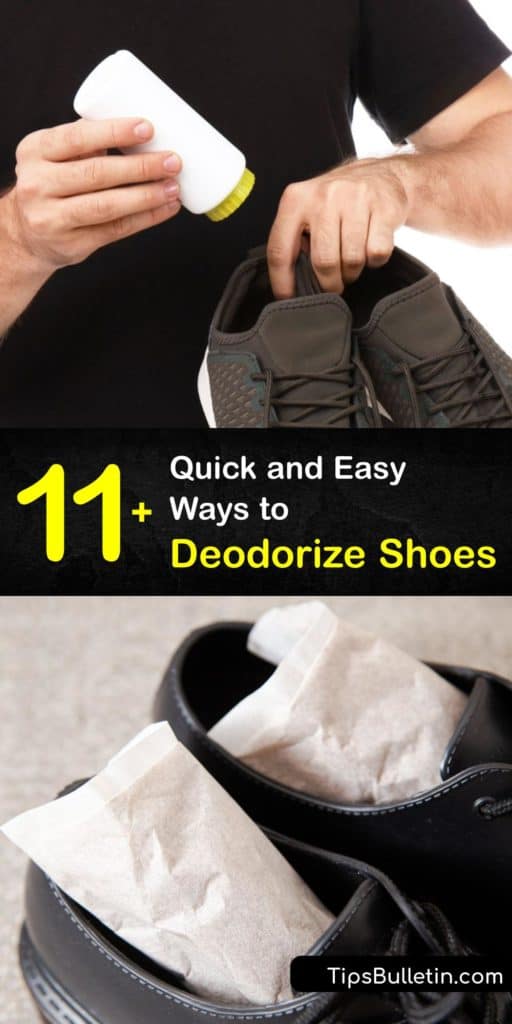 We hope that learning how to deodorize shoes keeps your favorite pair of sneakers smelling fresh, and we'd love it if you'd share our shoe deodorizing methods with your family and friends on Pinterest and Facebook.