If you're like most coffee drinkers, that delicious first cup of the morning will make or break the rest of your day. The last thing you want to do is start your morning with a cold, flavorless cup of coffee. Learning how to descale a coffee maker prevents these horrible circumstances by leaving you with a clean machine that delivers the perfect blend of robust taste and heat.
So, how does descaling a coffee maker help your coffee taste better? Removing the mineral buildup in your coffee machine is an essential part of the cleaning process. Beyond the realm of cleaning your coffee carafe and other removable parts with soap and water, decalcifying your coffee maker cleans the interior units, as well.
This means your beloved brew enters the coffee pot hot, fresh, and full of flavor for you to enjoy in the early morning hours. What is the best coffee machine descaler recipe? Luckily, we have several options available for you. All you have to do is pick your favorite one and enjoy the best coffee you've ever tasted.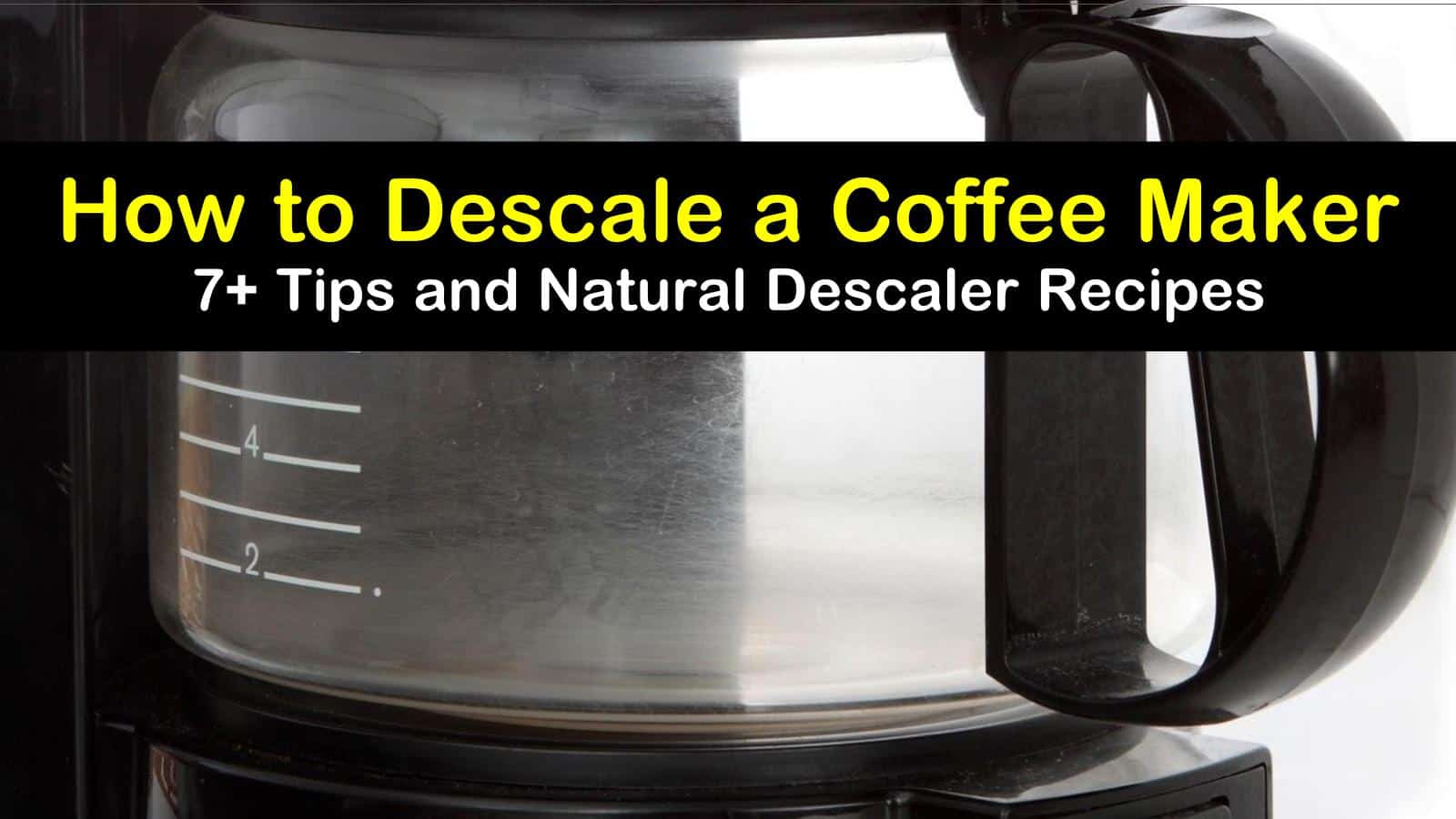 Simple Tips and Recipes for Descaling a Coffee Maker
Whether you need to know how to descale a Keurig coffee maker or a regular Mr. Coffee drip machine, these tips point you in the right direction.
Not only do these solutions include easy-to-follow instructions, but most of them consist of all-natural, non-toxic ingredients that you'll find already in your pantry, such as methods to clean a coffee maker with baking soda or remove calcium deposits with lemon juice.
You can also use these simple remedies for how to descale an electric kettle or teapot. The process is just the same.
How to Descale a Coffee Maker with Vinegar
One of the best and most common ways to descale your coffee maker is to use a simple but quite effective vinegar solution. White vinegar is an excellent disinfectant and kills most bacteria as a natural cleaning solution.
As one of the best ways to clean a Cuisinart coffee pot, vinegar blasts through the layers of calcium deposits to leave your coffee maker sanitized and functioning correctly so that every pot is fresh and delicious.
When using this vinegar solution for descaling purposes, it is essential to note the amount of liquid your water reservoir holds. The ratio should be 50/50, so adjust the quantities of water and vinegar accordingly. Pour the vinegar solution into the water reservoir then begin the brew cycle.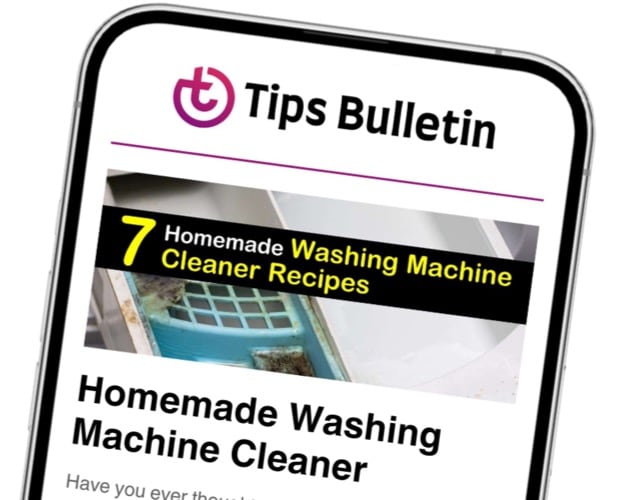 Finally, an email that Transforms Your Home.
Get the latest home and garden tips from our experts, delivered straight to your inbox.
Stop the cycle halfway through and allow the vinegar to soak over the inside elements for approximately 30 minutes. Run the remainder of the formula through the machine. You also want to run at least two cycles of clean water through the machine before making your next pot of coffee.
Remove Calcium Deposits with Lemon Juice
If you want to use a cleaning solution other than vinegar, lemon juice is the best alternative to clean a stainless steel coffee pot. Cleaning with this acidic cleaner is the same as when cleaning with vinegar and is just as effective.
Many homeowners prefer using the citrusy alternative to vinegar since there are often residual amounts of vinegar that leave the coffee tasting sour if not rinsed thoroughly.
After adding equal parts lemon juice and water to your coffee maker, run the solution through the coffee machine the same way you did with the vinegar. Allowing the solution to sit for at least 30 minutes will remove all the buildup on the heating element. Rinsing clean water through the brewing cycle once should remove any leftover lemon flavors.
Add Citric Acid Pellets for Cleaning Limescale
Using citric acid pellets is another incredible way to descale your coffee maker. Similar to lemon juice, these pellets use the same type of acid found in their lemony counterpart, though in a much higher concentration.
The safest ratio for using these citric acid pellets without damaging your coffee maker is by adding 250 parts water to one part of citric acid. Follow the recipe below for the best measurements.
Using citric acid is an easy way to clean coffee stains from stainless steel and replaces vinegar or lemon juice. When using this coffee cleaning method, it is important to alternate between techniques such as vinegar one time and the citric pellets another time.
This variation is necessary is because the pellets sometimes create a mineral buildup as well, especially when overused. Otherwise, this strategy works on espresso machines, drip machines, and even Keurigs.
Descaling a Coffee Maker with Baking Soda
Another fantastic homemade coffee machine descaling solution involves baking soda. One of the most common ingredients in cleaning products, baking soda is a fabulous substance with which to clean dirt and grime from almost any surface. This same phenomenal cleaning power translates to the coffee pot and removing the limescale buildup with ease.
Add the cup of water and baking soda to your carafe before adding it to the water reservoir. Swirl the contents of the coffee pot around until the two ingredients are adequately blended.
Add them to your coffee maker and run through a brewing cycle. Run an addition cycle through to rinse out any remaining bits of baking soda. This solution is another great cleaning agent that works with all types of coffee makers.
To use baking soda to clean coffee thermos, add hot water and baking soda. Close the thermos and swish around the contents. Let it sit for several minutes and rinse. Use a bottle brush for tough stains.
Use the Right Kind of Water
Sometimes the answer to a thorough clean can be as easy as choosing the right kind of water. Since mineral deposits cause limescale, hard water affects your coffee pot faster than softened water. When making your coffee, if you don't have a water filter, or if your tap water needs a softener before using, consider using bottled or spring water instead, even if you are only using it during the descaling process.
While some suggest using distilled water in Keurigs when descaling your coffee pot, don't use this when brewing a regular pot of coffee. Distilled water often leaves a bitter taste to the coffee, so only use it for cleaning purposes.
Try a Commercial Coffee Machine Descaler
In some cases, there are commercial descaling solutions you can purchase from the store to make your life even easier. Keurig produces one such cleaning product that is easy to use and is specially designed for your K-cup machine. When using this product, turn off your water filter ahead of time.
If you have opted to use the Keurig descaling solution, then you likely need to use the whole bottle based on the size of your coffee machine and the manufacturer's instructions. After adding the bottle of descaling solution, pour in enough water to fill the rest of the reservoir.
Place a ceramic mug at the bottom to catch the liquid draining out of the Keurig machine. Next, run the brew cycle on the highest ounce setting until all the cleaning solution has filtered out of the device. Rinse the coffee machine with clean water when finished.
Decalcify Coffee Makers with CLR Cleaner
Another excellent cleaning product you can pick up from the store is CLR cleaner. This cleaning agent is designed to remove limescale and mineral buildup on most surfaces in your home, especially in the bathroom, around sinks, and glass surfaces. However, it is also an ideal option for removing those same calcium deposits from inside your coffee pot.
Mix the two ingredients before adding them to the reservoir to ensure they are thoroughly blended. When using this product, it isn't necessary to wait 30 minutes before running it through the complete brew cycle.
Instead, five minutes should be plenty of time for the cleaner to do its job and clear away the dirt and grime. Run clean water through about three or four times before making your first pot of coffee, however.
Coffee Maker Descaling Solution with Hydrogen Peroxide
Hydrogen peroxide is a wonderful disinfectant that sanitizes most surfaces and materials wonderfully. This same fantastic cleaning quality applies to your coffee machine by using a diluted solution of peroxide and water.
When using this recipe, it isn't necessary to leave the solution for 30 minutes, either. Run it through and let it work its magic.
If you use a paper filter when regularly making coffee, do so during this time, as well. The last thing to do after cleaning with hydrogen peroxide is to rinse the coffee machine with an additional two brew cycles. Don't forget to clean the coffee pot and filter, too!
Clean Your Coffee Maker Ahead of Time
While you may consider the descaling process to be a thorough cleaning in itself, your coffee machine will benefit from you wiping down the outside and washing the removable parts first. Make sure you clear away any coffee grounds from the filter and K-cup holder.
Clean the exterior with a little bit of dish soap and hot water. When cleaning the removable parts, do this by hand rather than placing them in the dishwasher. The machine will damage them, though putting the carafe in the dishwasher is fine.
Final Pieces of Advice for Descaling a Coffee Maker
Still, wondering when the appropriate time to descale your coffee pot is? Most machines have a sensor that lets you know when it's time to clean your coffee maker, but not usually for the descaling process.
You may also be wondering why any of this is essential. We'll answer those questions for you here in these last few helpful tidbits.
How often should I descale my coffee maker?
The best way to clean a coffee machine is by regularly maintaining it. Proper descaling should be done every three to six months with the solution of your choice. To help reduce mineral deposits in your coffee machine, clean the removable parts with soapy water after every use, as well.
If you have a Keurig machine, run an additional cup or two of water through the machine, especially when making sugary drinks to reduce the amount of buildup caused by sugar crystals, which may also create clogs in the water flow and on the heat elements.
Why is descaling your coffee maker necessary?
To understand why descaling your coffee machine is so important, it's imperative to realize what descaling does in the first place. Water contains minerals like calcium and magnesium naturally, which may eventually leave an undesirable limescale buildup on the inside of your coffee maker.
Since water is such a massive component of your coffee brewing process, you can imagine these calcium deposits will accrue quite quickly over time if left untreated.Notably, it affects the heating elements and the machine's ability to function correctly.
The mineral buildup may cause a clog that affects the flow of water, while an abundance of limescale prevents the temperature from reaching its ideal level of heat. This issue, in turn, affects the taste and desirability of the coffee. And, no one wants lukewarm, flavorless coffee.
We hope you enjoyed learning about descaling a coffee maker and all the fun and easy recipes you can use, as well. Now, all that's left for you to do is try your favorite idea out on your coffee maker. Then enjoy a delicious cup of joe to celebrate.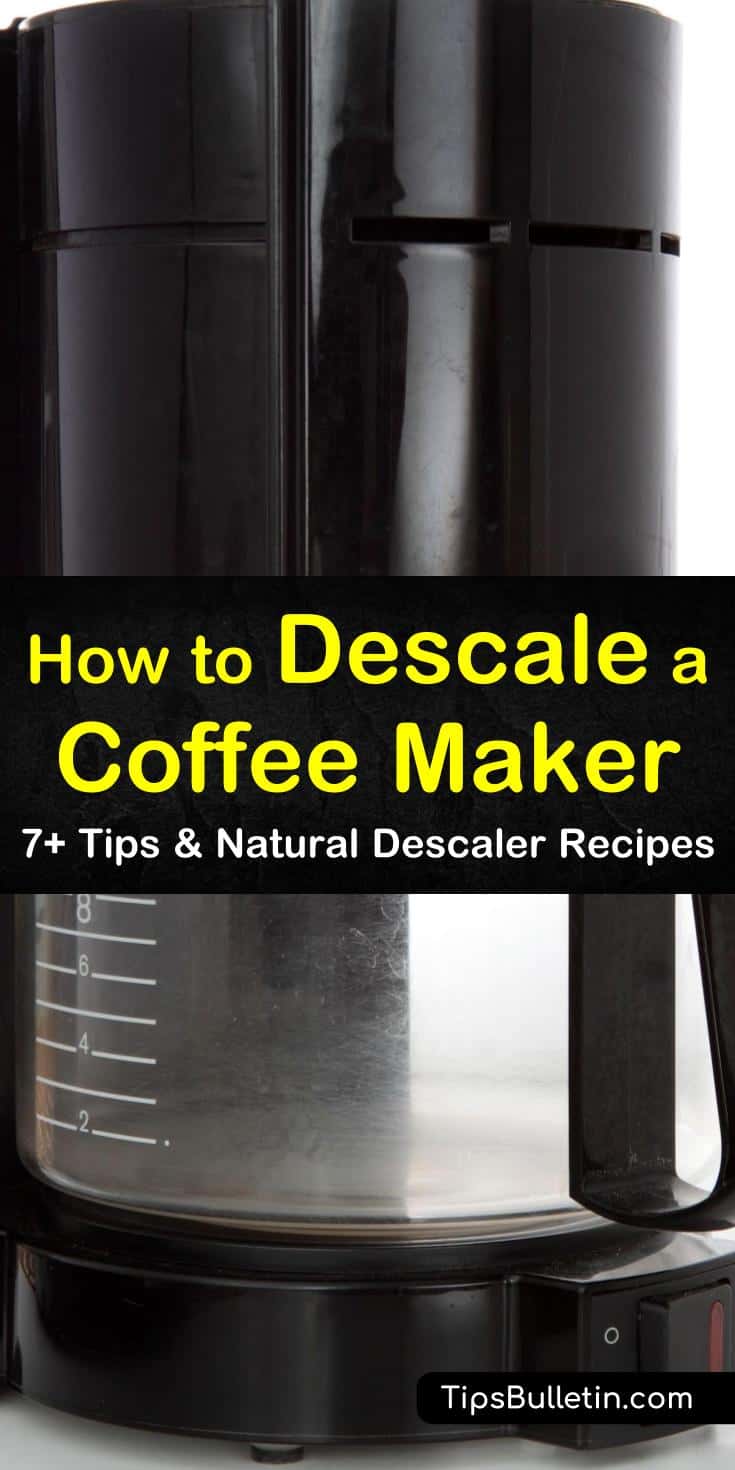 If you found these incredible coffee machine cleaning tips helpful, please remember to share how to descale a coffee maker with all your coffee-loving friends and family on Facebook and Pinterest.