When it comes to enjoying your favorite cup of coffee, you want to make sure it's steaming hot and full of flavor before it ever reaches your lips. One way to keep your Keurig coffee machine operating at its best is to regularly descale it by removing calcium deposits caused by hard water and mineral buildup. So how to descale a Keurig coffee maker, and how does it differ from descaling other coffee machines?
The easy thing to note is that, when it comes to descaling a Keurig coffee maker, many of the same solutions also work when using them to clean a regular drip machine.
The most significant difference is in the removable parts, water filters, and some bonus cleaning products that come courtesy of the Keurig company itself.
No matter what the challenges, we have the solutions to all of your descaling questions. If you're ready to find the best coffee machine descaler for Keurig machines, follow these fantastic tips and descaling recipes.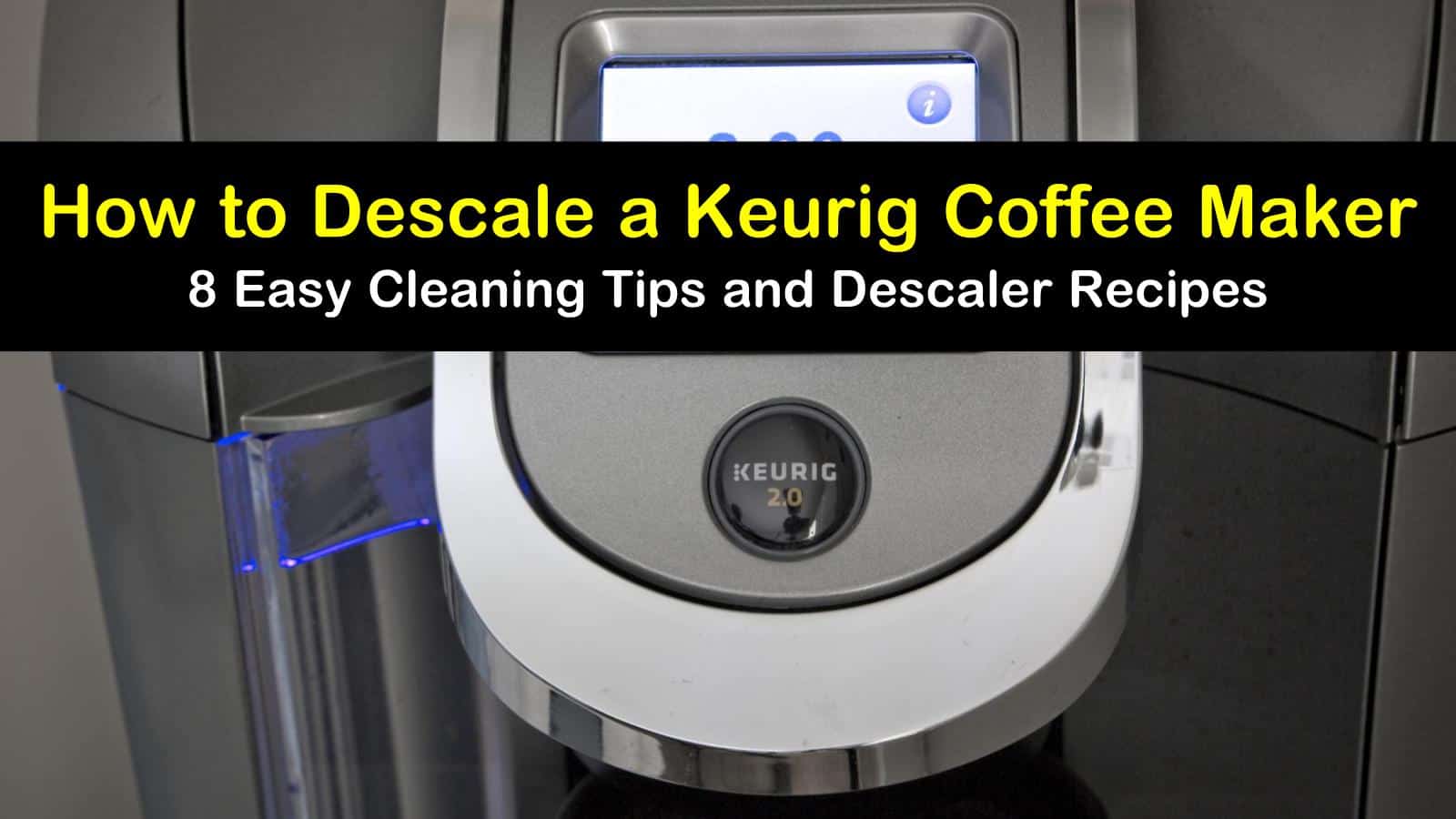 The Best Tips for Descaling a Keurig Coffee Maker
So maybe that Keurig K Elite machine was a steal during the Labor Day sale, but now you're left wondering how to maintain it properly. No matter what style of Keurig you have, whether the K or Keurig 2.0, these step-by-step tips show you how to keep your machine healthy and operating at optimum levels.
Clean Exterior and Removable Parts When Descaling
Cleaning the outside of your K-cup machine before you start is just as important as cleaning the interior. Remove any coffee grounds from around the k-cup holder with a damp cloth ahead of time to reduce the dirt and grime on your coffee machine.
Similar to cleaning a regular coffee machine, you also want to hand wash removable parts instead of running them through the dishwasher. Unlike cleaning the pieces of a drip coffee machine, which are typically washed before descaling, wash all the parts of your Keurig after descaling to adequately remove calcium deposits.
First, disassemble all the parts, including the water reservoir and lid, the drip tray, and the k-cup holder. If you have a water filter, remove this before descaling your coffee maker anyway. Next, wash the different parts with some warm, soapy water.
If you have any chalky residue left behind by the scale deposits, use a toothbrush to gently scrub between the small cracks and crevices of the Keurig. Rinse the pieces with clean water and dry using a microfiber cloth or one free of lint. Reassemble when finished, and your Keurig is good to go.
Descale a Keurig Coffee Maker with Vinegar
One of the most common and popular ways to descale a coffee maker is by using a simple vinegar solution that's incredibly easy to make yourself.
Though there are many wonderful uses for this vital cleaning ingredient, vinegar used as descaler breaks down grime and limescale while also disinfecting the interior of your machine. Before starting any descaling process, remember to take out the water filter.
For cleaning a coffee pot with white vinegar, pour the water and vinegar into the Keurig, then place an empty mug on the stand to capture the solution as it moves through the machine. Leave the k-cup holder empty, unless your maker won't run without one.
In that case, place a used cleaned out one to fill the space. Run the brew cycle over and over until the water reservoir completely drains.
After all of the vinegar solution has passed through the machine, fill the tank up with water and run as many brew cycles as it takes to empty it. This step is essential for removing traces of vinegar, especially the vinegar taste, from your next cup of coffee.
Vinegar is also the perfect ingredient to clean a humidifier tank or the reservoir on your essential oil diffuser.
Use a Coffee Machine Descaler for Keurig
One of the great things about Keurig is that they created their very own Keurig descaling solution to make it even easier for consumers to clean their machines. If you prefer using a store-bought solution, then this product is your best option.
To descale your Keurig, pour the entire bottle of the cleaning solution into the water tank, along with enough water to reach the top of the fill line. Run the hot water and cleaning solution through the machine using a ceramic mug large enough to capture the highest ounce setting.
Repeat this process until all of the solutions drains out of the machine. Finish by rinsing the reservoir out with clean water on a separate brewing cycle.
Toss in Citrus Pellets to Remove Scale Buildup
Maybe vinegar and a commercial cleaner aren't your top choices for descaling your Keurig coffee machine. In that case, citric acid is another excellent option that clears away calcium deposits in a similar way to acetic acid. This cleaner comes in two forms, both as a power and pellets. The same quantities apply for both, with a ratio of at least 250 parts water to one part citric acid.
To use this DIY Keurig descaling solution, mix the ingredients in a separate bucket. Most Keurigs don't accommodate a full gallon of water, so after mixing, pour in as much as your machine can hold.
Clean an automatic coffee maker by running the cleansing brew through the machine, then add water to the reservoir afterward to rinse the Keurig thoroughly and get rid of citric acid residue and debris.
Descaling a Keurig Coffee Maker with Baking Soda
Another excellent option for descaling your coffee pot is to add baking soda to your vinegar solution. Baking soda is a highly absorbent material that also acts as a mild abrasive when cleaning.
These qualities make it the perfect ingredient to gently scrub away that chalky limescale buildup in machines and work quite well to prevent calcium buildup in humidifier and vaporizer components, too.
When it comes to a vinegar solution for your Keurig, there are multiple recipes you can use. Either a diluted formula like the previous one, or pure vinegar, will work. The baking soda assists in more ways than one throughout this recipe.
Not only does is clean the interior, but it's also an excellent indicator to let you know all the vinegar has passed through the machine when rinsing. While washing the Keurig after the descaling cycle completes, sprinkle some baking soda into the cup. If it fizzes, there are still traces of vinegar left in the tank that needs to be rinsed out.
Use a Lemon Juice Descaler Solution
Lemon juice is an excellent alternative for descaling your coffee machine, especially if you don't have access to citrus pellets or powder. Lemon juice uses the same principle ingredient found in these pellets, citric acid, though in a much more diluted form. Even without the high concentration of citrus pellets, lemon juice does a fantastic job at removing limescale buildup from inside your Keurig.
No matter what size Keurig you're dealing with, fill up the entire water tank with at least half water and half lemon juice. Use the same method as before, and run the solution through the reservoir until finished.
The good news is, you won't have that horrible vinegary or chalky taste left in your coffee maker after cleaning. But for good measure, run clean water through when finished.
Never Use Bleach on Coffee Maker
While using bleach may seem like a natural solution for cleaning mildew and limescale on almost any surface, it doesn't belong in your Keurig. Beyond the fact that bleach ruins how your machine functions and even might eat away at certain parts on the inside, the health concerns make it a risk not worth taking.
If you don't wash out all the solution from the machine before using, you risk much more than a nasty taste in your coffee cup. When it comes to your health, it's better to stick to methods that are just as effective as bleach at removing mold, germs, and dirt.
Run an Extra Brew Cycle after Sugary Drinks
Sugary drinks like sweet tea and hot chocolate are a delicious bonus of using a Keurig kitchen appliance. These delectable treats come at a price, however, and usually require an additional step when using to prevent clogs because these sweet drink products contain sugar crystals that linger in the machine.
These crystals may eventually cause clogs in the needle or form a buildup around the heating element that stifles its ability to warm your drink correctly. The best way to counteract this issue is by running an additional cup of fresh water through the machine after every use, or at least any time you use k-cup sugary drinks.
Tips for Using Your Coffee Machine Descaler for Keurig Machines
Now that we've gone over almost everything you need to know about descaling your coffee machine, take some proactive steps to keep your Keurig running smoothly.
What are some ways I can prevent limescale buildup in my Keurig?
Descale your coffee machine every three to six months. If you want to reduce the number of times you have to do this, one of the best options is to use bottled water. While many of us can't afford to pour bottled water into our tank every day, even using filtered water or water that's softened helps.
The key is to limit the calcium deposits from the start, which also means limiting the amount of hard water, or water directly from the tap. Changing the water filter every time you descale the machine also contributes to the efficiency of the coffee maker.
What should I do if there is a clog in my Keurig machine already?
While descaling your Keurig machine might prevent clogs from occurring in the future, that certainly won't help if you already have one. You'll notice a problem or potential clog if your Keurig begins sputtering or only dispensing partially-filled cups of coffee.
The simplest way and first step to take to fix this problem is to clear the needle of any blockages. The exit needle is at the top of the k-cup holder and punctures the cups during each brew.To remove clogs from the exit needle, start by straightening out a paperclip partway, just enough so that a small portion of it extends outward.
Poke the straightened piece into the needle holes to dislodge any stuck particles or sugar crystals to clear away any clogs within the needle. If the problem persists even after clearing out the needle, you may need to blow a few puffs of air through the Keurig tube or shake the machine upside down to shake free any clogs embedded within the machine itself.
While you clean your Keurig it's a good idea to take care of your grinder, too. The best way to clean coffee grinder is by adding rice to the machine and grinding it just like you would coffee beans. The rice cleans out bits of grounds and leaves your grinder ready for the next bag of your favorite beans.
We hope these tips about descaling a Keurig coffee maker will make that next cup of coffee you drink even more delicious than the last. Keeping your coffee machine free of limescale and buildup is just as crucial to your health as it is to provide you with a fresh cup of coffee, so don't forget to descale your Keurig regularly.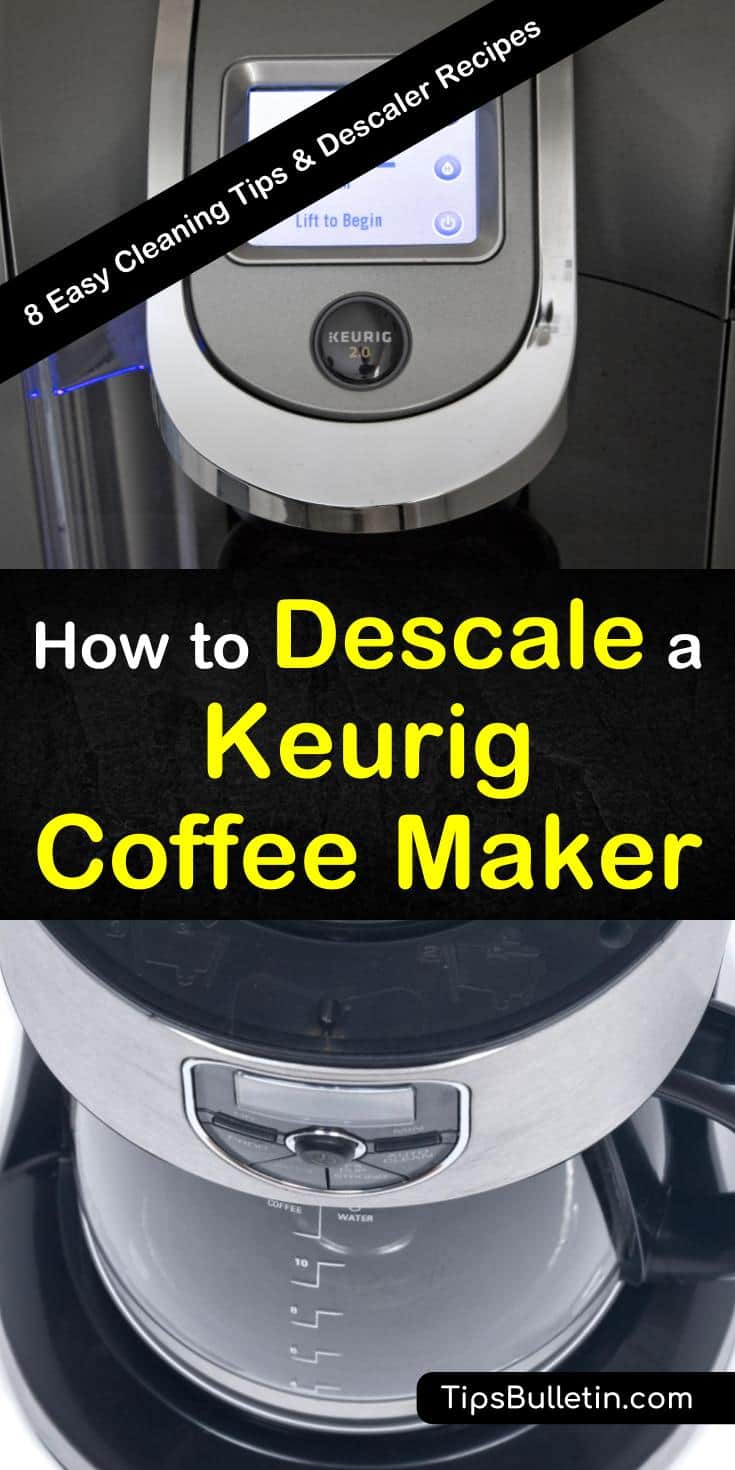 If you enjoyed learning the best ways to keep your Keurig running smoothly, then please remember to share how to descale a Keurig coffee maker with all your favorite caffeine-lovers on Facebook and Pinterest.