As the centerpiece of your home, a couch takes a lot of daily abuse from children, pets, and family members. It's also a breeding ground for bacteria that leads to foul smells and the spread of viruses. Learn how to disinfect a couch as routine.
Grocery store shopping carts, doorknobs, dollar bills, and your toothbrush are not the only places where germs hide. Your sofa upholstery gets covered in many forms of bacteria as a result of spilled food or drink, unclean hands, and airborne viruses.
Vacuuming and cleaning your living room couch keep the surface area free of dust, dirt, and stains but do not always sanitize the upholstery. Proper disinfecting of your sofa and use of a homemade fabric spray during house cleaning goes a long way to keeping your home germ-free.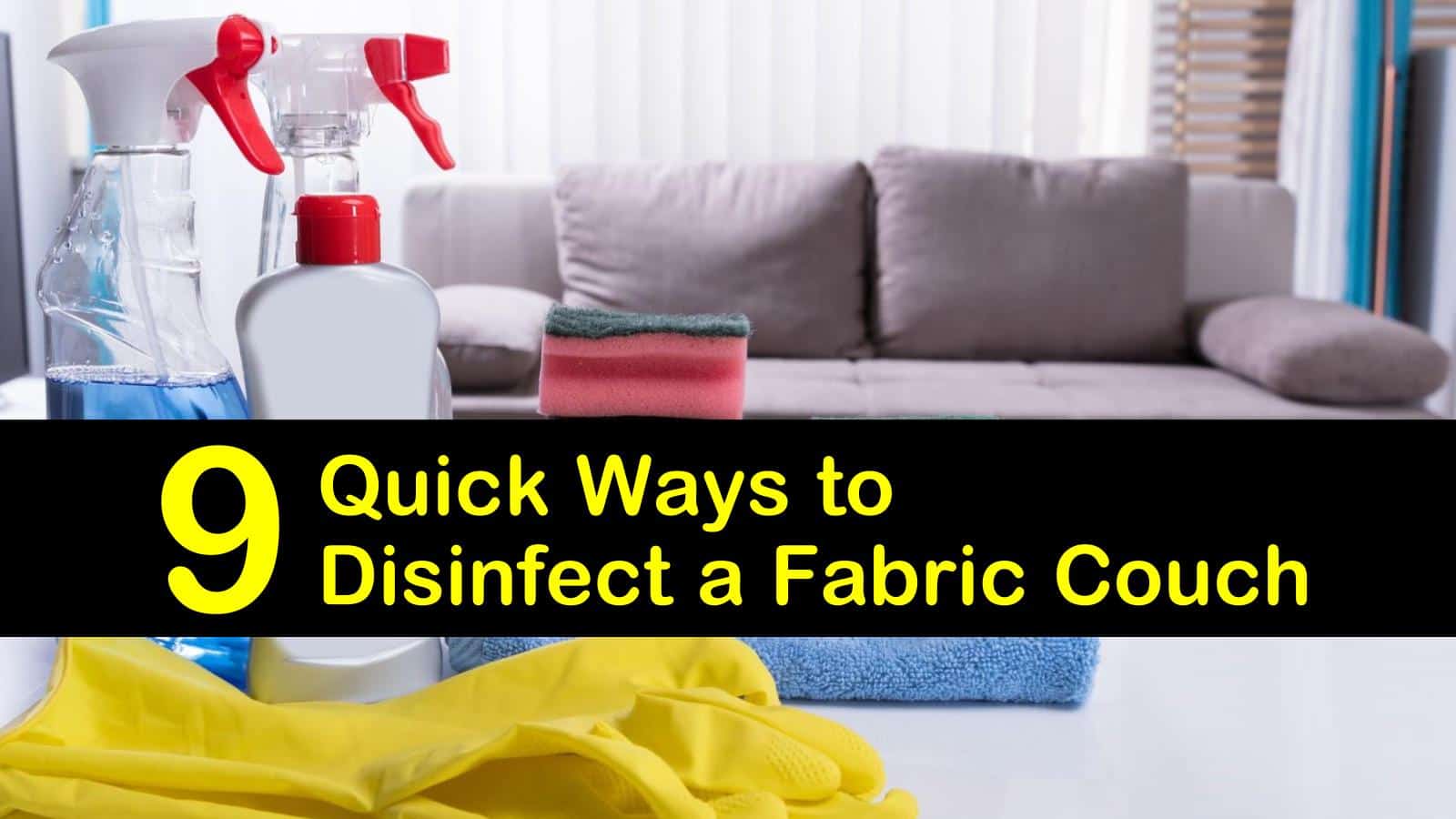 Disinfecting a Couch
While you may have the urge to spray your sofa with a bleach solution to kill germs, doing this can damage your sofa's upholstery. Cleaning products that work on a fabric sofa are not necessarily safe to use on a leather or suede couch. We have several cleaning solutions for disinfecting all types of sofa upholstery to eliminate germs and bacteria safely.
First Steps to Disinfect Your Couch
Before applying any form of disinfectant or using baking soda to clean a couch, clean it thoroughly using a vacuum cleaner to remove loose dirt, dust, and debris.
Vacuuming a Couch
Use a cleaner with a vacuum upholstery attachment to clean the backrest, backside, and armrests of the couch. If the cushion seats are removable, take them off the sofa and set them aside.
Use the vacuum attachment to clean the bottom portion of the couch, making sure to clean in crevices. Vacuum the top and bottom of the cushions.
Eliminating Germs on a Sofa
Use a small amount of soap and water to clean couch germs and remove stains. Cleaning your sofa regularly using these simple ingredients not only gives it a deep clean but prevents viruses and bacteria from flourishing on frequently used household items.
To make this simple DIY sanitizer spray, pour the water into a bottle sprayer and add a mild soap such as laundry detergent or dish soap. Shake the bottle to mix gently without creating too many suds. Remove the sofa cushions from the couch and set them aside.
Begin at one area of the couch and work in sections. Spray the solution onto the upholstery and wipe down the dampened area with a cloth or sponge to sanitize the surface and get rid of small areas of everyday grime. Wring out the cloth as you go along if it gets too wet or too dirty. Allow the sofa to air-dry while you move on to cleaning sofa cushions.
If the cleaning label on your sofa permits, remove the cushion covers and put them in the washing machine by following the care instructions. Place them into the dryer and replace the dried covers onto the seat cushions and couch.
If you do not have removable cushion covers, use the cleaning spray to clean them as you did the rest of the sofa. Allow them to dry completely before placing them back on the couch.
Homemade Disinfectant Spray for Your Sofa or Couch
One of the best ways to clean a sofa is with alcohol. This homemade disinfectant spray for couch is ideal for use when someone in the household is sick. Spraying this solution prevents the virus from spreading to other family members.
Add the alcohol and water to a spray bottle and shake gently to mix. Hold the spray nozzle of the container approximately seven inches over the top of the sofa and spray evenly to disperse and allow the upholstery to air dry.
Alcohol also works well to eliminate some types of stains. Spray a stain and wipe gently with a clean cloth.
How to Disinfect a Fabric Couch with Vinegar
White vinegar has disinfectant properties, is an anti-allergenic, and a natural solution for killing bacteria and germs. Here is how to disinfect a fabric couch with vinegar.
For an ideal homemade couch deodorizer and sanitizer, fill a bottle sprayer with equal parts warm water and white vinegar and shake well to mix. Stand a foot away from your sofa and mist the sanitizer over the surface.
Move from one end to the other in a steady motion, making sure to reach inside the corners and in all cracks and crevices. Allow the couch to air dry before sitting on it.
This recipe is also ideal as a mattress disinfectant spray. Remove all bedding and vacuum the mattress. Spritz the entire surface with the spray and let it dry before adding the sheets and blankets back on.
Disinfecting a Leather Couch
Vinegar is a handy tool to have in your home for a wide variety of uses. In this case, use it to disinfect leather couch surfaces. The disinfectant properties of vinegar eliminate germs and viruses while cleaning the leather surface.
To disinfect leather sofa, combine equal parts water and white vinegar in a bucket and dunk a soft cloth into the solution. Wring out the cloth as much as possible and then wipe down the entire surface of the sofa. Use a dry, soft towel to wipe away all of the residue.
How to Disinfect a Microfiber Suede Couch
Microfiber suede fabric consists of synthetic fibers that require special attention when it comes to cleaning and disinfecting. Here is what to clean suede with to sanitize and remove dirt and grime.
The first step is to make sure your sofa is safe to clean using this solution by checking the cleaning tag for special instructions. If the care label has a 'W' on it, combine water, a few drops of dish soap, and the baking soda into a spray bottle and shake gently.
If your sofa has an 'S' on the label, fill a spray bottle with rubbing alcohol. Spray the solution onto the surface of your couch in sections. Wipe each area with a soft sponge as you move along.
Wipe down the backrest, armrests, and all sides of the cushions. Allow the entire sofa to dry completely and then brush it lightly with a soft brush to freshen the fibers.
Sanitizing a Polyester Couch
Polyester material is a common form of couch upholstery, made of natural chemicals found in synthetic fibers and plant cuticles. Before cleaning your polyester sofa, check the cleaning tag for specific instructions. This cleaning solution contains the disinfectant power of white vinegar to kill germs and mild soap to remove dirt.
Fill a bottle sprayer with water and vinegar and add the laundry detergent. Shake the bottle gently to mix well without creating too many soap bubbles. Work in sections and spray the solution directly onto the couch, making sure that you do not saturate the fabric.
Wipe the area down with a soft cloth and move on to the next section. Allow the sofa to air-dry and then use a soft brush to loosen up any stiff fibers.
Steam Cleaning a Sofa to Kill Germs
Steam is one of the most efficient tools for killing bacteria. The heat of the steam not only cleans away dirt and grime, but removes allergens and kills mildew, viruses, dust mites, and other pathogens.
Follow the instructions for your model steam cleaner. Fill the water tank with the required amount of water and cleaning solution and prepare the cleaner for work. Remove the cushions from the sofa and use the upholstery attachment to clean the top side of each cushion.
While the top side of the cushion dries, clean each section of the sofa using the steam cleaner attachment. Move along in parts, overlapping each section slightly to ensure all areas are clean.
Once the top sides of the cushions are dry, flip them over and repeat the cleaning process on the bottom side. Allow the entire sofa to dry completely before returning the cushions to their proper place on the couch.
Disinfecting a Sofa Slipcover
While a slipcover works wonders at protecting your sofa from accidental spills and germs, it needs regular cleaning to eliminate bacteria and dirt build-up. Before proceeding, check the cover's laundering tag for special instructions.
Slipcover Cleaner and Sanitizer
A majority of slipcover cleaning instructions require that you wash them on a cold-water cycle with low-temperature drying. If this is the case, clean it as directed using your favorite laundry detergent and then hang the sofa slipcover directly in the sun for approximately two hours of drying time. The sun's rays kill any bacteria left on the surface of the fabric.
Sanitizing a sofa not only eliminates virus causing bacteria and germs, but also deodorizes it, reduces allergens, and exterminates dust mites and bed bugs.
Performing a furniture cleaning routine of vacuuming, deep cleaning, and disinfecting ensures that your entire family has a clean and germ-free place to relax and enjoy themselves.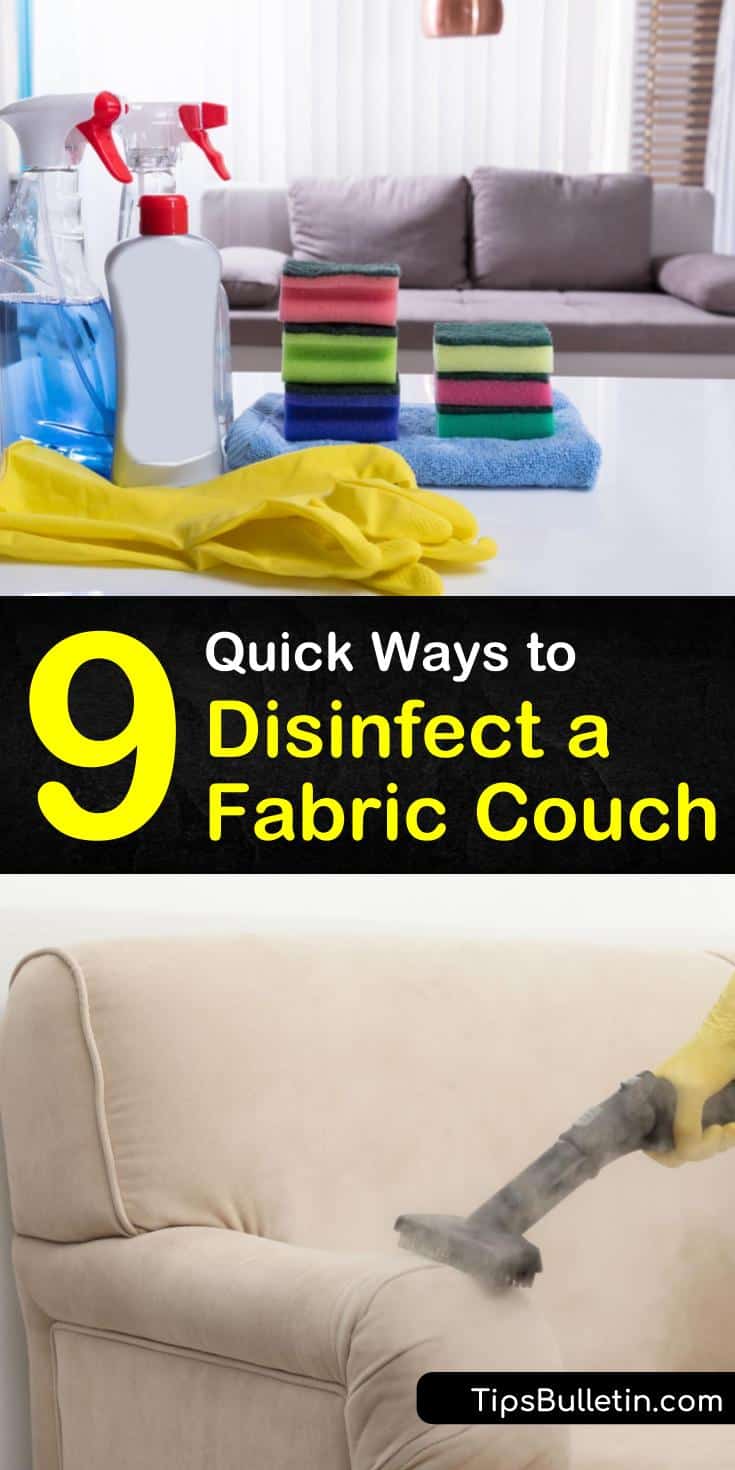 We're happy that we could show you how to disinfect a couch using simple cleaning solutions, and we'd love it if you'd share our sofa disinfectant tips with your friends and family on Pinterest and Facebook.