Memory foam is a revelation in sleep furniture. This foam is soft but dense and offers lots of support without being hard. The closely packed foam cells are cooling, and numerous homeowners choose memory foam for their overnight comfort. If you own memory foam sleep items, it's prudent to know how to dry a memory foam mattress and clean it.
Though memory foam is one of the leading types of mattress, many people struggle with how to get water out of a memory foam mattress. Drying a memory foam mattress is tough, thanks to its size, yet it's vital not to let excess water sit inside the foam.
Sleeping on a wet bed is uncomfortable and interrupts your sleep. Moisture deep inside your memory foam predisposes your mattress to mold, which might cause serious health issues. Discover effortless ways to dry your mattress efficiently after an overnight accident or deep cleaning. Keep your bed a clean and restful place to sleep.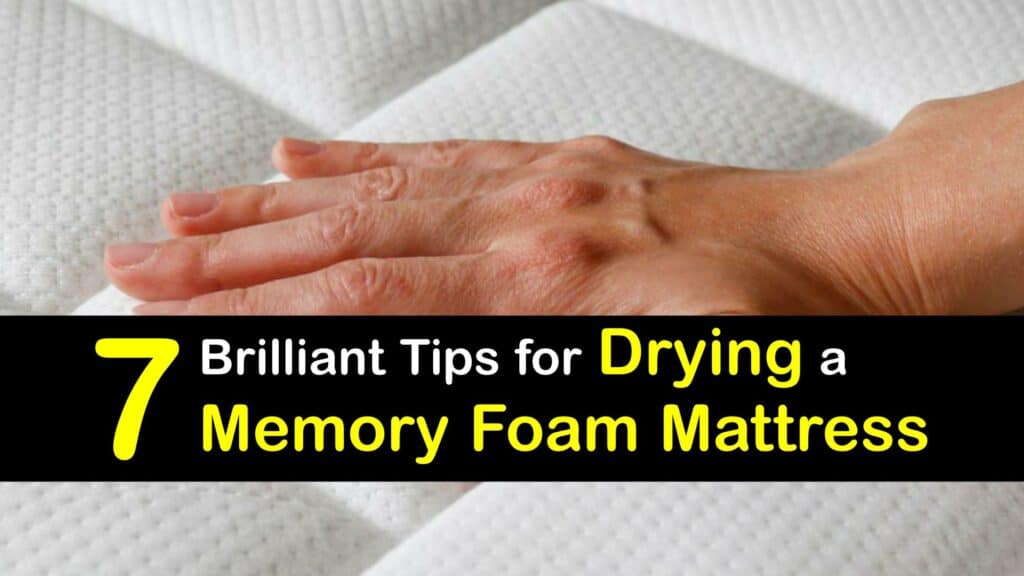 Tricks for Drying a Memory Foam Mattress
Your mattress is an investment. Beyond consulting a mattress buying guide, choosing the best mattress, mattress topper, memory foam pillow, and bed frame, tips for cleaning your bed are vital for restful sleep.
However, numerous cleaning methods introduce a lot of water into your memory foam products and leave you wondering how to dry a memory foam mattress.
Aside from being uncomfortable, excess water in your memory foam mattress or mattress cover may lead to other issues. Explore tips for how to get water out and clean a mattress with baking soda and a hand vacuum to ensure your bed is comfortable, clean, and sanitary.
Getting Water Out of a Memory Foam Mattress
A stain on your mattress protector or mattress pad is unsightly. It's unhygienic to leave urine, blood, and other staining on your bed, yet many of the solutions used to clean memory foam use a lot of moisture and leave you with a wet mattress.
Spending the night on an air mattress is miserable when memory foam bedding is drenched from an accident or a cleaning technique you tried. Aside from the discomfort, leaving moisture in your memory or latex foam is a precursor to mold growth, making it critical to ensure your bed is completely dry.
How to Dry a Memory Foam Mattress With a Hair Dryer
Your hairdryer produces a direct flow of heated air to eliminate moisture from your mattress and reach deeper layers quickly. Don't turn the hairdryer's heat setting on high. Observe safety instructions to prevent burning or melting your bed if you attempt this approach.
It may seem like applying extra heat will have a significant impact, but lower heat settings and blowing the water out are more effective than attempting to evaporate it. Keep a safe distance between the bed and the hair dryer nozzle.
Too much heat might harm the memory foam in your mattress. Ensure at least ten inches of space between the hairdryer and your bed, and continuously move the nozzle to dry the foam safely.
How to Get Water Out of a Memory Foam Mattress
An absorbent cloth or paper towel catches the liquid in minor wet marks before it soaks into the foam. Memory foam is hydrophobic and has some water resistance; this offers a small window of time when wetness is introduced to soak it up before it penetrates.
Grab a paper towel or absorbent cloth as soon as you notice water on your mattress. Blot gently, soaking the liquid into your towel rather than pressing it into your bed. Lift as much surface liquid as possible, then dab harder to remove moisture that may have penetrated the top layer of foam.
Dry Memory Foam Mattresses With Cat Litter
After a spill or cleaning, using dry cat litter is a clever technique to dry a wet spot fast on the bed. If the wet site is large and deep, kitty litter, silica crystals, or cellulose granules are the best options for cleanup.
These substances extract a lot of moisture and speed up the drying process for your mattress. Liberally sprinkle cat litter over the spill location, then wait for it to soak. Cover the litter with a towel and place it over the dampness with weight on top to make cleaning up easier. Vacuum the mattress after leaving the litter on the bed for two to three hours.
Good Ventilation Dries Your Memory Foam Pillow and Mattress
Dry an extra-firm mattress quickly by increasing the ventilation in the room since it responds better to natural airflow. To hasten the drying process, take the mattress off the bed frame and position it on its side. Open the windows to let fresh air in, and set a fan close to the spill.
The open window and the running fan produce a strong stream of air that reaches the mattress' deep layers and aids in the evaporation of the water. Although it takes longer than using a hair dryer, this method is better suited for more extensive areas of wetness to ensure no moisture is left behind.
Cleaning a Memory Foam Mattress Topper or Mattress Without Water
Baking soda has long been touted as an alternative to harsh chemical cleaners for maintaining a memory foam topper and mattress. This technique also works great to remove vomit from a mattress. It's favored as it cleans and deodorizes a memory foam mattress without using water or any liquids, which might pose a challenge to remove later.
Sprinkle baking soda over your foam mattress surface and leave it to sit all day before vacuuming it. Vacuuming collects the baking soda, as well as any dust mite particles, to leave your mattress clean and odor free.
Tricks to Avoid the Need to Dry a Foam Mattress
If the worst happens, spot clean as much as possible, and avoid using lots of water on your bed. Spot cleaning sweat stains with a mild detergent like laundry detergent and a little cold water is an ideal way to lift a stubborn stain. Deodorize your entire mattress without wetting it by making a cleaning solution with white vinegar.
Shake well and lightly spritz over your mattress to remove odor. The key is to use only a light covering to avoid overwetting the foam. Whatever method you choose, drying a couch cushion or a memory foam mattress topper takes time.
Simple tips to prevent excess moisture from coming into contact with your bed makes life easier. Invest in a waterproof mattress protector to protect the mattress beneath from urine, sweat, and other unfortunate liquid-related accidents.
Drying a memory foam mattress doesn't have to be a hassle. If you end up with a wet patch on your bed, take care of it quickly using home hacks like cat litter, a hair dryer, or absorbent cloths. Invest in a waterproof protector and minimize the liquids you apply to your bedding.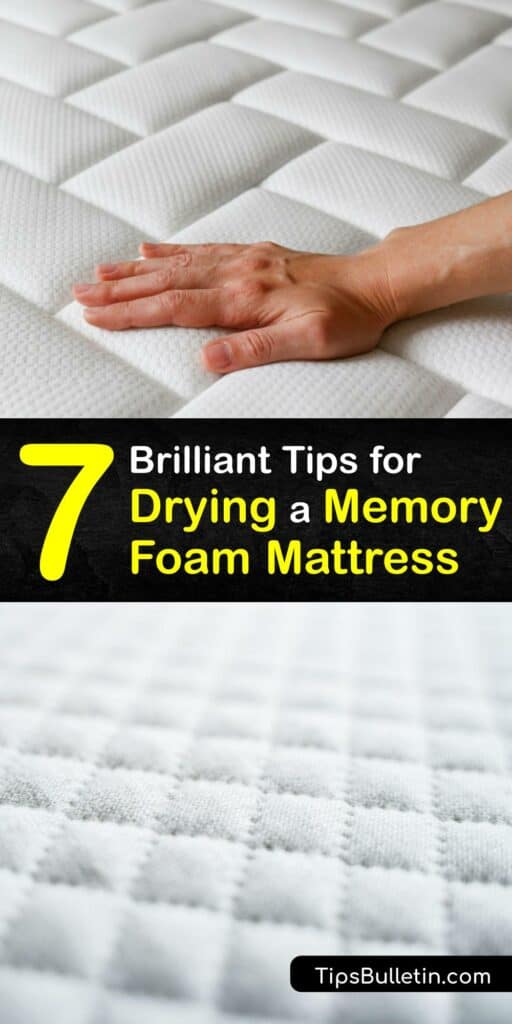 If you loved this wise article on how to dry a memory foam mattress, please share these remarkable tricks on how to get water out of a memory foam mattress with your friends and family who own memory foam on Pinterest and Facebook.