Nothing is worse than buying the perfect outfit only to realize that it is meant to dry clean only. When you try to clean this clothing in your washer and dryer like you do your other clothes, they end up transforming into misshapen, shrunken messes. Learning how to dry clean at home is the answer.
Fortunately, some dry clean only tags are only added as a precaution. For these clothes, it is entirely possible to wash them at home as long as you are careful.
Other garments made from delicate fabric with or without embellishments are better off being professionally dry-cleaned to ensure that the item is not damaged. Check out our solutions for home dry cleaning options to see if they may work for you.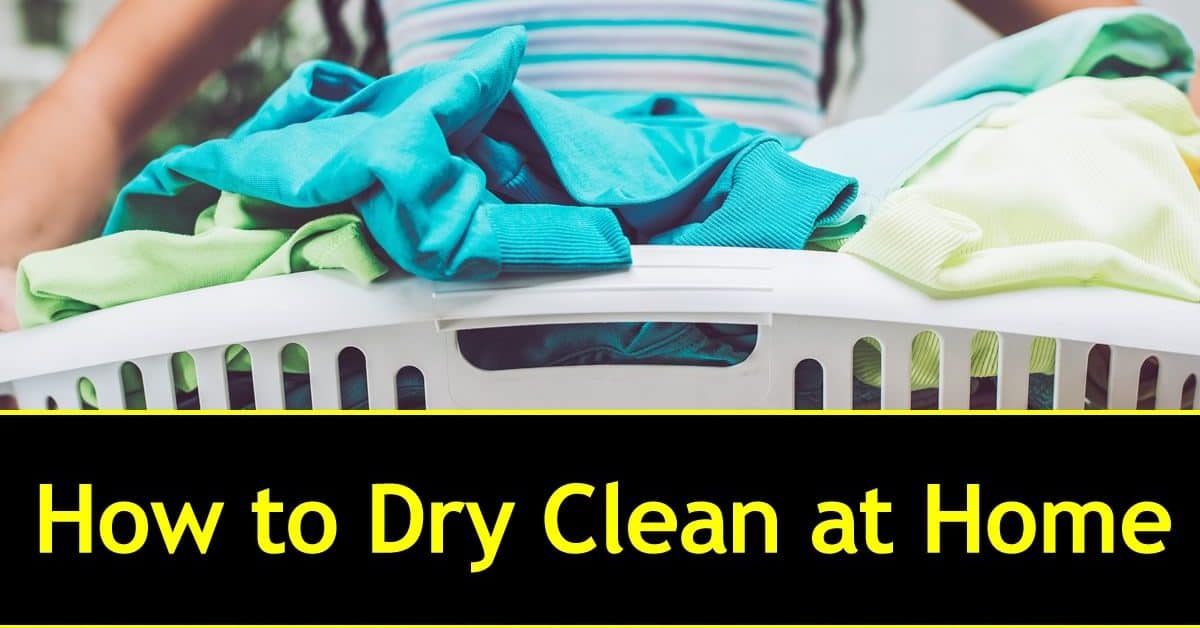 How to Clean "Dry Clean Only" Clothes at Home
Cotton, durable polyesters, and linen are safe to wash in your washing machine. It's best to wash delicate cotton fabric, wool, and silk by hand as an alternative method. When your machine washes any dry clean only clothes, turn the garment inside out and put it inside a mesh bag intended for delicate clothing items.
Use the gentlest cycle on your machine, a mild detergent and cold water. When your garment finishes its cycle, lay it out completely flat to dry. If you want to hand wash your clothes, fill a tub, sink or basin with cold water and a little bit of mild laundry detergent.
Mix the water until soap suds appear. Afterward, dip your garment into and out of the water until it is completely saturated. Next, agitate it gently in the water and use your fingers to rub away any soiled areas. Once you are sure that the garment is clean, empty the tub and refill it with cold water.
Dip the garment in and out of the water until the clothing is no longer soapy. When it is time to dry your garment, lay it on a towel and roll it up inside. Squeeze the towel gently so that the garment releases the water.
Do this three to five times until the fabric is no longer dripping wet. Afterward, lay the garment out flat to dry. If you want an easier solution to your dry cleaning dilemma, there are at-home dry cleaning kits available.
These do-it-yourself dry cleaning kits are often available for less than $20 but read through reviews to make sure that you buy the most effective one. Steam washers, portable steamers, and steam dryers are also effective at cleaning dry clean only clothes.
How Does Dry Cleaning Work?
Nearly three thousand years ago, the first dry cleaners were described on a Mycenaean clay tablet. At the time, dry cleaners used grease-absorbing sand and dirt to remove tough stains.
In modern times, the first dry cleaner was Jean-Baptiste Jolly. He spilled kerosene on a tablecloth and noticed that the spot was the cleanest on the tablecloth. After experimenting a bit, he created a petroleum-based fluid for washing delicate fibers. Later on, Jean-Baptiste Jolly opened up a dry cleaning shop in 1825.
While dry cleaning companies used kerosene or petroleum-based cleaners for the next century, this technique made fires more likely. New solvents were developed that were safer to use, like perchloroethylene. Most dry cleaners still use this chemical today.
The clothes are loaded into a washing machine with the chemical. The washing machine agitates the clothes to remove stains. Before the clothes are finished with the washing process, the dry cleaner uses a different product to treat any water-soluble stains. Afterward, the clothes are pressed and placed in plastic dry cleaning bags.
In several studies, the chemicals used by dry cleaners increased certain types of cancer among dry cleaning workers. Because of this discovery, new companies developed that focused on green, organic solutions instead.
Siloxane, hydrocarbon, and CO2 are now used at green dry cleaners. While these chemicals are safer than the previous options, it is still healthier to use at-home cleaning options.
How Much Does Dry Cleaning Cost?
An average men's shirt costs $1.85 to dry clean, while a woman's shirt costs an average of $5. Suits cost $9.50 to $12.50 to clean, and long coats cost an average of $15. Women often pay more for their dry cleaning because their clothes are more likely to have special seams, extra buttons, trims, silk, and no-crease slacks that cost more to clean.
If you have a blouse or shirt that has a basic design, have your husband drop it off with his shirts. While the dry cleaner may still charge the higher price for female clothing, there is a chance that they will assume that it was your husband's shirt and charge the lower price.
Can You Wash Dry Clean Only?
Most likely, you can wash your dry clean only clothes at home. Dry cleaners use basic water to wash about one out of four items because these items do not need specialized dry cleaning. You might not want to risk washing a $200 suit at home, but a $2 garage sale blouse is worth the risk.
The reason why all of your clothes seem to say dry clean only is because clothing manufacturers are incredibly cautious. The clothing manufacturer is required to recommend at least one way to clean the product.
Often, they list the item as dry clean only as a precaution. Plus, the manufacturer can reject returns that were not dry cleaned or were mishandled. Their goal is to protect their business, not to make life easier for you.
What Can and Can't I Dry Clean at Home?
As a rule, you can wash any garment at home that is unlined. Natural fibers like cotton, linen, and silk can be washed in cold water or by hand. If you put these items in a mesh bag when you wash them, it helps reduce wear and tear. Workhorse fibers like polyester can also be washed at home.
If you are washing any deep colors or reds, test for colorfastness first. Apply some water to an inconspicuous part of the item and squeeze it onto a cotton swab. If the color bleeds, use a dry cleaner.
While you can always take the risk, you should probably not wash pleated skirts or suits at home. Anything with sequins, metal embellishments, or beading should be taken to the dry cleaner.
Certain fabrics like leather, rayon, wool, suede, and silk should never be washed at home. Also, you may want to take heavily soiled garments or oil-based stains to a dry cleaner since these clothes will be difficult to clean.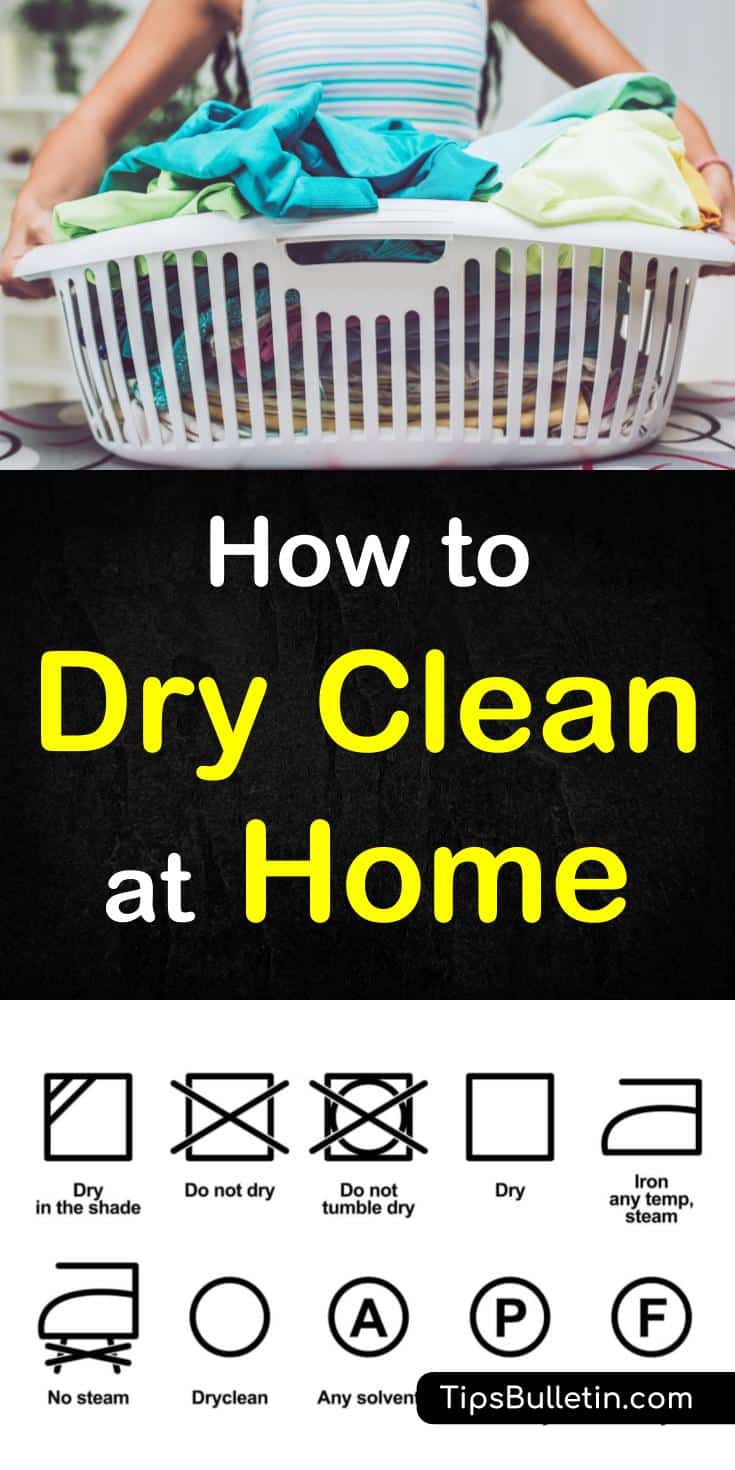 If you found our article on how to dry clean at home helpful, please share the information about home dry cleaning with family and friends on Facebook and Pinterest.