Tennis shoes are a form of footwear initially designed for physical activities like sports, although consumers now wear sneakers for everyday activities. You'll find tennis shoes getting dirty quickly if you wear them daily. Washing your shoes is crucial to keeping up their appearance, and knowing how to dry tennis shoes is just as essential to upkeep your footwear.
Companies manufacture athletic shoes using materials like rubber and mesh to create running shoes that are comfortable and efficient for athletes. These materials allow tennis shoes to hold up to daily physical activity better than stiff leather shoes.
Over time, the materials used to create tennis shoes expanded to include canvas sneakers and shoes made from suede and leather. New materials come with guidelines for caring for your shoes because care guidelines vary for each type of shoe. This article covers several efficient ways to dry your shoes, including how to dry tennis shoes in the dryer.
Safely Drying Wet Shoes
How you dry your wet shoes depends on the shoe material you're drying, but as a general rule of thumb, the best drying solutions don't involve extreme heat. After you make tennis shoes white again or remove those grass or mud stains, you need to know the best way to dry your shoes safely.
It's worth knowing that shoes can shrink when washed or dried so choose your method carefully. Continue reading to find the best ways to safely dry wet running shoes, including the fastest way to dry tennis shoes.
Absorb Moisture with Newspaper
Newspapers are a flexible material that you can use to soak up excess water from your shoes and are excellent for absorbing moisture. After you wash white mesh shoes or another shoe type, remove the insole and laces from your shoes to start the drying process. Use dry newspaper to fill the inside of your shoes, using enough to stuff the entire shoe.
If you're trying to dry white tennis shoes, avoid using newspaper with dark ink to reduce the chance of the ink bleeding into the material of your shoes.
Leave your shoes out of direct sunlight while drying unless wrapped in a towel. Because this method does not involve heat, it is safe to dry suede or canvas shoes like Converse shoes with newspaper.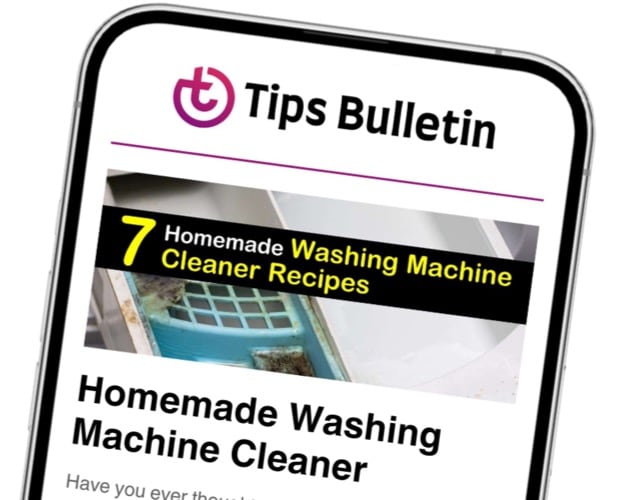 Finally, an email that Transforms Your Home.
Get the latest home and garden tips from our experts, delivered straight to your inbox.
Drying Shoes with a Shoe Dryer
If you're often drying your shoes, either due to regular washing or weather, a shoe dryer might be the perfect tool for drying your shoes quickly, whether you need to dry out wet boots fast or have to put your tennis shoes on again for an errand. Shoe dryers work by expelling air directly into your shoes to get rid of moisture within the shoe.
To avoid damaging the rubber insoles of your shoes, remove them before using a shoe dryer. Pulling out the laces of your shoes also allows you to open the shoes wider while using the dryer.
How to Dry Tennis Shoes with Cat Litter
Cat litter has many uses outside the litter box, and one of the most efficient uses is to remove excess moisture from your shoes. Cat litter absorbs moisture and clumps together, but don't dump litter into your sneakers.
Use an old sock or stocking and stuff it into your shoe. Pour cat litter into the opening to fill the shoe. Once full, tie the sock or stocking off with a knot. Leave the litter inside your shoe for a few hours to allow it to absorb moisture. Combine cat litter with baking soda to fight odors in your shoes.
Absorb Moisture with Rice
Many people use rice to absorb moisture from their phones when dropped in water; the same concept applies to absorbing moisture from your shoes.
This method of absorbing works because rice grains are hygroscopic, attracting or absorbing water molecules through absorption. The most common hygroscopic item is silica gel, which is included in commercial packages to absorb moisture.
Use a container or two that are wide enough for your shoes to lay on their sides. Fill your container(s) with uncooked rice one inch from the bottom. Place your shoes in the rice container, pressing down on them to slightly bury them into the rice. If the insides of your shoes are wet, fill the inside of your shoes with rice.
Cover the container and wait at least two hours before checking the progress. In extreme cases, leave your shoes to sit in the rice overnight.
How to Dry Shoes with a Fan
How you care for your shoes depends on the shoe material, but most shoes don't do well under direct heat; warm water and heat cause fabric shrinkage.
Using heat with regular tennis shoes may damage the shoe's plastic or rubber portions. Applying direct heat severely damages suede shoes. To avoid ruining your footwear while drying tennis shoes, use a source of cool air, like a fan, to dry shoes.
Before drying your shoes, remove the insoles and laces, then place your shoes in front of the fan. With a standing fan, use a clip to hang shoes from the top of the fan. Place a paper towel under your shoes to absorb any dripping moisture as your shoes dry.
Safely Drying Shoes with Towels
If you're short on options and need a simple option for drying your shoes after washing white soccer cleats or another type of shoe, using a towel from the kitchen or bathroom is a straightforward way to help your shoes dry. Undo your shoe laces and remove the insoles from your wet shoes to allow better air circulation.
For a simple way to dry cleats quickly or another pair of shoes, grab a towel and roll it longways before bending it until it forms a U. Place your shoes side by side and stuff the towel ends inside to fill the entire shoe. Once stuffed, move your shoe's tongue back into place and tighten the laces to help squeeze out excess moisture.
How to Dry Tennis Shoes in the Dryer
We don't recommend putting your shoes through the washing machine or the clothes dryer, but they are among the fastest ways to clean your shoes. Most Toms® shoes are washable but you still need to take care. There are steps to keep in mind when you dry your shoes in the dryer to keep your shoes and dryer in good condition.
The first consideration is whether or not your shoes are safe to put in the dryer. Check the label on the tongue or insole inside your shoe. Cotton, canvas, nylon, or polyester shoes are generally safe in the dryer.
Tie your shoe's laces together to make a knot in the middle. Place your shoes in the dryer and leave the laces outside, allowing them to catch in the dryer door.
Run the dryer on its lowest setting to dry your shoes with as little heat as possible. Run the machine for at least 20 minutes before checking on your shoes. Turn the dryer on again and regularly check on them until dry.
Caring for Suede Sneakers
Suede shoes are different from most types of shoes because the surface of the shoe has leather fibers that form a velvety nap. These fibers give suede its signature texture, and part of the upkeep for owning suede shoes is maintaining this feel. Unlike leather shoes that use the outside of the animal hide, suede shoes are not as durable.
How to Clean Suede Sneakers
Because suede is delicate, it may be difficult to remove a stain from the exterior of your shoe. The leather fibers of your suede shoes also mean not every cleaning option works to clean sneakers.
Avoid common cleaners like laundry detergent when cleaning suede. Liquid detergent works well for cleaning stains from many shoes, but because suede is not waterproof, even a mild detergent damages the nap on your shoes.
If you're cleaning a stain from your suede sneakers, use a cloth to blot your shoes to remove any moisture on the surface. Dab white vinegar on stains and gently rub the stains to clean the shoe.
How to Dry Suede Sneakers
To ensure the nap of your shoes retains its signature feel when allowing your shoe to dry, use a brush to maintain the suede's texture. After cleaning your shoes, the nap becomes stiff or brittle if you let them dry without brushing.
A hairdryer that blows cold air is an excellent choice to get your suede dry fast. Remove any moisture from your shoes with a microfiber cloth before drying suede shoes with the hairdryer. As it dries, brush out the surface of your shoes with a scrub brush.
If your shoes become a little tight after washing and drying, all is not lost. Use a tennis shoe stretcher like a shoe tree to widen them just enough for comfort.
There are many options for drying tennis shoes, though which method works best depends on the type of shoe you're cleaning and how wet your shoes are. Knowing how to dry your shoes is essential for the health of your shoes and your feet, as wearing wet shoes results in odor and blisters.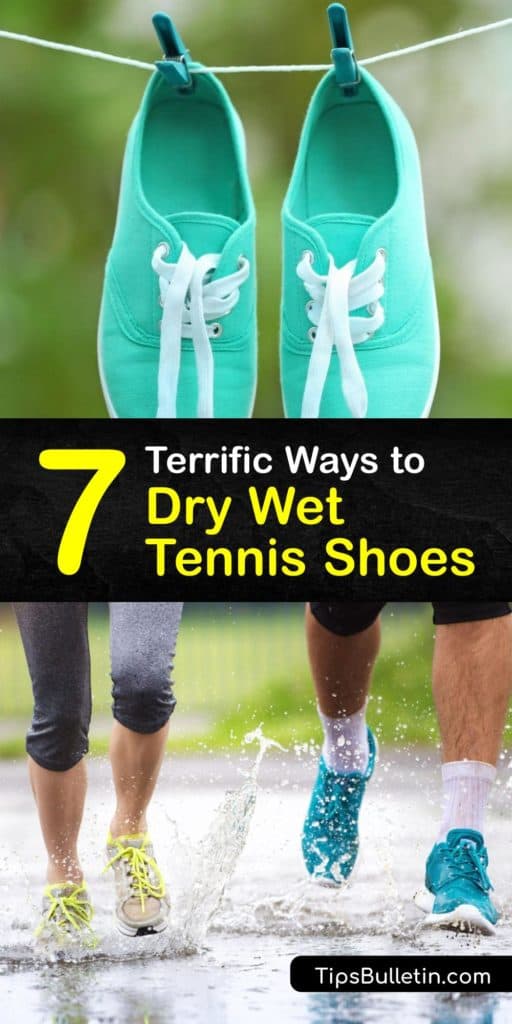 If you learned how to dry tennis shoes with our guide, please share our tips for how to dry tennis shoes in the dryer with your friends on Facebook and Pinterest.