Shoes are an essential element of everyday life. However, when shoes become wet, they are pretty uncomfortable, and many people need to know how to dry wet boots. Whether you step in a puddle, visit the beach, or have an embarrassing spill at lunch, liquid in your shoes is no fun. Sloshing around in wet boots is miserable, may ruin your footwear and hurt your skin.
Wet shoes feel sloppy, slimy, and damp, often leading to sores or blisters. Wet shoes are an easy target for mold to inhabit, causing odor and infection. Wearing wet boots for an extended period is bad for foot health and highly troublesome. Drying leather boots correctly extends the lifetime of the footwear and protects your feet from cracking, blistering, and fungal infections like athlete's foot and odor.
Check out this article to learn the best way to dry boots fast, and choose a method to work with what you have available, whether you have a clothes dryer, shoe dryer, or plan to use a technique requiring no electronics.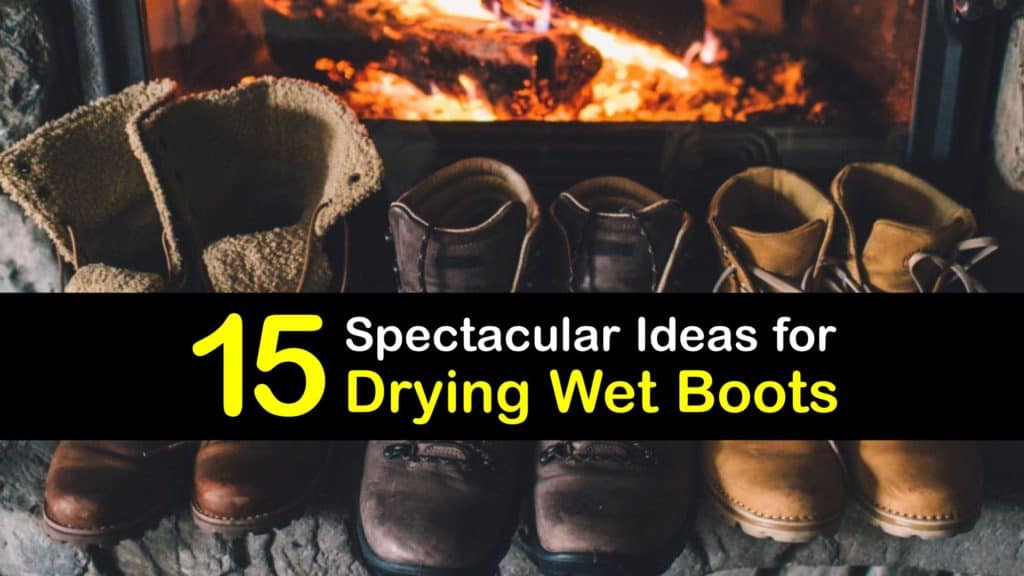 Brilliant Ideas for Drying Leather Boots
When your shoes are damp, you may have some questions, like how to dry wet boots? Are there methods for drying leather boots without ruining them? You don't want to have to remove mold from leather if they stay wet too long. If you're running late, you're probably wondering about a fast way to dry boots. Explore how to dry wet boots using various options.
Many methods to dry wet boots exist, including hanging them outside if you have enough time or using other home appliances such as your hairdryer. Once you know the options available, it's easy to find the best way to dry boots fast.
Whether you're dealing with wet leather boots, hiking boots, ski boots, rubber boots, work boots, or cowboy boots, when the worst happens, it's essential to get out of your wet socks, towel off your wet feet, and get to work so that you can have dry shoes.
If your boots are dirty as well as wet, the best way to clean leather boots is to clean them first and then take care of drying them with your chosen technique.
Avoid Wet Feet Using Rice
In addition to being a kitchen staple, rice has a wide range of uses. Uncooked, dried rice is a desiccant that absorbs a significant amount of moisture, making it excellent for overnight shoe drying.
Fill a dry sock with rice and knot it with a hair elastic to make a rice sock. Fill just enough to allow the rice to move about inside. Prepare your wet work boot by removing any additional mud or grime and the insoles. Push the rice sock into the shoe, making sure it covers from toe to heel.
For damp boots, leave the rice sock alone for a couple of hours while the rice absorbs the excess moisture. If you have soaked boots with lots of water, place the rice sock in them overnight to allow time for the wetness to absorb.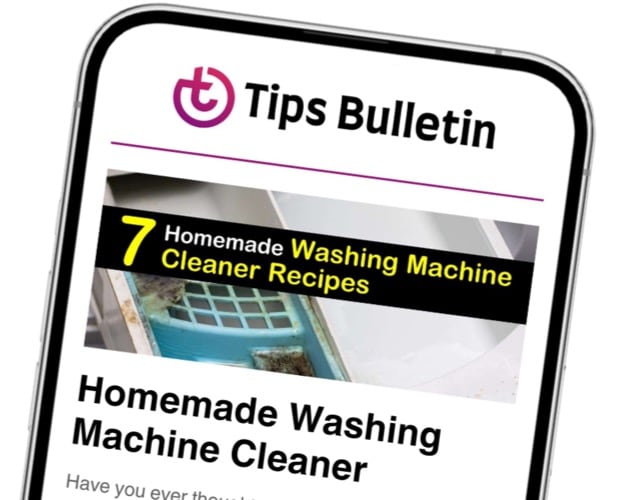 Finally, an email that Transforms Your Home.
Get the latest home and garden tips from our experts, delivered straight to your inbox.
Rice eliminates odor and reduces bacterial growth because it is a suitable desiccant, making this a two-for-one approach to give you fresher dry boots.
Drying Damp Boots in the Dryer
When boots are damp from the rain or an accident, the clothes dryer is frequently the quickest way to dry them. If you've been out in the rain or mud, it's easy to end up with dirt or sweat build-up and a wet boot that's not comfortable to wear.
Boots should not always be dried in the dryer. Your shoes will not only be beaten as they tumble around, but extreme heat may also cause the adhesive holding them together to shrink or degrade, leading them to distort or fall apart.
If you must use this method because you are in a hurry, dry your shoes at a low heat level. Suspend your boots from the dryer door by the laces, or place them in a mesh bag with the insoles separated before drying.
Some dryers include a built-in shoe drying rack, which is only appropriate for certain shoe types, such as canvas-based footwear. If your dryer doesn't have a drying rack, hang boots from the dryer door by their laces.
Even if you take these preventive measures, drying your shoes in the dryer may reduce their life expectancy. It is best to dry your boots using other techniques if possible.
Drying Leather Boots with a Fan
A fan is a terrific solution when you need to swiftly turn a wet boot into a dry boot without destroying it. Use caution to ensure your fan is not blowing hot air since this could wear out delicate leather shoes.
Another option for drying your wet shoes without negatively impacting them is to hook them to the grill of a table fan or floor fan. Use a wire hanger and a wire cutter to build hooks for convenient hanging.
To dry your boots with a fan, use the wire cutter to remove two wire segments from the hanger and bend them to an 'S' shape to serve as hooks. Place towels in front of the fan to absorb any drops from the wet shoe.
Carefully place one rounded end of the wire hooks into the fan's grill, and hang the boots on the other flat against the fan. Dry the shoes until they are entirely dry.
Newspaper

Dries Wet Footwear

If you routinely dry wet boots, have some dry newspaper on hand. Make sure your shoes are clean first. If your boots are soiled or muddy, clean them thoroughly before drying them by gently scraping away debris with a dry brush after washing them in warm water with a mild soap solution.

Take out the boot's insoles and dry them separately, or place them near a fan to expedite the drying process. Loosen or remove the laces to open up the boot and enable it to air.

Fill the shoes by crumpling the newspaper and stuffing it inside, making sure the newspaper reaches the toe of the shoe. To dry the outside of your boots, wrap them in a dry towel or paper towels. Place your shoes inside, out of direct sunshine, in a well-ventilated location.

You may have to change the newspapers multiple times if your boots are dripping wet. Regularly check the wetness level and, if necessary, add more newspapers for better absorption. This approach is best used overnight to ensure your work boots are ready to use the next day.
Natural Drying for Soaked Boots
If you don't have a deadline to dry your shoes, putting them in a ventilated and warm location out of direct sunshine is a simple solution. Remove the insoles and place them with the shoes after untying the shoelaces. Dry your wet shoes gently by allowing air to circulate and placing a dry towel beneath them to soak up water.
A Shoe Dryer Works Quickly
A shoe or boot dryer is perfect for drying leather boots and is the best way to dry boots fast. Investing in a shoe dryer puts an end to wondering how to dry wet boots. Shoe dryers are specially made to dry shoes quickly and effectively. Always follow the manufacturer's guidelines to get the most out of your shoe dryer.
A Hairdryer is the Best Way of Drying Boots Fast
A hairdryer is found in most homes, and it's invaluable when it comes to wet boots. If you've been questioning how to dry wet boots, a hairdryer is the best way to dry boots fast and even works for drying leather boots.
Set your wet boots on a dry towel, loosen the laces, open them up and remove the insoles. Work with the hairdryer on low heat, passing it back and forth similarly to drying hair until all the excess moisture is gone and your boots are dry to the touch both inside and outside.
As heat dries out the leather fibers, consider conditioning leather boots after using a hairdryer to maintain their luster and prolong their life. Too much exposure to heat can also shrink leather shoes, so use care when drying with hot air.
The Refrigerator Vent Dries Shoes
Another household item to dry your shoes is the refrigerator. The majority of refrigerators have an air vent below the door. This device pumps warm, dry air out during each cooling cycle, which you may use to dry your shoes.
Alternatively, put your shoes behind the refrigerator, where there is an intake fan if you don't want to put them in front. The fan draws out the moisture in your shoes. This method uses an appliance without adding to the electricity bill and is an excellent option if you're at work and don't have access to supplies.
Take the removable insole out of your wet shoe and place your shoes on their side on top of a paper towel or plastic bag, with the openings facing the refrigerator's vent. To put your boots in the rear, face the fan with the opening of the shoes. Check back periodically to see if the shoes are dry.
This approach is perfect for shoes made of canvas and cotton, such as running shoes. If leather shoes are allowed to dry out for too long, the leather may crack. Consider conditioning your leather shoes after drying with saddle soap or mink oil to restore their natural moisture and maintain their condition.
Cat Litter for Wet Footwear
Cat litter is perfect for drying any type of wet boot and removes unwanted odors like a foot or mold smell. To use cat litter to dry your boots, loosen the laces and open up the material. Pour cat litter inside the shoe, shake to ensure it reaches the toes, and leave overnight.
Cat litter quickly soaks up excess moisture while neutralizing bad smells, leaving your boots dry and fresh. Along with using baking soda in a sock on the inside of your boots or shoes, kitty litter is a great home remedy for stinky boots and drying them quickly.
Shoe Trees Speed Drying
The best way to dry boots fast while still being natural is using a shoe insert such as a shoe tree. Air circulation is critical to removing excess moisture and drying out shoes. A shoe insert like a shoe tree holds the boot open and allows air to reach all areas to expedite the process.
An adjustable shoe tree or stretcher can make boots wider if your shoes are a little tight. Expand the stretcher while the boots are drying to increase the size.
Drying Shoes in Front of the Oven
While placing shoes or clothes inside the oven to dry is a fire risk and may destroy your garments, placing items in front of a warm range is possible and helps speed up the drying process. Place your shoes on a dry towel on the floor in front of a hot oven or stove, remove the laces and insoles and open up the fabric so warm air can circulate.
Dry Winter Boots on the Clothesline
Air circulation is vital in drying wet boots. When boots sit on the ground, moisture can pool in the soles, extending the drying time. By hanging shoes to dry on a clothesline, 360-degree air circulation speeds up the process while airing out unwanted odors.
Try Hot Rocks for Wet Shoes
The best way to dry boots is to slowly heat them to remove moisture without causing damage. Placing hot rocks or hot water bottles in your shoes dries them from the inside out and is one of the safest ways to dry boots.
Make hot rocks by choosing large smooth pebbles from around the fire or sunny areas. Always take care not to use scorching hot stones that may burn you and melt your boots.
Use a Dry Towel for Damp Leather Boots
Similar to a newspaper, placing a dry towel inside soaking boots is an excellent way to help them dry. Roll a dry towel up so it's thin enough to fit inside your shoes and press it into the sole, working it down to the toe. The towel's fabric absorbs excess moisture, ensuring the inside of your boots is drying while the outside dries at the same time.
Dry Work Shoes by the Fire
A campfire or fireplace helps in the process of getting damp boots dry too. Heat increases the rate that excess moisture evaporates to support the drying process.
Remove the laces and removable insole from your boot and lay it out in front of the fireplace or campfire, taking care not to get so close enough to be causing a risk of fire or melting. Let your boot sit by the fire and check periodically to assess dryness.
Finish by using polish to nourish your shoes. It's also helpful for removing scuff marks from leather shoes that cause unsightly blemishes.
Learning how to dry wet boots is simple once you know a few tricks. Drying leather boots has its nuances due to the delicate nature of the material but is achievable with a little extra care and a good coat of conditioner afterward. Using appliances and items you already have at home, find the best way to dry boots fast, and never worry about wet shoes again.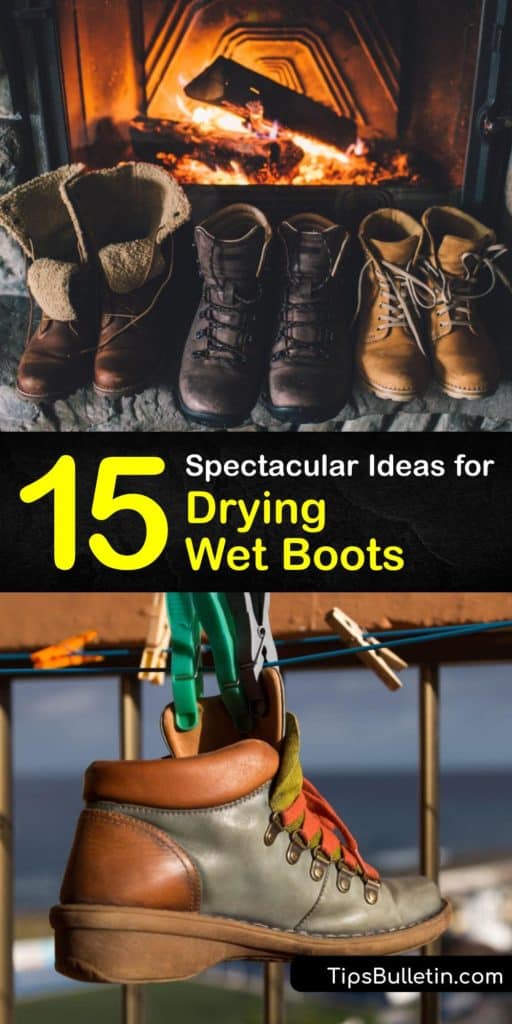 If you loved this article on how to dry wet boots, please share these tips on drying leather boots with your friends and family on Pinterest and Facebook.