Your bed is meant to be a place of solitude. This is where you lay in the comfort of blankets and recharge for the new day, not a space where you awaken covered in itchy bug bites and red welts. We show you how to eliminate bed bugs from your home and keep them from returning.
Growing up, you probably thought that bed bugs were a myth created by your parents as a way to ward off bad dreams as they tucked you in. Unfortunately, any entomologist will tell you that this insect is all too real.
Not only do they feast on you while you are in a slumber, but they are masters at hiding and quite difficult to get rid of. During the day, bed bugs hide in the crevices of your mattress and box spring, in electrical outlets, and around your bed frame.
They sneak out at night to eat, and bed bug bites are a serious problem if you have allergies. Therefore, it's important to eliminate them right away to halt a bed bug infestation.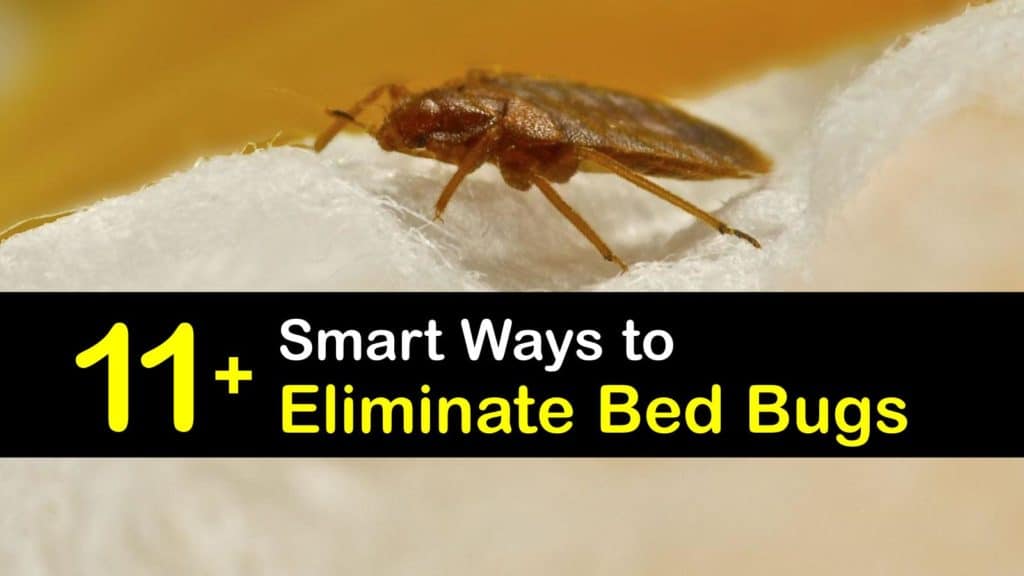 Getting Rid of Bed Bugs and Keeping Them Out
There are many pests that like to occupy your home, and not dealing with a bed bug problem right away often leads to an extreme bed bug infestation. Here are several easy ways to get rid of bed bugs and avoid calling in an exterminator.
Signs That You Have an Infestation and Require Bed Bug Elimination
Before proceeding with bed bug elimination tactics, it's vital to understand exactly how big a problem you have.
Doing this increases your chances of getting rid of them effectively and stops their return. If you suspect you have a bed bug problem but are unsure, here are a few telltale signs.
Bed Bug Signs
There are many signs of bed bugs to look for, but the most prevalent is bed bug bites. If you wake in the morning with itchy welts or bumps, there is a good chance you have an infestation.
Other signs to look for are bloodstains on your nightwear, dark spots of excrement on your pillowcase and sheets, a musty odor from their scent glands, and bits of egg shells and shed skins in hiding places.
Eliminating Bed Bugs by Vacuuming
One of the first steps in eliminating bed bugs is to pull out your vacuum cleaner. This is the best tool in your insect removing arsenal and the best way to get rid of adult bed bugs, their fecal matter, and shell casings. It also helps get rid of bed bugs spread from room to room.
Start by moving your bed, dresser, nightstand, and other furniture away from the wall. Vacuum the carpeting thoroughly by overlapping each direction and using the hose attachment to clean along the wall and baseboards.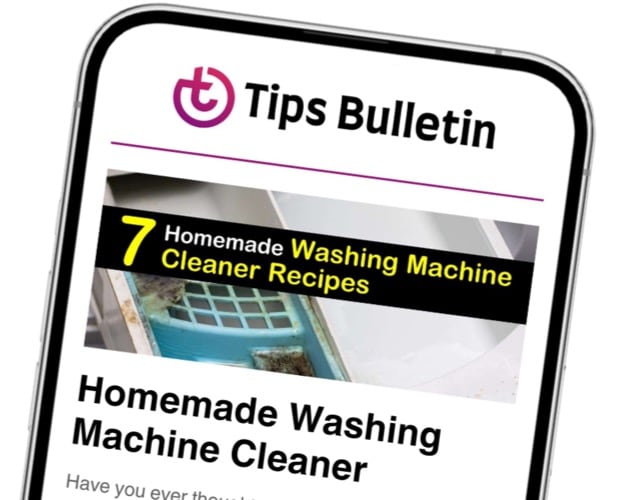 Finally, an email that Transforms Your Home.
Get the latest home and garden tips from our experts, delivered straight to your inbox.
Move the furniture back into place and vacuum the rest of the rug. Empty the debris from the vacuum canister into a garbage bag, tie it shut, and dispose of it in the outside trash can.
How to Eliminate Bed Bugs from Your Bedding
Before using home remedies for getting rid of bed bugs, remove all of your bedding and treat it to kill the adults, eggs, and nymphs. The EPA suggests using the high heat of your washer and dryer as a means of pest control.
Remove the sheets, pillowcases, and blanket from your bed and place them in your washing machine. Add the appropriate amount of laundry soap and clean them with the highest hot water temperature.
Transfer the bedding from the washer to the dryer and dry it with a high heat setting. Treat your mattress before returning the items to your bed. This is also effective for the way do you get rid of bed mites.
Treating the Mattress and Box Spring to Eliminate Bed Bugs
Vacuuming and washing your bedding is not enough for bed bug elimination. There is still a fairly good chance that your mattress and box spring are infested and require a follow up treatment to prevent bed bug bites. Use this solution to kill bed bugs very fast and get rid of the problem for good.
Strip away the bedding from your bed and wash it accordingly. Use the hose attachment on your vacuum to clean the top, bottom, and sides of both the mattress and box spring and then spray straight white vinegar over the entire surface area of your bed.
Make sure to spritz all the creases and crevices and let the mattress dry entirely before remaking your bed with clean linens.
If you don't like the smell of vinegar, use lavender oil to eliminate bed bugs in the mixture, too. Tea tree oil and other essential oils also work well.
How to Eliminate Bed Bugs on Non-Washable Items
While eliminating bed bugs on your bedding is easy by throwing them into the washer and dryer, some bed items are not machine-washable. Very cold temperatures kill bed bugs, and your freezer is an excellent tool for treating small items.
Freezing Bed Bugs
To kill bed bugs, set your freezer to 0°F. Place each item into a plastic bag and seal it shut. Put them in your freezer and let them sit there for at least four days before returning them to your bedroom.
This form of bed bug control works on stuffed animals, small bed pillows, and delicate fabrics.
Getting Rid of Bed Bugs in the Bedroom Carpeting
Using a natural bed bug killer spray on your mattress and box spring is ideal. However, the carpeting in your bedroom is still a breeding ground for these nasty insects.
Heat treatments work best to kill bed bugs and eggs, and a steam cleaner effectively cleans the carpet with water and high temperatures.
The most effective way to get bed bugs out of the carpet is to move all of your bedroom furniture out of the room. If this is not possible, move it to the opposite side of the room and work in sections.
Start by vacuuming the entire floor and around the perimeter, between the carpeting and walls. Follow the directions for your steam cleaner and work in sections, from one side of the room to the other.
Empty the vacuum cleaner debris into a garbage bag outside and thoroughly wash the steam cleaner to stave off a re-infestation.
Using Interceptors to Eliminate Bed Bugs
Sometimes, it takes a while to get rid of bed bugs. You can make a homemade bed bug trap or use interceptors as a great way to keep those pests out of your bed while you're sleeping until you complete the bed bug control process.
Bed Bug Interceptors
Position an interceptor beneath each bedpost and make sure the bed is away from the wall and that the bedspreads and dust ruffles do not touch the floor.
The bed bug traps keep the insects from climbing into bed with you and are a great way to see how many of them are present in your room.
Killing Bed Bugs with Diatomaceous Earth
Diatomaceous earth is a popular choice for getting rid of many insects in and around the home.
This naturally occurring powder comes from the fossilized remains of diatoms, and as the bugs travel across it, their exoskeletons get damaged, causing dehydration and death.
Sprinkle a light coating of food-grade diatomaceous earth beneath your bed, on the box spring, around and underneath the nightstand, and any other bed bug hot spots. Let the powder sit and do its job for a few days before vacuuming it up.
Eliminating Bed Bugs and Eggs with Rubbing Alcohol
We often think of rubbing alcohol as an antiseptic, disinfectant, and solvent. However, this liquid also dissolves insects' outer cells and is useful for making a homemade insecticide spray to treat your bedroom.
Pour rubbing alcohol into a bottle and spray the top, bottom, and sides of your box spring and mattress. Allow the liquid to dry completely, and then make your bed with clean sheets and blankets.
It's also useful to spray the solution on the floor beneath and around your bed, but it's essential to test it on an inconspicuous area first to check for colorfastness.
Using Foggers to Eliminate Bed Bugs
If you have a severe infestation, consider using bug bombs to kill bed bugs. These insects hide in very small crevices, and foggers release insecticide into all the spaces you miss during conventional bug management.
Bed Bug Foggers
Follow the instructions for your bug bomb brand. Remove all pets from your home before fogging, and be prepared to evacuate the space.
Turn off ignition sources, open drawers, and closet doors, and place the canister in the center of the room. Leave the area immediately after activating it and do not return for approximately two hours.
How to Get Rid of Bed Bugs with Insecticides
If you prefer not to use a homemade bed bug spray or other tactics don't do the job, consider purchasing a commercial pesticide. There are various products on the market, and many of them contain pyrethroids, which are effective at eliminating bed bugs.
Bed Bug Pesticides
There is a wide range of bed bug killers available, so it's important to read the instructions before use. Remove all your bedding, wash and dry it and store it in another room.
Pull your bed frame away from the walls and spray the insecticide along the baseboards and carpeting. Spray both sides of the mattress and all areas of the box spring and headboard, and allow them to dry before making the bed with clean sheets.
Tips for Preventing a Bed Bug Infestation
There is no reason to deal with a bed bug problem more than once, as long as you take the right steps to stop them from entering your home in the first place. Here are several tips for keeping them off your bed and out of your home.
Bed bugs love to travel from different locations, so check all your belongings after taking a trip to a hotel room, and inspect new purchases from a thrift store or second-hand store before bringing them into your home.
Reduce clutter to eliminate bed bug hiding places, vacuum daily, and wash your bedding regularly. Place your pillows and mattress in encasements to keep bed bugs from feeding through the material and entering or escaping.
These items make your bed bug-proof, and provide some relief while dealing with a bed bug problem.
Bed bugs bite in the night and hide during the day. Their habits make it challenging to find infested areas and eliminate the problem.
Fortunately, there are many simple ways to get rid of these insects from your home for good and use pest management techniques to stop them from coming back.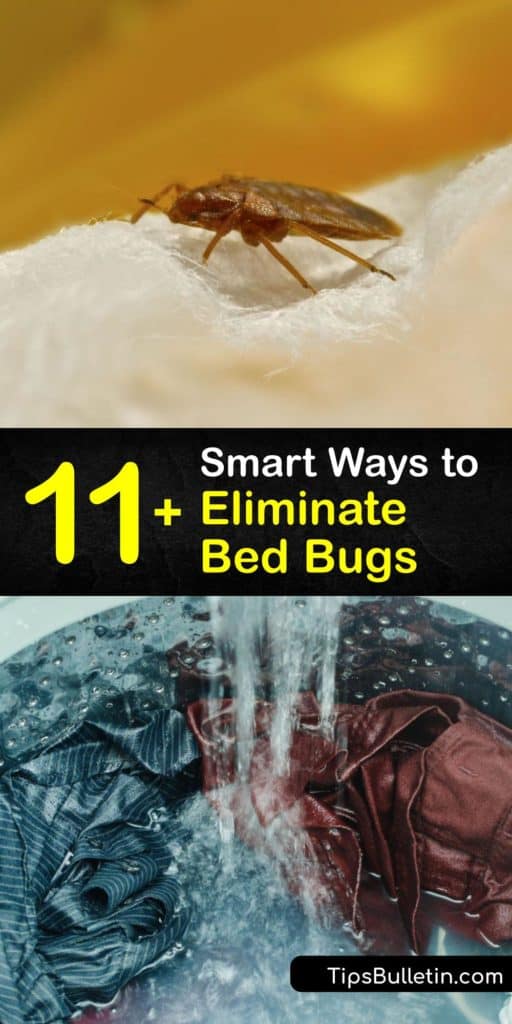 Knowing how to eliminate bed bugs is key to keeping your home bug-free and getting a good night's sleep, so why not share our bed bug elimination tips and solutions with your family and friends on Pinterest and Facebook?