As adults, we tuck our children into bed at night while reciting the well-known bed bug rhyme, but bed bug infestations are not a myth. These insects leave itchy welts on your skin, and an infested room is often a reason to call in an exterminator. We explain how to eradicate bed bugs from your home using several effective techniques.
Initially, you're unaware of a bed bug problem since they usually aren't visible until they creep out of tiny hiding places at night as you sleep.
It is during this time that they begin feasting on your sleeping body, leaving behind bloodstains, excrement, shed skins, and eggshells.
Waking up in the morning with bedbug bites and discovering your sheets have a musty odor and fecal spots indicates a problem, and it's time to take immediate action.
Ignoring the issue leads to an infestation and eventually leaves you dealing with costly pest management services.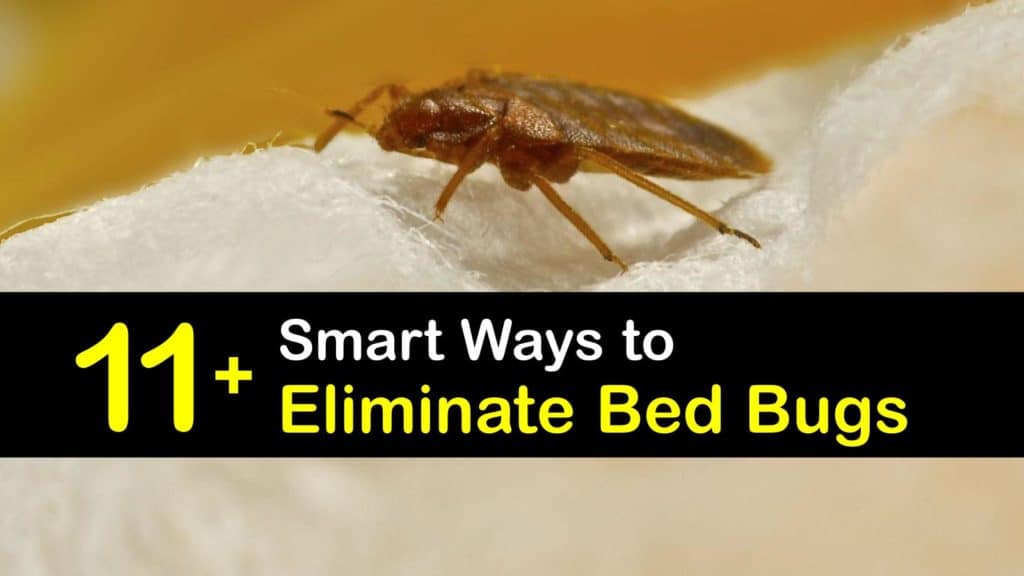 How to Eliminate Bed Bugs in Your Home
While many types of insects are relatively easy to kick out of the house, bed bugs are a different issue altogether.
Over time, they scatter throughout the room, and it's often challenging to locate the infested areas. We show you how to find where bed bugs hide and ways to kill bed bugs once and for all.
Where do Bed Bugs Come from?
Flies and spiders make their way into your home through an open door or window, but where do these bugs come from, and what are bed bugs?
While an entomologist may find them fascinating, we personally think bed bugs are rather disgusting. Learn exactly what these insects are and why bed bug eradication is so important.
What are Bed Bugs?
Bedbugs are small, reddish-brown insects with flat bodies like an apple seed that feeds on the blood of sleeping people and animals. They bite into the skin and inject a blood thinner and anesthetic to numb the flesh while they feast.
This bite causes a skin reaction, leaving red and itchy welts and bumps. People who have allergies react worse than others, and the bites can cause severe blisters or hives.
They do not have wings, but bed bugs move quickly and lay hundreds of eggs the size of a speck of dust over a lifetime.
The nymphs shed their skin five times before maturing to adulthood in as little as a month, and the EPA considers these insects a public health pest.
Do you know the difference between dust mites and bed bugs? Dust mites are microscopic, and do not bite but cause an allergic reaction in many people.
Bed Bugs are Sneaky
Bedbugs are skilled at hiding during the day in electrical outlets and small crevices around baseboards, headboards, and other bedroom furniture.
They make their way into your house by hitchhiking a ride on your belongings after you travel away from home to a motel or hotel room or on items you purchase from a second-hand store.
Using Bug Bombs for Bed Bug Eradication
Bug bombs release aerosol propellants that contain pesticides into the air, and these fumes get into all the tiny crevices where bed bugs hide to kill them quickly. Here is how to perform bed bug eradication using foggers.
Bed Bug Foggers
Since manufacturers have different directions, depending on the bomb type, it's vital to read the instructions and precautions before use.
Foggers take a couple of hours to work and dissipate, so plan the treatment when you and your pets are out of the home for the afternoon.
Place the canister in the middle of the room, activate it, and close the door before leaving the house. Do not re-enter your home until the recommended amount of time passes, and open the windows to give the room fresh air.
Eradicating Bed Bugs with Heat Treatments
While eradicating bed bugs with pesticides is a great way to kill them in your home, it's essential to heat-treat your bedding and other items to prevent re-infestation. Exposing nymphs and adult bed bugs to temperatures over 113°F kills bed bugs effectively.
Remove the pillowcases, sheets, and blankets from your bed and clean each load in the washing machine on the hot water setting. Transfer them into the clothes dryer and dry them with high heat.
If you have items that are not machine washable, place them in the dryer for half an hour or put them in a plastic bag and set them in the freezer for four days. Do not replace your bedding until you treat and eradicate the bed bugs in your bedroom.
How to Eradicate Bed Bugs with Bed Bug Traps
Even when you get rid of bed bugs for good, there is still some lingering doubt in the back of your head. Are the bed bugs really gone? Bed bug interceptors not only trap bugs but using these gadgets alerts you to their presence while keeping them off your bed.
When getting rid of bedbugs with traps, first remove your bed's dust ruffle, if you have one, and slide the bed frame away from the wall and furniture.
Place a bed bug ClimbUp interceptor or trap beneath each of your bed's leg posts. These traps are also useful for other furniture such as a couch or chair.
Check the traps each day for activity and clean them as needed. To wash the traps, remove them from the posts, dump the dead bugs, debris, and dust into the toilet and then wash them with soapy water before returning them to the bedposts.
Protecting Your Bed with Bed Bug Control Methods
Using insecticides and heat treatments are not the only steps while eradicating bed bugs. It's vital to protect your mattress, box spring, and pillows from an infestation during and after the process.
Strip all of your bedding off the bed and wash and dry it at high temperatures. Set the clean bedding aside and place your box spring and mattress into an encasement or protective cover.
Put your pillows into a protective pillowcase, and then make your bed normally. Make sure to treat your bedroom for bed bugs before replacing the bedding.
Using Insecticides to Eliminate Bed Bugs
If you feel uncomfortable using a bug bomb or simply don't want to go through the hassle, other bed bug insecticides are on the market. While these sprays require a more hands-on approach, they effectively eliminate bed bugs from your space.
Bed Bugs Insecticide
There is a wide range of bed bug insecticides on the market. Make sure to choose one containing pyrethroid and pyrethrin since these are most effective at killing bed bugs.
Follow the can instructions and spray the pesticide around your headboard, bed posts, nightstand, and other bedroom furniture. Apply it along the baseboards and any small nooks and crannies where bed bugs hide and spray the bare mattress and box spring.
There are also recipes to make a natural bed bug killer spray that are less harmful to the environment but they may require multiple applications for complete effectiveness.
How to Eliminate Bed Bugs with Diatomaceous Earth
Many commercial bug sprays and treatments contain chemicals that are harmful to you and the environment. However, diatomaceous earth is a concentrated silica source and a natural powder that kills bed bugs by piercing their exoskeleton and causing death. Does Borax kill bed bugs? Yes, Borax is also an effective bed bug remedy.
If you plan on treating your bed with DE, prepare another room of your home to sleep in for about a week. Apply a fine coat of diatomaceous earth to your bare mattress and box spring.
Pull the bed away from the wall and sprinkle it on the floor around and beneath your bed. Let the powder rest for seven days, and then clean up the DE by vacuuming.
Alternatively, use an essential oil spray to kill the critters. Does cedar repel bed bugs? Cedarwood, lavender, lemon, and peppermint all repel bed bugs, among others. Bed bugs hate peppermint oil, as do many other insects like spiders.
Easy Ways to Prevent Bed Bugs
The best way to deal with a bed bug problem is to not have one in the first place. Here are several easy ways to prevent these disgusting insects from invading your bedroom and your sleep.
Protective Covers
Use protective covers on your box spring and mattress, vacuum your bedroom regularly, and keep your room free of clutter. Install bed bug traps on the four leg posts of your bed and check them routinely for activity.
Closely Inspect Used Furniture and Clothing
When purchasing from a second-hand store or thrift store, always check the items for signs of bed bugs, such as fecal matter and stains.
When staying at a hotel, keep your bags and belongings away from the bed and look for signs of bugs on the bedding, mattress, and headboard. Always inspect your items before bringing them back into your home.
Discovering you have a bed bug problem in your home is disturbing, to say the least, and pest control services are expensive.
These nasty insects are more than a nuisance, especially if left unchecked. Fortunately, there are ways to kill bed bugs and prevent them from returning by using the right bed bug treatment.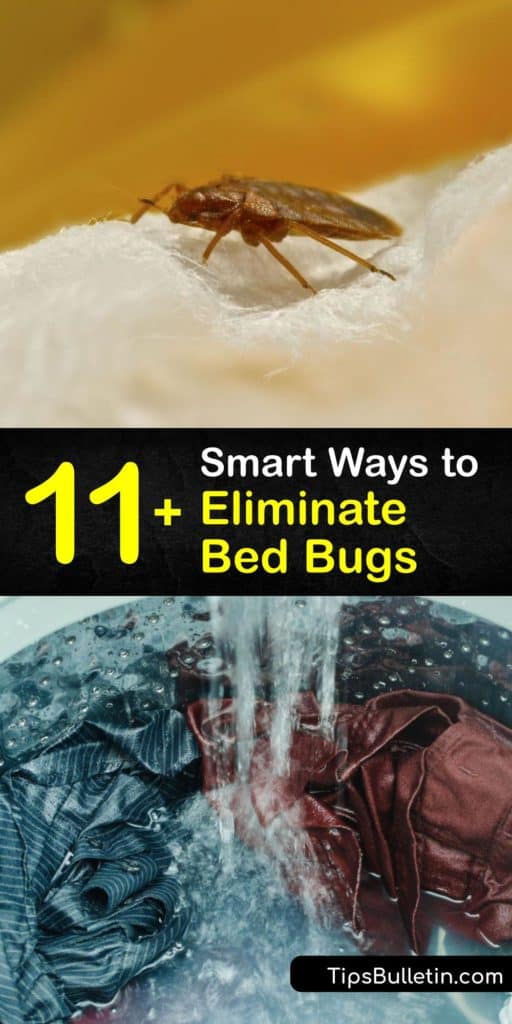 Now that you know how to eradicate bed bugs and prevent future infestations, we'd love it if you'd share our bed bug elimination tips with your friends and family circle on Pinterest and Facebook.