Gardeners who know how to fertilize citrus trees with coffee grounds save money and keep toxic chemicals out of the home garden. As the global issue of food waste rises, and more people become interested in organic and sustainable gardening practices, using fresh coffee grounds for citrus trees is becoming increasingly popular.
Despite being a waste product, spent coffee grounds are loaded with valuable nutrients and compounds your Meyer lemon tree or orange tree needs to grow, bloom, and produce citrus fruit. Are coffee grounds good for citrus trees? Coffee grounds convey several advantages to orange, lemon, and lime trees.
They're simple to use as a liquid or granular fertilizer, appropriate for the compost pile and may be used as an upcycled and nutritious mulch. Don't throw the grounds away if you drink lots of coffee or have access to fresh coffee grounds.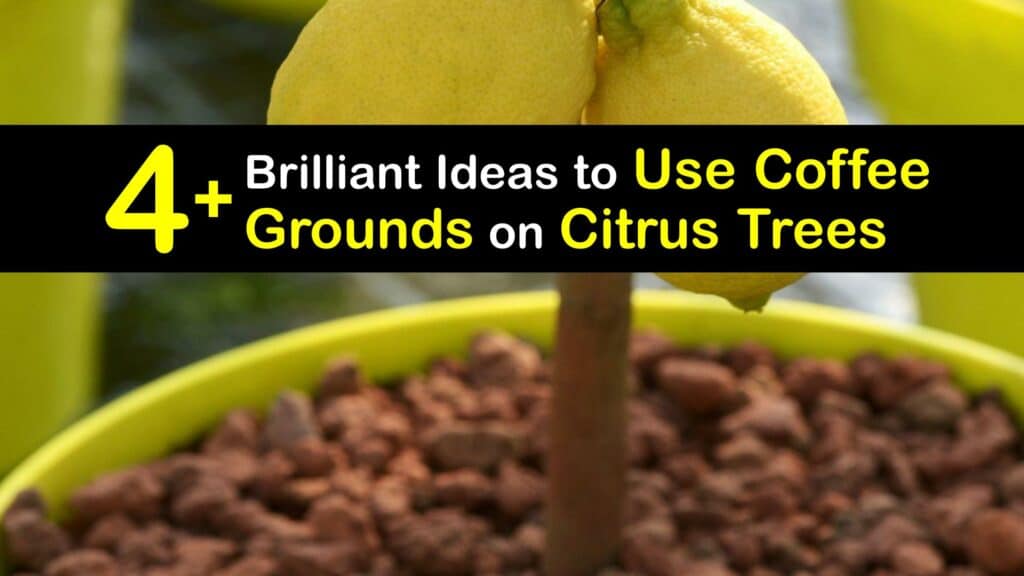 Discover the Benefits of Coffee Grounds for Citrus Trees
Crafting coffee ground fertilizer is straightforward and economical and helps your citrus trees bear a large harvest of delicious citrus fruits. Explore how to fertilize citrus trees with coffee grounds to cut your gardening costs and boost fruit production.
Using coffee grounds for citrus trees is almost effortless, and it keeps your garden and the food it produces organic. Many gardeners wonder are coffee grounds good for citrus trees?
If you're interested in helping your trees remain healthy and be more productive, eager to try organic gardening, or enjoy gardening on a budget, using coffee grounds is a brilliant idea, as is homemade pasta water fertilizer or eggshells and banana peels.
Use coffee grounds instead of chemical formulations and eliminate toxic chemicals and dangerous compounds from your home garden while reducing food waste and maximizing your citrus tree's harvest.
Are Coffee Grounds Good for Citrus Trees?
Coffee grounds are one of the best fertilizer options for citrus and other acid loving plants. Grounds are perfect for providing nutrient delivery without altering the soil pH of the acidic soil where orange and lemon trees thrive. Spent coffee grounds give your citrus trees vital nutrients for growth and fruiting.
These compounds promote your tree's growth and fruit production, and coffee grounds absorb heavy metals to prevent them from reaching your citrus tree.
How to Fertilize Citrus Trees with Coffee Grounds
Coffee grounds are a simple and efficient granular fertilizer to promote plant growth and improve the production of your fruit tree. Tomato plants like coffee grounds too. Save the grounds from your morning coffee in a bag or bucket and when you have enough, sprinkle them liberally around the base of your orange or lemon trees, then water as usual.
The grounds give your trees a rapid boost of extra nourishment and add texture to the soil to improve ventilation and lower incidences of fungal disease. Coffee grounds are also an excellent side dressing when repotting potted citrus trees or indoor citrus plants. Put coffee grounds in potted plants, whether they are inside or out.
Liquid Coffee Ground Citrus Tree Fertilizer
While easier to apply as a soil soak around the roots of a large citrus tree, if you have an indoor plant, this solution doubles as a foliar spray to use directly on the leaves.
It's essential not to use the leftover coffee from your cup despite its similarities. The brewing process gives your cup of coffee extra additives and extracts from the grinds, and items like creamer and sugar are not beneficial for trees.
Shake or stir the mixture well in five-gallon buckets or a large vat and let it stand overnight to combine. Pour the steeped coffee ground liquid at the base of your orange, lemon, or lime trees, or use it in a garden sprayer as a foliar spray on fast growing fruits in pots or a smaller potted citrus tree.
Take advantage of used coffee grounds as perfect plant fertilizer for a variety of plants, whether you have grounds to spare at home or get them from a coffee shop.
Compost Your Coffee Beans for Rich Organic Fertilizer
Composting breaks down organic matter to produce a valuable product. Composting organic material such as eggshells, banana peels, old fruit, yard trimmings, and even shredded paper results in a nutritious finished compost for organic citrus fertilizer.
Coffee grounds are categorized as a type of green matter for composting, comparable to fruit and veggie waste and green grass clippings since they are a source of nitrogen.
When actively composting, most experts recommend a ratio of one part green materials to three parts brown, such as paper and dried leaves. Coffee grinds shouldn't make up more than 20% of your compost pile since this has the potential to slow or stop the composting process.
Finished compost with coffee grinds is excellent citrus plant food to enrich your potting soil for an indoor plant or improve the native soil for growing citrus outdoors.
Try Coffee Grounds for a Citrus Tree to Conserve Water
Coffee ground mulch offers several benefits to citrus trees. Earthworms improve the soil's texture by integrating the grinds into the soil to create air pockets. Mulch creates a physical barrier to keep the soil damp and aid in water retention.
The decomposition of the coffee grounds by subsurface organisms delivers nitrogen to the tree roots and enhances the soil's structure. Because of their sharp, abrasive edges, natural acidity, and the fact that caffeine is deadly to slugs, coffee grinds serve as an efficient slug barrier and upgrade the native soil's quality.
Avoid covering the soil with a thick layer of coffee grounds as they may clump and harden, preventing the passage of water or air to your citrus tree's root system. Sprinkle coffee grinds over the soil surface at your tree's base. A layer of grounds about an inch deep for moisture retention and other advantages is sufficient.
At-home fertilizer ideas like coffee grounds and Epsom salt are gaining traction in the gardening community. Chemical fertilizers are increasing in cost, and many have severe implications for the ecosystem and our health. If you grow your own food, it's prudent to know what compounds you introduce into your garden.
Using coffee grounds for your citrus trees is a natural and organic method of feeding them without adding potentially harmful chemicals to your fruits. Whether you prefer a liquid or granular treatment or like to work with compost, there's an option to try coffee ground fertilizer for every citrus tree caretaker.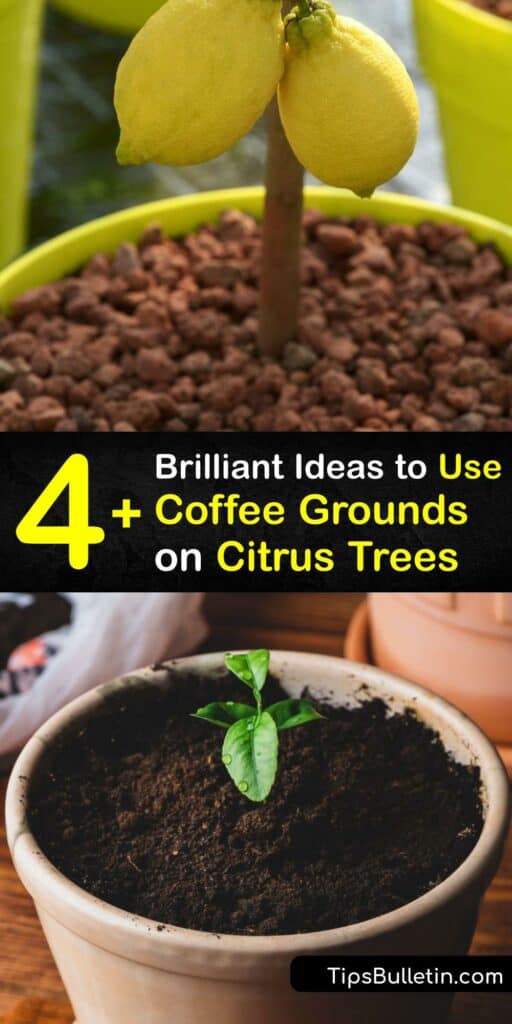 If you loved this article on how to fertilize citrus trees with coffee grounds, please share these brilliant uses of coffee grounds for citrus trees with your friends and family on Pinterest and Facebook.