When fall rolls around, it's tempting to run off to the nearest apple orchard and pick a bunch of apples. When we have an overload of apples, it's hard to develop smart ways to store them. Once you finish browsing our tips, you'll know how to freeze apples for numerous recipes and be knowledgeable on tips that help keep them fresh for as long as possible.
Can you freeze apples without damaging them? If you prepare the fruit properly, freezing apples keeps them preserved for several months without jeopardizing the taste.
The one downside to freezing is that it compromises the texture. Adding frozen apples to recipes where they get cooked or blended is a fantastic way to savor that sweet apple flavor throughout the year.
We hope after you read about the best way to freeze an apple, you'll be sharing these smart tips with your friends and family.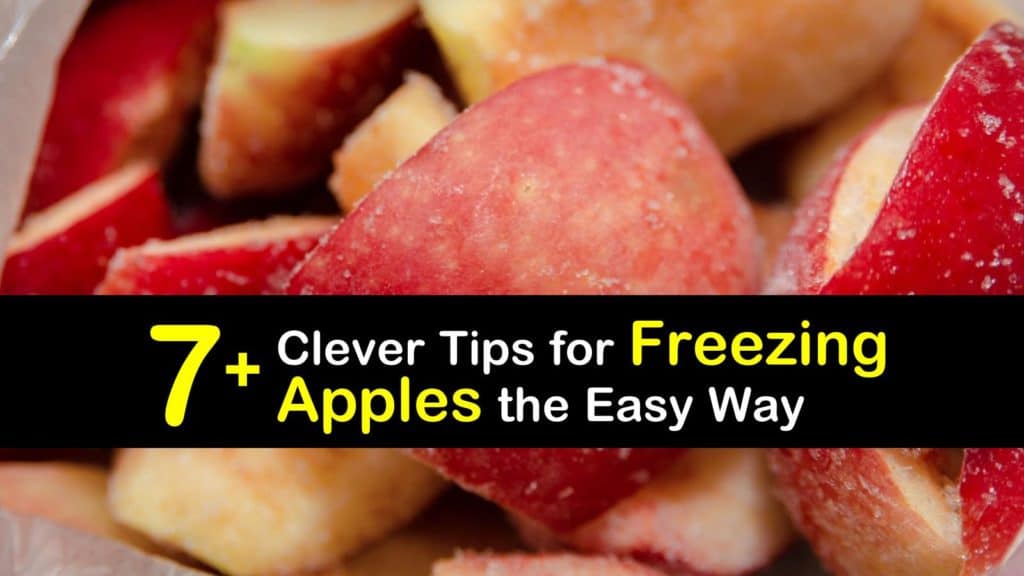 All About Apples
Apples are a member of the rose family, and they come in shades of green, yellow, and red. Because they bloom so late in the spring, apple trees grow much further north than other fruit trees because they avoid frost damage.
There are over 2,000 varieties grown in the United States, and over 7,000 grown around the world. Not only do apples taste delicious, but they are some of the best fruits for you.
One large apple contains roughly 130 calories and is packed with fiber, vitamins, minerals, and antioxidants. These antioxidants are important because they help reduce the chance of cancer and diabetes.
Studies have also shown that apples help protect against dementia, stroke, and heart disease. Apples also range in flavors and can be chosen based on your preferences. If you're looking for a sweet, mild flavor, a golden delicious or gala may be for you.
If you want something sour, Granny Smith apples offer a sharp bite. Better yet, these fruits are amazingly versatile. Turn them into applesauce, salad, cake, smoothies, butter, cobbler, muffins, and pie.
Did you know that apples are used for apple cider vinegar, too? The possibilities for storing apples are endless.
Can You Freeze Apples?
While the different ways to can apples are certainly appealing, it may take longer than you have time for. Explore other techniques for preserving this delicious fruit.
Can I freeze an apple? To put it simply, yes! Many people don't believe that it's safe to freeze apples because you risk ruining the texture, but freezing apples is an innovative way to keep fruit fresh without letting all that juicy goodness go to waste.
Before you think about purchasing apples, know what to look for at the grocery store or farmers market. Apples ripen even after they get picked from the tree. Allowing them to sit at room temperature makes the process speed up even more.
When buying apples, make sure they are firm all over and free from brown or soft spots. Once you find the freshest ones, try out one of our tips on freezing and storing apples and discover some tasty ways to use them.
How to Refrigerate Apples
Putting apples in the refrigerator is a great way to keep them crisp. Put your apples in the crisper drawer by themselves, if possible. Placing apples next to other produce may make them overripe or spoil from the ascorbic acid.
If you cannot dedicate an entire drawer to only apples, store them in plastic bags so they don't touch the other fruits and veggies. How long do apples last in the refrigerator? Most of the time, apples are good in the fridge for up to two months.
If you've already sliced your apples, brush some lemon juice onto the exposed sides. The acid helps prevent browning from oxidation and keeps them looking fresher.
Freezing Apples Whole
One of the easiest ways to freeze apples is to put the whole fruit in the freezer. Start by washing your apples under cold running water. Place the whole apples on a baking sheet and put them in the freezer until they are completely frozen.
Freezing them on a sheet first helps stop the apples from clumping together. Once frozen, transfer the apples to some freezer bags for about one year.
How to Freeze Apples that are Sliced
Freezing sliced apples is ideal when you want to open up the door, grab some slices, and throw them into a smoothie with some blueberries, just as it is one of the popular ways to freeze bananas. Wash and peel your apples with a peeler. Core and slice apples with a knife, slicer, or corer.
Add cold water and lemon juice to a bowl and soak the slices in the water bath for five minutes. Drain the apple slices and line them in a single layer on a cookie sheet.
Place the lined sheet in the freezer until the fruits are frozen. Remove the pieces from the cookie sheet and place them in freezer bags. Freeze apple slices for up to one year.
Freeze Apples for Apple Pie
Making apple pie filling for an apple pie is great for prepping ahead for the holidays, and Granny Smith apples are the best apple to use for this recipe.
Once the ingredients are in the pie pan, they are safe to freeze and can be pulled out, topped with a pie crust, and baked to perfection. These apple slices also work for making apple crisp.
Wash, peel, core, and slice your apples. Place the sliced fruit in a bowl of lemon water for five minutes to prevent browning. Drain the fruit and place them in a large glass bowl. Add the remaining ingredients and mix so that all the apples get evenly coated.
Line a pie pan with tin foil with an extra six inches of overlap on each side. Pour the apple filling into the lined pie pan and fold over the excess foil so the top is completely covered. Place the apple in the freezer overnight.
Remove the aluminum foil pouch from the pan and place it in a freezer bag or plastic bag until ready to use. Once ready, remove the frozen apples from the foil and put them back in the same pie pan so it fits perfectly.
Top the apples with a store-bought pie crust, brush it with butter and sugar, and bake until golden brown and cooked through.
Turn Frozen Apples into Butter
Apple butter is a tasty treat when smeared over toast or rolled into cinnamon rolls. It is easy to make and is safe for either fresh or frozen apples.
Put the apple in a large slow cooker and mix in the remaining ingredients. Cook the apples on low for ten hours, making sure to stir them every two or three hours.
Use a blender to puree the apples into a smooth consistency. Pour the apple butter in an airtight container and refrigerate it for two weeks or store in the freezer for up to a year.
Make and Freeze Applesauce
Homemade applesauce is another delicious apple recipe that stores well in the freezer. Use this sauce as a healthy side, a sauce for pork chops, or get creative and make some applesauce muffins.
Add all the ingredients to a medium saucepan. Cover the pan and heat the ingredients over medium for about 20 minutes.
Remove the pan from the heat, allow them to cool to room temperature, and mash the chunks with a fork until you reach the desired consistency. Pour the applesauce into an airtight container and freezer for up to six months.
Turn Apples into Bread
Although we love apples as they are, they become even better when baked into bread or cake. Add a little caramel, and you have a tasty dessert that gets devoured before your eyes.
Mist a small amount of oil spray into a loaf pan and preheat your oven to 350°F. Whisk the applesauce, sugars, eggs, oil, and vanilla together in a large mixing bowl.
Stir in the flour, baking powder, baking soda, cinnamon, nutmeg, and a pinch of salt. Fold the apple chunks into the batter. Pour the apple batter into the loaf pan and bake for one hour.
Remove the pan from the oven and cool before drizzling with the caramel ice cream topping and a pinch of salt. Wrap the loaf in aluminum foil and freeze for up to six months.
How to Thaw Frozen Apples
Unlike when you thaw frozen lemons, thawing frozen apples is a bit tricky because they tend to turn brown immediately. Try placing them in a bowl of lemon water and storing them in the fridge overnight to thaw frozen apples. Remove the apples from the water and use them as you wish.
Can you freeze apples? We hope at this point, you've stopped asking yourself this question and embraced that there are plenty of strategies for freezing apples that you may not have considered.
Apples are fruits loved by many people, and getting the most out of them is crucial for saving money and being less wasteful. With so many delicious frozen apple recipes, we can't help but want to drive to the nearest orchard and purchase a bushel.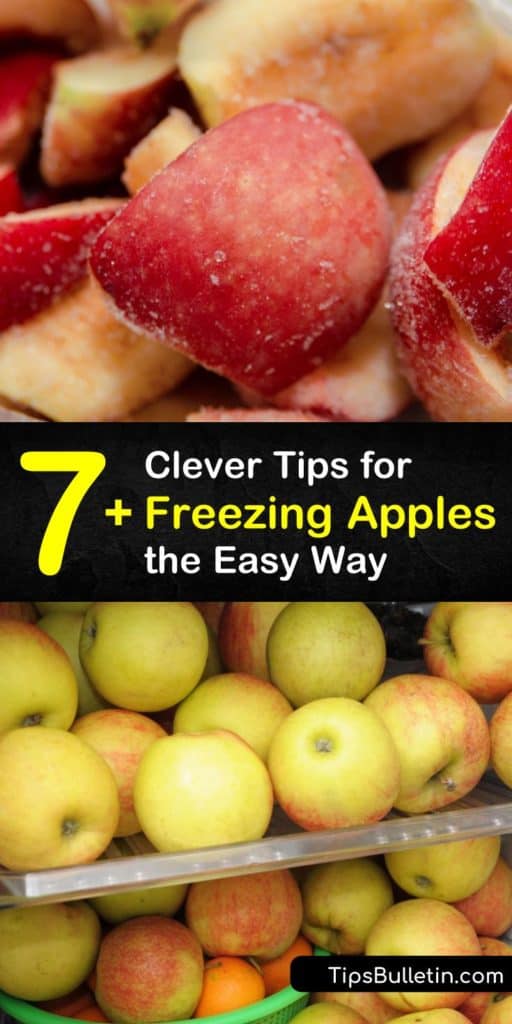 If learning how to freeze apples has helped you bake some tasty treats, share these tips on frozen apples on Facebook and Pinterest.