Nothing transforms a dish more than adding fresh herbs while it cooks. This addition means knowing how to freeze basil and other popular herbs and spices is an essential part of being a home cook.
Can you freeze basil without ruining the leaves, and if so, how do you do it? Freezing basil is one of the smartest moves you'll make in the kitchen.
When you freeze-basil ahead of time, you can hold onto the plant's nutrients without having to repeatedly run back and forth to the store to get more or throw it away from not using it all.
Like many fresh herbs, using a small number of herbs in cooking makes a big difference in flavor. A single basil plant provides a large harvest.
With so many leaves, it's hard to get through it all before having to throw it out. Learning how to freeze basil is a simple skill that applies to other leafy plants that we consume, too.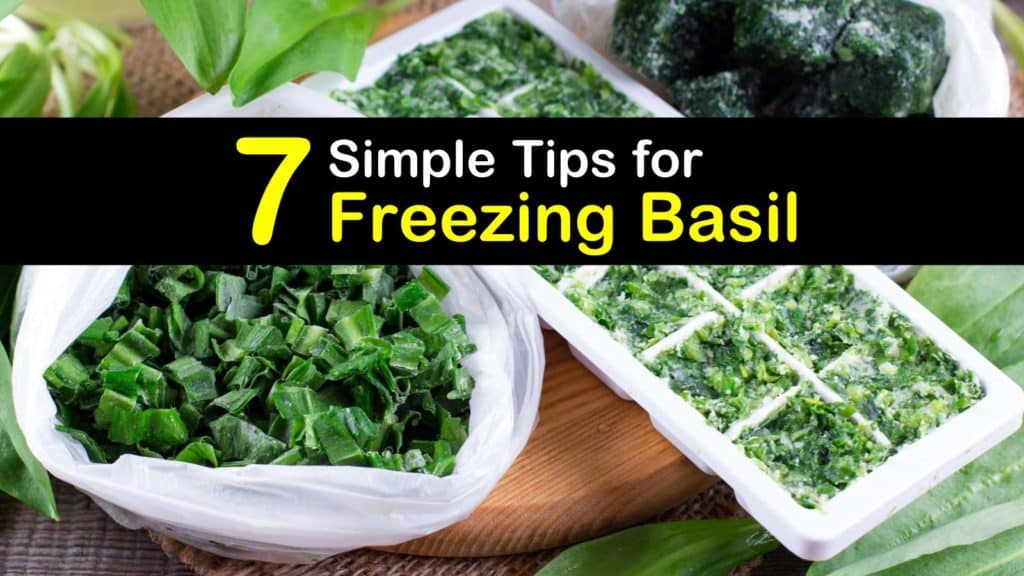 The Benefits of Basil
Fresh basil leaves often get thrown into pasta dishes or dehydrated for later use. Although these are fantastic ways to use the plant, you no longer need to wonder, can I freeze basil?
Instead, you'll know that the freezer is your best friend and that freezing won't take away from the basil's overall nutrition. Although dry basil leaves are more concentrated in flavor, fresh basil leaves are the best for getting nutrients in the body.
Basil is rich in vitamin K and works as an antioxidant and an anti-inflammatory. What's even better is that some varieties have different benefits.
Sweet basil aids against memory loss, and basil-based essential oils get used for repelling insects from you or your garden. Adding basil to your food is a tasty and healthy action when cooking.
Can You Freeze Basil?
Like most other things, a freezer is a one-of-a-kind tool for preserving fruits, vegetables, and other produce. This tool leads us to the question, what is the best way to freeze basil?
Read through the following methods to freeze basil, and you'll not only figure out how to do it but find a new favorite recipe with frozen basil along the way. You can adapt each solution for different ways to freeze lettuce and other leafy herbs and veggies, too.
Before Freezing Basil
Because basil wilts and browns at a quick rate, freezing it is one of the best ways to preserve it. The most crucial step before tossing them in the freezer is to make sure you purchase fresh leaves.
Fresh basil has a longer shelf life and lasts at room temperature for up to seven days. Purchase plants that are free from wilting and brown spots and that have a strong, sweet smell.
How Long does Basil Last?
Although basil is fine at room temperature, it lasts six months up to a year when put in the freezer.
If you don't feel quite ready to freeze the leaves, keep cut basil fresh by placing the stems in a glass of water on your window sill. When the water gets cloudy, change it to ensure the plant stays green for as long as possible.
How to Freeze Basil
The first step before freezing most plants is to blanch them. Blanching is a process that keeps the color of the leaves vibrant and stops them from breaking down too quickly.
Remove your basil leaves from the stems. Toss the leaves into a pot with boiling water for five seconds. Immediately remove the leaves from the hot water, run them under cold water, or give them an ice-cold water bath to stop them from cooking.
Set the leaves on a paper towel to dry and spread them in a single layer on a cookie sheet in the freezer. Remove the frozen leaves from the cookie sheet and put them in a freezer bag or plastic bag.
Freezing the leaves on a baking sheet keeps them from sticking together when placed in a bag. Store the basil leaves in the freezer for up to a year. When freezing shredded mozzarella cheese, you do not have to separate the pieces on a baking sheet in the freezer first.
How to Make Basil Cubes
One of the best ways to freeze basil or for freezing fresh cilantro is to turn them into small flavor cubes. These cubes last for a year in the freezer and quickly melt into frying pans, soups, and sauces.
Wash your fresh basil leaves under cold running water and dry them in a salad spinner to remove all excess water. Place the basil herbs in a food processor and chop them.
With the processor running, slowly drizzle as much olive oil as you desire into the chopped basil. Once you puree the leaves and oil, take a large spoon, spoon the basil oil into ice cube trays, and store them in the freezer overnight.
If you'd like, remove the cubes from the tray so it can be used again and put the basil cubes in a freezer-safe container.
Freezing Basil Pesto
Pesto is one of the most delicious condiments to make from basil. Using either fresh or frozen basil is fine, and this sauce is easily stored in both the fridge and freezer, depending on how soon you plan to eat it.
Pulse the garlic and toasted pine nuts in the food processor until evenly chopped. Add the cheese and process for another 30 seconds. Drop in the fresh or frozen basil leaves and process again until they are finely chopped.
Slowly add the oil until it makes a sauce, and stir in salt and pepper to taste. Store the pesto in a jar for a week in the fridge or transfer the pesto into several ice cube trays and freeze them for later use.
How to Thaw Frozen Basil
Thawing frozen basil or frozen cucumber is the easiest part of the entire freezing process. If thawing frozen basil leaves, remove them from the freezer and immediately add them to the dish you're cooking or set them on the counter until thawed.
We don't recommend letting leaves thaw on the counter, though, because they are mushy and make a mess.
If you're thawing frozen basil cubes or pesto, remove the cubes from the freezer and set a few in a bowl. Allow the cubes to melt until everything reaches room temperature.
Storing Basil in the Fridge
Sometimes we get lucky and can eat everything in the fridge before it goes bad. If you plan to use up all your basil within a week, there are a few storage tips that may help you.
Put the ends of your basil in a small glass of water and cover the leaves with a perforated plastic bag. Store the leaves in the fridge this way, changing the water as it gets cloudy.
Another safe way to store basil in the fridge is to wrap them. Cut the leaves off the plant's stems and lay them in a single layer on a paper towel.
Roll the towel around the leaves and put the roll in a plastic bag. Store the bag of herbs in the crisper drawer of your fridge for quick and easy access.
Can you freeze basil for long-term storage? Not doing so would be a shame because to freeze basil leaves is to ensure that you can quickly add flavor to a dish with quality ingredients.
Frozen basil is a great ingredient to have on hand and only takes a few minutes to prepare. Freezing basil once a year sets you up for success and eliminates food waste.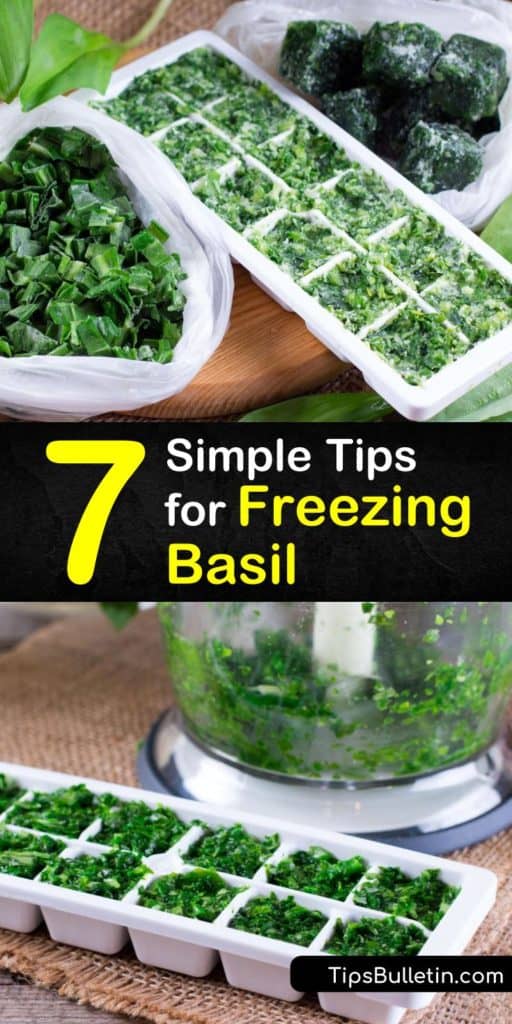 If you enjoyed learning how to freeze basil in a multitude of ways, share these tips for freezing basil on Facebook and Pinterest.