Whether it's homemade or bought from a bakery, nothing beats the taste and smell of freshly baked bread. Although many of us would enjoy having fresh loaves waiting in our kitchen each day, that's not very realistic. Learning how to freeze bread for lasting freshness allows you to have that freshly baked bread at a moment's notice.
Many of our favorite loaves, such as artisan, sourdough, baguettes, etc., don't have a long shelf-life. These loaves taste nice and fresh the first day, but they are too stale to enjoy within as little as two days.
In some cases, mold begins to appear after the second or third day, rendering the bread inedible. Nothing is worse than having to toss almost an entire loaf of your favorite bread.
Preserving the bread in the freezer allows you to safely extend its shelf-life for up to six months. Keeping frozen bread any longer than that causes it to diminish in flavor.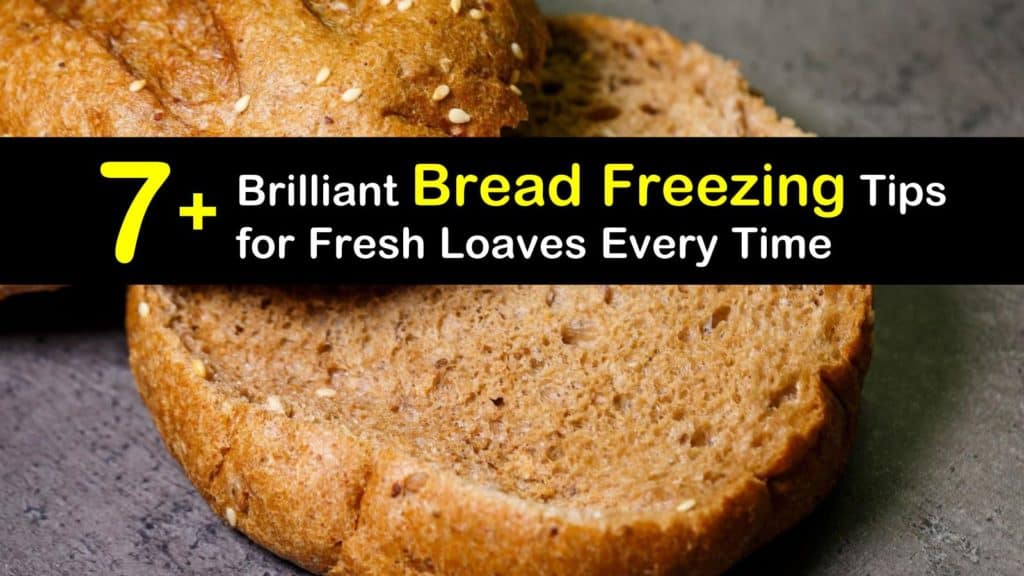 Excellent Techniques for Freezing Bread
The answer to can I freeze bread is yes. How you do it depends on when you plan to use it. In most cases, you freeze the loaf whole. The only time you slice it is if you are freezing something like coffee cake or sandwich bread.
Can you Freeze Bread for Long Term Storage?
Freezing is best for homemade bread storage for the long-term. If you plan to freeze bread longer than three weeks, remove it from its packaging and wrap it tightly in plastic wrap.
Wrap the whole loaf a second time with freezer paper or aluminum foil. Double-wrapping is key to preventing freezer burn. How long is frozen bread good for? Place directly the wrapped loaf in the freezer and consume within six months.
Securely wrapping – even double-wrapping – is also the best way to freeze mozzarella cheese and other cheeses to maintain freshness. Carefully freezing salami and all types of foods ensure that they will not be subject to freezer burn.
How to Freeze Bread for Short Term Storage
The best way to freeze bread for the short term depends on if you baked your own bread or bought it at your local grocery store. If you wish to freeze any loaves, rolls, muffins, etc. you have made, you must allow them to cool down completely, just as you would do with freezing boiled eggs.
If freezing the entire loaf, wrap it in aluminum foil, freezer paper, or plastic wrap and then freeze. For individual slices, wrap each one in parchment paper and then transfer to a freezer bag before placing inside the freezer.
For store-bought bread, including sliced bread, leave it in its original plastic bag and place it straight into the freezer.
For store-bought dinner rolls, muffins or buns, remove them from their packaging and place them inside a resealable freezer bag—no need to double wrap if you plan to eat them within the next few weeks.
Useful Tips for Freezing Bread Dough
Do you know what keeps bread fresh before baking? To freeze the dough, make sure you use active dry yeast, not fast-acting yeast. Use twice as much active dry yeast as the recipe calls for as some yeast dies during the freezing process.
The water needs to be between 95 to 110°F. Sprinkle the yeast into the water, stir until yeast dissolves. Add milk, sugar, and salt and stir well to combine. Mix in the vegetable shortening and two cups of flour.
The dough may be lumpy at this point. Continue adding the flour one tablespoon at a time until dough forms. It will start chasing the spoon around the bowl as you stir it. Knead the dough on a cutting board for ten minutes.
Add small spoonfuls of flour as you go. Stop adding flour once the dough is soft and smooth—grease a bowl and place dough inside it. Flip the dough over, so both sides are greased.
Cover the dough with a lightweight towel and allow rising until doubled in size. To prepare the bread dough for freezing, punch it down after its first rise and then knead.
Shape it into a loaf. Line a bread pan with greased plastic wrap, place the loaf inside the pan and then freeze for ten hours. Remove frozen dough from the pans, wrap in plastic wrap, and place inside a plastic freezer bag. Use within four weeks.
Using Frozen Bread Dough
Before you can use your frozen bread dough, you must let it rise a second time, as that step was skipped when you froze it. Pull your frozen dough out the night before you plan to use it. Keeping it wrapped in the plastic wrap, place it in the fridge to thaw overnight.
In the morning, transfer the thawed dough to a greased bread pan. Drape with a towel and leave it on the counter to rise. Once doubled in size, bake in a 375°F oven for 45 minutes. Dump bread onto a cooling rack and allow it to cool before slicing.
Favorite Ways to use Frozen Bread
Use frozen bread the same way as fresh bread once it thaws. Your thick pre-sliced artisan bread works wonderfully for toasting. Pull out a slice or two while you prepare your favorite toast toppings.
Once your toppings are ready, brush with some oil and toast it under the broiler. Croutons and crumbs are two quick and easy recipes for using up extra bread.
These recipes can be made with older loaves from the freezer or bread from your counter leaning towards the stale side. Our favorite way to use previously frozen bread is for bread pudding.
Cube your bread while it's still slightly frozen and preheat your oven to 350°F. Butter an 8″ x 8″ dish and place cubed bread inside. Cook butter, milk, sugar, salt, and vanilla in a pan on the lowest heat until the butter melts.
Let the mixture cool before whisking in the beaten eggs. Pour over the bread cubes and bake in the oven for 45 minutes. The custard will be set but on the wobbly side. Bread edges will be lightly browned.
Ideas on How to Thaw Frozen Bread
If you want to thaw out a loaf of bread, remove it from the freezer and with the packaging still on and set it on the countertop until it comes to room temperature. Keeping the loaf inside the packaging is vital as it allows the bread to reabsorb any excess moisture.
Pop it in a 350°F oven for ten minutes to crisp up the crust. Another method for you to try is one recommended by King Arthur.
To use their technique, remove bread from the freezer, unwrap, and place it in a 400°F oven for 20 minutes. Hot thawing works great but causes bread to turn stale faster, so consume it immediately.
For slices, muffins, or rolls, only thaw as much as you need. Remove the required amount and let thaw on the countertop overnight. Frozen slices can go directly into a toaster; they thaw as they toast.
How to Refresh Older Bread
No matter how well you package your bread for freezing, sometimes it comes out of the freezer on the tough and dry side. The good news is there is no reason to throw it away; you can refresh it.
The first step to refreshing your bread is getting it wet. Spray the entire loaf with water from a spray bottle or pass the loaf through water running from your faucet. Get the crust of the bread nice and wet.
Next, put your bread in the oven using either the "warm" setting or setting your range to 300°F. Put it directly on the rack and leave it in the oven for seven minutes, ten minutes if it's really wet. Take the loaf from the oven and place it on a cooling rack.
Determining if your Frozen Bread is Bad
Nobody wants to eat bad bread, so how do you know if it's time to throw it out? In general, frozen bread keeps for up to six months. It's important to label the loaves with the date. If it has been kept in the freezer longer than six months, throw it away.
Carefully inspect your bread after you pull it from the freezer. Look for any frost or ice crystals on your bread. If the loaf is encased in them, it's time to throw it out.
Consider the color of the bread; if it's incredibly light and feels dry to the touch, that's a good sign it's past its prime. The last thing to look for is air in the package; if there is a lot, it's time to toss that loaf.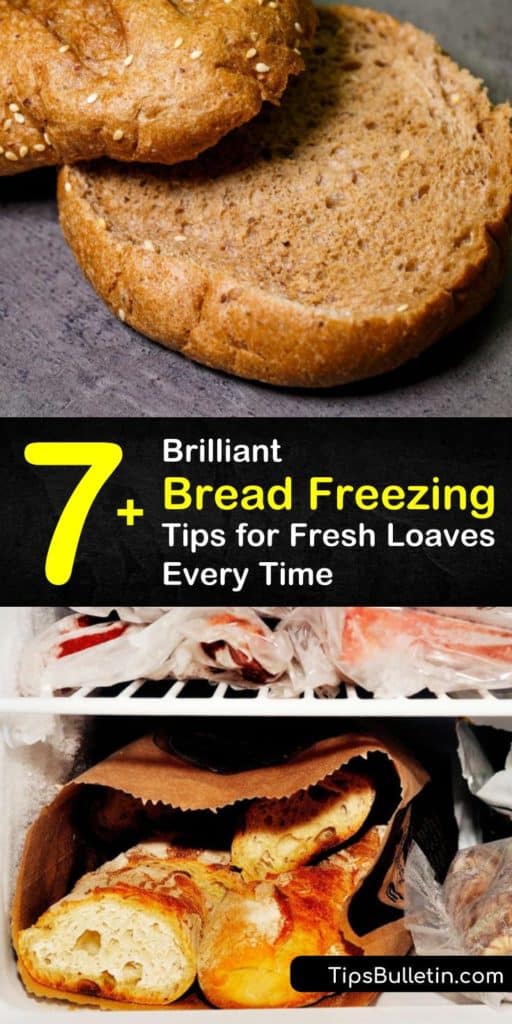 Thank you for spending time learning the answers to can you freeze bread. If you found any of our tips for freezing bread useful, please share with your friends and family on Facebook and Pinterest so others can learn how to freeze bread, too.