Broccoli is a vegetable favorite that's versatile and delicious. Broccoli is yummy on its own, as a side dish, thrown into a Chinese stir fry, and much more.
Regardless of whether you get your broccoli from the farmers' market during the peak harvest or buy it from your local grocery store year-round, this step by step guide will teach you how to freeze broccoli and lock in its taste and texture for many months.
It might seem strange to use freeze-broccoli instead of fresh in your recipes, but if you do it correctly, you won't even be able to notice the difference – we guarantee it!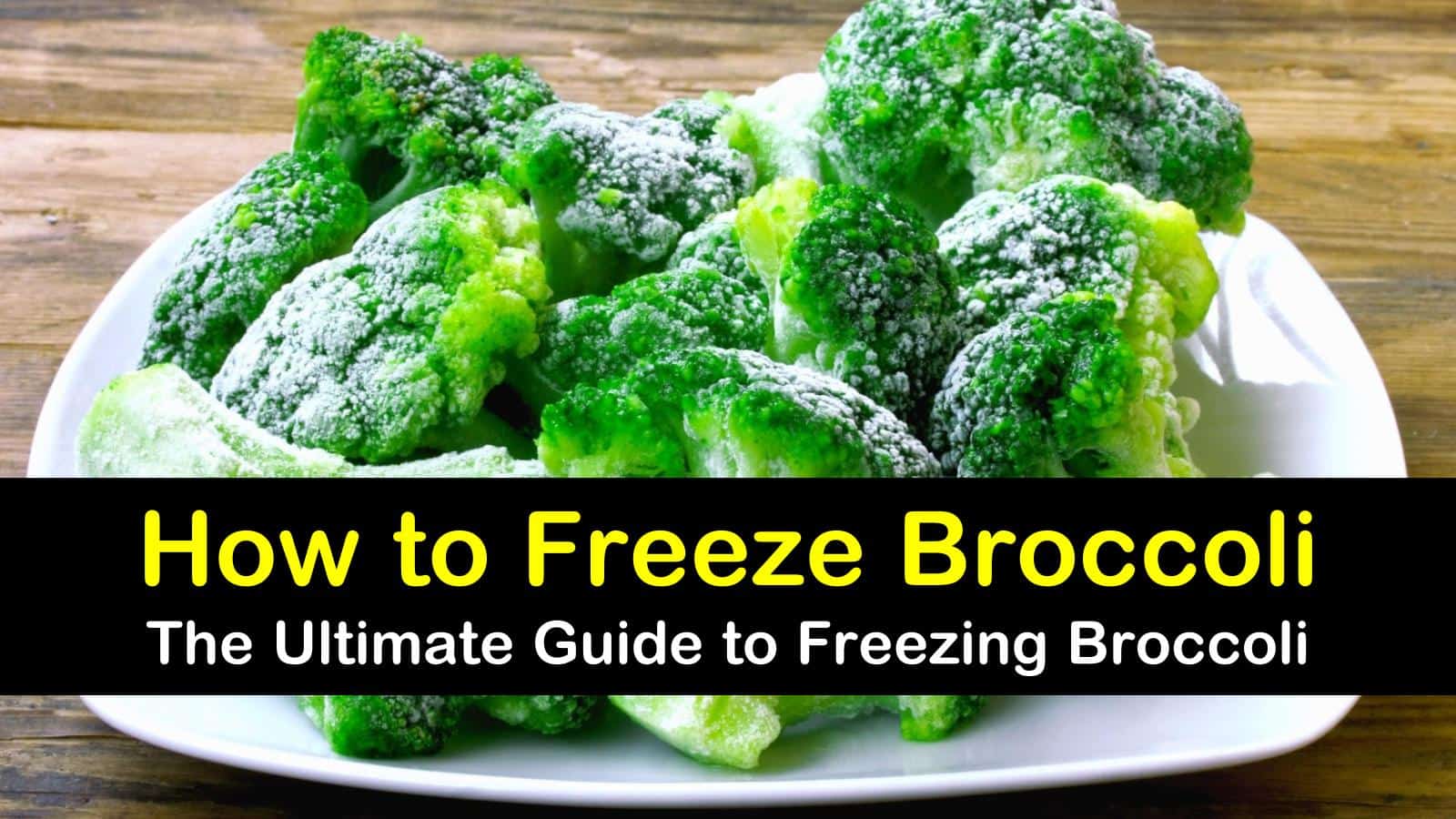 The Best Way to Freeze Broccoli
Whether you grow broccoli yourself or get a great deal at the grocery store, it helps to know how to preserve it properly.
If you're wondering, "Can I freeze broccoli?" The answer is yes – with conditions! How to freeze broccoli is not a complicated process. Can you freeze fresh cabbage, too? Of course. Can you freeze rhubarb? Sure! The list of veggies you can freeze is only limited by the number of vegetables that exist.
However, broccoli is one of those vegetables that does require blanching or boiling before it can be stored in the freezer. Cabbage does not need to be blanched if you will be using it within two months or so. Longer freezing times do require blanching.
If you throw your raw broccoli in the freezer, you'll be left with unappetizing, bitter greens when you next get them out, and no one wants that! Fortunately, the cooking process for broccoli is straightforward.
However, freezing fresh peaches does not require blanching. Some fruits and vegetables benefit from blanching, while others do not need it. Do a little research before preserving your produce so you know which ones need this additional step.
Freezing Broccoli
For freezing broccoli or for freezing tomatoes for later use, you need a small list of ingredients. All of these ingredients are available at the grocery store, or you already have them in your home. We think that this is the best way to freeze broccoli varieties to get delicious results when you need this veggie for a special recipe a few months down the road.
Bring the pot of water to a rolling boil. If desired, you can use salt water for a bit of extra flavor. While waiting for the water, use a sharp knife to separate your broccoli heads into broccoli florets.
Wash any insects or debris off of the florets before adding them to the boiling water.Boil your broccoli for one to three minutes or to desired tenderness. Optionally, you may also steam your broccoli for up to five minutes for a similar effect.
Move your broccoli to the prepared bowl of ice water with a slotted spoon, once it's suitably tender.Cold water stops the cooking process of the broccoli, and while it's not required, it ensures that the broccoli doesn't overcook or become mushy.
The amount of time your broccoli spends in the ice water bath should be the same as the time it spent cooking. Once the broccoli is cool, dry it thoroughly, then add it to a freezer-safe plastic bag to prevent freezer burn.
Take care not to allow too much air into the bag before it goes in the freezer – the bags should be air-tight! Now, your broccoli is ready to freeze!
It's just as easy to take care of keeping cabbage fresh the same way. Most veggies respond well to freezing and taste just as good when they come out of the freezer.
Storing Broccoli
If you're wondering how to store broccoli, the most convenient way to store your broccoli is in the freezer in portion-sized freezer bags. This way, you don't have to worry about a little bit of leftover moisture when packing your broccoli. If any moisture is left on the broccoli heads, they'll freeze into one big clump, after all.
If you'd rather freeze the broccoli in one big bag, try laying the pieces out on a parchment-covered baking sheet to dry first. Don't forget that you can freeze green beans, Brussels sprouts, and other vegetables in the same way!
Not only can you freeze broccoli and other veggies, but you can also do the same with many different dairy products. Can fresh mozzarella be frozen? Yes! What about milk or sour cream? You sure can.
How Long does Broccoli Last?
If you're wondering, "How long does broccoli last?" Well, the answer is that broccoli will last up to a year in the freezer, but the sooner you use it, the better it will be, of course.
The broccoli will lose flavor and color as the months pass, but it will still be edible. You can freeze celery in much the same way as you do broccoli. However, if you're looking for a longer-lasting storage method for your produce, you can find the best way to can vegetables here.
How to Thaw Frozen Broccoli
If you're wondering how to thaw frozen broccoli, we recommend dropping them in a pot of boiling water for 60-90 seconds. Alternatively, you could steam the broccoli in the microwave or over the stove.
Our Favorite Broccoli Recipe
Our favorite recipe with frozen broccoli is baked broccoli macaroni and cheese! Broccoli and cheese has always been a fan-favorite pairing, and the addition of macaroni and some toasted bread crumbs maximizes the dish's flavor.
Cook the pasta in salted water until al dente. Preheat the oven to 375°F, then spray a large cooking pan with your cooking spray or olive oil. Melt your butter in a large skillet, adding onion and sauteing gently for two minutes.
Add flour and cook until the roux is golden, stirring constantly. Whisk in milk and broth, then cook over medium-high heat for five minutes or until the sauce thickens. Remove the sauce from heat, then add the cheddar cheese, stirring until combined.
Salt and pepper the sauce as you like. Add cooked macaroni and broccoli to the cheese sauce, mixing them well, then spread the mixture in the baking pan.
Top the macaroni with more cheddar and Parmesan cheese, then add breadcrumbs. The macaroni and cheese should be ready to eat in 15-20 minutes, but we recommend that you broil the breadcrumbs on top afterward for a crunchy finishing touch!
Why should you freeze broccoli? Well, we believe that freezing broccoli allows you to preserve the best broccoli of the season throughout the whole year! This way, you can even stock up on broccoli or other vegetables from an organic stand or farmer's market and have access to them all year long.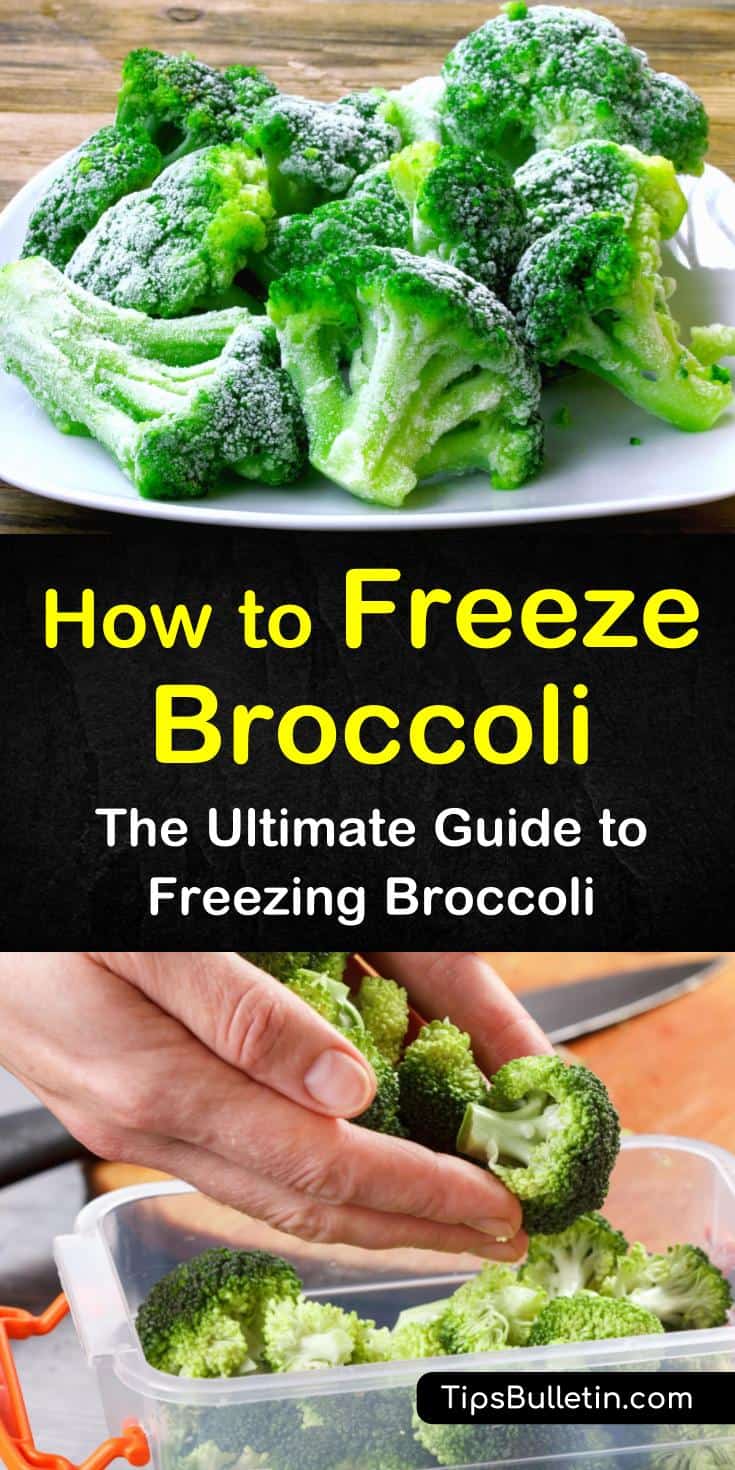 Did you like this introduction to freezing broccoli? If you found these broccoli freezing and preserving tips useful, share this guide on how to freeze broccoli with your friends on social media – we would appreciate it!