Today we're going to talk about how to freeze carrots. If you grow food in your garden, you know that the majority of crops become ready at the same time.
It can be hard to eat all of your fresh produce before it rots, so you have three options, you can sell them, can them, or freeze them. We are going to show you the best way to freeze carrots so you can preserve them for enjoyment in the future.
Our guide will show you how to store carrots once they are frozen, and we will also show you how to thaw frozen carrots when you are ready. We finish with a delicious recipe that includes your frozen carrots.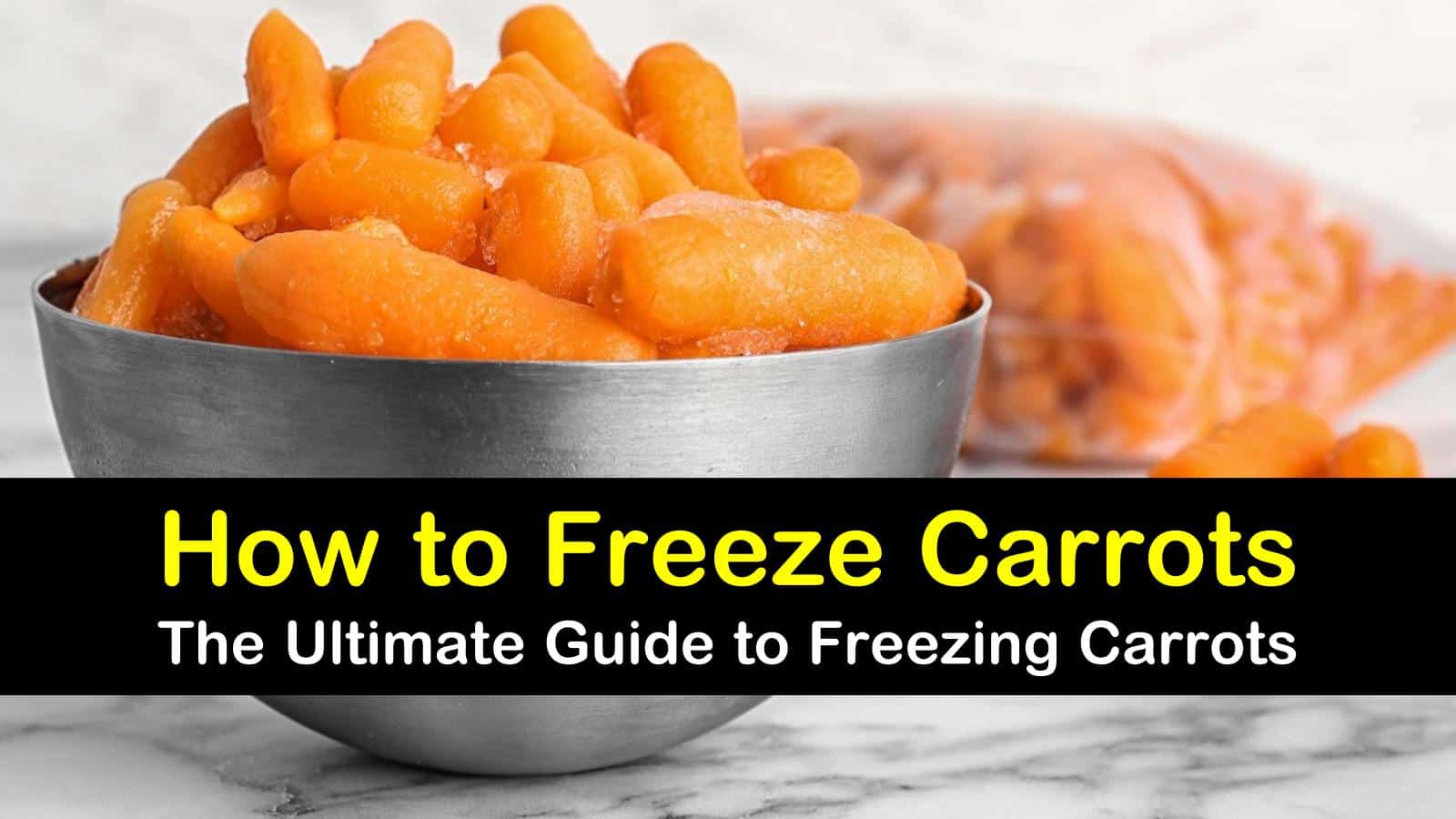 Tools Needed for Freezing Carrots
To freeze vegetables the right way, there are some basic tools you need. Before we get started, let's make sure that we have everything that we require to freeze carrots or for freezing celery, as the process is quite similar.
Ways to Freeze Carrots
Now that we have looked over the tools that are necessary for carrot storage let's look at the best way to freeze carrots. You can also use these same tools and procedures to freeze avocado and other fresh fruits and vegetables.
Gather Your Fresh Carrots
Gather your carrots together and remove the greens. Choose young baby carrots or medium length carrots, and stay away from the older, overripe carrots. Can you freeze carrots that are large and overripe? Yes, but they are not likely to taste as good as the smaller ones.
If it will be a couple of days before you can prep your carrots, you can put them in the crisper drawer in the refrigerator. How long do carrots last in the fridge? They will be okay for several days as long as you don't wash or peel them first.
When you are ready to freeze your carrots, take them out of the fridge. Using a vegetable brush, scrub the carrots to remove any dirt and rinse thoroughly under running water. Place the cleaned carrots on a cookie sheet lined with paper towels to air dry.
Trim and Skin
Once you have scraped all the dirt off the carrots, use a sharp knife to trim the unusable ends off each carrot. You can remove the skin at this time with a vegetable peeler. Can I freeze carrots with the skin on them? Yes, it is perfectly acceptable to eat the skin of a carrot.
There are many schools of thought about if you should peel a carrot or not. You can eat a carrot with the skin on, but many people prefer not to.
Some believe that leaving the skin on will enhance the flavor when using boiled carrots, but when baking them, the skin can dry out and wrinkle. You will need to try them each way for yourself to decide which way you prefer.
Can You Freeze Carrots Whole?
You can freeze the whole carrot if you like, but it could save time later to cut them up at this stage. Once the carrots are trimmed and skinned, it's time to cut the whole carrots into usable pieces. Cut your carrots the way you will use them. Can you freeze broccoli in the same way? Sure, you can. Make your broccoli pieces about the same size after washing.
Cut them into lengthwise strips, slices, or cubes. It's essential to make the pieces about the same size so they cook evenly.Use a very sharp knife to chop and dice the carrots to size.
Many people like to use a food processor for this step to minimize elbow grease and increase safety. The food processor also does an excellent job of getting the pieces the same size, but you must be careful that you don't chop the carrots too fine, which is easy to do with a food processor. When finished, separate the chopped and cubed carrots into daily portions.
Blanch
The next step involved in storing carrots is to blanch the trimmed carrots. This process, like many of the others, is optional but highly recommended. Can you freeze carrots unblanched? You can put carrots and other fresh produce directly in the freezer if you are going to eat them relatively quickly, and if you will be using them to stir fry or steam this popular veggie.
Freezing carrots or freezing beans without blanching is excellent as a short term solution, but if you want to store your carrots longer than two months, blanching them is a critical step for lengthy storage. The enzymes and bacteria in fresh produce do not freeze and continue to break down your carrots over time, leaving you with tasteless, mushy carrots.
You should also blanch zucchini, as freezing zucchini without blanching yields a product that is not as tasty and is a bit on the mushy side.
This breakdown results in a change in the color, texture, and flavor of your carrots. The blanching process kills the enzymes and bacteria on your carrots before you freeze them and preserves their freshness. The process is quite simple, and we will outline it for you now.
Blanch Cooking Process
Begin by filling a large pot 3/4 full of water and bringing it to a rolling boil. Fill a punch bowl with ice cubes and cold water to create an ice bath. Place one portion of carrots into the pot of boiling water at a time. Cover and boil whole carrots for five minutes, and cook cut carrots for two.
Immediately remove carrots with a slotted spoon, place them in the ice water and let chill in the water bath for five minutes. Remove the carrots from the ice water and drain the carrots thoroughly through a sieve. That is all there is to the process of blanching your carrots.
Follow these steps for every portion you have prepared. You can use the same water four or five times before you need to change it, but make sure the water level doesn't get too low. Watch your blanching time, so you do not over or undercook.
The ice bath is essential to make sure the carrots stop cooking when you remove them from the boiling water. It is also imperative to get the carrots as dry as possible before freezing them. Don't use paper towels because they can leave small pieces of paper stuck to the carrots.
Package the Carrots
Once the blanching process is complete, it is time to package the carrots for freezing. The crucial point to remember during this step is that air is the enemy of your carrots. Too much air in the package can cause your carrots to dry out and will cause freezer burn.
Ideally, you should use a vacuum sealing machine to seal your freezer bags. These machines are relatively inexpensive, and they are worth every penny if you freeze a lot of food. If you don't have a vacuum sealer, use the DIY approach to vacuum sealing.
The DIY approach requires you to place your portion of carrots into a sealable plastic bag and zip the bag except for a small hole where you will place a straw. Manually suck the air out of the bag with the straw before quickly removing it and sealing the bag.
This process gets most of the air out of the bag and will extend the amount of time the carrots can remain frozen. Use this same procedure when you freeze spinach, too.
Freeze the Carrots
The final step in this guide to freezing carrots is placing the prepared carrots in the freezer. How long do onions last or how long do carrots last in the freezer? Once your carrots or other vegetables freeze, they usually last 9 to 14 months, depending on the type of freezer that you have.
Self-defrosting freezers occasionally rise to temperatures above freezing to melt the frost. This action will reduce the lifespan of your frozen carrots as well as your other frozen foods.
Non-defrosting freezers keep the food below freezing, which extends shelflife. Freezing carrots takes a lot of steps, but it is less work than canning fresh vegetables, and some people prefer frozen over canned veggies.
How to Thaw Frozen Carrots
There are three ways to defrost your frozen carrots safely.
Place your frozen carrots in the refrigerator for several hours.
Put the bag of frozen carrots in cold water that you change often.
Microwave frozen vegetables at a very low defrost setting at 30% power.
Of these choices, placing frozen carrots in the refrigerator gives the best results. It's challenging to get the times correct on the microwave, and that can lead to a rubbery carrot, so only use a microwave as a last resort.
Carrot Cake
We believe you will love our favorite dessert to make with frozen carrots. Here is a recipe for the perfect carrot cake.
Get started by preheating your oven to 350°F and lightly grease two eight-inch round pans with cooking spray. Whisk the baking soda, salt, cinnamon, and flour together in a large bowl. Mix the sugar, oil, eggs, and vanilla in another bowl until well combined, then mix in the dry ingredients and the carrots.
Divide the batter in half. Put one half of the batter in each of the two pans and bake for 45 minutes. A toothpick inserted into the middle should come out dry. Allow both cakes to cool for 15 minutes before inverting them onto a cooling rack.
Mix the cream cheese and butter in a large bowl, and remember that freezing Philadelphia cream cheese is possible only if you have a large amount. Add the vanilla and powdered sugar to the cream cheese and mix again until smooth and spreadable. Frost the top of the bottom cake, then place the second layer on top and frost the entire cake.
We hope that you have enjoyed reading this article showing you how to freeze carrots, and it helps you to freeze your own. We do not doubt that if you follow these steps, you will have access to fresh carrots all year long.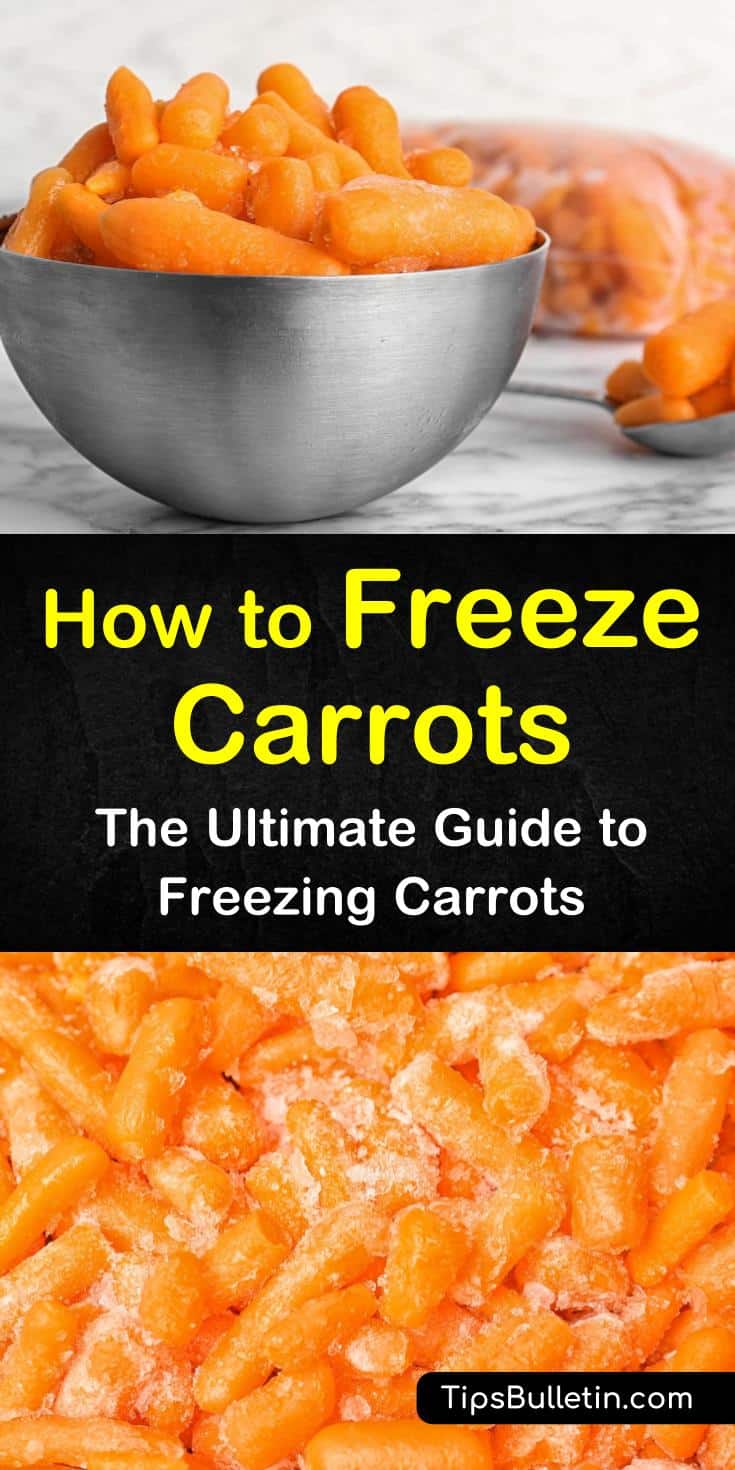 If this guide has shown you how to freeze carrots, please share the information about freezing carrots on Pinterest and Facebook.