Crunchy cauliflower dipped in ranch dressing, steamed cauliflower topped with melted butter, and even cauliflower macaroni and cheese! This versatile vegetable tastes great no matter how you prepare it. We'll show you how to freeze cauliflower for long term storage to preserve its tasty goodness.
Cauliflower is a bizarre-looking veggie that grows in large, oddly-shaped white clumps sitting in a bed of tender green leaves. It is a significant source of fiber, vitamins, and nutrients and tastes great, both cooked and raw.
A bountiful harvest of cauliflower is a great way to keep your fridge stocked, but what do you do if you have way more than is possible to eat in a week or less?
Fortunately, modern conveniences provide a way to store this healthy vegetable long term by popping them into the freezer. There are a few ways to freeze cauliflower, both blanching and not blanching, and it only takes minutes to complete.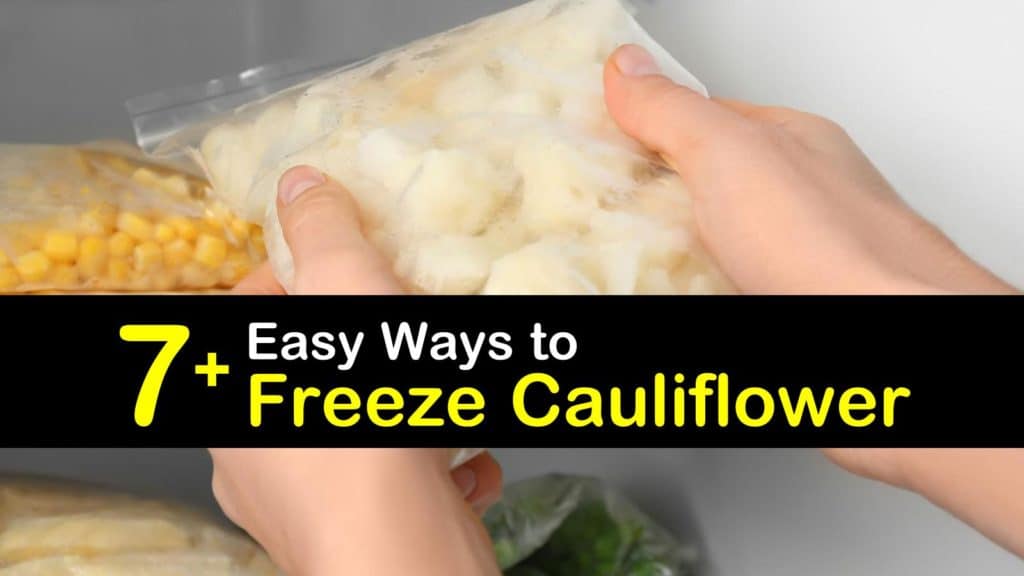 Choosing, Preparing and Freezing Fresh Cauliflower for Healthy Snacks and Meals
You have several heads of cauliflower, fresh from the garden, and you're considering freezing them, but what to do first?
Freezing discolored or old veggies is not optimal for tasty results, so we recommend choosing your cauliflower wisely. It's also essential to properly prepare the delicious veggies for the freezing and cooking process.
Choosing and Preparing Cauliflower for Freezing
Can you freeze cauliflower for long term storage? Fortunately, you can, just like when storing beets long term. But first, it's essential to choose healthy looking veggies and prepare them properly to ensure they withstand the freezing process.
Young, fresh cauliflower is best for freezing. Choose tight, white florets and don't freeze a cauliflower head that has brown spots or is limp. Do not use large heads, and avoid them if they are not fresh.
Pour water into a bowl and soak the cauliflower head to get rid of garden bugs and dirt. Rinse the head in a colander and set it on a cutting board.
Remove all of the green parts and cut the head in two. Remove the solid stem section and pull apart the florets. The process is similar when you freeze cucumber slices.
Can You Freeze Cauliflower after it's Cooked?
It's easy to refrigerate cauliflower after cooking it, but this only keeps your veggies tasty for five to seven days. If you don't intend to eat your leftovers within a week, consider freezing them.
Can potatoes be frozen the same way? Definitely! You can freeze most veggies both raw and cooked.
Set the leftover cauliflower in the fridge to cool completely before freezing. Place the florets in a freezer bag and press all air out to prevent freezer burn.
Seal the bag tightly, label with the date and contents, and freeze for up to one year. If you do not have freezer bags, store the veggies in a freezer-safe storage container.
Blanching Cauliflower for Freezing
Blanching veggies before freezing is a great way to keep them tasting their best while maintaining their color and texture. This process only takes a couple moments and is well worth the effort.
When blanching green beans for freezing or any other vegetable, toss some ice into a bowl, fill it with cold water, and set it aside. Fill a large pot with water and boil it over high heat.
Put the florets in the boiling water for three minutes and then quickly transfer them from the pot of water to the ice bath for the same amount of time. Drain the veggies in a colander to prepare them for freezing.
Freezing Blanched Cauliflower Florets
After you blanch your vegetables, it's time to get them in the freezer. Freezing cauliflower has a two-step process to ensure the florets don't stick together during storage.
Spread the florets in a layer on a cooking sheet and flash freeze them for about one to two hours. Slide the tray out of the freezer and pour the veggies into a freezer bag.
Use your hands to press air out of the bag before sealing it and write the date on the top. Use the cauliflower within six months for the best flavor.
How to Freeze Cauliflower without Blanching
Can I freeze cauliflower without blanching it first? While the best way to freeze cauliflower is to blanch it beforehand, it's unnecessary if you're in a time-crunch.
Fill freezer bags with enough cauliflower pieces to form a single layer when the bag is flat. Seal the bags and set them in layers in the freezer.
After they freeze, pour the florets into a freezer-safe container and set them back in the freezer. Enjoy your frozen veggies as needed for up to six months.
Preparing and Freezing Cauliflower Rice
Yes, cauliflower rice is a thing. This low-carb dish is a substitute for standard rice and tastes yummy alongside a stir-fry, burritos, and other rice dishes. This form of cauliflower is quick to make and easy to freeze.
Place uncooked florets into a food processor and use the pulse setting until the cauliflower resembles rice. If you do not have a processor, try using a grater with medium-sized holes.
Pour the vegetable rice into freezer bags and make sure all of the air is out before sealing them. Label them with the date, and store the frozen rice for up to two months.
Making and Freezing Cauliflower Casserole
Casseroles are cheesy, comforting, and delicious, especially when you toss in some veggies. Meal prepping is a fantastic way to have ready-to-go meals for busy weekdays, and this dish takes only 30-minutes to prepare and bake.
Brown the bacon pieces in a skillet over medium heat until crispy and brown. Place the cauliflower florets into the casserole dish, add a small amount of bacon drippings, and salt and pepper.
Place the casserole pan into an oven preheated to 425°F for 30 minutes. Combine the cream cheese and one cup of the cheddar cheese in a bowl. Remove the casserole from the heat and scoop the cheese mixture over the top, followed by the remaining cheddar.
Set it back in the oven for an additional five to seven minutes. Sprinkle the crispy bacon and scallions over the top and allow the casserole to cool at room temperature. Cover it with foil and freeze for up to six months.
How to Use Frozen Cauliflower Florets in Stir-Fry
Making a stir fry is one of the easiest ways to utilize frozen cauliflower and other veggies. Use the basic ingredients or personalize it with your favorite spices and vegetables.
Pour water into the bottom of a skillet or wok and heat to a simmer. Add the broccoli and cauliflower and boil for about two minutes. Drain the veggies from the pan and set them in a bowl of ice water.
Pour the vegetable oil into the skillet over medium heat and cook the green onion, garlic, carrots, and ginger until the garlic starts to brown. Add the cauliflower, broccoli, and sauces and simmer for a few more minutes. Serve immediately and enjoy it.
For a little different flavor, you could add frozen mushrooms to this recipe, as well.
Thawing and Cooking Frozen Cauliflower
A freezer full of frozen cauliflower, green beans, corn, and other veggies is an accomplishment worthy of a great meal. Here is how to thaw frozen cauliflower for your favorite cauliflower recipes.
If your florets are blanched, toss them into a pot of boiling water for 90-seconds to reheat them. If you froze your cauliflower without blanching, place the bag in the fridge overnight to thaw and cook like you usually do.
To thaw frozen cauliflower rice, defrost the bags on the counter at room temperature before cooking. Saute the rice in a skillet with butter or oil, or microwave it in a plastic-covered bowl for three minutes.
Cauliflower is a tasty veggie best eaten fresh, but unfortunately, cauliflower only lasts so long in the fridge. However, there are other ways to store your veggies, and the freezer is one of them.
Freeze blanched or fresh cauliflower in a few easy steps and enjoy it as a side dish or in your favorite cauliflower recipes all year round.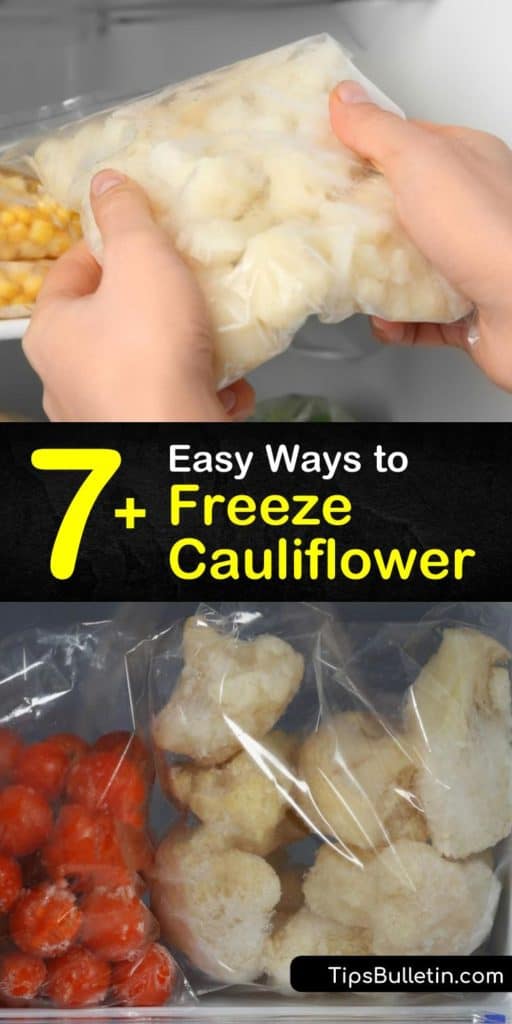 Knowing how to freeze cauliflower allows you to enjoy fresh veggies any time of the year, so why not share our guide to freezing cauliflower with your gardening friends and family on Facebook and Pinterest?