Summertime is an incredibly bountiful season that fills our homes with an abundance of vegetables like green beans. Our gardens and local farmer's markets burst with them, and they make our meals better. Fresh green beans are perfect as an Italian or French side dish or as an ingredient in the main course, but they're only available for a limited time.
To ensure that we have delicious and healthy meals all year, it's essential to know how to freeze green beans for long-term storage. We've developed this guide to help you determine the right method for freezing green beans that suits your needs.
We show you some fantastic step by step methods of freezing green beans, and we look at the best way to thaw your green beans for use. We also take a close look at the health benefits you get from regular green bean consumption, and we even let you in on our favorite green beans recipe so you can put your frozen green beans to good use.
If you're wondering, "Can I freeze green beans?" we will answer all of your questions. Soon, you'll be serving fresh green beans throughout the year, and your family will thank you for it!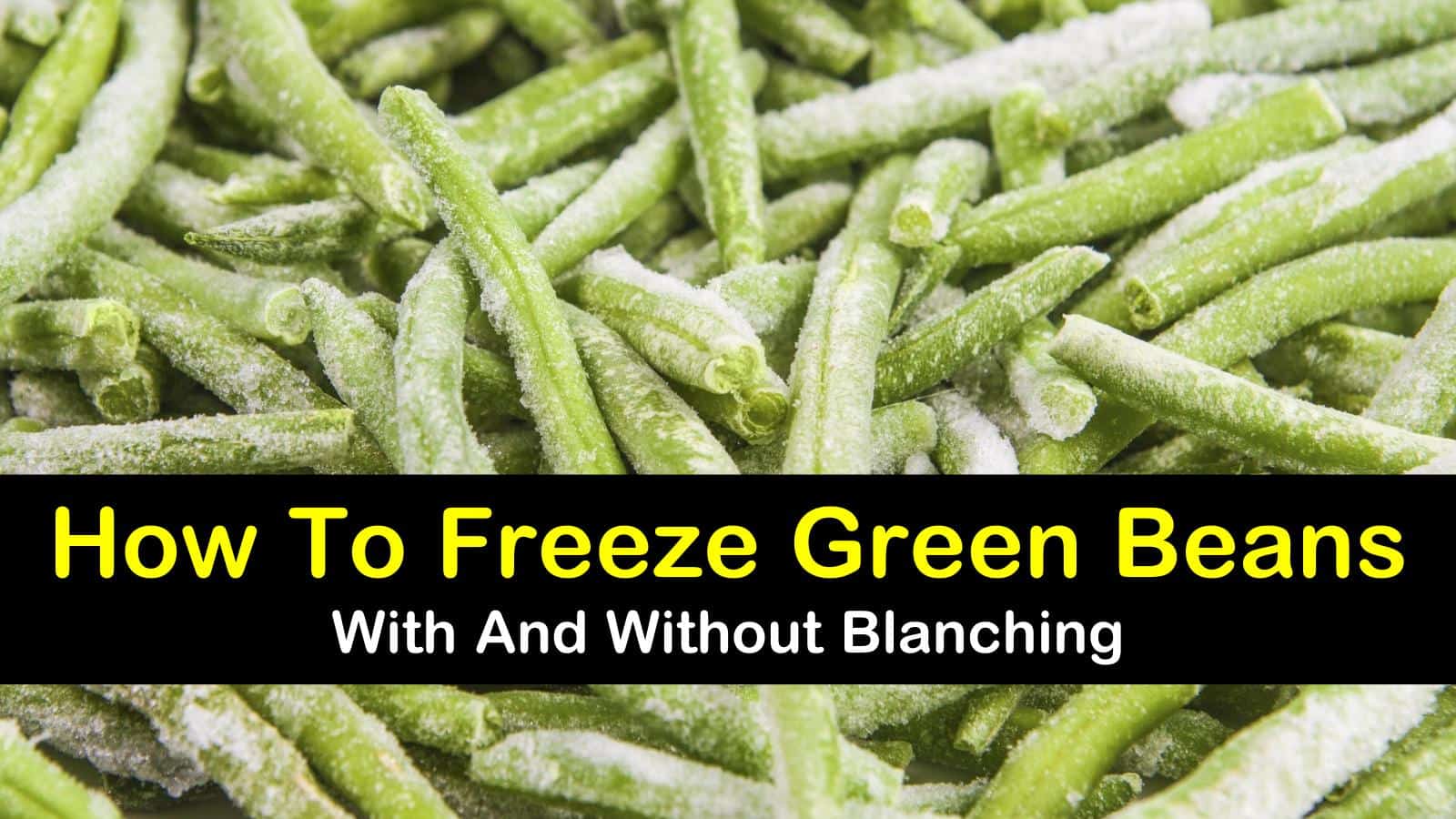 Ways to Freeze Green Beans
It's a terrible feeling to sink hours of time and effort into preserving green beans only to pull out a package of spoiled vegetables when it is time use them. To make sure that your green beans have a comfortable journey through the freezing and thawing process, you need a tried-and-true preservation method that works every time.
Some of the same steps apply for freezing other produce, too. Can you freeze celery, rhubarb, and tomatoes? Of course, you can. Follow our simple recipes for how to freeze rhubarb and other veggies and fruits for later consumption when it's not possible to get fresh produce.
You can freeze other foods, as well. It's important to know just the right steps for how to freeze goat cheese, other cheeses, and your abundance of fruits and vegetables, too, so that when you take them out of the freezer, they taste as good as when you put them there.
Freezing and Thawing Green Beans
This section examines the green bean freezing and thawing process and provides you with what you need to get consistent and stable results.
We look at the best method of freezing green beans without blanching, and we also show you a dynamite freezing process that requires blanching. We also show you how to thaw frozen green beans to make sure that your green beans make it to your cooking pot unharmed.
Freezing Green Beans without Blanching
One of the best features of fresh green beans is their unmistakable snap and crunch. Fresh beans are a crunchy and juicy delight, and we want to retain that crunch during the freezing process. Shortcuts in the preservation process can help with that.
To keep beans crisp and snappable, we can opt for freezing green beans without blanching them in hot water. You also do not need to blanch garlic for how to freeze garlic and some other veggies, as well.
Trim the green beans' stem ends. Snap the beans into two-to-four-inch segments as recommended by the National Center for Home Food Preservation, and place them in the colander. Wash the beans under cold water, making sure to remove all dirt.
Place the cloth or paper towel on a cookie sheet, and place the beans on it in a single layer. Pat dry, and let the beans sit another twenty minutes to make sure that all water is gone.
Vacuum sealing is best, but you can make do without a sealer. Place about twelve ounces of beans in each bag, and either seal them using the vacuum sealer. Or, seal the zipper bag around the straw, suck out any air from the container to reduce the number of ice crystals that form, remove the straw and seal the bag.
Label each bag with the date, and store the bags in the freezer. You can apply the same principle for freezing bananas and other fruits and vegetables, as well.
Freezing Green Beans while Blanching
Blanching green beans halts the enzymatic action that degrades your beans and causes reduced color and texture when they thaw. To make sure that your beans taste as good when they come out of the freezer as they do going in, use our time-tested blanching and freezing process. It's the best way to freeze green beans safely.
Use the knife to trim the stem ends off the beans, and strip off any strings, as well. Snap the beans into segments of two to four inches. Bring the water to a boil, and add the beans.
Leave the beans in the hot water bath for about three minutes, and transfer them from the boiling water to the ice water to halt the cooking process. Leave the beans in the ice water for at least three minutes.
Transfer the beans from the cold water to the colander or salad spinner, and spin them or let them drain for at least five minutes. Place the cloth or paper towels on a cookie sheet, and spread out the beans on the cloth in a single layer. Put the pan in the freezer for an hour or two.
Separate the beans into twelve-ounce portions, place a portion in each bag, and use the vacuum sealer or straw and zip lock seal to remove all air, as too much air causes ice crystals. Label the bags and store green beans in the freezer until you are ready to eat them.
How to Thaw Frozen Green Beans
Getting your beans in the freezer is only half the battle. If you want the fresh flavor of green beans in every season, make sure you know how to thaw them correctly. Rushing your thaw might seem like a good idea when you want to have a side dish of green beans right now, but your haste can cost you a nice meal.
If you allow the beans to come to room temperature too quickly, you alter their flavor and their texture. Never place a bag of frozen beans in the sink or a pot of hot water; instead, move your freezer bag to the refrigerator at least a day before you intend to use them. This method keeps your beans garden fresh even after a nap in the freezer.
Why Freeze Green Beans?
We love having green beans in our diet, but are they so unique that they deserve our time and energy to preserve them? Our days are filled with enough obligations already, and the last thing we want is to waste our precious energy and hours on inessential items and unimportant issues. Well, never fear. Green beans warrant you going the extra mile.
In this section, we look at how green beans benefit both your well-being and your appetite. We go over the many health advantages you gain from regular green bean intake, and we also examine the unique flavor that makes green beans indispensable in our kitchens. Finally, we share our favorite green beans recipe that you can serve with almost any meal.
The same can be said for freezing other fruits and vegetables, as well. Preserving food that you grow yourself or that you find at the farmers' market will almost always yield produce that is of the highest quality and grown without harmful chemicals that can destroy the taste and contribute to health problems.
If you know how to freeze zucchini, tomatoes, carrots, and other veggies, you can enjoy their fresh taste and health benefits all year. Check out what green beans have to offer!
Green Bean Health Advantages
We all know how good green beans taste, but you might be surprised at how they aid in maintaining and boosting your health. You'll find protein and lots of fiber in every green bean, and you also get plenty of vitamins A, K, B6, and K, along with many others.
Green beans have tons of minerals like calcium, silicon, iron, manganese, potassium, and copper, and they provide flavonoids, which reduce risks of blood clots and heart disease.
Folks who want to reduce their cancer risks benefit from regular green bean meals, as well, and lower their risk of colon cancer. Green beans help diabetes management, and they even help you reduce eye degeneration and keep your immune levels high. Also, consuming green beans benefits your bone structure and can stop indigestion.
Unbelievable Taste
All the advantages that green beans provide wouldn't matter if they didn't taste good, of course. It's fortunate, then, that green beans are delicious and add zip and distinctive texture to any meal. If a dish needs that little something extra to make it shine, you can bet that green beans get the job done.
There are hundreds of recipes that contain green beans. When you plan to use a recipe with canned green beans from your own garden or the farmer's market, you get added flavor and you know the circumstances in which they were grown.
This makes your food taste that much better! We especially enjoy how versatile green beans are when used in the right recipe, including our favorite green beans recipe, which we've included below.
In a large skillet, slowly heat the oil until it begins to shimmer. Carefully add the green beans, doing your best to avoid splashes and spatters, and let the beans cook for about three minutes. Because we want the beans to brown and blister, do not stir them while they cook.
Turn the beans over carefully, and cook for another five minutes. Sprinkle with kosher salt, and add the remaining ingredients. Cook the mixture for another minute while tossing gently. Arrange the beans on a platter, and spoon the oil mixture over them.
Other Ways to Preserve Green Beans
While freezing is ideal for preserving green beans, it's not the only way. A dehydrator is an excellent tool. Can and pickle green beans, too, for a little different flavor.
We hope you enjoyed this guide on how to freeze green beans. We all love having green beans during harvest season, so it's essential to know how to preserve them for year round use. Our guide helps you find the perfect way for how to freeze fresh green beans and will leave your family smiling and happy.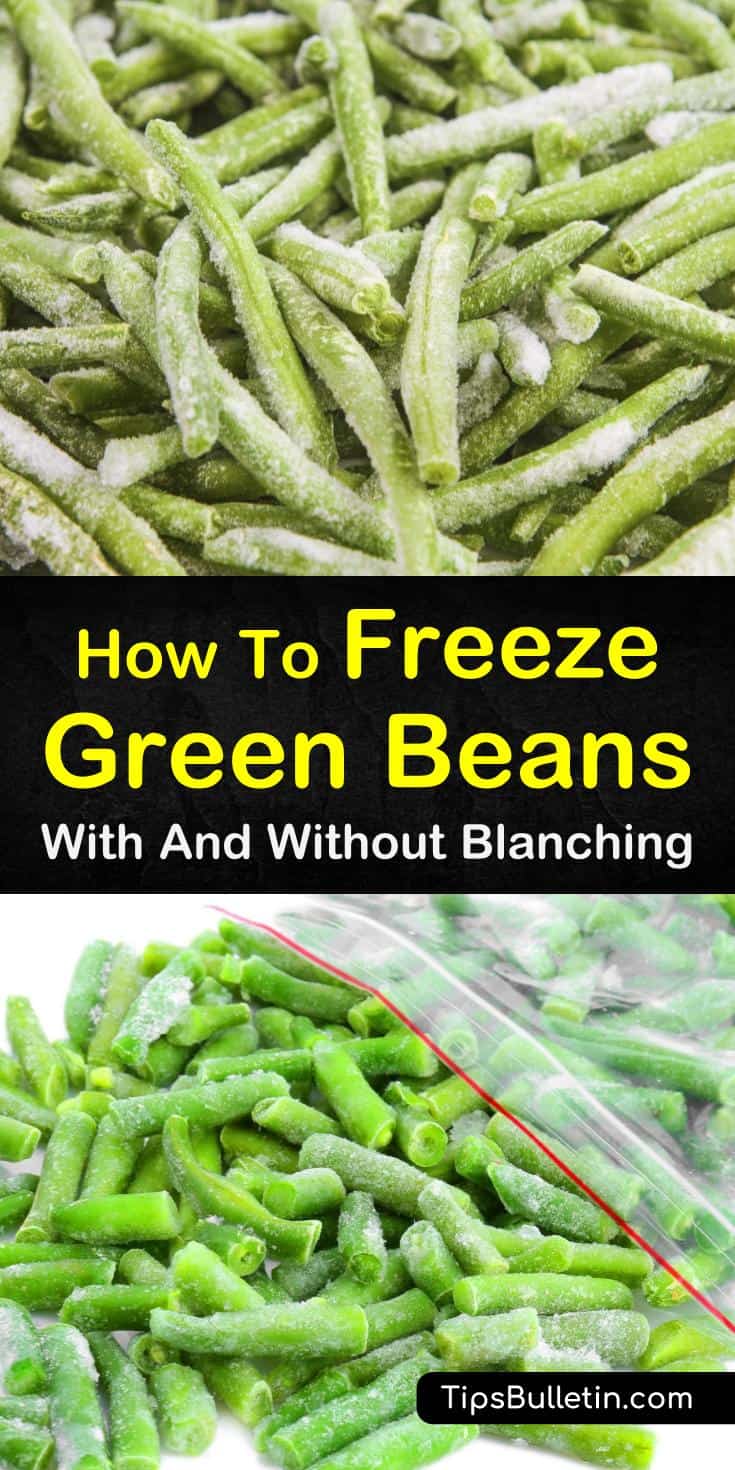 We appreciate your reading our article on how to freeze green beans. If you found our green beans guide helpful, share our tips for freezing beans without blanching on Pinterest and Facebook.