If you're a fan of that extra spicy kick you get when you bite into tacos stuffed with jalapeno peppers, then you can appreciate wanting to preserve that delicious taste all year long. Learning how to freeze jalapenos requires minimal preparation and is easy to accomplish with these six simple tips.
Whether you've just purchased a large bundle of fresh jalapeno peppers from your local farmer's market or want to keep your personal garden's harvest lasting year-round, freezing is one of the best ways to preserve them. So, can you freeze jalapenos? Absolutely!
Freezing jalapenos is even easier than dehydrating or pickling them and takes just a few short minutes to do. Doing this increases the shelf life of your jalapenos from one week to several months.
Just think of all the yummy chilies and spicy appetizers you can make with your storage of frozen jalapenos. You won't have to worry about sacrificing taste for longer-lasting food preservation since the freezing process retains most of the pepper's heat and flavor.
Helpful Tips for Freezing Jalapeno Peppers
Keeping your abundance of peppers fresh is easy when you know where to store peppers for later use. The freezer is a great place to keep peppers and they'll be perfect in all kinds of dishes.
Storing jalapenos by freezing is easy and takes very little time. Now that you're ready to start your DIY journey into freezing jalapenos, you may wonder what other peppers you can also freeze using these tips. Some of the few hot peppers you can also freeze are listed here.
While bell peppers and banana peppers aren't hot, they are still great candidates for the freezing process. All peppers are at risk of losing some of their texture and heat levels when freezing, however, though these effects are lessened by following the right tips and procedures.
What about onions? Can you freeze onions? Yes, while you can freeze onions, freezing green onions is not the best way to keep green onions fresh. Refrigerator storage in a glass of water is ideal for this veggie. If you're not worried about texture, slice your green onions and freeze them that way. They'll be just right for your next recipe.
1. Choose the Best Jalapenos
When do bell peppers go bad? What about jalapenos and other kinds of peppers? One of the first steps to take when freezing peppers is choosing the right ones. Don't select moldy or soft jalapenos to freeze since these won't hold up well over time.
Those with blemishes and holes are not a good idea either. Instead, stick to fresh, ripe, and healthy jalapenos that will hold onto more of that fantastic texture and taste after their hibernation in the freezer.
Even fresh jalapenos lose some of their structure and soften after you defrost them. Checking for aging signs like wrinkling or dark spots ensure your jalapenos have a better chance of retaining their shape.
2. Disinfect Before Freezing Jalapenos
The next tip to follow when you freeze jalapeno peppers is cleaning them thoroughly with water and vinegar. Not only does rinsing them off remove all that nasty dirt and grime from your garden, but the vinegar also eliminates traces of bacteria. Doing this will keep your jalapenos healthier even longer during their stint in the freezer.
Mix the two ingredients in a large bowl, then thoroughly disinfect your jalapenos. Rinse them with some clean, cool water and dry well. You also should tear away any stems or stalks left on the jalapeno before freezing.
3. Slice Up Jalapenos for Future Dishes
Freezing whole jalapenos makes the process as easy as tossing them on a cooking sheet or in a bag. To get your jalapeno peppers prepped and ready for later use, start by cutting them up according to the way you plan to use them in the future.
Before you start cutting, it's essential to wear gloves when handling jalapeno peppers. The juice burns your hands after a while and might even get into your eyes. Not a chance you want to take!
If you aren't planning on freezing them whole, remove the seeds and cut them into long slices, dice them up, or cut them into little medallions like pickles. If you are unsure how you plan to use them in the future, leave them whole.
4. How to Freeze Jalapenos Whole
Blanching jalapenos is not necessary like it is with other fruits and veggies. However, it is one way to preserve as much of the jalapeno's texture and nutrients as possible. To blanch your peppers, start by boiling them in hot water for three minutes.
After the three minutes have passed, remove them from the pot and toss them into a cold bowl of ice water. This process is recommended for whole peppers, but again, it isn't necessary for freezing them properly.
5. Can You Freeze Jalapenos without Blanching?
If you're searching for the very best way to freeze jalapenos, flash freezing is the option for you. Flash freezing uses exposure to extreme temperatures to freeze your peppers properly. To do this, lay your jalapenos down in a single layer on a cookie sheet.
If you are freezing diced jalapenos, put these into an ice cube tray instead. After a few hours, transfer your frozen peppers to ziplock bags for added protection from the cold. Doing this will prevent them from getting freezer burn and allow you to enjoy them for several months.
6. Seal Your Jalapenos in Airtight Baggies
In some cases, you don't even have to go through that many steps to freeze your peppers. If you want, you can skip the blanching and flash freezing and pop your fresh peppers into freezer bags. Most green peppers will freeze without going through all the other preparations, though these preparations are a great way to extend the shelf-life of your food.
When putting your jalapenos in freezer containers, ensure that all the air leaves the bag before sealing. If you can't use a vacuum sealer for your plastic bags, then try sucking out all the air with a straw for an impenetrable seal.
Delicious Stuffed Jalapeno Poppers Recipe
Now that you know how to freeze your jalapenos, you'll need a killer recipe to add to your frozen foods cookbook. The recipe rating for this little number doesn't disappoint, combining the yummy texture and taste of stuffed peppers on the outside with the spicy kick of jalapeno poppers on the inside.
Start your jalapeno recipe by preheating your oven to 350°F. Cut your bell peppers into halves then scoop out all the seeds and insides before placing them on a large baking pan. In a separate medium-sized bowl, combine your remaining ingredients, including your thawed jalapenos, then blend them.
Spoon in an even amount of the jalapeno mix to each of the bell pepper halves, then cover each one with aluminum foil. Bake your peppers for approximately 35 minutes before serving this mouthwatering meal to your family.
There are many incredible benefits of eating jalapenos, including an increase in vitamins A, B, and C. These health-wise peppers are also an excellent source of potassium and carotene, which are essential for maintaining a heart-healthy diet. With such great reasons to eat jalapenos, including the taste, why wouldn't you want to freeze them for more extended access to their amazing benefits?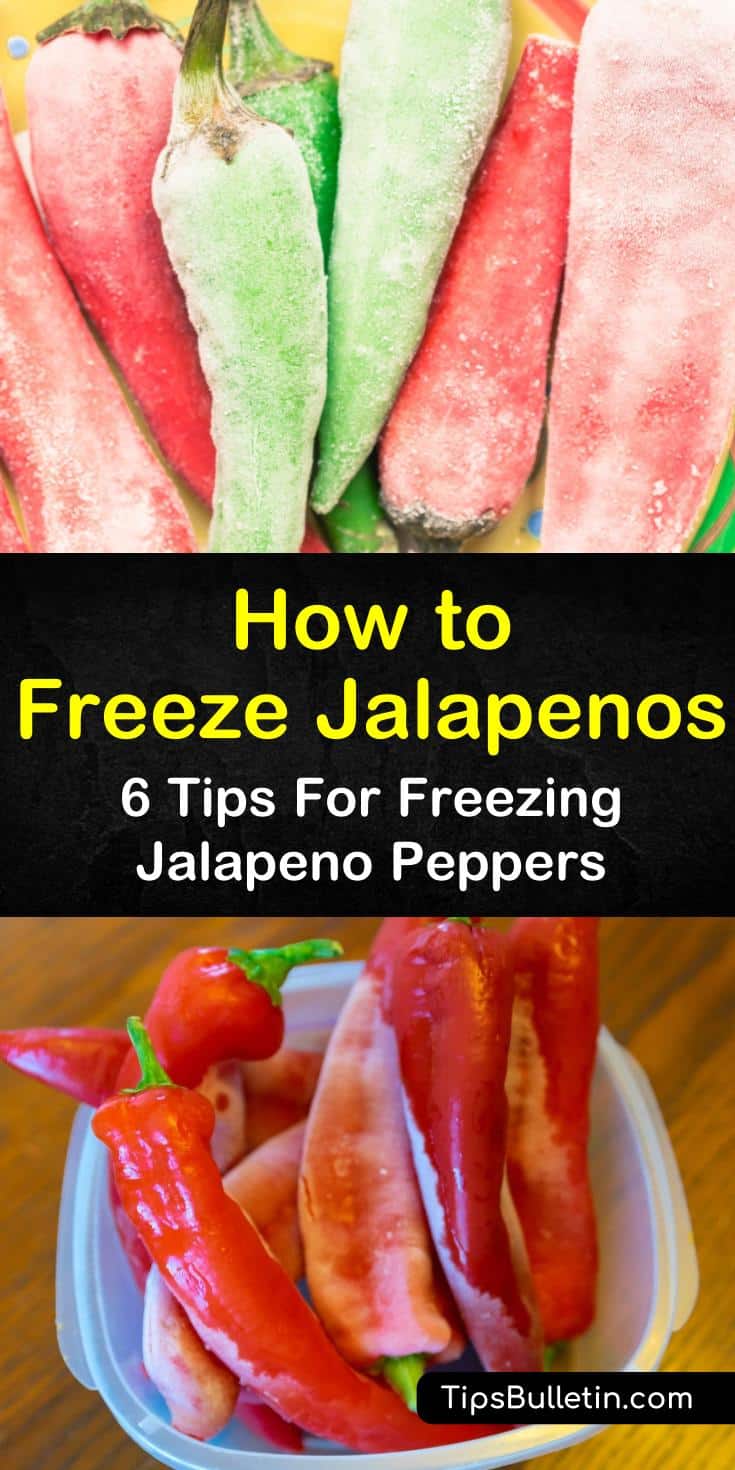 If you enjoyed learning about these jalapeno freezing tips and recipes, then don't forget to share how to freeze jalapenos with all the favorite spicy-food lovers on Facebook and Pinterest.