If you have a lemon tree in your backyard or have excess lemons you do not know what to do with, learning how to freeze lemon juice is an amazing skill to uncover.
When you freeze lemon juice, you can safely store the nutritious liquid for an extended time. Not only do we show you how straightforward freezing lemon juice is, but we also demonstrate how to freeze whole lemons as well.
Preserving whole lemons or lemon slices is excellent if you have a recipe that calls for lemons or adds a little extra flavor to water. Can you freeze lemon juice safely?
Whether you have a Meyer lemon or a regular lemon, we show you the proper way to freeze your lemon juice so it stays fresh for months.
Additionally, we provide you with a tasty homemade frozen lemonade recipe and tips and tricks to efficiently thaw your frozen lemon juice.
Consider this article your complete guide to freezing lemon juice, nutrition facts, and new recipes using fresh lemon juice.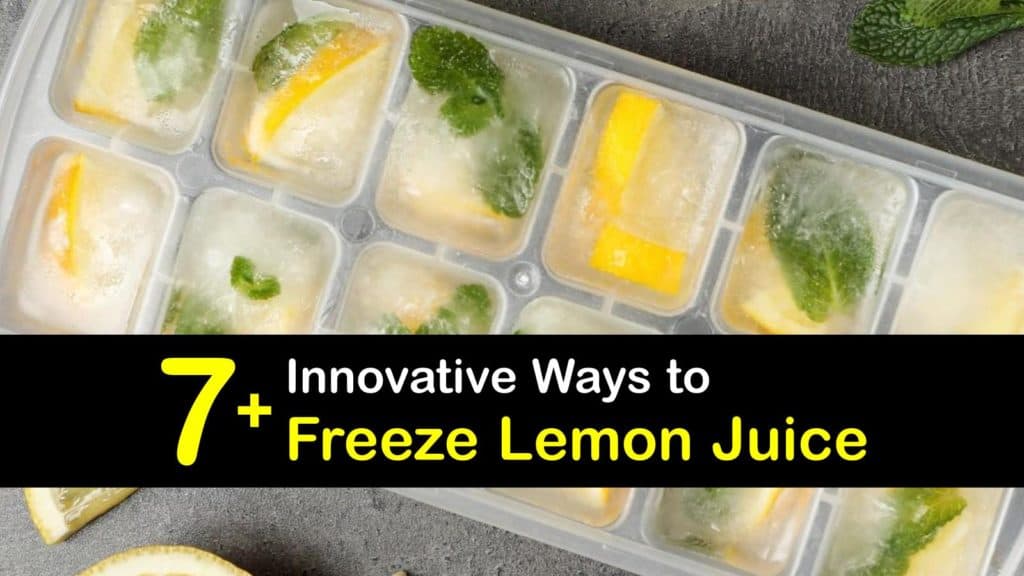 How to Extract Lemon Juice
If you have a lot of lemons in your fridge or have some canned lemons on hand, creating lemon juice is a fantastic way to repurpose a bag of lemons. Keeping lemons fresh is simple when extracting the juice. An effective way to extract the juice from a lemon is to use an electric juicer.
Juicing sucks out nearly all of the juice available in a lemon. If you do not have a juicer, it is possible to extract the juice using a blender, mesh strainer, bowl, and a spatula.
After peeling off the lemon rind, blend your lemons. Pour the contents into a mesh strainer held over a bowl and press the contents with a spatula to push out the juice.
Since the shelf life of fresh squeezed lemon juice is not very long, freezing is an ideal way to make it last longer.
How to Freeze Lemon Juice in Ice Cube Trays
Can I freeze lemon juice in ice cube trays? Making lemon juice cubes is perfect for adding a zest of flavor to a glass of water or adding more lemon flavoring to a fresh glass of lemonade.
Whatever you use your frozen lemon juice cubes for, it is a great way to use up extra lemons from a lemon tree. Pouring lemon juice into ice cube trays allows you to save space in your freezer and have lemon ice on hand for a long time.
After juicing your lemons, carefully transfer the liquid to ice cube trays. If you have a lot of lemon juice, we suggest filling two or three ice cube trays with lemon juice.
Set the ice cube trays in the freezer and wait until you have frozen cubes. Pop out the lemon cubes and place them in a resealable Ziploc bag before placing them back in the freezer.
Learn how to tell if lemon juice is bad so that you don't accidentally consume spoiled food. Discoloration and an off smell are good indicators that you should toss the juice.
Freezing Lemon Juice and Whole Lemons
Another fantastic technique to freeze lemons is by storing lemons in freezer, whether whole or sliced, for later use. Freezing sliced lemons is just as straightforward as freezing lemon juice.
The advantage to preserving slice lemons is that you have an excellent zest of flavor to a dish that is always ready for multiple months.
With a sharp knife, slice your whole lemons into quarters or thin slices. Place the portions on a cookie sheet in a single layer; ensure that the lemons are not overlapping. Set the tray in the freezer and wait until the contents are entirely frozen.
When you have frozen lemons, transfer them into a plastic bag or a freezer bag before placing them back in the freezer. Can you freeze lemon juice and preserve it in lemon slices? Yes, the liquid in the lemons will still be available after the slice is frozen.
How to Freeze Lemon Zest
Understand that how to freeze lemon juice is not the only way to use a lemon. Freezing lemon zest allows you to have a flavorful salad topping on hand at all times.
When you freeze lemon zest properly, it stays fresh and ready to use for up to six months. This process also works well for lime juice and grapefruit juice if you have an abundance of either of these fruits.
With a citrus peeler, push against the lemon rind to zest the fruit. Collect all the lemon zest shavings in glass jars until your lemons are zested.
Spread a single sheet of wax paper over your cookie sheet and add the lemon zest in a thin layer before setting the tray in the freezer.
After the contents freeze, transfer them into a resealable plastic bag. Use a resealable bag instead of plastic wrap because it keeps more air out.
Can You Freeze Lemon Juice and Thaw it?
Learning the best way to freeze lemon juice is an amazing way to repurpose excess lemons. However, it is also important to properly thaw frozen lemon juice to not lose the lemon flavor.
When you freeze lemon juice in ice cube trays, melting the frozen juice is easy and does not take very long. A short thawing time is one of the several benefits of freezing lemon juice in ice cube trays.
To unfreeze a lemon ice cube, place the cube in a glass or measuring cup at room temperature until the contents thaw if you are using the juice for a recipe.
Consider placing the cube in a dish with a little hot water in the microwave for a few seconds to unfreeze it quicker. Another way to use a lemon cube is to add it to your favorite drink to give it a cool lemon flavor.
How to Thaw Frozen Lemon Slices
If you are saving frozen lemon slices for juicing at a later point, you need to know how to thaw frozen lemon juice the right way. When you unfreeze lemon slices properly, they preserve most of their juice and are ready to use for any recipe or juicing.
There are two ways to thaw lemon slices, and both are very manageable. A quick method to thaw lemon slices is to place them in the microwave for five to ten seconds.
Although this way of thawing a lemon slice is fast, it may dry the lemon out, resulting in a loss of flavor.
An alternative way to thaw lemon slices is to place them in cold water for ten to 15 minutes. The cold water allows the lemons to remain hydrated as they unfreeze, which adds more taste to the lemon.
Downsides to Freezing Lemons
Can you freeze lemon juice? Yes, it is possible to freeze lemon juice to preserve the contents for months. However, before you learn how to freeze lemon juice, be aware of issues when freezing lemons.
Freezing food slows down the rate at which molecules move, allowing the food to stay fresh because harmful bacteria cannot grow. When you freeze lemons, some of the nutrients may be lost over time.
When lemon juice remains in the freezer for an extended period, vitamins C and B slowly break down and are lost. Freezing lemon juice does not kill the nutrients; they degrade over time.
Lemon Juice Nutritional Facts
Drinking lemon juice carries many health benefits, making it even more important to know how to freeze lemon juice the right way. This superfood offers advantages to almost every part of the body.
Regarding vitamins and minerals, lemon juice contains a healthy dose of vitamin C, folate, and potassium while remaining low in calories.
Vitamins and minerals are not the only great things about lemon juice. Lemon juice also carries cancer-fighting ingredients, prevents kidney disease, aids in regular digestion, and helps lower blood sugar.
Lemon juice aids in weight loss and helps clear skin from unwanted acne. With the overwhelming amount of health advantages lemon juice carries, discovering how to preserve lemon juice is valuable.
Tasty Homemade Frozen Lemonade
An excellent way to use up extra lemons is to make homemade frozen lemonade.
Pay attention to the coupons your local grocery store offers during the summer months, as some qualifying purchases may allow you to save money on frozen lemonade ingredients. This recipe will quickly become your favorite recipe with frozen lemon juice.
Place your lemonade ingredients into a blender and blend until the consistency is smooth. If you would like your lemonade to be thicker, include a few more ice cubes. After you mix your ingredients, your frozen lemonade is ready to serve.
Frozen lemon juice has several uses as well as health benefits. If you have extra lemons that you do not want to waste, consider freezing the liquid to use later in recipes or as toppings.
Not only does lemon juice add a unique taste to your food and drinks, but it also contains a plethora of wellness benefits such as weight loss promotion and a good dose of vitamin C.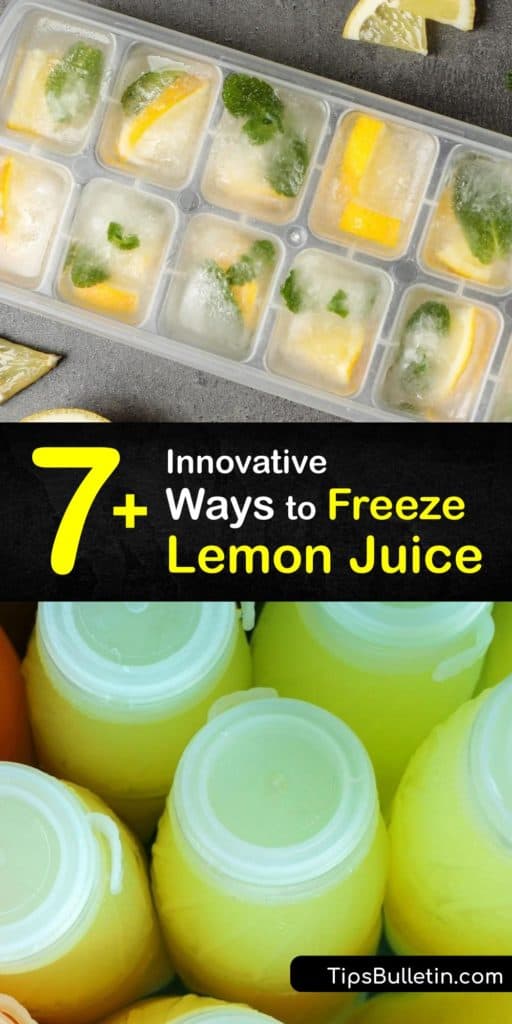 If you found out how to freeze lemon juice here, share this article with tricks for freezing lemon juice with your roommates and family members on Pinterest and Facebook.