It's easy to stock up on okra during the summer months when it's in season, but like all other produce, it has a limited shelf life. This fruit, commonly referred to as a vegetable, is an excellent addition to many dishes, but keeping it fresh is vital to prevent it from getting spoiled and mushy. We'll show you how to freeze okra properly, whether it is sliced, whole, or cooked.
Preparing okra is very easy, and there are many different ways to cook it. It contains mucilage, which acts as a thickener when you heat it, making it ideal for soups and stews. Choosing the right cooking and storage method is essential to prevent it from becoming slimy.
Okra recipes, such as casseroles, gumbo, okra pickles, and breaded okra, are only as tasty as the okra itself. Therefore, it's essential to find ways to store it to retain its freshness and taste. Freezing is a great way to prolong the life of okra, and it maintains it's quality for up to a year.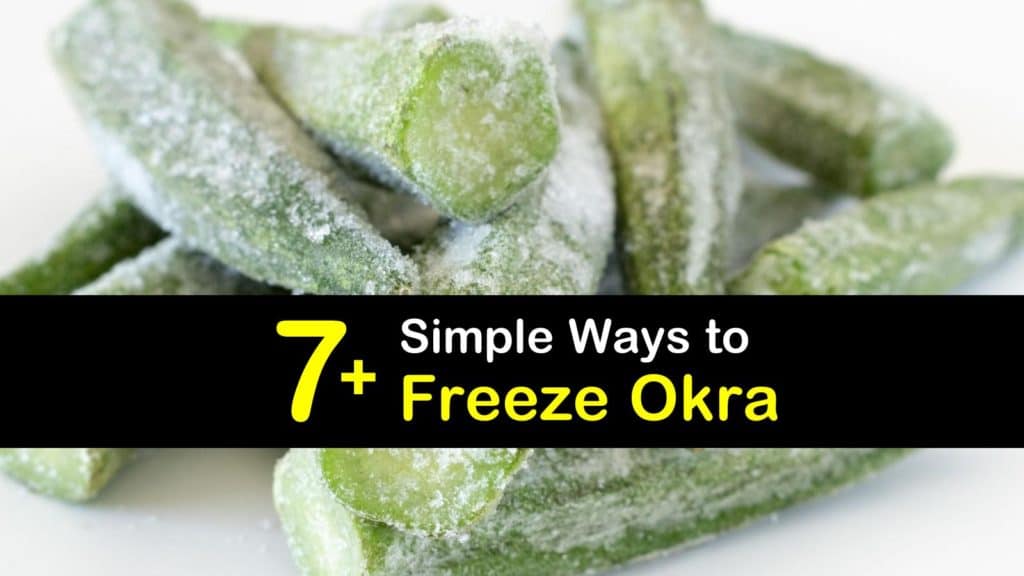 Preparing and Freezing Okra
Many foods respond well to freezing. You can freeze milk, potatoes, and you can even freeze fresh mozzarella and other cheeses. The process is simple.
Preserving okra can take different forms. There is more than one way to pickle okra, can it, and even dry it, in addition to freezing.
There are several different ways to freeze okra, depending on whether it is sliced, whole, blanched, or cooked, and the first step is to choose the best okra for freezing. We'll show you how to choose healthy and tasty okra and how to freeze it using a variety of techniques.
Choosing the Perfect Fresh Okra for Freezing
Okra pods have a mild and unique flavor that some people say is somewhat grassy. It has a crunchy texture if you cook it quickly, that becomes tender if you slow-cook it. It's essential to choose ripe and healthy okra before you freeze it to ensure it handles the process.
Fresh Okra
Choose okra that is firm to the touch but not hard. Press the pods gently between your fingers to test them for the perfect firmness. Pick okra that is bright green and does not have any blemishes or dark spots.
Okra comes in different types, including long, short, and ridged varieties. Long and slender types are perfect for cooking whole in fritters or curries. Short and stout varieties work well for quick meals such as a stir fry.
Ways to Freeze Fresh Okra for Soups
One of the best ways to freeze fresh okra for adding to soups and stews, just as when you freeze garlic cloves, is to cut it into desirable pieces and freeze okra without blanching. This freezing method is quick and easy, and a convenient way to store okra in ready-to-go freezer bags.
Wash the okra pods and cut them into desirable pieces, or slice them lengthwise. Lay them out in a single layer on a cookie sheet and place them in the freezer to flash freeze them for one hour. Make sure the okra pieces do not overlap.
Transfer the frozen okra to freezer bags and press as much air out of the bag as possible. Consider using a vacuum sealer if you have one. Label the containers before placing them back into the freezer.
Can cucumbers be frozen the same way? Yes, you can freeze cucumbers just like you do okra, although slicing them first yields the best results. Try this method to freeze raw potatoes, too.
Blanching and Freezing Okra
To maintain the flavor and texture of fresh okra while it freezes, try blanching it first. Doing this stops the enzymatic activity and helps the okra retain its fresh taste for a longer period.
Wash the okra with cold water, use a sharp knife to cut off the caps and tips, and separate the small pods from the large pods. Pour water in a large pot and bring it to a rapid boil.
Add the okra to the boiling water and boil small pods for three minutes and large pods for four minutes. Use a slotted spoon to move the okra from the hot water to a bowl of ice water to stop the cooking process.
Remove the pods from the ice bath, pat them dry with paper towels, and lay them out for half an hour to air dry. Fill the freezer bags with the okra, label them with the date, and place them in the freezer.
How to Freeze Okra After It's Cooked
If you cooked too much okra for your favorite gumbo or other dish and have slices of okra leftover, don't worry, it's easy to freeze them for adding to future meals.
Freezing Cooked Okra
Allow the leftover okra to cool completely before freezing them. Place the okra in freezer bags and press as much air out as possible before sealing them.
If you have a lot of cooked okra, separate them into portion sizes before storing them. Label the storage bag with the contents and date and place them in the freezer.
Making Freeze Dried Okra
Freeze-drying is a great way to store okra long term and is easy to do. Season the freeze-dried okra to make a great snack or add them to your favorite soup.
Wash the okra pods and slice them into thin rounds. Lay the okra slices on a food dehydrator tray in a single layer and set the heat to 130°F.
Dry the slices for about 24-hours, making sure to check them every couple of hours until they are crispy. After they dry, place the okra into freezer containers or bags, label them with the date and contents, and place them in the freezer.
Freeze Okra to Fry Later
Not only is fried okra a crunchy and addicting side dish, but it's easy to make ahead of time to fry later. It only takes a few minutes to prepare it for the freezer, and then it's ready to fry in hot oil whenever you desire.
Wash the okra pods and cut them into quarter-inch slices. Place them into a large bowl and pour equal amounts of flour and cornmeal over them. Use your hands to dredge the rounds in the mixture to coat them evenly.
Remove the coated pieces from the bowl and place them evenly on a baking sheet. Pop them into the freezer to flash freeze them for a couple of hours before transferring them to freezer bags. Label and freeze the coated okra until you are ready to fry them.
How to Cook Okra for the Freezer
If you still have okra left after eating it all week and do not want them to go to waste, consider baking the okra you have left and popping them in the freezer for later enjoyment.
Place the okra pods in a colander and clean them under running water. Set them aside to dry. Cut the okra into half-inch slices, and lay them in a single layer on a baking sheet.
Set the cooking sheet in an oven preheated to 350°F for three to four minutes. Allow the okra to cool before putting them in a freezer bag in the freezer.
Preparing and Freezing Leftover Gumbo
Not only is it easy to freeze whole and cut okra, but it's just as easy to freeze a batch of gumbo. Prepping is an excellent way to have a delicious meal after a busy day and is the perfect way to use all of that leftover okra before it goes to waste.
Melt the butter in a large stockpot over medium-low heat and add the flour while whisking for three minutes. Add the onion, peppers, and celery and continue stirring for three more minutes until the veggies soften.
Add the sausage and chopped garlic, cook for one more minute, and then stir in the cayenne, paprika, mustard, garlic, and creole seasonings. Slowly pour the stock into the pot and then add the chopped chicken.
Bring the soup to a boil before reducing the heat to a simmer. Add the okra, salt, pepper, and bay leaf and stir to combine all ingredients. Simmer the soup over low heat for ten minutes or until it thickens.
Allow the soup to cool before pouring portion sizes into freezer-safe containers. Store the gumbo in the freezer for three to four months.
Fresh veggies and fruit from your garden or farmer's market are something to look forward to each year. However, they only last so long unless you learn how to store them to preserve their flavor.
Freezing okra is one of the best ways to ensure that you enjoy its tastiness all year round, whether you decide to freeze them whole, sliced, raw, or cooked.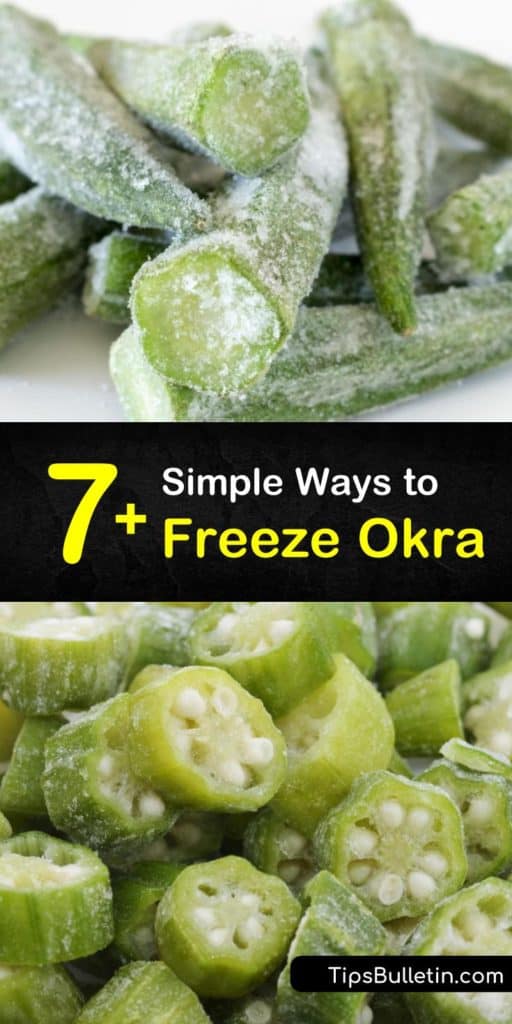 We hope you enjoyed learning how to freeze okra using a variety of techniques, and we'd love it if you'd share our okra freezing recipes and tips with your family and friends on Facebook and Pinterest.