Peaches are amazing. Peaches are packed with sweet, syrupy juice, and have a beautiful texture and flavor that seems to scream "summertime." It's natural to want to have peaches all year round, which is why knowing how to freeze peaches is such an important skill to have when you want your family to be happy and well-fed.
We developed this guide to help you master the art of freezing peaches. In this guide, we look at the most effective way to freeze peaches without losing nutrients or turning them brown.
We examine how to thaw your peaches to maximize their flavor and longevity, and we let you in on some of our favorite peach recipes for fresh and frozen peaches. Once you've read our guide on how to store peaches, your answer to the question, "Can you freeze peaches?" will be a resounding "Yes!"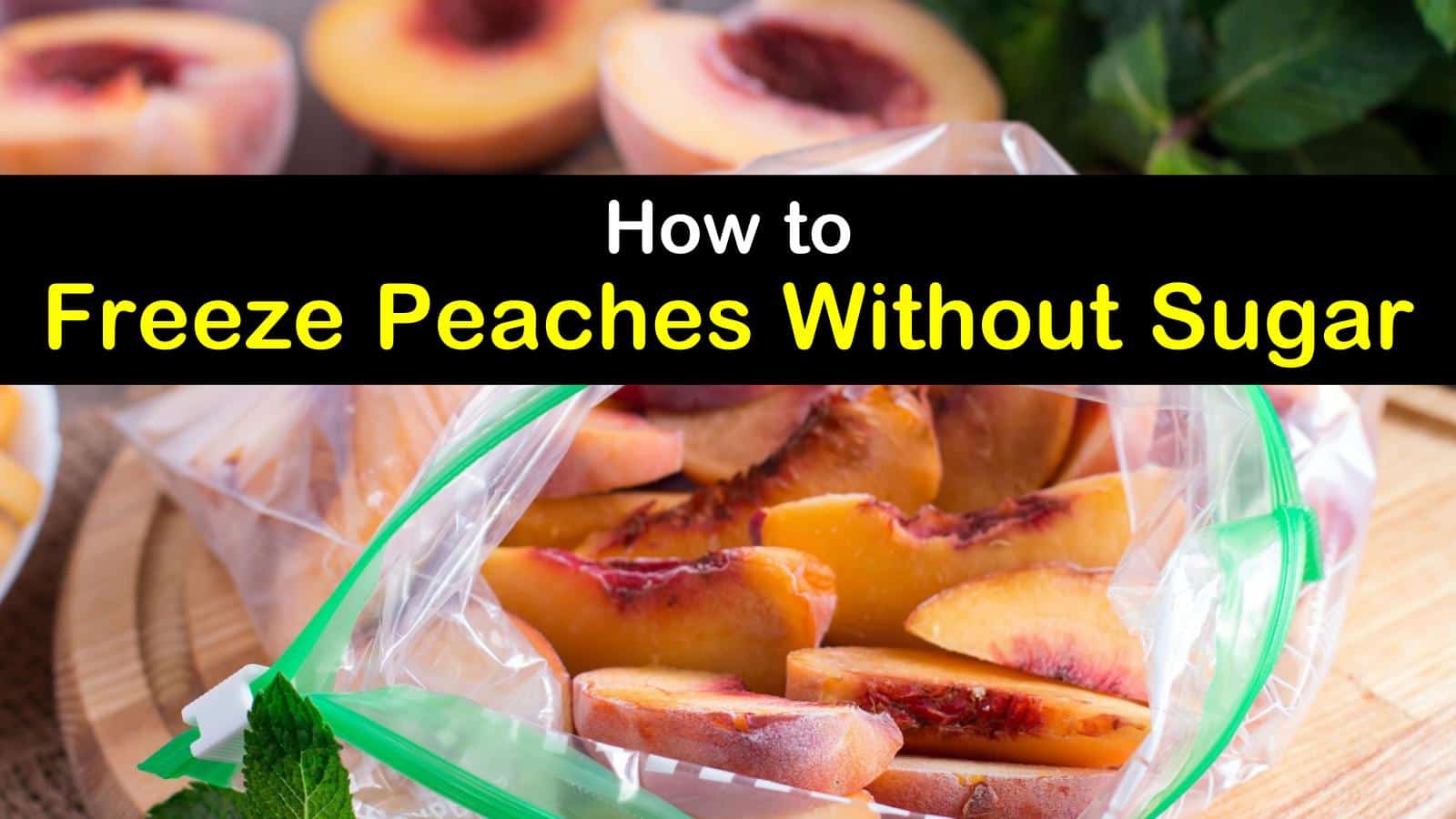 Why Peaches?
So, what's so special about peaches that make us ask, "Can I freeze peaches?" Why all the fuss over this innocuous fruit? After all, there are lots of fruits in the orchard, so what makes peaches worth the extra attention, and why do we need to know the best way to freeze peaches?
In this section, we answer those questions. We look at peaches' health benefits and how they contribute to your overall well-being, and we delve into other ways that peaches help to keep you in the pink.
Along the way, we share a fantastic recipe to let you show off fresh peaches in all their glory. Note that there are many fruits that you can freeze in the same way you do peaches. Learn how to freeze strawberries in a similar fashion.
Freezing and Thawing
Fresh, ripe peaches are the best, of course, but the peach season only lasts a little while. They won't be on your trees or available at the farmers market all year. Learn how to tell if peaches are ripe before preserving them so you take advantage of all their sweetness at just the right time.
That's where your freezer comes in handy. You can freeze your peaches, and with a little care, they'll stay edible for up to a year. You'll get the best of everything: the taste of fresh peaches, and the staying power of well-preserved fruit.
The same also applies to freezing all kinds of fruits and vegetables, like keeping strawberries fresh, as well as a myriad of others. If you have a large garden or access to a bountiful supply of farmer's market produce, you can benefit from freezing the surplus. How to freeze mushrooms follows many of the same steps as freezing peaches or other veggies like tomatoes and pears.
Can you freeze watermelon, too? You bet. Frozen watermelon is ideal for making a cocktail or adding to a smoothie.
It's time to look at the best way to freeze peaches. We'll show you how you can freeze peaches using either lemon juice or ascorbic acid, and we'll show you how to thaw frozen peaches to make sure that your peaches survive storage with flying colors.
While freezing peaches is one option you have, canning peaches is also easy and you won't need your freezer!
How to Freeze Peaches
Your goal when freezing peaches is to avoid letting them turn brown. If you don't prepare your peaches correctly, you risk freezer burn and might wind up with tasty but unattractive frozen fruit. To avoid browning and keep your fruit fresh, pre-treat your peaches with lemon juice or ascorbic acid.
The same applies to other fruits and veggies, too. Can you freeze avocados without them turning brown? Of course. Treat avocados with lemon juice or citric acid, as well, to avoid browning. Your frozen fruit will come out of the freezer looking just as good as it did going in.
Begin with whole peaches. Peel peaches and then halve and pit them. Then, place them in a large pot. If you're using lemon juice, mix four cups water with two tablespoons lemon juice.
If using ascorbic acid, dissolve one teaspoon of ascorbic acid in a pot of water (about four cups). Soak the peach halves in either mixture for about five minutes, and then, place the peaches in a colander and let them drain.
After they stop dripping, use a slotted spoon to lay the peaches in a single layer on a baking sheet covered with parchment paper, and freeze them overnight. The next day, move the peaches from the cookie sheet to a freezer container – freezer bags work great here. Remove as much air as you can. Then, label and store the bags.
Thawing Peaches
You can use frozen peaches in lots of recipes, such as peach ice cream and peach pie, but some recipes will require you to thaw out your peaches. The thawing process is as crucial as the freezing process and needs to be done correctly to ensure that your peaches stay delicious and look appealing.
Take the slow road when thawing peaches. A day before you want to use your peaches, move them from the freezer to the refrigerator.
If you only need a couple of peaches, remove as much as you need from the freezer bag and place them in another bag for the fridge. Otherwise, move the entire bag. After twenty-four hours, your peaches should be fully thawed.
Health Benefits
Even though they're bursting with sugary sweetness, peaches are surprisingly healthy additions to your daily diet. They aren't calorie heavy at all; a peach only contains about sixty calories. Peaches are chock full of nutrients, as well. Just one peach gives you 17% of your daily recommended vitamin C and 10% of your recommended vitamin A.
That's not all. Peaches contain antioxidants to bolster your system against disease and aging, and they promote heart health. They are also an effective digestive aid. You'll even derive some anticancer benefits if you eat peaches regularly. Giving your children a peach a day is good parenting!
Amazing Fresh Flavor
Anyone who's eaten fresh peaches can vouch for their unforgettable flavor. Peaches are brimming with fructose, taste like liquid sunshine, and can brighten any dish and sweeten any dessert. You'll find peaches in your most popular summertime dishes, such as our favorite peaches recipe, summer peach cobbler.
Preheat your oven to 425°F. Combine three tablespoons of white sugar and one teaspoon of cinnamon in a small container, and set aside. Mix the peaches, ¼ cup sugar, one teaspoon of lemon juice, ¼ cup brown sugar, ⅛ teaspoon nutmeg, ¼ tsp cinnamon, and two teaspoons of cornstarch in a large bowl.
Toss the peaches until coated, and transfer to a two-quart baking dish. Put the dish in the oven for around ten minutes. Mix the flour, remaining sugars, salt, and baking powder. Use your fingers or a blender to incorporate the butter until it has a texture similar to cornmeal.
Add the water, and stir until combined. Pull the peach slices from the oven, spoon the topping over them, and sprinkle the sugar and cinnamon mixture over everything.
Not only can you freeze peaches, but you can also learn how to freeze corn on the cob and other fruits and vegetables so that you have a fresh supply whenever you want it during the winter months.
We hope you enjoyed reading about freezing and storing peaches. The question "Can I freeze peaches?" shouldn't be met with blank stares – you bet you can freeze peaches, and our guide will give you the tools you need to make it happen. Before long, your freezer will be full of well-preserved fruit, and your family will be applauding your cooking!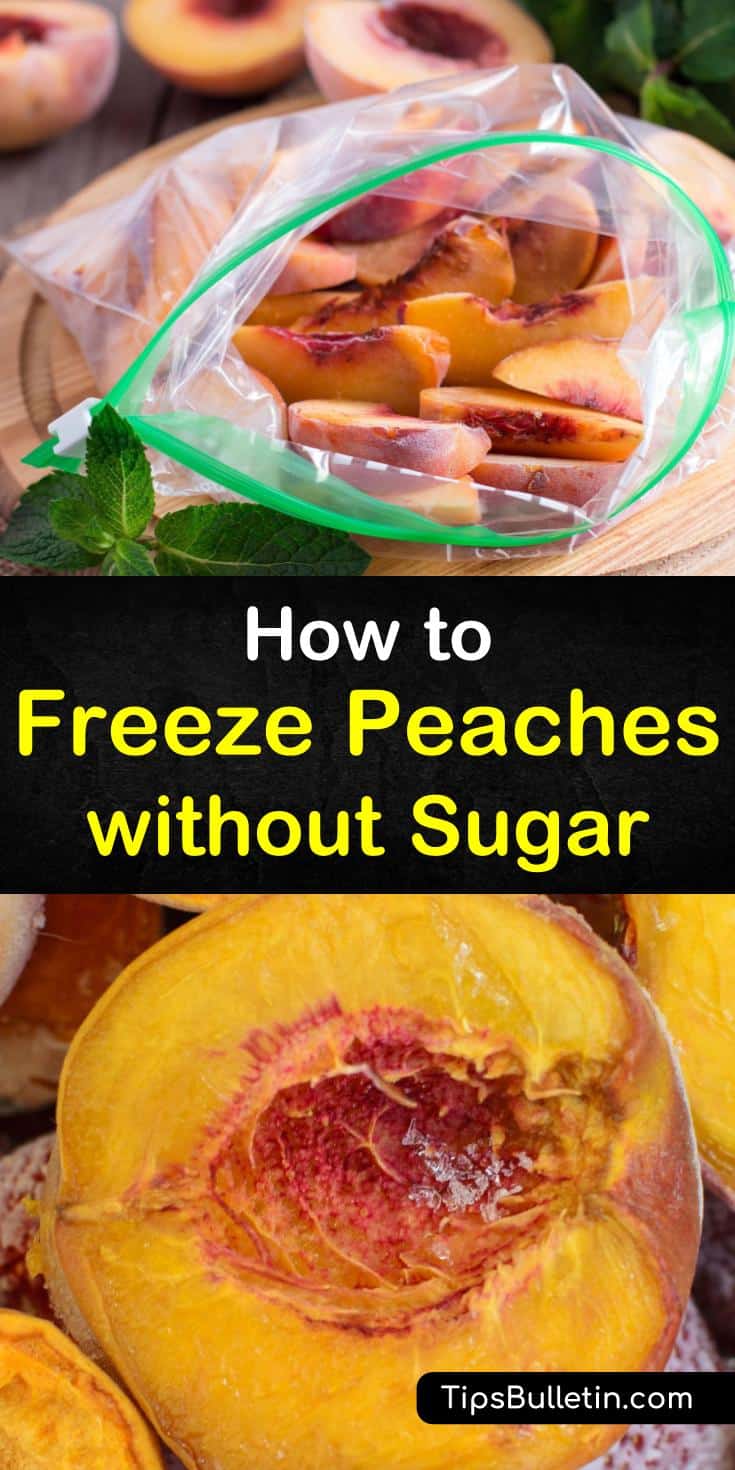 Thanks for reading our peach freezing guide. If you found our tips on how to freeze peaches helpful, please share our peach storage guide with your family and friends on Pinterest and Facebook.