Freezing spaghetti squash is a convenient way to extend its shelf life.
Preheat your oven to 375℉ before you begin.
Cut the squash in half, scoop out the seeds, and bake until tender.
After cooling, scrape out the strands and let them drain in the fridge.
Store the spaghetti squash strands in freezer-safe bags, removing air.
Use frozen spaghetti squash in recipes as a healthy substitute.
To ensure the best results, start by baking the spaghetti squash to deactivate enzymes that could make it mushy after thawing. Once the squash is fork-tender, let it cool down. Next, separate the squash strands and allow them to drain in the refrigerator to remove excess moisture.
When it's time to freeze, portion the squash into amounts you'll need for future recipes, and use freezer-safe bags to store it. Removing as much air as possible from the bags will help protect the squash from freezer burn. When you're ready to use it, you'll have a tasty, low-carb alternative for dishes like casseroles or as a base for delicious sauces.
Spaghetti squash has gained renown in recent years as a low-carb, gluten-free alternative to grain-based pasta. However, these winter squash tend to be quite large, and it's sometimes impossible to use the whole thing in a single recipe. Learn how to freeze spaghetti squash and discover terrific recipe ideas for using frozen spaghetti squash.
From a classic spaghetti squash casserole to a creative and healthy pizza crust alternative, the options for spaghetti squash recipes are endless. Instead of letting your unused spaghetti squash go to waste, why not freeze it for future use?
Freezing spaghetti squash isn't quite as simple as throwing the entire squash in your freezer. While that is possible, it takes a long time to thaw a whole spaghetti squash, and it uses up unnecessary freezer space. Read on to discover the best way to freeze spaghetti squash and preserve the best possible flavor and texture.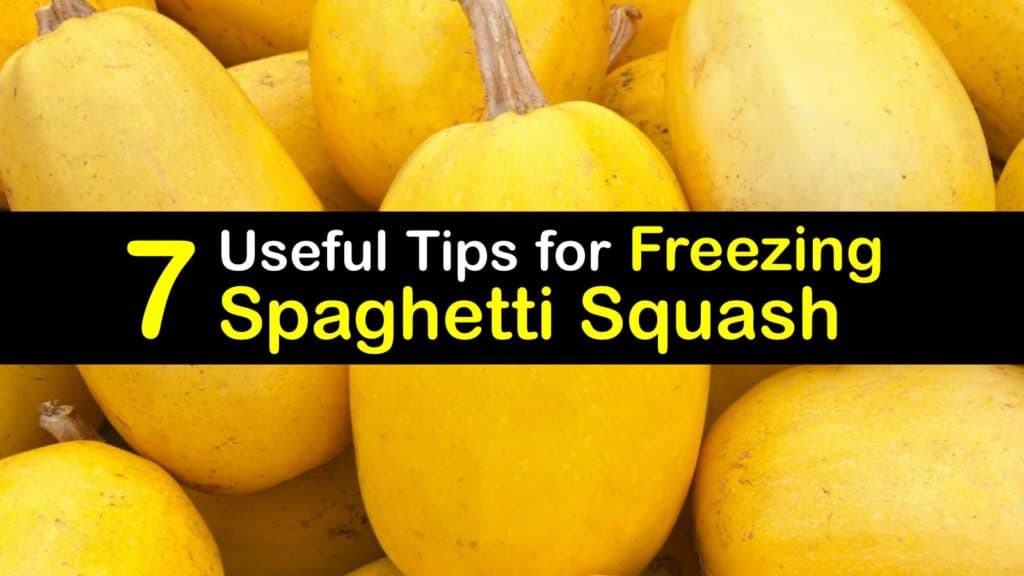 Can You Freeze Spaghetti Squash?
Have you ever wondered, "Can you freeze spaghetti squash?" Absolutely. Freezing spaghetti squash is an outstanding way to extend its shelf life and get the most out of your groceries.
The best way to freeze spaghetti squash is to bake it in the oven first, but this is not necessarily the best way to freeze butternut squash. You don't have to cook butternut squash first. The cooking process for spaghetti squash deactivates the enzymes that cause the spaghetti squash to break down and get mushy when defrosted.
Unlike acorn or butternut squash, which has dense flesh, spaghetti squash separates into fibrous strings that closely resemble traditional spaghetti strands after cooking. They're usually orange or yellow.
Can you freeze fresh squash? Frozen spaghetti squash generally retains its flavor and quality relatively well once defrosted if you follow proper preparation and storage methods.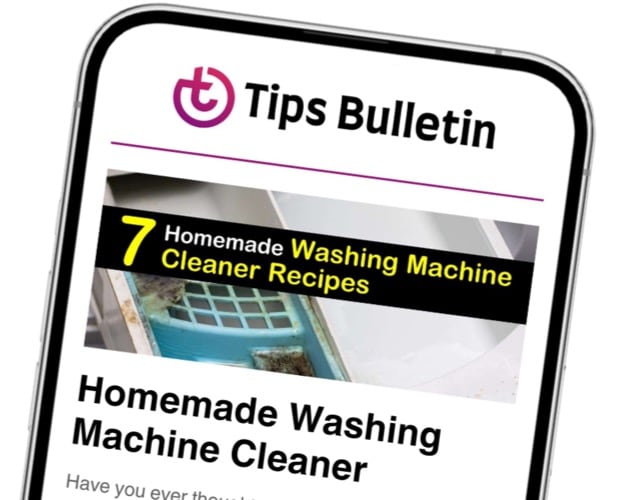 Finally, an email that Transforms Your Home.
Get the latest home and garden tips from our experts, delivered straight to your inbox.
The thawed squash strands might have a slightly softer texture, but the difference isn't very noticeable once incorporated into your favorite recipe with frozen spaghetti squash.
How to Freeze Spaghetti Squash
Preparing spaghetti squash for freezing is incredibly straightforward. Preheat your oven to 375℉. Carefully cut the squash in half lengthwise. Scoop out all the seeds, but don't throw them out.
Rinse and dry them, then roast them like pumpkin seeds for a healthy snack, or place the seeds in a glass jar or paper bag to save them for planting spaghetti squash next year.
Position the squash halves cut side up on a large baking sheet. Sprinkle a bit of salt on top and let them sit for 15-20 minutes before patting them dry with a clean towel. The salt draws out excess moisture.
Bake for 30-40 minutes, or until the squash is fork-tender. Afterward, let the squash cool to room temperature.
Separate the squash strands by scraping lengthwise through the flesh with a fork. Transfer the strands to a colander, cover it with a dish towel or plastic wrap, and set it in a large mixing bowl to catch the draining water.
Leave it in the refrigerator to drain for at least 12 hours. Drain as much water as possible so the cooked spaghetti squash doesn't defrost into a mushy mess.
Transfer the squash strands to freezer-safe bags. It's helpful to freeze spaghetti squash in the portions you'll use later to avoid refreezing it.
To prevent freezer burn, get as much air as you can out of the freezer bag before sealing it. If you don't have a vacuum sealer, insert a straw, close the zipper around it, and suck the air out of the bag. Remove the straw and fully seal the freezer bag.
Best Type of Container for Freezing Spaghetti Squash
Whether you grow spaghetti squash from seed yourself or get a great deal at the grocery store, lower the risk of freezer burn with an airtight container specifically designed for the freezer. Plastic freezer cartons, flexible freezer-safe bags, or glass canning jars work best.
Freezer burn occurs when moisture in the outer layers of food freezes and forms ice crystals. This process leaves behind dry pockets in your food and significantly reduces the overall quality.
The most common cause is freezing food while it's still warm, as the steam creates excessive moisture and may even begin thawing surrounding foods. Be sure to refrigerate spaghetti squash before freezing it.
Freezing Spaghetti Squash in a Cooked Dish
Freezing pre-cooked dishes is an excellent way to make your weeknight meal planning a whole lot easier. However, it's essential to consider whether all ingredients in the recipe freeze well.
While spaghetti squash retains its overall quality once thawed, other ingredients don't hold up so well. In particular, avoid freezing dairy-based sauces and soft cheese, which tend to become rubbery or curdled.
To get your dish freezer-ready, separate it into serving-sized portions. For optimal results, use the oven for reheating frozen leftovers. This method allows more moisture to evaporate, and the food turns out less soggy.
Cook your dish at 300-350℉ for roughly double the original cooking time. Slowly reheating the dish warms it evenly throughout. Cooking it at a high-temperature risks burning the outside of your food while the inside remains frozen.
Can You Freeze Spaghetti Squash Uncooked?
You can freeze raw spaghetti squash, but it's not the best way to preserve summer squash. It must be frozen whole, as cutting the squash into cubes ruins the long strands.
A whole frozen spaghetti squash occupies lots of space in the freezer, it takes much longer to thaw, and separating the spaghetti squash strands becomes more difficult. There's also a scientific reason to cook spaghetti squash before freezing it.
Raw veggies contain enzymes that trigger the aging process that turns them into fertilizer for their seeds. High heat destroys these enzymes and halts the decomposition process. Without pre-cooking, these enzymes continue working even when frozen.
How to Thaw Frozen Spaghetti Squash
It's best to use your frozen spaghetti squash within six to eight months. The sooner you defrost and cook it, the better the flavor and texture.
Thaw frozen spaghetti squash by leaving it in your refrigerator overnight to defrost slowly. If that's not possible, reheat spaghetti squash using a microwave, steamer, instant pot, or on your stovetop.
A slow cooker isn't recommended for defrosting because the food sits at an unsafe temperature too long. Always thaw food before using a slow cooker.
To microwave, add a little olive oil to your frozen spaghetti squash and zap it on medium for around 45 seconds. Stir the strands and repeat if necessary. If using a steamer, about five minutes should do the trick. In an instant pot, it only takes a minute or two.
Otherwise, heat a skillet over low-medium heat or boil a small saucepan of water on your stovetop. Simmer the spaghetti squash for around five minutes, or pan-fry it in olive oil until the strands are crispy.
Cooking with Frozen Spaghetti Squash
Whenever you cook with previously frozen food, there's always a difference between the taste and texture of the fresh alternative. However, the change isn't too noticeable with spaghetti squash, especially since it usually gets incorporated into recipes.
Use frozen spaghetti squash just like you would normally. If you find that it's too mushy after defrosting, try pan-frying the squash strands for a few minutes to firm them up and reduce the excess moisture.
To venture beyond the standard spaghetti squash casserole or lasagna, try this recipe for making a crispy thin-crust pizza with spaghetti squash. This recipe also works well with zucchini.
Preheat the oven to 400℉. Place your spaghetti squash in a colander and squeeze out as much water as possible.
Transfer the strained squash strands to a large mixing bowl and add the remaining ingredients. Mix until a tacky dough forms. If it turns out too runny, add a little more flour.
Line a baking sheet with parchment paper and lightly spray it with cooking oil. Place the dough in the middle and use your hands to make a thin, flat disk that's about a quarter to half-inch thick. Build up the edges to create the pizza crust shape.
Bake for 20-30 minutes, or until the crust is firm and the edges are golden brown. Spread pesto or tomato sauce over the crust and use your favorite toppings. Bake for another five or ten minutes or until the cheese melts.
Health Benefits of Spaghetti Squash
Spaghetti squash is a super-healthy veggie, and freezing doesn't decrease its nutritional value. It's low in calories and carbohydrates, making it a favorite for people on low carb diets like paleo or keto.
Spaghetti squash is rich in antioxidants, fiber, manganese, potassium, and vitamins B6 and C. Adding spaghetti squash to your diet reduces inflammation, improves digestion, promotes weight loss, and lowers your risk of chronic diseases.
Maybe you have a bumper crop of spaghetti squash from your veggie garden, or you purchased one for a recipe and don't want to let the other half go to waste. You may be wondering, "Can you freeze spaghetti squash?"
Learn the best way to tell if butternut squash is bad, as well as spaghetti squash and other varieties, so you don't use spoiled food in your recipes.
Luckily, spaghetti squash freezes well and retains its taste and texture once defrosted. The most imperative parts of the process are draining the excess moisture and refrigerating cooked spaghetti squash before freezing.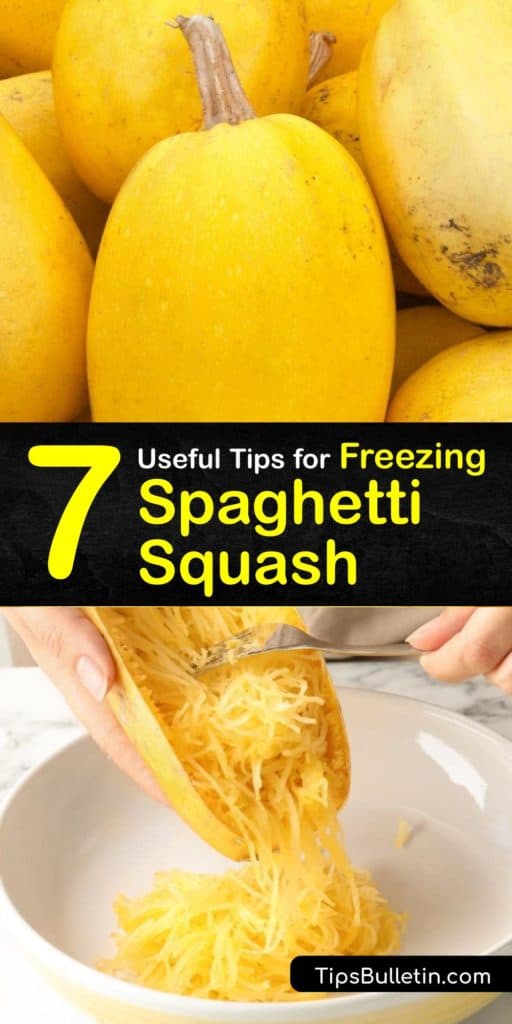 If you enjoyed these food storage tips, please share this article about how to freeze spaghetti squash with your family and friends on Facebook and Pinterest.