There is nothing more gratifying than picking and eating fresh vegetables during a harvest. That is, except for enjoying them in the middle of the cold winter months. We'll show you how to freeze squash in a variety of manners and recipes.
Who doesn't love squash, especially when there are 16 common types of squash from which to pick? Winter squash, such as spaghetti and butternut, is harvested in the summer and has a tough exterior.
Summer squash, like zucchini and yellow squash, has a soft exterior and is harvested earlier than winter squash. There are many options when choosing your favorite squash, and there are many ways to prepare them.
Grill or roast them for a savory side dish, make tasty casseroles, add them to a zesty pasta sauce, or fry them for a snack. Don't have the time to cook your favorite veggie right now? Try freezing them for future squash recipes.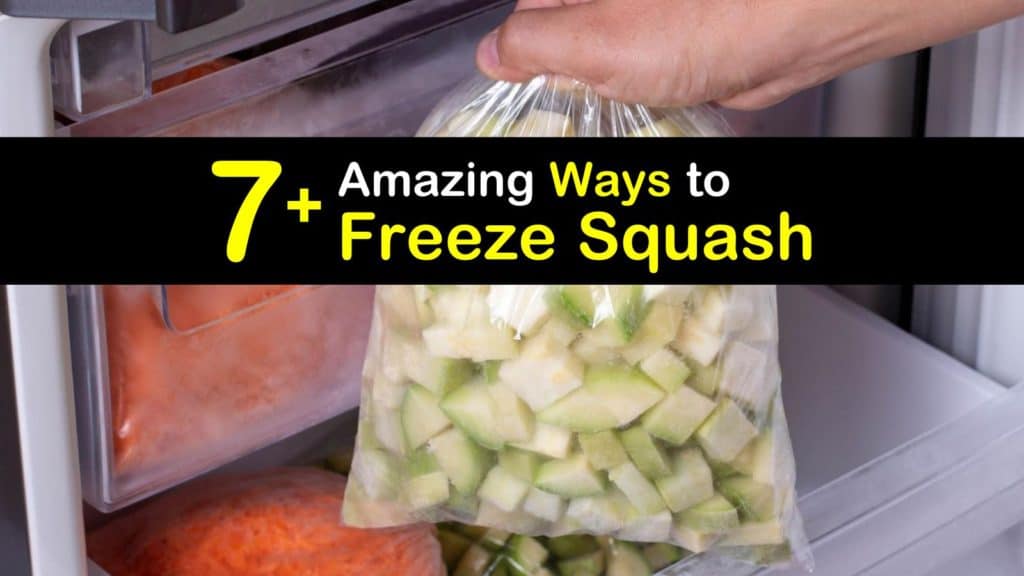 Preparing, Freezing, and Cooking Squash from the Garden
However you decide to cook your veggies, it's a good idea to freeze them ahead of time to ensure that they are ready to eat whenever you get the craving.
We have step-by-step methods to show you how to prepare, cook, and freeze your vegetables for future enjoyment. Once you learn the basics, storing garden vegetables like squash is simple and only takes a little time.
Selecting Fresh Squash for Freezing
It's easy to prepare a favorite recipe with frozen squash, whether it is zucchini bread or baked summer squash. Before you pickle, can, or freeze your vegetables, we recommend choosing the right squash for the job. Frozen, pickled, and canned butternut squash work best with certain varieties and preparation techniques.
Fresh Squash
There are different ways to choose the perfect squash, depending on the type. Healthy winter squash, such as crookneck and buttercup, is heavy for its size and is rich with deep color. It has a firm, dry stem and dull, matte skin.
Shiny skin that is easy to nick indicates the squash is picked too early. When choosing summer squash, such as pattypan, look for brightly colored ones that are smaller in size. The smaller the squash, the tastier they are.
Avoid any squash that has soft spots, cracks, or cuts that eventually lead to mold growth. A pale spot on the side where the gourd sat on the ground is normal, as long as it's not green.
Can You Freeze Squash?
There are many questions when considering vegetable storage and, can you freeze squash, is one of them. Luckily, squash is very easy to freeze using a variety of different techniques.
The best way to freeze squash is to blanch it first. Blanching helps the veggie retain its color, texture, and flavor by stopping enzyme actions.
What about corn? Can you freeze corn to eat later? Sure. Blanching corn kernels or on the cob is good for corn just like it is for squash.
Set a stockpot of water on high heat and bring it to a boil. Wash the squash and cut off the stems. Slice them into quarter-inch rounds and place them into the boiling water for three to five minutes.
While the water boils, fill a large bowl with cold water and add some ice. Remove the blanched squash from the hot water with a slotted spoon and submerge them in the ice water bath for the same amount of time to stop the cooking process.
How to Freeze Squash after Blanching
Now that your squash is blanched, it's ready for the freezer. Freezing is very straightforward, and the frozen veggies last up to one year unless you eat them before then.
After blanching the squash, drain them in the kitchen sink and lay them out on paper towels to remove excess moisture.
Place the slices into freezer containers, leaving some space at the top to allow for expansion, and set them in the freezer. When does butternut squash go bad in the freezer? Use the frozen pieces in your favorite dishes as needed for nine to twelve months.
Freezing Squash without Blanching
It's easy to refrigerate squash, but the freezer is the best way to store your veggies for long periods. Can I freeze squash that isn't blanched? Contrary to popular belief, winter squash does not require blanching before freezing.
Similarly to one of the ways to freeze potatoes, cut the round ends off the squash and use a vegetable peeler to remove the veggie's outer layer. After peeling, cut the squash into one-inch chunks and place them in a single layer on a parchment-lined baking sheet.
Set the baking sheet into the freezer to flash freeze the veggies for two hours to prevent them from sticking together during storage.
Place the frozen pieces into ziplock bags, push as much air out as possible to prevent freezer burn, and seal them tightly. Write the date and contents on the bags and store them for up to 12 months in the freezer.
Use this same type of procedure when you freeze celery. Instead of freezing celery stalks, though, cut them into pieces, as well, to make it easier to add them to soups and smoothies.
Baking and Freezing Winter Squash
If you desire your squash cooked and ready to go straight out of the freezer, baking it beforehand is the way to go. This technique is easy using either an oven or a microwave.
Cut the squash in two and use a large spoon to remove the stringy pulp and seeds. Set the pieces, flesh-side up, on a baking sheet and place them into a preheated 450°F oven for 25 minutes.
To microwave them, place the halves on a microwave-safe plate, cook them on high for 15 minutes, and check at five-minute intervals. Scoop the soft insides of the squash into a food processor or blender and puree the mixture until all lumps are gone.
Allow the puree to cool completely, portion it into the sections of an ice cube tray, and freeze them for about four hours.
Pop the frozen puree cubes out of the tray, place them in freezer-safe storage bags, and freeze them for up to 12 months. Thaw frozen squash as needed by placing the puree in the fridge for three to four hours.
How to Freeze Cooked Spaghetti Squash
You probably look forward to kitchen hacks to simplify cooking after a long, hard day. Freezing cooked spaghetti squash makes dinner time a little easier and is easy to do on a weekend afternoon.
When storing spaghetti squash in the freezer, rinse the squash, slice it in two, and remove the seeds. Place the two halves, flat-side down, on a baking sheet, and bake it in an oven heated to 375°F for 30 to 40 minutes.
Allow the squash to cool completely, and drag a fork across the flesh lengthwise to pull away the noodle-like strands. Refrigerate the fleshy strands in a colander and bowl overnight to drain the moisture from the squash.
Divide the strands into portion sizes in freezer bags, label them with the date and contents, and freeze them for about eight months.
Freezing Squash to Fry Later
Having breaded, frozen squash on hand in the freezer tastes great for frying and saves time. Freezing in this way is similar to other freezing methods, except for adding flour and seasonings to taste.
Wash the squash and cut it into slices of preference. Season each slice with salt, pepper, and any other desired seasonings, and coat them with flour. Set a sheet of freezer paper at the bottom of a storage container.
Shake excess flour off each slice of squash and place them in a single layer in the container, without overlapping them.
Lay another sheet of freezer paper over the top and repeat the process to form a stack until the container is full. Set the breaded veggies in the freezer and remove slices as needed.
Preparing and Freezing Squash Casserole
There is nothing more comforting on a cold winter's day than a steamy dish of Southern squash casserole. This cheesy, flavorful dish is easy to prepare and freeze ahead of time for a quick and convenient evening meal.
Saute the onions and squash until tender. Drain the excess water from the pan, divide the mixture between two baking sheets, and use a fork to mash the squash slightly.
Combine the eggs, butter, mayo, Parmesan, cheddar, salt, and pepper in a large bowl and whisk together to blend it. Pour the cheesy mixture over the top of the mashed squash and sprinkle with crushed crackers.
Place the sheets into an oven preheated to 350°F and bake them for 20 to 25 minutes to brown the top. Remove the baked casseroles from the oven and let them cool completely. Cover them with aluminum foil tightly and freeze them for your next meal.
A freezer filled with frozen vegetables is a great way to enjoy the delicious health benefits of your yearly harvest without them going to waste.
Using your freezer to store fresh-squash is not only easy but also the perfect meal prepping solution. Pull out a bag of sliced, frozen veggies and add them to your favorite squash recipes or freeze casseroles for a quick evening meal.
Just like with how to defrost frozen cucumbers, you can put them in the fridge to thaw overnight or add them directly to a recipe.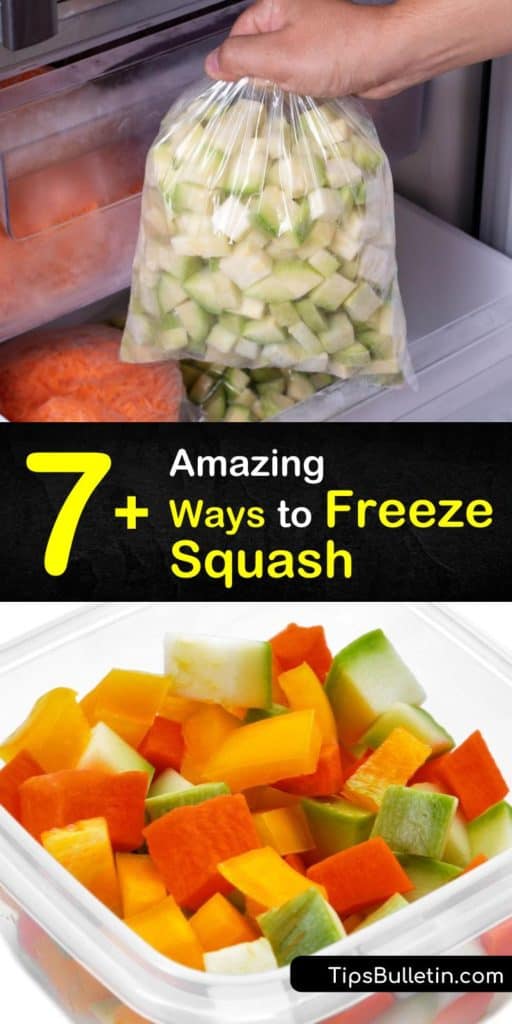 We hope that learning how to freeze squash gave you some meal prepping ideas that fill your dinner table with delightful dishes, and we'd love it if you'd share our tips and recipes for freezing squash with your family and friends on Pinterest and Facebook.