Most people need to know how to get a mildew smell out of the car at some point. Over time, the pleasant odor in your vehicle gradually fades and is eventually replaced by musty, moldy, and stale air, which gives the inside of your car a rather unpleasant fragrance.
Once the moldy smell sets in, it's vital to find out how to remove the mildew smell from a car. Figuring out where the aromas come from is an excellent first step. Although carpets and upholstery are often the sources of unpleasant odors in the cabin, other hard and semi-hard surfaces, such as door panels, are also to blame.
Older cars usually have mold and mildew odors. The cab likely got soaked if you ever left a window open in a downpour, particularly the doors and seats. This setting offers ideal conditions for mold and mildew to flourish. Fortunately, a mildew smell in the car is fixable, and there are various techniques to choose from depending on your tools and preferences.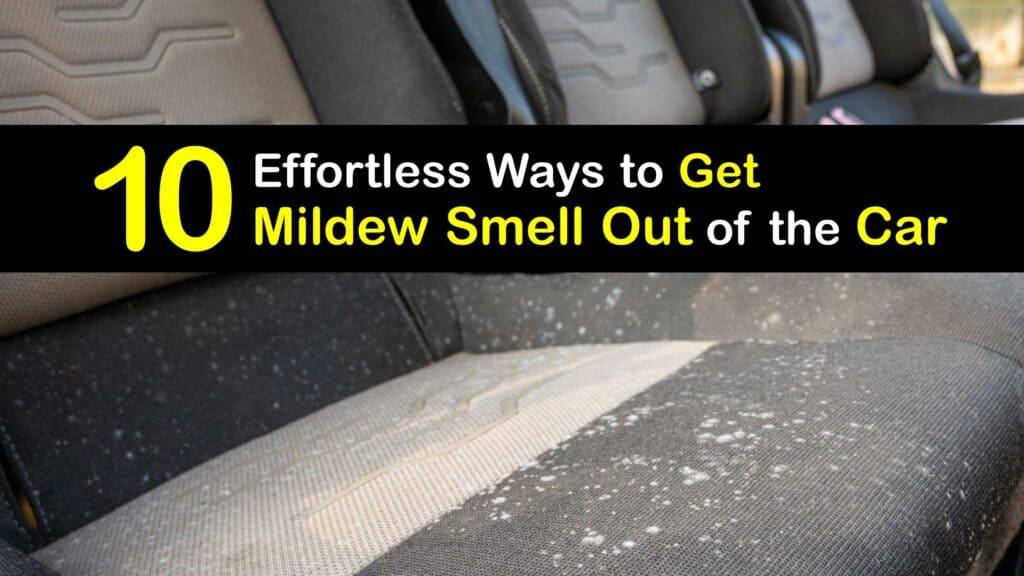 Fantastic Tips to Remove Mildew Smell in the Car
A stinky automobile is miserable to be in and makes you appear unclean. Try a method that suits the supplies you have on hand and available time. Explore how to get a mildew smell out of the car and freshen your ride with almost effortless ideas.
Whether the smell emanates from your vehicle's air conditioning system or somewhere in the interior, rest assured that you can restore your car to smelling pleasant again with a bit of work.
What Causes Mold Odor in Your Car Interior?
Excess moisture is the primary culprit behind mold growth. Like cigarette smoke in your car leaves behind a smoke smell, mold growing in your automobile leaves an unfortunate musty aroma. Avoiding excess moisture from becoming trapped inside your vehicle is a simple way to prevent a mold smell.
While some moisture is inevitable, being conscious of keeping your car interior dry may help slow mold growth. Don't panic if you already have a mildew smell in the car. Choose from a number of straightforward solutions to get rid of the smell of mold and make riding in your vehicle comfortable again.
How to Get a Mildew Smell Out of the Car with Detailing
Detailing your cars interior is a great place to start when you notice that your car smells moldy or musty. Car upholstery and carpet are often subject to accidental spills, crumbs, and rain coming in through the windows. Old food and moisture build up and create an environment for mold to thrive.
A thorough detailing removes mold at the source to reduce the musty odor. When getting mold and mildew out of leather car seats or another material, vacuum, wipe, and shampoo all surfaces in a deep cleaning. Consider following up with another method from this list to ensure the smell of mold is a thing of the past.
Baking Soda Eliminates Mildew Smell in the Car
Baking soda is an odor absorber in many situations and takes in the musty odor of mold and mildew or for getting cigarette smell out of the car to leave your vehicle smelling clean. Sprinkle baking soda over the interior surface of your car.
Spread a fine coat over the seats, carpets, and under the floor mats and leave it there for at least eight hours, ideally 24, while the baking soda particles draw in the odors. Clean up the baking soda and the stench it has absorbed with a vacuum or brush.
How to Remove the Mildew Smell from a Car with Steam Cleaning
Steam cleaning is one of the best methods for cleaning interior automobile fabrics and surfaces and sanitizing the air. Every inch of your vehicle cabin is thoroughly cleaned and disinfected by steam cleaners, which blast away unwanted tiny particles like pollen, mildew, other molds, germs, and viruses.
The heat used in steam cleaning destroys mold spores, which gets rid of the smell they produce. In addition to cleaning the surfaces inside your automobile, steam cleaners sterilize and leave them smelling clean.
If you can borrow or purchase a steam cleaner, go over your car upholstery and carpet thoroughly to destroy mold and remove undesirable smells.
Try White Vinegar for Getting the Mildew Smell Out of a Car
Distilled white vinegar is widely available, non-toxic, and adept at breaking down an array of odors. White vinegar works efficiently to eradicate unwanted smells from fabric and hard surfaces thanks to its acetic acid content. Make an excellent homemade cleaner for your car interior with distilled white vinegar.
To avoid fading or wear on your upholstery and car carpet, dilute distilled white vinegar before applying it and deodorizing your car interior. Mix this effortless deodorizing spray using white vinegar, and test a small area before applying it throughout your car.
To easily make your own DIY odor eliminator spray, carefully pour the vinegar solution into a spray canister and spritz your car's interior surfaces. White vinegar is a potent odor destroyer and removes the musty smell from fabric upholstery and hard surfaces like your dashboard and consoles.
Air out your car after spraying to remove the vinegar smell, or consider adding a few drops of your preferred essential oils blend to the spray for a more pleasing scent.
Vinegar is the perfect addition to a cleaner that will clean puke out of a car seat, as well as other types of stains. Add a little baking soda for even more stain-destroying power.
Activated Charcoal for Removing Mildew Smells from a Car
Activated charcoal is widely used to absorb unwanted liquids and smells. Many filters contain activated charcoal, and its capacity to take in odors is almost unparalleled, thanks to its enormous surface area. A small amount of this black powder is effective for up to a month and will remove even the heaviest odors.
To use activated charcoal to freshen up your car, place half a cup of the powder in one of the drink holders or along the edge of the dash. Choose a place where the powder won't be a bother yet is still easy to sweep or vacuum when it's time to renew it.
Air Freshener Helps When Your Car Smells Like Mildew
A bad smell in your car is embarrassing and makes you seem unhygienic. If you discover a musty or mildew smell and don't have time for a more in-depth treatment, an air freshener helps mask the odor for a short time until you remove the cause. Many grocery stores and home stores have spray air fresheners available.
Focus on applying it to fabric surfaces such as the seats and carpet until the mildew smell is undetectable. Alternatively, pick up an auto air freshener from the auto parts store and use it per the label to provide a pleasant aroma to cover a musty fragrance.
Eliminate Mildew Odor from the Air Conditioner in Your Vehicle
Noticing an unpleasant smell coming out of your car AC is distressing. Cleaning your air conditioning system as part of regular car maintenance helps reduce the likelihood of a bad smell coming from the vents.
If you already have a mold smell when you turn on the air conditioner, it's straightforward to clean mold spores out of the system in a few simple steps. For the way to get mold out of a car, start the engine, turn the interior fan on a low setting, and roll down all the windows for the best ventilation.
Begin by removing the cabin air filter per your vehicle manual. Locate the small vented box at the base of your windshield close to the wipers. This box is called the plenum and links into your car's AC system.
Use a spray aerosol disinfectant like Lysol or a specialized air conditioner disinfectant from your local auto parts store and spray into both sides of the plenum.
The fan pulls the disinfectant into the system, destroying any bacteria and mold spores inside to remove the musty smell. Turn off the engine after several minutes but keep the windows open to allow your car to air out.
Coffee Grounds are a Car Odor Eliminator
If you drink coffee in the morning, you already have an ideal car deodorizer. Coffee grounds smell incredible and soak up unpleasant smells and excess moisture in the air.
While coffee grounds smell rich and appealing, their scent fades, reaching their absorptive capacity quickly. Change out your coffee grounds every two weeks to maintain the fragrance. Use a little bowl or a small chiffon bag for packaging half a cup of coffee grounds and set or hang in your car.
Fresh Air Aids in Mildew Smell Removal
When you have a terrible car smell and no tools or supplies, fresh air minimizes some of the stench and makes traveling in your vehicle more enjoyable. Opening your car maximizes airflow, allowing moisture and off-putting odors to escape.
Always check the weather forecast and your surroundings before making an informed decision before leaving your car windows or doors open. For best results, set your car in a secure location and open all the doors, including the trunk. Fresh air flowing into your vehicle carries moisture from your car's interior and flushes out the smell.
A musty mildew smell in your car makes trips unpleasant and is often embarrassing if you have passengers. Despite the best efforts, car interiors can be challenging to keep clean, and the enclosed airtight space of the cab creates an ideal environment for mold.
Luckily, it's easy to learn how to remove the mildew smell from a car, and there are several methods to choose from. Use the items you have available and rid your vehicle of the musty odor using some of these clever tips.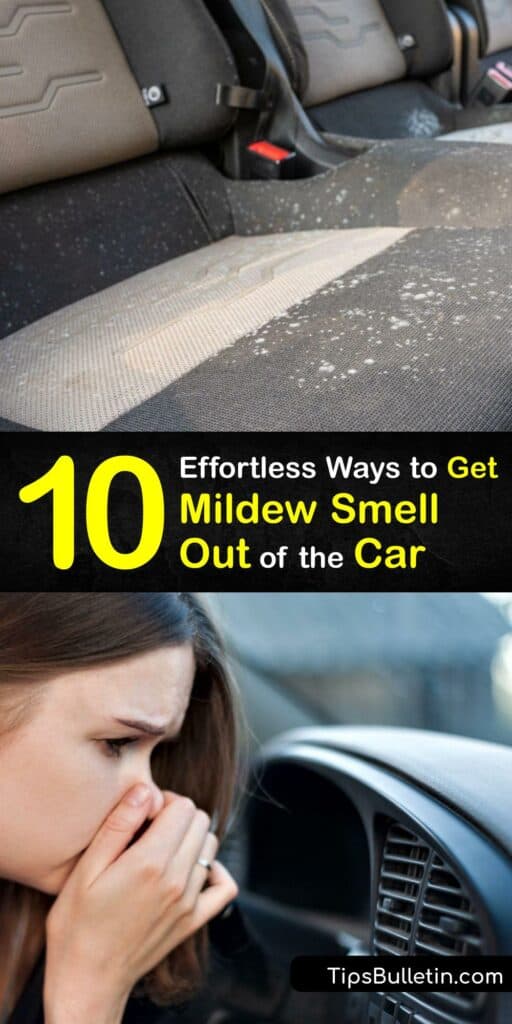 If you loved this article on how to get a mildew smell out of the car, please share these brilliant tips for removing mildew smell in the car with your friends and family on Pinterest and Facebook.