If you've suffered water damage or are moving into an old house, you probably need to know how to get a mold smell out of the carpet. A moldy carpet smell is overpowering and makes your residence an unpleasant place. No matter how carefully you arrange furniture and decorate, a musty smell brings down your space and causes it to seem unclean.
While carpet is a stylish addition to most places, after it gets wet, it becomes a headache. Carpets and carpet padding are excellent places to harbor dirt, pet dander, odor-causing bacteria, and mold.
Since carpet is widespread in most residences and receives so much traffic daily, it is prone to developing an odor. Use uncomplicated techniques to oust the musty odor and get smelly carpet clean. Learning how to remove a moldy smell from the carpet helps keep your home smelling fresh and ensures your carpet is sanitary.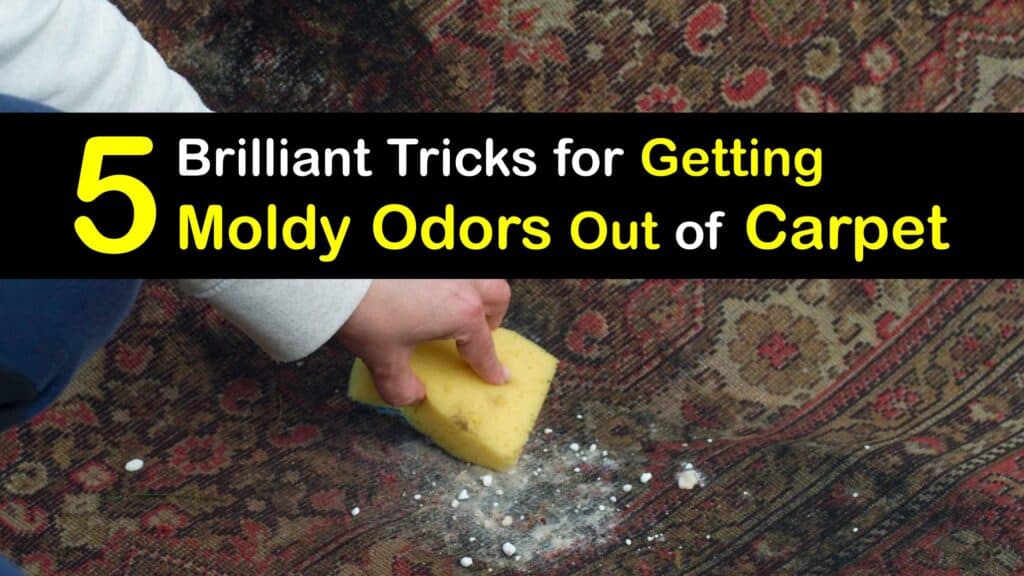 How to Remove a Moldy Smell from the Carpet
It serves every homeowner to understand how to get a mold smell out of the carpet. Nothing makes a space more uninviting than a moldy carpet smell.
Though there are many causes of a moldy carpet smell, and the circumstances leading up to the bad smell might be complicated, cleaning it doesn't have to be. Use proven ways to get the mildew smell out of the carpet and freshen up your house.
What Causes a Wet Carpet Smell?
One of the biggest causes of a musty and mildew smell from the carpet is mold. Excess moisture trapped inside the carpet fibers or carpet padding due to humidity, leaks, or water spills encourages black mold growth and mildew.
A wet carpet smell might occur for several other reasons. Mold spores make their way into the air, causing the smell and indicating mold remediation is required. Some mass-produced, low-quality imported carpets give off scents when they come into contact with water.
Accidental liquid spills of milk, wine, and soft drinks leave stains and foul smells that worsen with time. Additionally, pet waste such as urine, vomit, and fur contain odor-causing bacteria.
You will also want to check your carpet for other types of stains or burn marks; these imperfections can also cause an odor. Follow our ways to get a burn mark out of carpet to keep your rugs and carpets looking and smelling new.
Getting a Moldy Smell Out of the Carpet Using White Vinegar
Distilled white vinegar is a clever way to clean mold off your carpet or area rug and oust the accompanying smell. The acetic acid in the vinegar quickly destroys mold spores to prevent them from releasing more odor. It will get rid of carpet mold. You may need to scrub with a soft brush to remove mold deep in carpet fibers.
Shake the vinegar and water to make this natural carpet deodorizer spray and spritz over your moldy carpet. Lightly mist the carpet rather than soaking or saturating it, which could lead to excess moisture and mold growth. Open a window to ventilate the room, and let the vinegar mix dry on your carpet.
How to Get a Mold Smell Out of the Carpet
Baking soda powder is featured in many remedies for cleaning and deodorizing the toughest stains and odors. If you're on a budget or have limited tools to tackle your wet carpet odor, head to your pantry and grab the baking soda.
Though this white powder is often used for baking, it's a potent odor eliminator to help with your moldy carpet smell. Sprinkle the baking soda over the problematic carpet or rug, starting at one side and working back, leaving a thin powder covering over as much of the carpet as possible.
Let the baking soda sit on your carpeting overnight so the powder removes the damp smell, and vacuum it up in the morning. If a musty scent lingers, reapply the baking soda the following night and repeat the cleaning.
Steam Cleaning Removes a Moldy Carpet Smell
Steam cleaning is usually considered for upholstery cleaning, yet it's an efficient method for carpet mold removal, whether you have black mold in car carpet or your dining room. Stain cleaning your carpet addresses the mold problem in two ways.
The steam penetrates through the carpet fibers into the carpet padding to remove odorous buildup, while the heat from the steam destroys any bacteria and mold spores to sanitize the area.
For families battling allergies or odor sensitivities, steam cleaning is ideal for deep cleaning or spot cleaning carpets. The resultant water vapor has no smell and is an efficient technique to remove dirt and bacteria that cause other unpleasant odors.
Steam cleaning does not inject chemicals into the carpet fibers like with sprays. When carpets have been ignored for a while, like in an old cottage or after significant water damage, steam cleaning is a simple way to restore their appearance.
Removing a Mold Smell from Your Carpet
A carpet cleaner is a simple answer to odor issues caused by a carpet or area rug. If you don't have a carpet cleaner, borrow one or reach out to one of your local carpet cleaning services to rent a machine or have them perform the cleaning.
A carpet cleaner works a specialized carpet shampoo detergent deep into carpet fibres to wash away odorous particles like mold spores, bacteria, food, and pet residue. Choose a carpet shampoo for mold control and odor removal for heavy musty, or mildew odors.
Use the carpet cleaner according to the directions, and dry your carpet completely to avoid causing future issues with mold. Use a dehumidifier after cleaning to remove all traces of moisture, and leave the windows open to ventilate the space until the flooring is thoroughly dry.
Prevent mold growth by allowing fresh air into your home, carefully cleaning water damage, and performing regular air duct cleaning. Once you know how to remove a moldy smell from the carpet, it's easy to keep carpets clean and smelling their best.
If you loved this helpful article on how to get a mold smell out of the carpet, please share these brilliant tricks to get rid of a moldy carpet smell with your homeowner friends and family on Pinterest and Facebook.