Due to how often we use our towels, it's no surprise that eventually, they stop smelling fresh. If your towels develop a mold smell, the cause is likely mildew or other pathogens in your towel's fibers. Learn how to get a musty smell out of towels using home remedies to restore freshness.
The mildew smell in towels is similar to the odor that old mop heads and kitchen sponges develop after use. The musty odor from wet towels and other cleaning items comes from odor-causing bacteria and fungus growing in the fibers. Warmth and moisture are two factors required for bacteria to grow. After using a bath towel, unless adequately dried, the moisture in the towel allows bacteria to grow and develop a sour smell.
Leaving used towels balled up in the hamper is one way that damp towels develop bacteria. Towels also develop a mildew odor when they remain wet after coming out of the washing machine. If towels still smell musty after coming out of the dryer, they may require a more thorough cleaning to eliminate towel odor.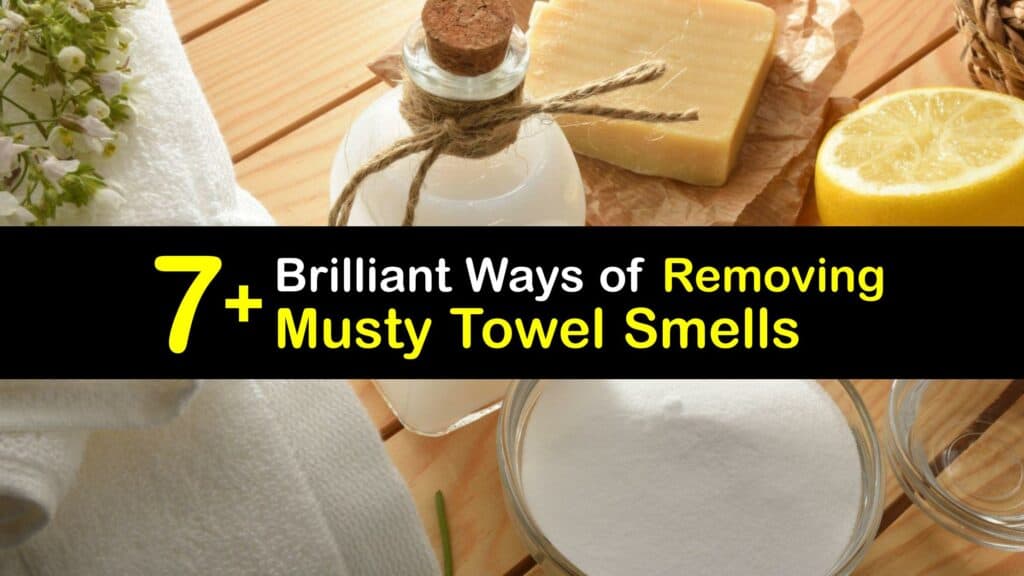 How to Remove a Musty Smell from Towels
Even though we wash towels regularly, bacteria become locked inside the fibers. This same bacteria ends up on our bodies after a shower, resulting in a less than clean feeling. Continue reading for laundry tips on how to clean towels to remove unwanted odors.
Wash Towels with Vinegar
White vinegar is a versatile item in the kitchen used for cooking, cleaning, and even weed control. Distilled white vinegar comes from supplying oxygen to grain alcohol, resulting in an acidic byproduct that helps neutralize odors caused by bacteria.
To clean stinky towels, wash your towels in hot water with your regular detergent and add eight ounces of white vinegar to the fabric softener compartment of your washer during the final rinse.
Using Baking Soda in the Laundry for Smelly Towels
Most odors are acidic, and the key to eliminating them comes from neutralizing this acidic pH. The base chemicals in baking soda make it perfect for neutralizing odors in the refrigerator and the laundry.
If your towels still smell like mildew after washing, run the musty towels through the washing machine again. Skip laundry detergent or softener in the laundry and use one-half cup of baking soda to help clean your towels.
How to Get a Musty Smell Out of Towels with Bleach
Chlorine bleach is an effective tool for cleaning white towels if you're struggling with musty smelling towels. Chlorine bleach kills the source of foul odors around the home, and using liquid bleach with your white laundry helps eliminate lingering odors in your washer drum.
Because bleach fades and discolors most fabrics, test bleach on a small towel area to look for a color change. If bleach is safe, use three-fourths of a cup in your regular washing cycle with laundry detergent.
Fight Odors with Lemon Juice
The acidity of lemon juice makes it great for cleaning, but the acid in the juice helps kill bacteria. If your towels smell musty after washing, eliminating the bacteria in towel fibers is the best way to remove a bad smell from towels and sheets. Lemon will leave a fresh scent and eliminate any musty bacteria.
Using lemon juice is an excellent way to leave your laundry smelling fresh through natural methods. Add a cup of lemon juice to your washing machine for a normal cycle, or treat your towel with diluted lemon juice.
Fill a bottle with warm water and lemon juice. Spray your bath towels until they are damp. Lay your towel out flat to dry in the sun.
How to Use Borax to Remove Towel Odors
Borax is a compound available in powder form for use around the home for cleaning jobs and in the garden as a type of pesticide. Borax is available in most stores as a laundry product to remove stains and odors from your clothes and works well with larger bulky items.
The best practice for getting musty smells out of towels is to soak your towels in a mixture of water and Borax. Fill your bathtub with hot water and mix in half a cup of Borax. Once the Borax dissolves, add your towels to the tub and leave them to soak for at least an hour. Wash your towels as usual.
A Borax and water solution can also be used to remove odors around the house. A musty smell in the bathroom can be fixed with a cleaner like Borax that kills the bacteria in the air or on surfaces.
Freshen Musty Smelling Towels
After your regular wash and dry cycle, throwing them back into the dryer helps freshen the cotton fabric if your towels. Place them alone in the dryer with additional dryer sheets. Include an aromatic sachet to boost towel freshness.
Muslin bags are small drawstring bags that freshen your laundry when filled with aromatic ingredients. Use rose petals or dried lavender buds to help eliminate unpleasant odors in your towels.
Using Essential Oils to Eliminate Musty Towel Odor
Commercial fabric fresheners advertise as the perfect solution to get rid of bad smells in furniture, clothing, and other fabrics. The problem with commercial fresheners is that they often only mask foul odors without getting rid of them.
Spraying fabric fresheners on clean towels may also result in skin irritation if you use a sprayed towel on your face.
Essential oils are a favorite tool for many who enjoy cleaning using natural ingredients. These oils, extracted from plants, leave a fresh smell after using them. Combine essential oils with water to deodorize the mildew smell off clothing and towels with a powerful spray.
Add essential oil drops into a spray bottle of water to treat smelly towels. Potent essential oils, like lemon and lavender, are the best to remove a musty smell from towels.
Properly Dry Towels to Avoid Musty Smells
Dry towels well after washing to prevent lingering bacteria from growing. The dryer is the fastest way to dry towels and clothes; however, line drying leaves your towels smelling fresher. Once dry, place your towels in the dryer with wool dryer balls to make your towels soft and smell fresh.
Tips to Avoid Musty Smelling Towels
Towels start to smell musty at any time of the year, but humidity in summer causes towels to develop mildew faster. Washing and caring for towels properly is the best way to avoid your towels smelling musty.
Bacteria thrives in your towels if you don't allow your bath towels to dry out properly after using them. The surefire way to end up with smelly towels is to leave them balled up on the floor or in your laundry hamper while wet. Hang them off a bar flat after every use.
Invest in a batch of microfiber towels to avoid smelly towels. Microfiber towels dry faster than cotton, making it hard for bacteria to grow. Microfiber towels are also extremely durable and handle thousands of washes before they begin to lose their effectiveness.
Cleaning Your Washing Machine to Avoid Smelly Towels
Though your washing machine cleans your clothes, the inside of your machine gets dirty and requires regular cleaning to prevent your clothes and towels from smelling. Before cleaning your washing machine, reference your manufacturer's instructions to avoid damaging your washing machine or voiding the warranty.
Select the hottest water and the longest wash cycle to set your washer up for cleaning. As water fills your machine, pour in one quart of white vinegar. Allow the rest of the wash cycle to run as usual.
Wipe the inside of the washer drum with a microfiber cloth to remove any remaining vinegar. Whenever your wash cycle ends after a load of laundry, leave the lid of the washer open to help reduce the moist conditions where bacteria and mildew thrive.
It feels discouraging to continue washing towels if they smell like they were never clean each time you remove them from the dryer. Using towels full of bacteria causes skin breakouts and rashes with continued use.
With home remedies and natural resources, boost the power of your laundry detergent to eliminate musty towel odor. Using good laundry practices and our cleaning tips can help you wipe out bad smells from your laundry.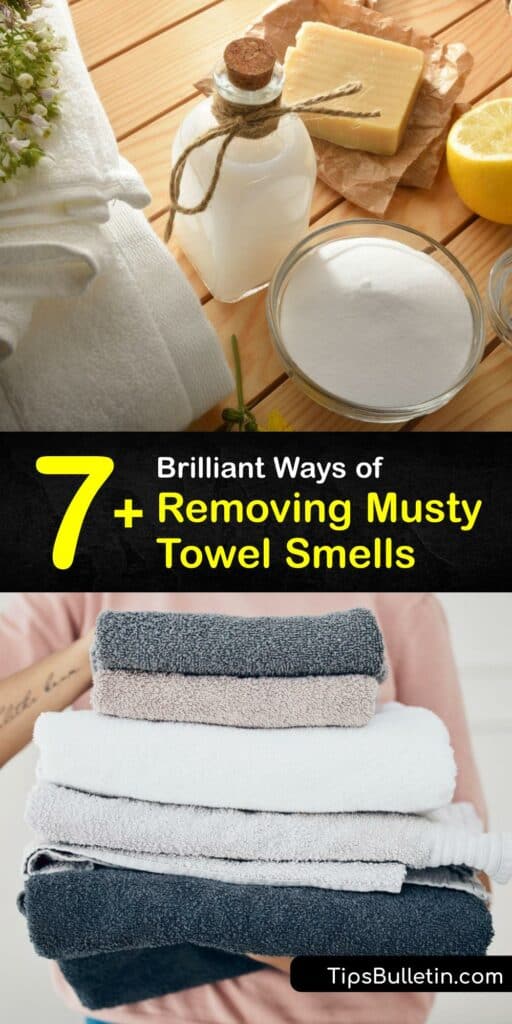 We hope you learned how to get a musty smell out of towels with our guidance and will share our tips for cleaning musty towels with your friends and family on Facebook and Pinterest.