If you're ready for a new look, it's time to learn how to get a sticker off a mirror. Stickers are a fun and temporary way to add accents and style your space to your personality. Whether your interest changes or you're ready to redecorate, getting a sticker off a mirror is usually more complicated than applying it.
Stickers are sheets of glossy paper with a thin layer of strong adhesive backing. When the backing paper is removed and stickers are pressed to a glass surface like a window or mirror, the glue bonds tightly to the glass.
After stickers peel, they often leave behind gunky, sticky glue residue, making a mirror dirty. Explore clever methods on how to remove a sticker from a mirror to ensure your glass isn't streaky and caked in an adhesive. Skip toxic chemical solvents and use a homemade adhesive remover with products from around the house to restore your mirror's lovely shine.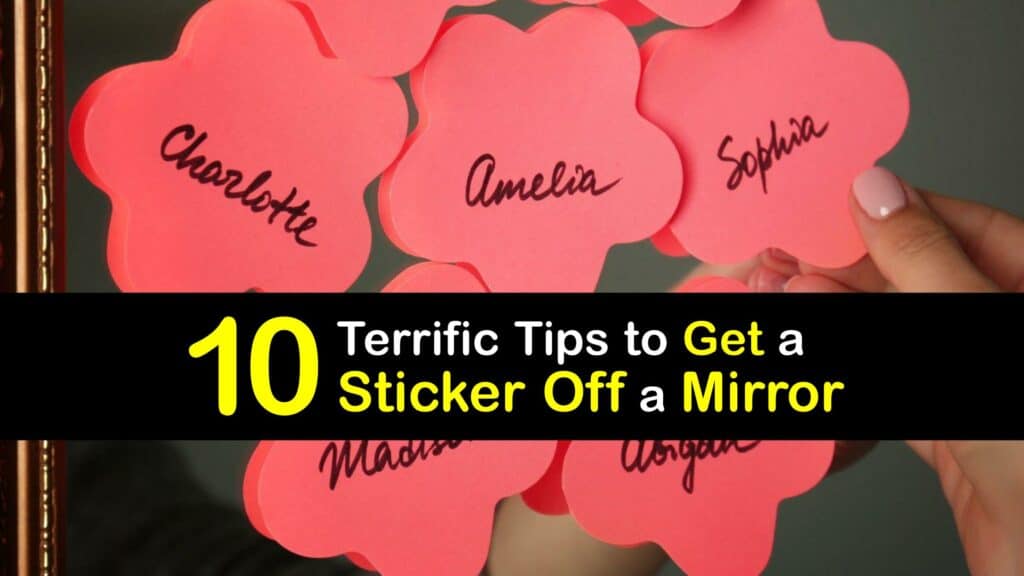 How I Get a Sticker off My Mirror
Stickers are a fun and low-cost embellishment to bring life to a room, yet getting a sticker off a mirror is sometimes challenging. If you have kids or like to use decals to express yourself, it's wise to know how to get a sticker off a mirror. When sticker removal is tricky, use uncomplicated techniques to eliminate adhesive residue without harming mirror glass.
Can I Get Stickers Off My Mirror?
If you decide to take down a mirror sticker and peel it up to find glue excess, you wonder if it will ever come off. Regular glass cleaner is usually not potent enough to eliminate persistent stickiness, and excessive scratching and scraping might damage the mirror glass. Fortunately, removing a sticker and adhesive with some knowledge and the correct supplies is possible.
How I Get a Sticker off a Mirror
Acetone, a chemical in regular nail polish remover, is a strong solvent used for numerous purposes. Acetone dissolves adhesive and tacky stains on a mirror or a screen, making them easy to wipe away. Get sticker residue off a computer screen easily with nail polish remover.
If you have acetone nail polish remover in your cosmetic kit, you already have a potent sticker remover. When purchasing nail polish remover, look for an acetone-based liquid with as few additives as possible.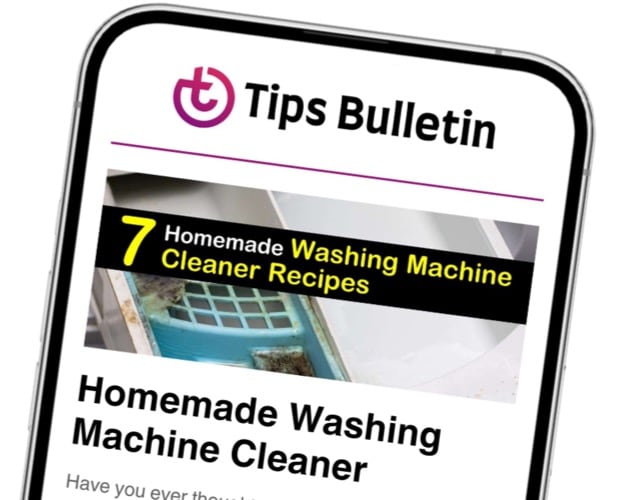 Finally, an email that Transforms Your Home.
Get the latest home and garden tips from our experts, delivered straight to your inbox.
Use a paper towel or clean cotton ball dipped in nail polish remover to massage over the gooey regions until all of the adhesive residue is gone. Put the old cotton pad in the trash, use a damp towel to remove any remaining acetone from the glass, and let the mirror air dry.
My
White Vinegar Eliminates Stubborn Glue
Distilled white vinegar contains acetic acid, making it a valuable tool for dissolving adhesive on your mirror. Remove vinyl decals from a wall mirror or a sticker from a hand-held one.
Though it's most often used for cooking and pickling, white vinegar features in multiple cleaning protocols thanks to its stain-removal ability.
Use a cloth to soak the sticker adhesive in warm, not boiling, vinegar after it heats in the pan. Rub it over the adhesive so it's soaked. Peel away the residue after the vinegar has rested on it for a couple of minutes, and wipe your mirror with a clean, damp towel. White vinegar is safe and won't compromise the integrity of mirror glass.
Getting My Stickers Off Mirrors Using Rubbing Alcohol
Rubbing alcohol is a mild solvent, making it perfect for eliminating a bumper sticker or decal from your mirror. Thanks to its solvent properties, rubbing alcohol disintegrates the bonds holding the glue to the glass, so it wipes away readily.
Rubbing alcohol is often found in first aid kits, but if you don't have any, a high alcohol volume liquor, such as vodka, works the same way.
Soak a paper towel or soft cloth in rubbing alcohol and pat the sticker to saturate it. Let the alcohol rest on the glue for two to three minutes to loosen the bonds. It takes off sticker residue so you can wipe it away. If there's remaining residue, use a plastic scraper to work the adhesive loose. Clean the spot with warm water and finish with a glass cleaner to polish.
Removing a Sticker from My Mirror with Peanut Butter
Adhesives, including mirror stickers, are oil-based – extra oil dilutes them. Peanut butter contains a lot of fats. As peanut butter is applied to the adhesive, it floods the bonds. It causes the glue particles to become so scattered they lose their grip and are simple to extract.
Quickly remove a sticker from your mirror with peanut butter without using special tools or toxic solvents.
Smear peanut butter on a paper towel and rub it into the stain. Let the peanut butter sit on the glue stains for at least 20 minutes and clean with a damp cloth. Repeat until your mirror is clean and free of adhesive.
Use this remedy (or another type of oil) to remove sticky residue from a plastic mirror frame. The gunk should wipe right off.
Removing Sticker Residue from My Mirror

s

Using your hair dryer is a clever way to remove sticker residue from mirrors without affecting the glass. The residue becomes malleable and mushy due to heat breaking down the bonds attaching the adhesive molecules to the mirror. The same applies when you need to clean crazy glue from a mirror or other surface.

Hold the appliance at least six inches from the glass, and heat the glue using your hair dryer's highest heat setting. Check if the connection is loose with a flexible plastic scraper or razor blade every couple of minutes. When the bond is soft, scrape it off the glass with the edge and throw the sticky stuff away. If you don't have a hair dryer use a heat gun instead.
Cleaning Adhesive Using Lighter Fluid
Lighter fluid is an unconventional means of lifting glue off a mirror. Since the lighter fluid is highly flammable and synthetic, this approach is best as a final resort.
Put on a pair of gloves before working with lighter fluid to protect your skin. Dampen a paper towel in the lighter fluid and scrub at the adhesive until it comes off. Wipe the spot with warm water and a cloth and leave to dry.
Baking Soda Cleans Sticky Stuff off My Mirror
Baking soda is a multipurpose stain remover found in almost every American pantry. If you're tackling sticky residue on your mirror, craft a paste from baking soda and water to help. Mixing a powerful DIY mirror cleaner recipe with these simple ingredients is easy. The paste goes on without smearing and neutralizes the glue from the sticker.
Stir the baking soda powder and water together to create a thick paste that sticks to the back of the spoon. Apply a generous layer of baking soda paste to the sticker with a soft cloth like a microfiber towel. Leave it to rest for 30 minutes. Clear away the baking soda and remaining adhesive with a damp rag and glass cleaner to polish your mirror.
Removing Sticker Adhesive and Dried Glue from My Mirror
Dish soap is a convenient cleaner for tacky marks. Since it's intended to break down heavy staining and dried grease from food, it makes quick work of glue leftovers. Blend any liquid dish soap and water to create an uncomplicated but effective adhesive remover.
Shake the liquid soap and water and spray on the adhesive remnants. Let the soapy mixture rest on the glue for a few minutes, and use a dull knife to scrape it off. Washing soda is a viable alternative to liquid dish soap.
The Right Commercial Product Cleans My Stubborn Sticker Marks
If you prefer store-bought products, head to your local home or hardware store and look for an adhesive remover like Goo Gone. Commercial glue removers typically use harsh chemical solvents to degrade the bonds in the glue to make it straightforward to remove.
If you use a store-bought solvent, read the directions and safety warnings carefully. Use the treatment following the guidelines to ensure the best results.
Discover how to remove a sticker from a mirror without stress. Regular window cleaner is usually unsuitable for removing tacky adhesives from mirrors. If you try to lift a sticker from your mirror and leave an unsightly mark, use home remedies to make the removal process a breeze.
Skip the toxic substances and harsh solvents and rely on everyday items to eradicate the sticker from your mirror without scuffing, scratching, or warping.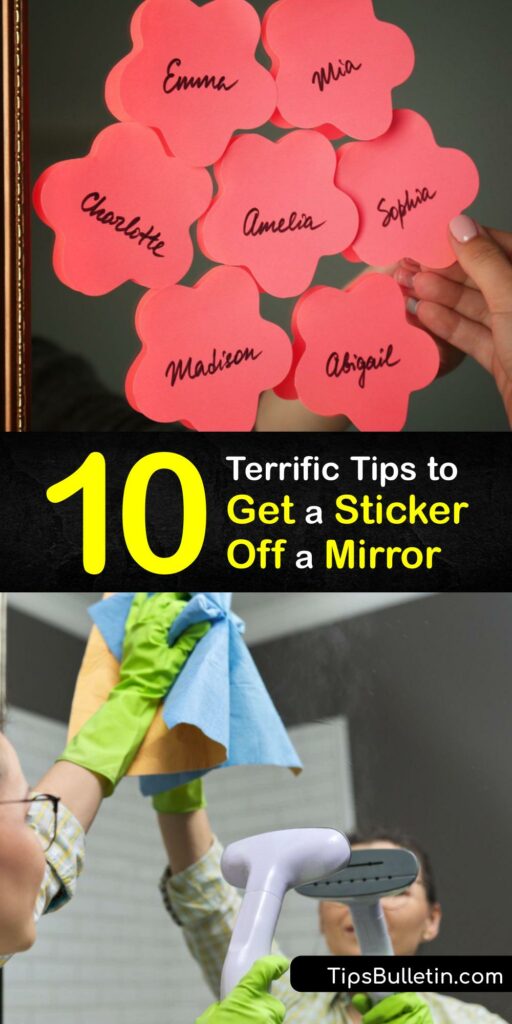 If you loved this illuminating article on how to get a sticker off a mirror, please share this insight with your friends and family who may need support in getting a sticker off a mirror on Pinterest and Facebook.