Acrylic paint is used on various surfaces, including canvases, wood, metal, and ceramics. Based on acrylic paints' chemical structure, they are quite challenging to get out of fabrics and carpeted surfaces. However, learning how to get acrylic paint out of carpet is not impossible.
Removing the paint is accomplished with everyday household products when used correctly. Such products include dish soap, white vinegar, rubbing alcohol, and other inexpensive alternatives.
We show you various DIY cleaning solutions to remove dried acrylic paint stains from your carpet fibers quickly. These unique methods provide several ways to get wet or dried paint out of your carpeted rooms after a paint spill.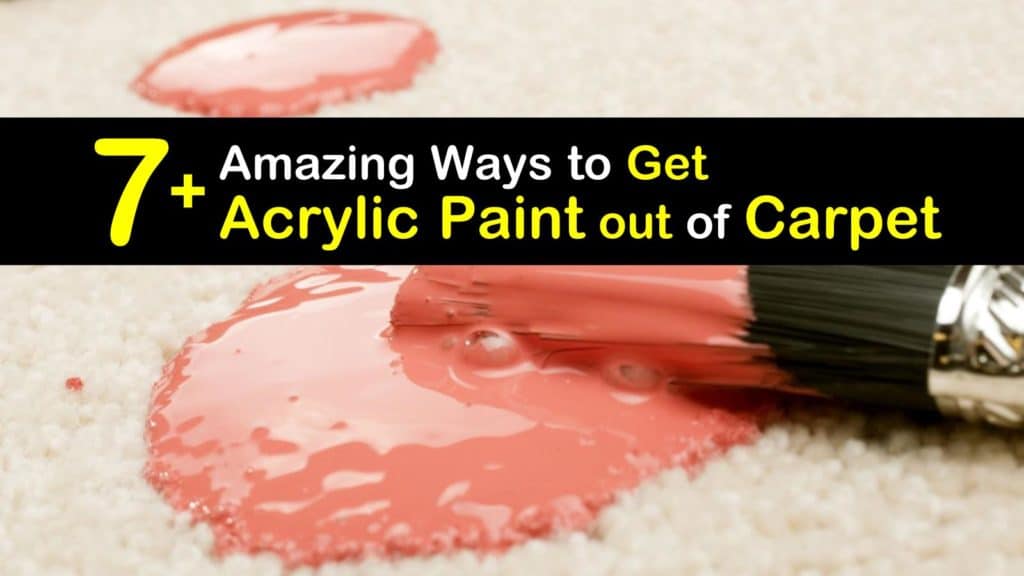 Household Products Remove Acrylic Paint from Carpeting
A common misconception in cleaning acrylic paint is that you need to pay for a professional carpet cleaning to get dry paint out of carpet fibers.
However, we prove that you can find the DIY cleaning solution that works best for you through the correct use of essential cleaning products. A DIY carpet cleaner saves you money while repurposing standard items that remove carpet stains.
Before learning how to remove acrylic paint from a carpet, it is essential that you correctly identify the type of paint that has stained your carpeting. Acrylic paint is a chemical-based paint, so it is more difficult to remove a paint stain from fabrics or carpeting.
On the other hand, latex paint is water-based. Water-based paints are far easier to clean. Acrylic paint needs a cleaning product that thins the chemicals, so you can remove dried acrylic paint from carpet with ease.
Learning How to Get Acrylic Paint Out of Carpet with Dish Soap
If the acrylic paint is still wet or you need to get water based paint out of carpet, use liquid soap and warm water to clean the affected area. Dish soaps like Dawn are excellent for cleaning acrylic paint from the carpet.
The ingredients in the soap eat away at oil and grease. Because acrylic paints are chemical-based, dish soap easily dissolves the paint and makes it simple to remove spray paint from clothes, fabric, or carpeting in the house.
To get spray paint out of carpet or to eliminate a spill, start by mixing warm water and the dishwashing detergent in a plastic spray bottle. Shake the bottle gently to mix the ingredients. Begin the cleaning by using dry paper towels to blot as much of the wet paint currently sitting on top of the carpet.
Spray the affected area until it is damp and blot the paint stain with a dry paper towel until the area is completely clean. It may take a few sheets of paper towel to remove the stain entirely.
Remove Acrylic Paint from Carpet with Vinegar
Creating a DIY vinegar solution is a fantastic way to remove dried acrylic paint from carpet or get slime out of carpet and only requires two ingredients. This technique is also beneficial because it cleans paint stains found on hard surfaces, like your countertop.
Vinegar is an acidic liquid that dissolves dirt, grease, grime, and paint effortlessly. Additionally, it is great for the environment because it does not release any toxic chemicals or fumes.
Learning how to remove acrylic paint from carpet and hardtop surfaces is quite simple. In a spray bottle, pour one part white vinegar and ten parts warm water before gently shaking the bottle.
Spray your vinegar solution on the affected area and continue blotting with a dry cloth until most of the stain is removed.
Finish the process by blotting the paint stain with a paper towel dampened with cold water. Continue repeating these steps until the stain is completely gone.
As a bonus, after painting, clean acrylic paint brushes with vinegar, too. It's an inexpensive item that is handy all around the house.
Remove Dried Acrylic Paint from Carpet with Rubbing Alcohol
If you have a sizeable dried paint stain, using rubbing alcohol is one of the most effective ways to eliminate acrylic paint. Rubbing alcohol transforms dried paint into a liquid again. After the acrylic paint is liquified, it is much easier to remove the stain.
If you need to know how to get acrylic paint out of carpet after it has dried, rubbing alcohol is the best cleaning product. Begin by picking away pieces of the dried paint from the carpet with a putty knife and needle-nose pliers.
These tools provide a straightforward approach to get rid of as many of the dried pieces as possible. Removing dry paint before using rubbing alcohol also makes the cleaning process more straightforward.
To remove dry paint from carpet, soak a dry cloth in rubbing alcohol and dab the affected area. Let the solvent sit for 20 minutes before using a dry cloth to blot and soak up the remaining rubbing alcohol.
Remove Old Paint Stains with Glycerin
Glycerin is often used for skin care. However, it is quite useful to remove dried acrylic paint from carpet. The ingredients in glycerin soften the paint stains that have set in.
Using glycerin is a great cleaning product to remove an old paint stain on upholstery or an inconspicuous area. Chip away as much of the dried paint as you can with a putty knife and remove the flakes with a dry vacuum.
Moisten a cloth with liquid glycerin and blot the affected area until the entire surface is damp. Only blot the stain, as scrubbing spreads the stain to other areas of your carpet. To remove acrylic paint from carpet sitting for an extended period, glycerin works perfectly.
Remove Wet Acrylic Paint with Acetone
Understanding how to get acrylic paint out of carpet with acetone is simple. Acetone, or nail polish remover, thins paint and makes it easy to remove a paint stain from carpeting.
This cleaning solution is also great because it works effectively on both acrylic and latex paint. Additionally, acetone removes paint stains on a wide variety of surfaces.
Soak a few cotton balls or a paper towel with nail polish remover and blot the surface until the entire affected area is damp.
Let the solvent sit for five minutes before blotting it up with a dry cloth. Finish up the cleaning process by blotting the area with a paper towel damp with hot water.
How to Remove Acrylic Paint with Hydrogen Peroxide
Hydrogen peroxide is a great product that cleans a variety of surfaces around the home. Hydrogen peroxide is a solution used to remove acrylic paint from carpet. A DIY carpet cleaner saves you time and money.
We recommend only using this technique on light-colored carpeting because hydrogen peroxide might bleach your carpet. This cleaner is made up of oxidizing agents that dissolve paint stains on your carpet.
Blot the paint with a cotton ball soaked in hydrogen peroxide. Wet a paper towel and immediately dab the paint stain until it is removed. You may have to repeat the steps a couple of times to get the entire stain out of the carpeting.
If you need to remove dried acrylic paint from carpet and are short cleaning supplies, hydrogen peroxide is an inexpensive alternative.
Eliminate Dried Paint with Goo Gone
Easily clean acrylic paint from carpet with Goo Gone – a solution specially designed to remove sticky residue and stains from nearly every surface in your home. Using Goo Gone before scraping off dried paint makes it much easier to remove.
Spray Goo Gone on the affected area and let the solvent sit for 15 minutes. Scrape away as much of the dried paint as possible with a putty knife.
Pour dishwashing detergent and hot water into a spray bottle and wet the area with the solution—dab with a dry rag to absorb as much of the dish soap as you can.
How to Remove Latex Paint from Carpeting
Although getting rid of a latex paint stain on carpeting is more manageable than an acrylic paint stain, there are still correct steps you must take to remove the whole stain. Latex paint is water-based and is best cleaned with water and vinegar.
If the latex paint is dried onto the surface, scrape as much of it off as you can using needle-nose pliers. Vacuum the area with a wet/dry vacuum to suck up as many loose pieces.
Mix 32 ounces of water with one teaspoon of vinegar in a spray bottle and spray the spot. We recommend using an old toothbrush to work the solution into the carpet before blotting the stain with a dry paper towel.
There are several methods to remove acrylic paint from carpet and other fabric materials. Thankfully, standard household products like vinegar or nail polish remover get rid of dried paint stains while allowing you to repurpose an everyday cleaning solution.
You may find that, after you clean up paint stains, that you have a brighter carpet area. This is the perfect time to clean carpet without a machine and get the entire room back to normal again.
Make your own homemade carpet cleaner solution with simple ingredients you likely already have in the house.
Acrylic paints are chemical-based and are challenging to get out of carpeted surfaces if the correct cleaning methods are ignored. However, cleaning paint stains is simple when utilizing active cleaning agents.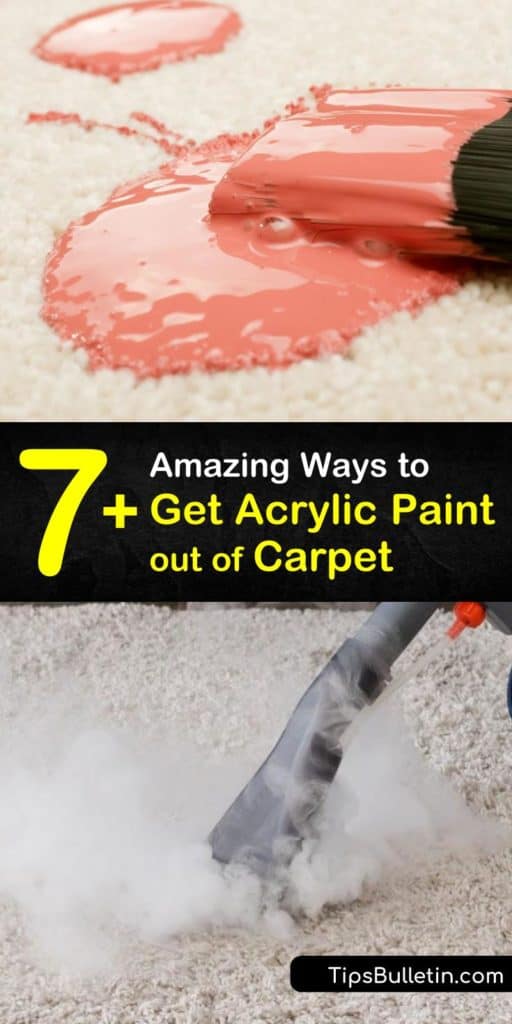 If these tips and tricks showed you how to get acrylic paint out of carpet, share this article with tips for removing dried acrylic paint stains with your family and friends on Pinterest and Facebook.