Ants are tricky and persistent pests, and it doesn't take long before you feel outnumbered in your own home. Discover how to get ants out of your walls and keep them away with our in-depth pest-fighting guide.
Ants are one of the world's most widely recognized wall-dwelling pests; thousands of species exist. Common ants to look for in your walls are the carpenter ant, Pharaoh ant, and odorous house ant. It's not uncommon to come across sugar ants, pavement ants, ghost ants, and Argentine ants, too.
Like all creatures, ants are driven by survival and want to establish a nest in a warm, moist place with easy access to food resources. Ants come into your house through cracks in the wood, looking to locate a cozy wall void and set up a nest. Under the right conditions, ants lay 800 eggs a day and may live for decades.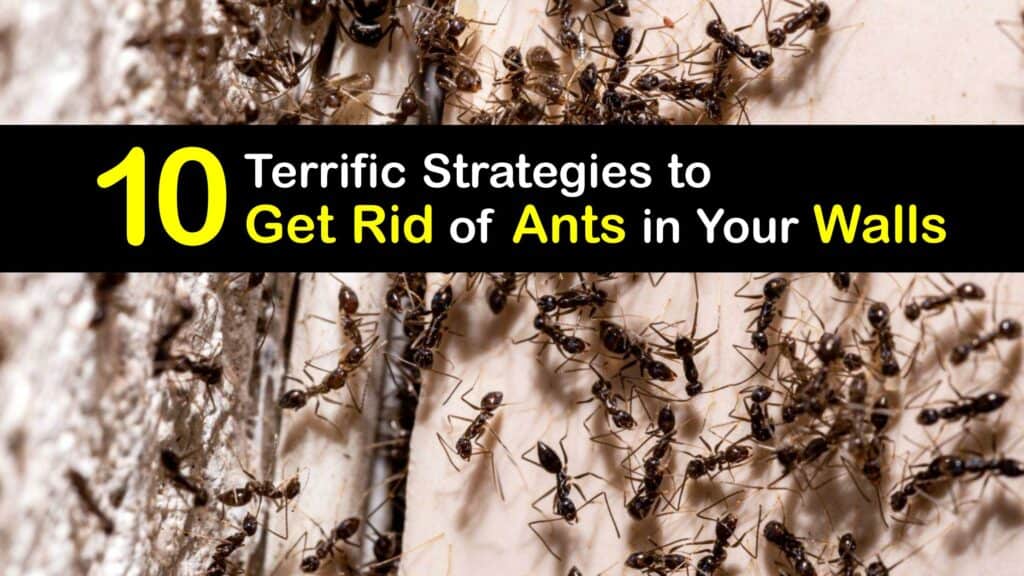 Tips for Getting Rid of Ants in Walls
You're not alone in your quest to rid the walls of ants. An ant infestation is no joke, and any signs of ant activity must be investigated immediately. This article covers tips and traps for all kinds of ant problems, and there's sure to be something you find helpful.
Honey and Boric Acid Traps for Ants
Boric acid has been available for a few hundred years and has many uses, including as a popular and effective insecticide. Follow this tutorial to learn how to get ants out of your walls with boric acid and honey.
Boric acid ant baits are an excellent way to ensure lethal contact without going overboard on chemical insecticides. This recipe is inexpensive and provides as many traps as you need to cover all the bases.
To make this DIY ant bait station, put your gloves on, and mix your ingredients. Use a butter knife or flat edge to spread it across an old margarine lid and set it near a high-traffic area, like the pantry, under the sink, or near a doorway. Use boric acid with caution around pets and curious children, as high doses are harmful.
Substitute the boric acid in the recipe if needed. Use Borax to get rid of ants inside and out with this bait.
Try Diatomaceous Earth for Ants
Diatomaceous earth is a versatile, naturally-occurring material made from fossilized algae. This chalky powder appears in various consumer products but is also an effective insecticide.
Diatomaceous earth works against bugs because it contains millions of sharp-edged silica pieces only visible under a microscope. These sharp edges puncture the insect's exoskeleton, leading to dehydration and death.
Spread a thin line of diatomaceous earth along the ant trail and near baseboards; results typically occur over 24 to 48 hours. Diatomaceous earth is an ideal Borax substitute for killing ants. When getting rid of ants in walls with DE, choose a food-grade version to ensure it's not toxic to mammals in your home.
How to Deal with Fire Ants
Let's take a quick break from getting rid of ants in walls and talk about how to get the dreaded red ant out of your yard. Red ants, or fire ants, are a species of stinging ants, and there are over 200 species. This ant species is an aggressive foe and won't hesitate to fill your legs and feet with painful red welts.
To rid your yard of the fire ant menace and for getting rid of ant colonies outside your house, take a clay flower pot, turn it over on top of their ant hill, and pour boiling water through the hole. The boiling water floods the ant nest and destroys the colony. This easy DIY method works well for little black ants or insects with subterranean nests.
Apple Cider Vinegar Spray for Ants
Don't turn to harsh chemical insecticides to repel ants without trying something organic first. Get rid of ants in walls naturally with this DIY apple cider vinegar spray. This all-natural repellent disrupts the ant's scent receptors and deters them from coming back to look for food.
Apple cider vinegar repellent is a great way to deter ants naturally without breaking the bank. This repellent spray only requires two ingredients and a spray bottle.
Mix the water and apple cider vinegar and spray it in high-traffic areas like doorways, baseboards, and windowsills. Apply daily, then weekly, and finally, as needed.
How to Conquer a Carpenter Ant Infestation
If you are experiencing a carpenter ant infestation, you need to discover how to get rid of ants in walls permanently because they are notoriously destructive. Carpenter ants live all over North America. They enjoy the same comforts most ants do: a warm, moist place with easy access to food.
Carpenter ants are eager to locate a wall void in your home and expand it by excavating the wood surrounding it. Eventually, serious structural issues arise as the colony grows, and the ants remove more wood to make room.
Your first to-do should be to find the nest; you can't dispatch the entire colony without getting the nest. Look for an ant trail or check suspicious areas. Carpenter ants come out at night, which may be helpful in your search.
Once you locate the nest, use the insecticide of your choice to destroy it. Always follow the manufacturer's safe-use instructions when using insecticides indoors. Deter carpenter ants in the home and prevent others from moving in.
Try Ant Traps for the Infestation
Try plastic ant traps for a traditional, no-fuss approach to your ant problem. Ant traps are inexpensive, versatile, and proven effective against many ant species.
These convenient traps work best when scattered near entry points, under cabinets, on window sills, under appliances, and anywhere else you notice an ant problem. Dead ants are guaranteed with a well-thought-out trapping strategy.
How to Get Ants Out of Your Walls with Insecticide
One of the favorite ideas for how to get rid of ants in walls permanently involves using liquid insecticide spray. Liquid insecticide is incredibly effective against any ant colony trying to set up shop inside your wall.
However, there are many species of ants, like carpenter ants, sugar ants, and acrobat ants; it's essential to choose the right insecticide for the ant.
There are also two main kinds of liquid insecticide – contact insecticide sprays and residual ant killer. Contact insecticides kill on contact, which means the ants can't transport poison back to the nest. A residual ant killer allows the ant to make contact with the insecticide and then transport lethal dosages back to the nest.
A residual insecticide is popular among many homeowners because it gets the whole ant colony, from the scout ants to the worker ants, right up to the queen ant. Use residual insecticide to treat your doorways and entry points to keep the ants outside where they belong.
Lemon Spray for Ant Prevention
A little lemon for prevention goes a long way with insects. Lemons are potent because their peels contain a compound called d-limonene. The antiseptic smell is just too intense for many species of pests, and they avoid it. Learn how to make a simple lemon spray to prevent ants and deter other pests.
Halve and squeeze four lemons worth of juice into a spray bottle. Cut the lemon peel into small-sized pieces and add them to the bottle. Give the spray bottle a good swirl, and you have an effective ant repellent at your fingertips. Use this spray on areas where ants congregate, and continue to use it daily until the ant problem disappears.
Seal Your Home to Protect It from Ants
The top way to get rid of ants living in walls is by surveying possible entry and exit points around your home and sealing them so the ants can't return when the weather gets bad, or they're seeking a food source.
Look for cracks in the wood, torn screens, or other gateways to the warmth and security indoors. Get some caulk or cement seal and spend an afternoon sealing every crack and crevice you spot. Once the entry points are closed, ants tend to look elsewhere and leave your house alone.
How to Get Rid of Ants in Walls Permanently
The thing about ants is they can go from a few visible workers in your home to an entire nest full of thousands of ants. Under the right conditions, ants lay 800 eggs daily; that's terrifying.
Don't hesitate to call pest control professionals if your pest-fighting strategies aren't doing the trick. A professional pest control company has the staff, resources, and expertise to save your home from a carpenter ant infestation or stop fire ants from setting up in your yard – the experts can help.
We hope you benefit from our amazing tips for how to get ants out of your walls. These persistent and prolific pests are tough to handle; they multiply quickly, and the bulk of the colony stays hidden in a secret ant nest. Conquering an ant infestation isn't impossible, though, if you keep our tips in mind.
Prevention is the most important priority when it comes to pests. Prevent ants by regularly sealing your pet food and sweeping the floor of fallen food scraps. Ants follow scent trails that lead to food and make their way into the house through cracks.
If you see ant trails, act immediately. Look for the entry point, and fill it tightly with caulk. Ants don't stand a chance when you take pest control seriously.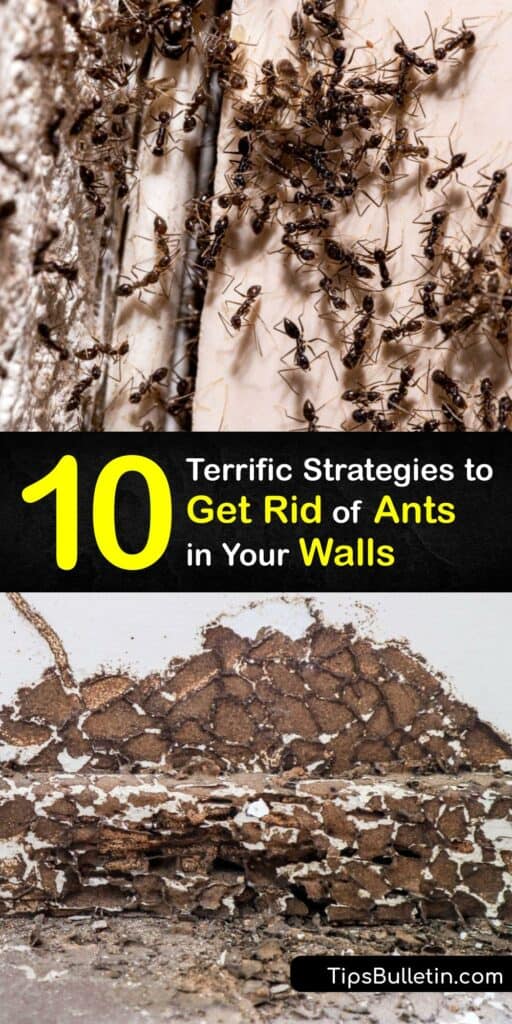 If you enjoyed our tutorial on how to get ants out of your walls, share it with friends on Pinterest or Facebook who are always looking for effective ways to fight ants.