Birds are a natural part of the ecosystem, yet the need for pest control arises sometimes. Birds search for nesting materials like dried leaves, twigs, old fiber, clothes, and a suitable place to make their home. When bird noise becomes disruptive or bird droppings are a problem, it's time to learn how to get birds out of house walls.
Frequently, they end up residing in an open vent, gutters, or an aperture in the wall of your home. While their presence is annoying, getting rid of birds living in walls demands care. Strict laws protect numerous bird species, and these legalities must be observed to avoid breaking the law.
Despite the challenges, removing the birds and figuring out how to clean bird poop off painted walls is possible. A bit of knowledge makes dealing with birds easier. Explore the regulations surrounding birds and ideas on how to discourage and remove them.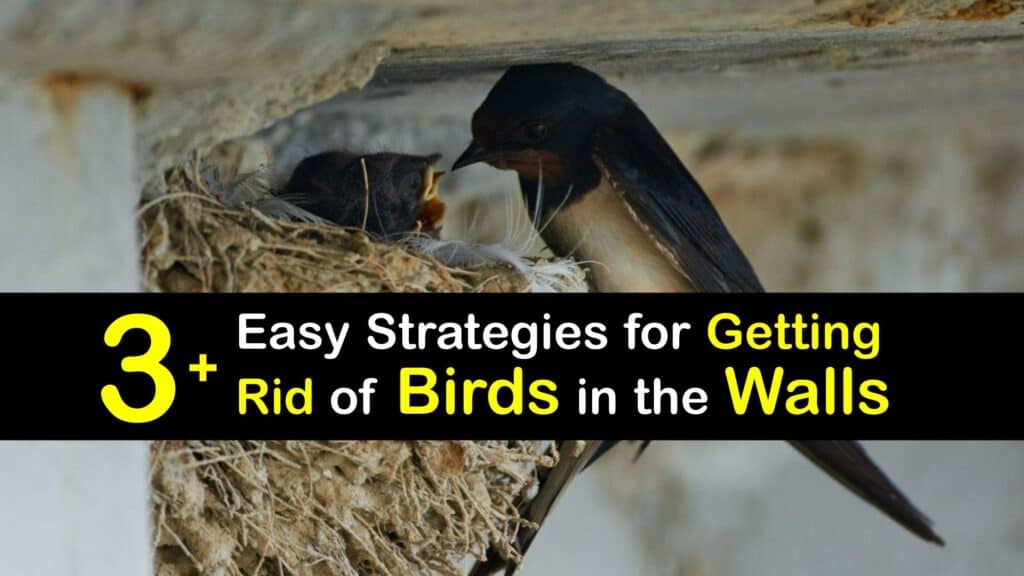 Getting Rid of Birds Living in Walls
Learning how to get birds out of house walls is only one part of bird control. Conservation treaties complicate the process of getting rid of birds living in walls. It's vital to ensure the bird you need to remove isn't protected under the Migratory Bird Treaty Act to avoid legal repercussions for your bird control.
Common Nesting Birds Found in House Walls
A birds nest in your gutters or on the roof may become an inconvenience due to noise, damage, or bird droppings on your property.
Whether dealing with a pigeon or house sparrow nest, an unwanted wild bird residence at your home is stressful. Call a local wildlife group or request help from the Cornell Lab wildlife department to ascertain what kind of birds are at your home, as this information is essential to ensure your bird control attempts are legal.
How to Get Birds Out of House Walls
If you notice a bird beginning to build a nest in your walls, use netting or screening to block its access and halt progress so it relocates. Knocking down nests is cruel and may be a criminal offense. Call an appropriate wild bird rehabber to remove the nest if you find an established nest in your home.
Numerous birds and their nests are protected by law, and care is required when working with an existing bird presence or nest. It's far simpler to deter birds than to have to remove them.
Before beginning bird removal, it's crucial to familiarize yourself with the Migratory Bird Treaty Act, which protects many species of birds and makes it illegal to interfere with them without prior approval. Ensure your bird control measures are legal before requesting the removal of a bird nest or baby bird.
Tips to Prevent Birds from Nesting on Your House
Prevention is easier than removal, with birds and insects. Easy ways to keep wasps away from walls is to make areas inaccessible.
Prevent birds from taking up residence at your house during the nesting season by making conditions unfavorable. Mid-March to mid-June is typically when nuisance birds build nests. Have prevention measures in place before the season begins to minimize the chances of a bird issue at your home.
Sometimes, simple measures like having an available bird house are enough to encourage birds to nest in an appropriate spot. Combine a few prevention measures for the best chance of keeping birds out of your walls or to repel squirrels from roof, walls and attic spaces. The same is true for chipmunks and bats.
You can also make a simple spray to stop birds from coming too close to your home or use the water hose to spritz them.
How to Clean Bird Poop Off Painted Walls
Figuring out how to get bird poop off walls or concrete is one of the most stressful side effects of a pest bird infestation. Mix your own powerful cleaner for concrete walls or use a pressure washer. Some exterior walls hold up well to power washing to remove dropping material from a nesting bird population. Wash an outside wall or an inside one quickly to make it easier to clean.
For painted or more delicate surfaces, mix two cups of dish soap into three gallons of water for an efficient cleaning solution for bird droppings.
If you have pest birds, knowing how to clean bird poop off painted walls helps restore your home. Keep birds from being a nuisance by having prevention in place for nesting season, and check out the legal limitations on bird removal before performing any bird control.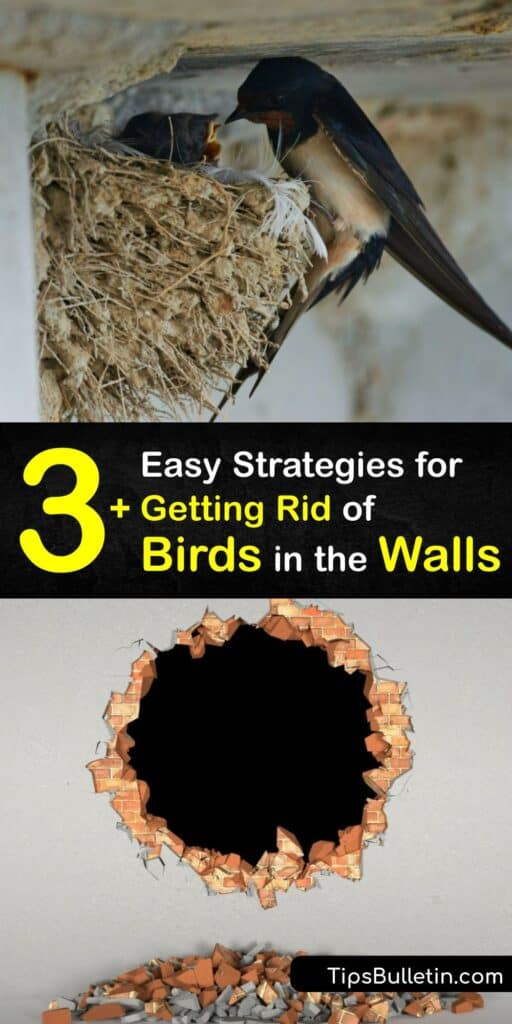 If you loved this article on how to get birds out of house walls, please share these brilliant tricks for getting rid of birds living in walls with your interested family and friends on Facebook or Pinterest.