Nothing feels better than strolling down the street in a stylish pair of sparkling white shoes. White leather is hard to keep spotlessly clean; that's probably part of the allure. If you struggle with shoe care, follow these tips for how to get black scuff marks off white shoes using simple items.
White leather has become a super-popular material in goods like upholstery, automotive leather, clothing, and upper shoe leather. White leather gets its distinctive look from the tannins used during manufacturing. Modern leather workers use vegetable tannins, synthetic tannins, and naturally occurring minerals like zirconium and aluminum to turn regular light brown leather into the white or pale cream color we love.
Few fabrics look as luxurious as white leather, especially when properly maintained. It's time to level up your leather care expertise. We have amazing mini-tutorials for every stain, scratch, and scuff mark to help keep your white leather looking lush.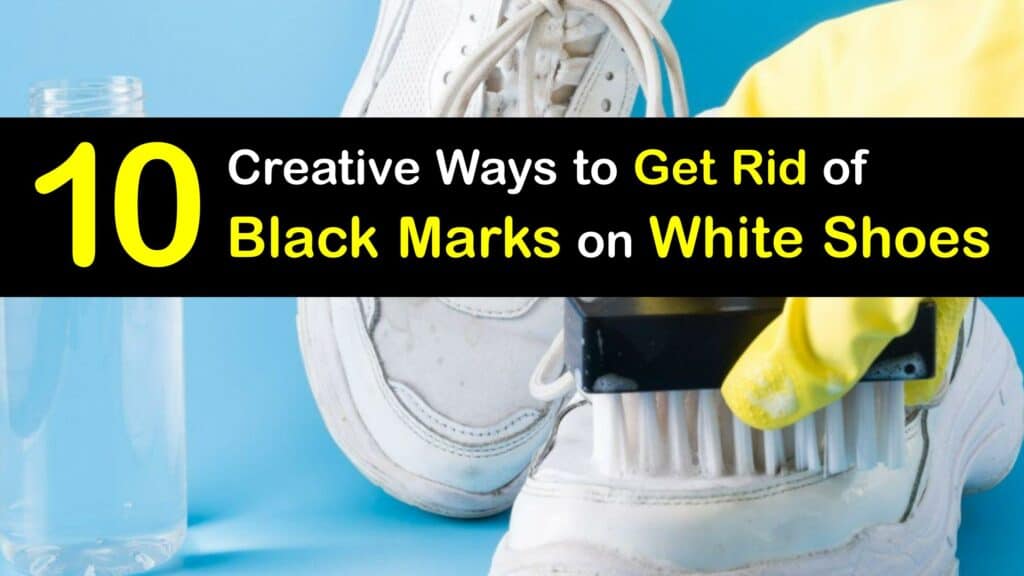 Top Tips for Removing Black Scuff Marks From Shoes
Discover fast and efficient ways to clean white mesh shoes with baking soda and other easy methods. This in-depth guide answers the most crucial shoe renewal questions and provides all the guidance you need to start.
How to Remove Scuff Marks From White Leather Shoes
White leather dress shoes are a statement–but only when they're sparkling white. It doesn't take long for dress shoes to look dull, dinged up, and dirty. Find a few simple tips if you're wondering how to remove scuff marks from white leather shoes.
Black scuffs are transfer marks from your shoe hitting another object. Scuff damage is much easier to treat than cracks or deep scratches and requires little elbow grease.
Begin by removing the shoelaces and setting them aside, then stuff the toe boxes with newspaper. Don't stretch the leather by overstuffing; use just enough to help the shoes keep their shape. Get a toothbrush or soft cloth and go over the stuff in gentle circles until the black scuff mark disappears.
Finish with a coat of cream shoe polish containing a high concentration of colored pigments to restore your white leather or patent leather shoes to their former glory. Since some leather yellows over time due to the oxidation process, clean yellowing soles regularly to prolong the life of your leather and use a top-shelf leather conditioner every six months.
Fabulous Tips for Scuffs on White Fabric Shoes
We love a pair of fabulous fabric shoes; they go with almost anything and are always in style. Unfortunately, white canvas shoes get dirty quickly and scuff easily. It's great to have a DIY recipe to help deal with scuffed-up sneakers. This scuff cleaner can also work as a paint remover for shoes as paint mimics black scuffs on white shoes.
Create a shoe cleaning paste with distilled white vinegar, baking soda, and warm water to clean white mesh sneakers. Take your shoelaces out, and get ready to scrub. Scour your shoes with a toothbrush or cloth, making sure to get every nook and cranny, including the soles. Allow the paste to air-dry for a few hours and brush it off, revealing fresh white sneakers.
Tips for Scuffs on White Suede Shoes
Suede's eye-catching beauty comes from its soft fabric nap; it's plush, unique, and pretty glamorous. Like patent leather, suede shoes require specific steps to look and feel stunning. The same holds true for ways to clean scuffs off suede shoes. Let's talk about a few tools every suede owner needs for removing black scuff marks from shoes.
Start with a suede brush and a suede eraser. These handy little gadgets are often sold as a package and are easy to find. Using a clean toothbrush instead of a professional suede brush is okay, too. To begin cleaning suede shoes, brush the suede in one direction with short, gentle strokes.
Remove all loose dirt, and then go in with the eraser. Once you lift the scuff mark with the suede eraser, re-fluff with the suede brush. Some people report that a pencil eraser is effective in a pinch. However, always use your discretion; suede is expensive, and it's best not to take any chances.
How to Get Black Scuff Marks off White Shoes Made of Nubuck
Nubuck is a creative variation on your average top-grain leather material; the surface of the nubuck is buffed or stone-ground to give a velvety finish. Nubuck is similar to suede, except it's a bit more durable than its fragile cousin and doesn't require as many specialty tools to maintain.
To clean your nubuck or to get Sharpie off shoes, mix one part dish soap and two parts water in a small bowl. Take a nylon nail brush or toothbrush and scrub the shoe until the dirt breaks down and disappears; allow time to air-dry overnight.
For extra-stubborn shoe scuff marks, spot-treat with gentle strokes of a Magic Eraser, and then start with the dish soap and water.
How to Banish Black Scuffs on White Athletic Shoes
White athletic shoes are perhaps the most challenging to keep clean. They're meant to go everywhere with you – hiking, biking, and even through a few puddles. The good news is that athletic shoe maintenance is easy; all you need is some mild laundry detergent and a damp cloth.
To begin, remove the laces and liners from your gym shoes. Mix a small scoop of detergent in warm water and start cleaning all non-fabric surfaces first. Get yellow out of white sneakers on the soles and uppers with this remedy.
Once the soles are gleaming, leave the shoes to soak for a half hour or so. Soaking loosens set-in dirt and allows for a deeper clean. You may need to soak them longer if the shoe scuffs are severe.
Get your microfiber cloth or an old toothbrush and get to work, giving any stained areas an extra scrub. Some people like adding a bit of white toothpaste as a booster against serious scuffs and stains. Finally, stuff your shoes with a bit of paper towel and leave them to air-dry overnight.
What About White Leather Sneakers?
You're not alone if your favorite pair of leather sneakers have seen better days. Let's talk about how to make shoes cleaner, because we've got a clever hack. Have you ever heard of micellar water?
Micellar water is said to be made up of oil-cleansing molecules and is a common makeup remover; you might even have some in the cabinet right now. Micellar water is also pretty effective at breaking down stains on leather shoes. Saturate a small cotton ball, dab it on the black scuff mark locations, and watch the dirt melt away.
If you notice the creases in your shoes looking worse while cleaning them. Take care of it at the same time. After removing scuffs, use your hair dryer and a shoe tree to iron out creases in your shoes so they look like new again.
How to Get Very Clean Vinyl Shoes
When you think of fancy dress shoes, you may picture high-end leather. However, many cheaper pumps and high-heeled shoe designs are made of leather and coated with vinyl to give a glossy plastic appearance. Your vinyl shoes might look rough right now, but wait until you try this trick.
Removing black scuff marks from shoes with a vinyl coating is easier than it looks. First, give your vinyl shoes a quick wipedown. Remove loose dirt and debris with a damp cloth, and be sure to clean the bottoms. Next, pour two tablespoons of acetone nail polish remover into the cap from the bottle.
Dip your cotton swab into the nail polish remover and gently wipe it over the scuff mark; it will vanish. Give your shoe a final buffing with a soft cloth, and you're ready to hit the town. Use acetone sparingly because it is solvent and may damage your shoe if left to sit.
How to Clean a White Leather Purse
Since we're on the topic of fashion, let's talk about that white leather purse. You know the one in the back of the closet that never gets used anymore because you're afraid to clean it? Don't worry; you only need a bit of vinegar and a clean cloth to start.
We recommend using a soft cloth on your purse. Dip a microfiber cloth into a bowl of undiluted vinegar and gently wipe away the buildup on the bag. Spot treat tougher scuffs with a bit of hair spray or rubbing alcohol; dab a cloth or cotton swab and watch the problem disappear.
Black Scuffs on White Dr. Martens
Dr. Martens have probably never been more popular in their long history than they are today. These seriously tough shoes are easy to care for and last a lifetime with the proper attention. All you need to get scuff marks off shoes like your white Dr. Martens is warm soapy water and a soft cloth.
Wet the cloth and don't stop wiping until your boots are bright and white as the day you bought them. To enhance your leather care routine, raid the medicine cabinet for some petroleum jelly to use as a leather conditioner. Thinly apply petroleum jelly across the leather to restore moisture lost during the cleaning process.
Seek a Shoe Care Professional
Sometimes suede and leather shoes are just too delicate to clean at home. For reliable results, let a professional cobbler help you resurface and refresh badly scuffed shoes. You'd be surprised at how much skill and expertise there is in the shoe-care world. Stop by your local shoe repair shop and see for yourself.
We hope you liked learning how to get black scuff marks off white shoes, boots, and heels. You never have to worry about clean white canvas shoes again when you have simple ingredients like vinegar, baking soda, or toothpaste. Remember that each material requires a slightly different approach, and you must tailor your cleaning strategy appropriately.
It's never too late to begin your shoe maintenance journey, especially now that you have these incredible tips. Take a moment to go through the closets and rescue vinyl pumps, suede boots, or long-forgotten fabric shoes; it's time to shine.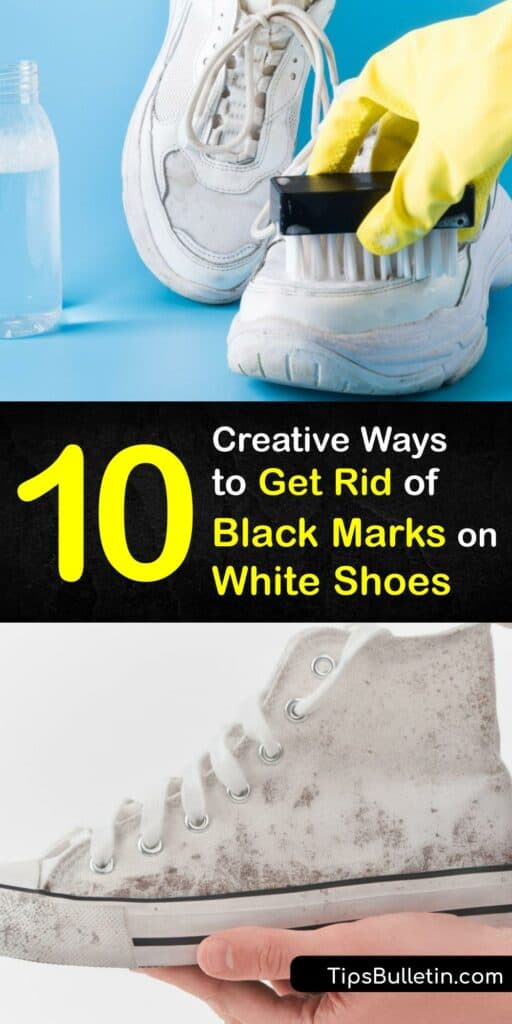 If you feel great about learning how to get black scuff marks off white shoes and boots, share this article with friends on Pinterest or Facebook who love sparkling white footwear.