Discovering how to get blood stains out of clothes saves your favorite outfit from the trash after an unfortunate accident. Blood is a tricky substance to clean and tends to leave behind unsightly and stubborn stains. The dark red pigment in blood seeps deep into the fabric of your garments to create persistent discoloration, which seems daunting to fix.
Frequently, putting your blood-stained clothes through a regular wash cycle isn't sufficient to remove old blood stains. Fortunately, learning how to remove a blood stain from fabric is straightforward. Once you understand how to take blood stains out of clothes, you can confidently clean your items.
Blood is a tenacious stain, but it's easily lifted with household items like baking soda, distilled white vinegar, and dish soap. Whether dealing with period stains on your sheets, or a tough stain on your favorite jacket, discover tips to get blood out of fabric.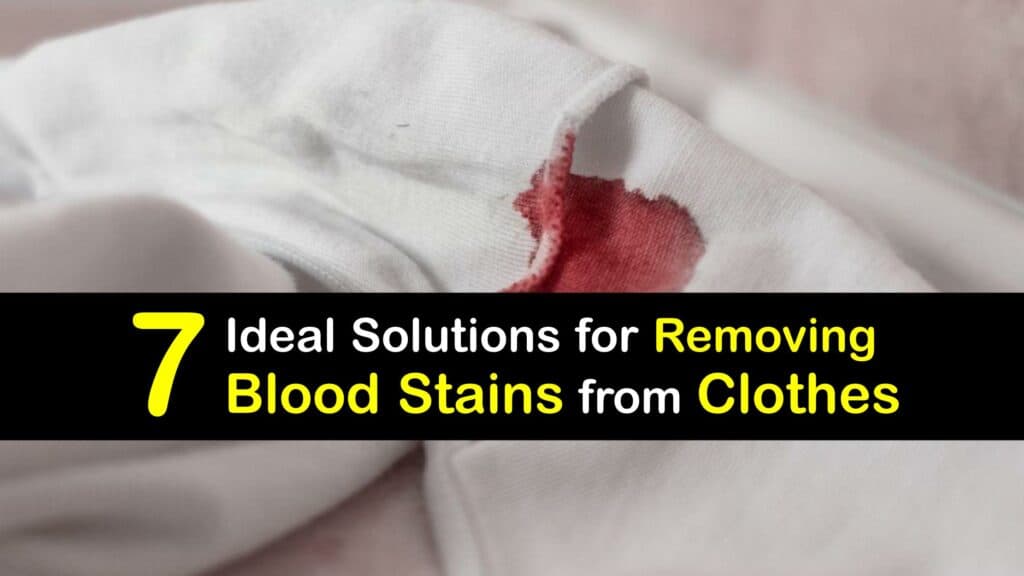 How to Remove a Blood Stain from Fabric
Determine how to get blood stains out of clothes and have peace of mind. When dealing with a fresh stain, immediately blot as much excess blood as possible using a clean cloth.
Though there will still be a mark, this reduces the amount of blood settling in your clothing and makes it easier to erase. Explore our remarkable tips on how to remove a blood stain from fabric and choose the method most suitable for the ingredients you have and the time you want to spend.
How to Get Blood Stains Out of Clothes with Dish Soap
Getting rid of an ugly bloodstain on your favorite jacket or pants doesn't have to be complicated. The liquid dish soap you use in the kitchen is the perfect stain remover to deal with blood.
Dish soap tackles harsh organic stains such as food residue and grease stains left behind on pots and plates. Blood is an organic substance; dish soap breaks it down for easier washing.
Dip a sponge or clean, soft cloth into the soapy water solution and use it to scrub the blood stain, whether you need to remove period blood or blood from a wound. Work the concentrated dish soap into the weaves of the fabric to loosen the blood and rinse with warm water. Repeat as necessary until all the blood is gone.
How to Take Blood Stains Out of Clothes
Distilled white vinegar is a budget-friendly fix whether you have a fresh blood stain or a long dried blood patch. White vinegar is famous for its cleaning potential and has many uses in sanitizing and restoring.
Create a white vinegar solution by diluting it with water before using it. Its acidic properties enhance its stain removal power, yet undiluted may cause wear to your clothing.
To effectively and quickly remove blood from sheets with vinegar or take care of a spot on your clothes, spray the vinegar blend over the stain until totally saturated, rub it in and let it rest for at least half an hour. Wash the vinegar and blood residue, and respray if staining remains.
Add a few drops of lemon juice or your preferred essential oil for a more pleasantly scented spray to avoid the strong scent of vinegar on your clothes.
Distilled white vinegar will also work to remove grape juice from clothing. Like blood, grape juice leaves a dark stain on your clothes and should be cleaned immediately to avoid a permanent stain.
Clean Blood Stains from Clothes
While a trip through the washing machine may not be sufficient for stain removal, using your mild laundry detergent in a concentrated way is one way to remove an old or fresh blood stain from your clothing. Upping the concentration of detergent maximizes its cleaning capacity and ensures all traces of blood wash out of the material.
Pour laundry detergent directly onto the stain, scrub using a clothes brush or old toothbrush, and leave the detergent in place for about half an hour. Rinse your garment with warm water to wash away the remaining detergent and all blood particles.
Meat Tenderizer for Removing Blood Stains from Clothes
Meat tenderizer is an unlikely but logical remedy for stubborn stains. Just like a meat tenderizer softens the fibers in meat to make it more digestible, it's adept at softening the fibers in blood to wash out. Mix unseasoned meat tenderizer powder into a paste for mess-free application.
Stir together in a small bowl to make a thick paste and rub directly into the stain with your fingers. After the paste sits on your clothes for an hour, rinse with cold water and wash as usual.
Trust a DIY Solution to Clean Blood Stains from Clothes
A wide range of commercial cleaners and stain removers is available for blood, though most contain unknown ingredients and potentially harmful chemicals. Mixing your own blood stain cleaner is an intelligent way to avoid introducing toxic compounds into your home and save money.
Ingredients like hydrogen peroxide and laundry detergent make blood removal a breeze, while essential oils leave your clothes smelling pleasant.
Shake the ingredients in a sprayer and apply generously to the blood stained area. Allow the cleaner to rest and soak into the fabric of your clothes or sheet for a few minutes, rinse completely with cool water, and air dry. This stain remover also works great for baby oil stains on clothes and other types of unwanted staining.
Use Oxygen Bleach to Remove Stains
Oxygen bleach is an efficient and environmentally-friendly alternative to traditional chlorine bleach. Whereas chlorine bleach may lighten dark-colored garments, color-safe oxygen bleach doesn't cause fading and is safe for most types of fabric.
Oxygen bleach combines with water to produce hundreds of microscopic oxygen bubbles that reach deep into the blood-stained fabric to loosen the adhered blood particles, making them effortless to rinse away.
Choose a color-safe oxygen bleach product and use it in accordance with the manufacturer's guide to get the most from the product when you use this as a way to remove blood from couch and upholstery or your clothes and shoes. Try this technique to remove color bleeding stains from fabric on your favorite outfits, too.
Treat a Dried Blood Stain with Baking Soda Paste
Old blood stains are particularly off-putting. The blood has had lots of time to soak in and bond to the material of your clothes or sheets – these dry blood stains seem impossible to eradicate.
Thankfully, the answer to getting dried blood out of clothes and fabric or to handle sauce stains from clothes is sitting in the pantry. Baking soda is a powerful stain remover renowned for its unique ability to dissolve even the heaviest stains. Mix a baking soda paste and take care of dried blood with ease.
Blend until well mixed and smear evenly over the blood stain. Let the paste rest on the bloodstain until dry, then rinse with clean water. Pat dry with a clean towel and re-treat if required.
It's essential to discover how to take blood stains out of clothes to avoid an ugly bloodstain ruining your outfit. Blood is an incredibly stubborn stain and is intimidating to deal with if you don't know where to start.
Though it seems challenging, erasing blood stains from your clothing or sheets doesn't have to be a headache. Use simple products and straightforward techniques to eliminate blood without damaging delicate fabric.
If you loved this article on how to get blood stains out of clothes, please share these brilliant ideas on how to remove a blood stain from fabric with your friends and family on Pinterest and Facebook.