Nothing ruins movie night faster than a musty-smelling couch. Whether you have wooden furniture with upholstery, plush leather pieces, or even microfiber furniture, we've got top tips and sage wisdom for those struggling with unwanted, unpleasant furniture odors. Discover how to get body odor out of a couch with easy-to-follow advice.
There are many reasons you may need to deodorize a couch. Well-loved furniture is there for us through everything. Fabric and leather upholstery is porous, absorbing every bad smell and leaving a lingering odor. We relax, nap, and enjoy life on our sofas and chairs, and eventually, it begins to show.
Regularly scheduled couch cleaning is essential for every home – even if the furniture isn't used that much. Dust, dirt, and other allergens settle onto the surface and work into the fabric, causing a musty odor. It's time to refresh your favorite furniture with our handy how-to tutorials.
Tips for Getting Body Odor Out of a Couch
Removing body odor from the couch is easy when you have the right strategy. Learn how to remove body odor from a microfiber couch, leather couch, and a traditional upholstered couch with these tricks. Always read the tag on your furniture for specific care instructions; often, there is important information from the manufacturer.
How to Get Body Odor Out of a Couch
If your couch smells like body odor, it's time to take action. Baking soda combined with thorough vacuuming is one of the quickest and easiest solutions to get musty odor out of the couch, along with mildew odor, pet odor, and even mold growth and mold spores.
Getting body odor out of a couch is super simple when you clean a couch with baking soda. This powder draws out excess moisture, removing odor along with it. Sprinkle a decent dusting of baking soda over your furniture, allow it to sit for a few hours, and then vacuum every nook and cranny.
Some recommend coffee grounds or activated charcoal as a baking soda substitute for lingering odor. You can even try this trick with a smelly dresser drawer. Sprinkle the odor-absorbing substance of your choice, and vacuum away. Line dresser drawer with dryer sheets for extra freshness afterward.
How to Get Body Odor Out of Fabric Upholstery
You may have wood furniture with fabric upholstery, which looks stylish until it comes time to deodorize. Removing body odors from fabric and cleaning couch upholstery naturally often requires an antibacterial and antifungal, especially if the foul odor has set into the fibers. Vinegar to the rescue.
Mix your ingredients well. Spritz the upholstered furniture, and let it sit while you circulate some fresh air through the house. This deodorizer works on other common odors, too. Use this DIY spray for tobacco smoke, mildew smell, or old house smell.
How to Clean Body Odor From Leather Furniture
That musty smell doesn't just happen to upholstery; unpleasant odor also sticks to leather furniture. Old wood furniture with leather upholstery is just as susceptible to musty odor and requires a unique deodorizing technique. Discover how to get body odor out of couch with olive oil.
This spray is both rehydrating and deodorizing. It mixes up quickly, and the spray bottle provides a convenient application method. Spray the leather parts of your old furniture with a light mist, and use the soft cloth to buff. Removing musty smell from leather furniture is that easy.
How to Remove Body Odor From a Microfiber Couch
Microfiber furniture is soft and cozy, which is why it's trendy. While gorgeous, microfiber poses some deodorizing challenges for homeowners. If you're seeking ideas on how to remove body odor from a microfiber couch, follow these tips.
Rubbing alcohol is an ideal way to remove musty smell from microfiber because it evaporates quickly and takes the smells with it. Fill a little spray bottle with one part rubbing alcohol and one part warm water. Spray the couch, use a sponge to soak up any extra moisture, and re-fluff the fabric with a carpet cleaning brush.
We hope you enjoyed these simple strategies for how to get body odor out of a couch. General couch care is essential, not only for comfort but also for improved hygiene and air quality. Always check your furniture's care instructions before embarking on a new couch care routine, and use only the methods suggested by the manufacturer.
Use these tips to combat odor and keep dirt and allergens to a minimum. Be sure to wash throw pillows or covers regularly. Consider getting a removable couch cover. Keep a bottle of DIY vinegar spray handy to deodorize with ease; you now have the skills to remove musty odor wherever you find it.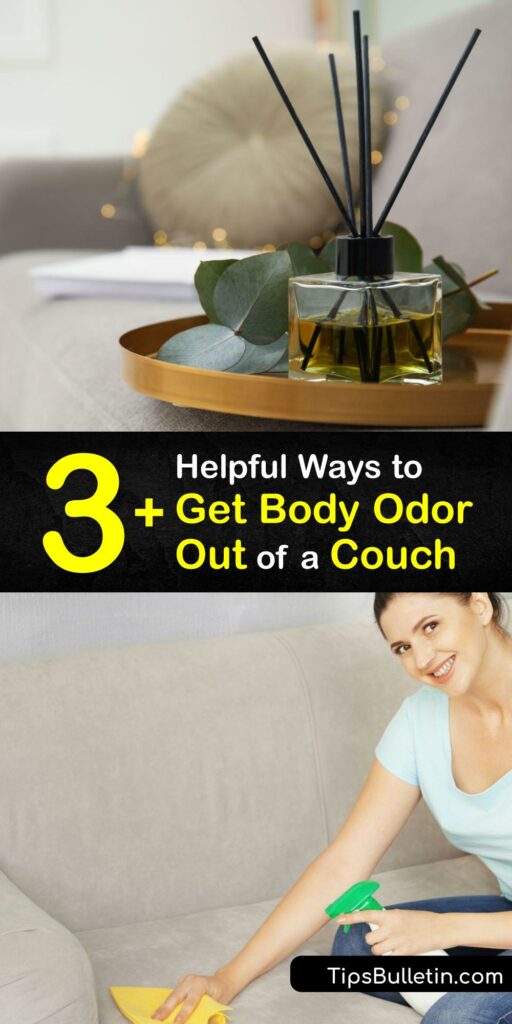 If you liked learning how to get body odor out of a couch with our simple tricks, please share this article with friends on Pinterest or Facebook who adore a good furniture deodorizing solution.