It happens in just a matter of minutes; you leave the food cooking on the stovetop for too long, and you're left with a gunky, challenging mess. Even the best cooks burn a pan now and then. The difference between tossing out that ruined cookware and saving it depends on whether you know how to get burnt food off a pan.
Depending on the material your pan consists of, try different techniques to remove stuck-on messes without damaging the cookware itself. There are multiple options available for each one, all of which explain how to get burnt food out of a pot based on the material and resources you have available in your pantry.
All it takes for you to start blasting through burnt foods is a little bit of elbow grease and some extra love and care for your favorite pots and pans. If you're ready to learn how to get rid of burn marks on pot surfaces and save a scorched pan from the trash, then follow these easy solutions.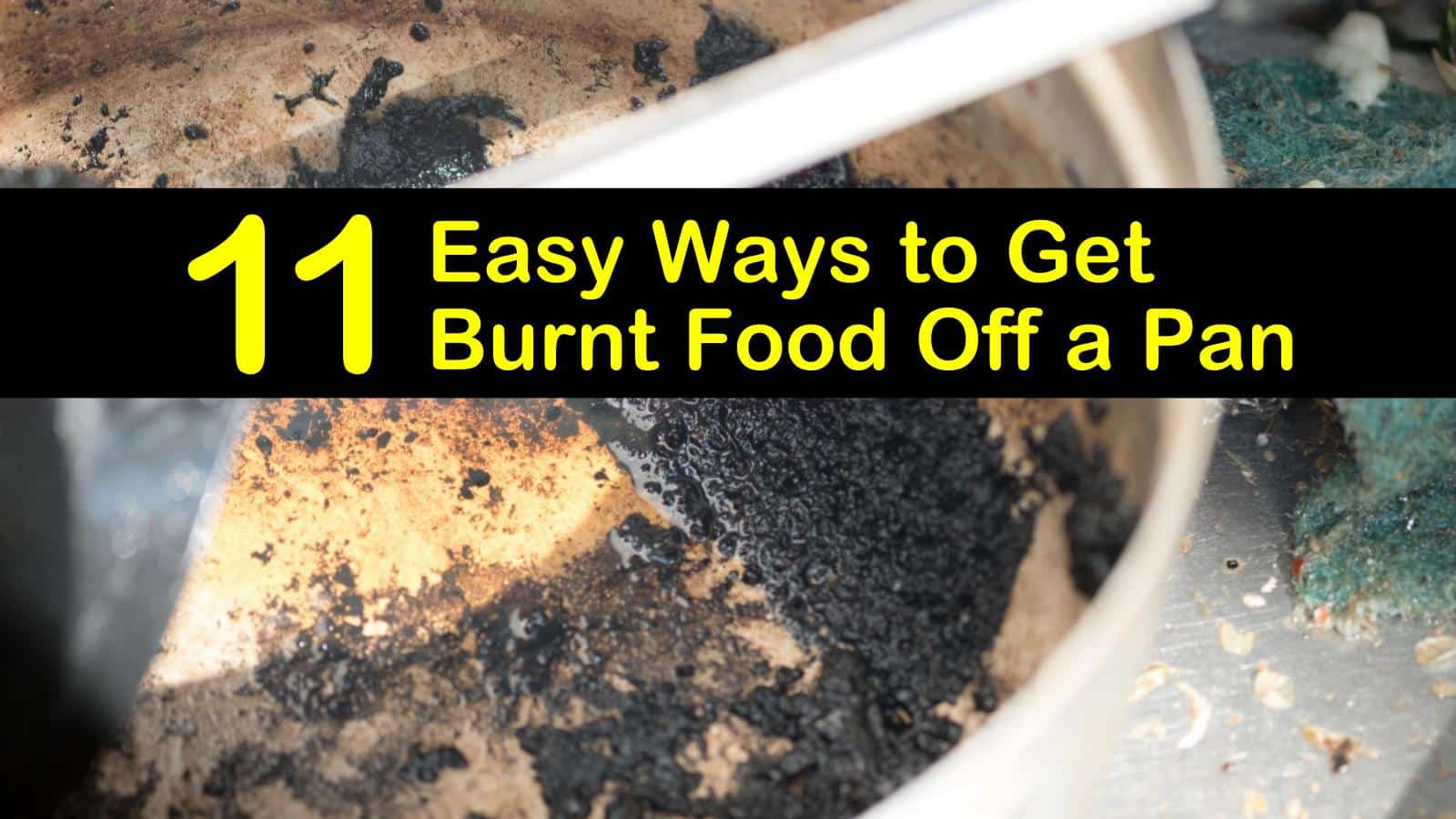 Getting Burnt Food Out of a Pot or Pan
Before you get started, it's important to avoid harsh scrubbing tools like steel wool or scouring pad. While these may feel like the most natural solution to removing tough foods from pans, they'll cause far more damage than good, especially on easily-scratched materials like stainless steel pots or cast iron. Instead, follow these directions to keep your cookware looking great!
Turn Up the Heat to Remove Stuck-On Foods
Sometimes, all you need when removing gunk from the bottom of the pan is to add some heat. There are several variations of this technique you can use, some of which we'll also get to later on, though hot water alone can be just as helpful.
Boiling water in your pot or pan is a great way to soften up food particles stuck on the surface and won't harm delicate materials like aluminum or cast iron.Start by lining the base of your pot or pan with just enough water to coat the bottom or cover the area with the burnt food.
Once you've brought the water to a boil on the stove, gently scrape away the burnt on food with a plastic spatula or wooden spoon, or something that won't damage the protective coating on your pans. If plain water doesn't work, you can also add a couple of drops of Dawn dish soap to speed up the process.
Start with a Gentle Dish Soap
You should never underestimate the cleaning power of good dishwashing soap, especially when it comes to cleaning a build up of stuck-on food particles. As a natural degreasing agent, soap already consists of properties that tear through grease and gunk with ease.
This capability comes in handy when you're trying to eliminate the foods that don't want to budge from the surface of your cookware. After you've added the warm soapy water, any food build up should slowly start to soften and loosen away from the edges.
While your first thoughts may be to use a harsh scrubber, such as a scouring pad, opt for a gentler tool like a wooden spoon to pry foods from the side. Don't be discouraged by having to repeat the process. Patience and little elbow grease go a long way in saving your cookware.
How to Get Burnt Food Off a Pan Using Baking Soda
You already know and love the power partnership of baking soda and vinegar. So, as you may imagine, their amazing properties for cleaning tough gunk and crud translates similarly to destroying burnt areas in pans.
While this method works wonders on most cookware surfaces, avoid them on aluminum. The alkaline chemical properties of the sodium bicarbonate in baking soda react negatively with the aluminum in pans, causing discoloration and damaging them more than cleaning them.
For this unique DIY method, start by adding the water and vinegar to your pot or pan. Let the ingredients boil for approximately two minutes before removing them from the heat and allowing them to cool. Next, sprinkle in the two tablespoons of baking soda.
The solution in the pan will fizz for a while, though you want to wait 30 minutes before scrubbing your pan anyway. After enough time has passed, use a soft bristle brush or scrubby to remove the caked on mess.
This recipe also enjoys much success to clean grease off an oven bottom. Spritz the bottom of the oven with vinegar and water and liberally sprinkle baking soda over the top. Let the mixture sit for an hour or two and wipe clean.
Try Cream of Tartar for Tough Foods
If you don't have any baking soda, cream of tartar is a comparable product to use with vinegar. Unlike baking soda, which is a base, cream of tartar uses acidic properties like vinegar to break down burnt foods.
In addition to the tartaric acid in the cream of tartar, the gritting consistency of the substance creates a gentle scrubbing agent to lift away stuck-on foods.
For cleaning burnt stainless steel pans, the best way to use the cream of tartar is by creating a paste with vinegar. Mix the two, then blend them until they form the desired consistency.
Scrub the burnt areas of food using a soft cloth or scrub, then rinse with clean water when finished. You may need to use this solution more than once for really stubborn burn marks.
How to Get Burnt Food Out of a Pot with Ketchup
One of the most underrated of all cleaning tips is using ketchup to clean burnt pots and pans. Similar to vinegar, the cleaning agent in ketchup is acetic acid, making this the perfect substitute when you run out of vinegar in the home. Who doesn't have a few extra ketchup packets lying around the house?
To use this method, soak the burned area with ketchup and leave it to sit for around 30 minutes. Scrub the food away using a spatula or soft scrubber. Avoid this method on reactive pans like aluminum and seasoned pans like cast iron, however, as ketchup may ruin the coating on aluminum and break down the seasoning on the other.
Use a Dryer Sheet to Loosen Burnt Foods
Speaking of unlikely cleaning agents, who would have thought that a fabric softener sheet would be such a helpful ally when it comes to cleaning burnt pots? The question of why do dryer sheets clean pans is resolved by the anti-static properties of the dryer sheet.
The same lubricant dryer sheets use to reduce the conduction of static electricity to separate your clothes from one another, is also the same property that separates foods from the surfaces of pans.
When using this strategy, cover the bottom of the pan with hot water and toss in the dryer sheet. Push the dryer sheet down into the water so that it's submerged completely, then leave it to soak for at least one hour.
In challenging cases, let the dryer sheet soak in the pan overnight. In the morning, pluck out the dirty dryer sheet and rinse out the pan.
The burnt pieces should fall off with ease, with minimal to no scrubbing required. Clean up using some soapy water, rinse, then dry.
Scrub Cast Iron Pans with Coarse Salt
If you're searching for the very best way to clean a burnt cast iron skillet without damaging it, one avenue for doing this is by using coarse salt.
Because you want to avoid using a hard scrubber on cast iron, salt is the next best thing to scrubbing without gouging the bottom, which could potentially lead to rusting. Beyond avoiding rust spots, you also want to preserve as much of the seasoning and nonstick coating as possible.
Use only a couple drops of vegetable oil when cleaning; just enough to make scrubbing with salt easier to maneuver. With either a paper towel or dry cloth, push the salt and oil around the surface of the pan until the food bits lift away.
Dump the salt and food particles into the trash, then wipe down the surface with a clean cloth or paper towel. There's no need to rinse with water.
How to Get Rid of Burn Marks on Pot
Even after you've eliminated all the food particles from your burnt pan, you might still end up with an unsightly scorch mark on your pan. The best method for treating this is by using white vinegar, especially on stainless steel pans with discoloration caused by heat marks. Don't use acidic cleaners on cast iron, however, as this will damage the seasoning.
Vinegar works great on its own or diluted with water to get stains off steel and aluminum cookware. When combined with powerful degreasing agents like lemon essential oils and dish soap, these recipe ingredients attacks scorch marks and burnt foods all at the same time.
Boil the water and vinegar first, then add the soap and essential oil, and let it soak for two minutes. Rinse with clean water when finished, and repeat as necessary.
Use Commercial Cleaners Like Bar Keepers Friend
If you still haven't found the perfect solution to salvage scorched stainless steel pans, Bar Keepers Friend is a beautiful cleanser you can purchase in stores. Easy to use, this bleach-free cleaning solution cleans, lifts away challenging food particles, and even polishes the surface of your pots and pans.
In addition to working great on stainless steel cookware, it's also an excellent product for aluminum and metal pans. Avoid using it on cast iron, though.
Start by creating a paste, adding one cup of the cleansing solution to one cup of warm water. Scrub the mixture into the pan using a soft cloth; anything harsher or more abrasive will scratch the surface of the pan.
Once the burnt foods lift away, wash the stainless steel pan with soap and water. Rinse and dry thoroughly and repeat the process as necessary.
Use a Dishwasher Tablet
A great alternative to cleaning with dish soap is using a dishwasher tablet instead. These tablets are designed to break down grease and grime on their own, often without the benefit of scrubbing to go along with it. So why wouldn't you use these as a helpful cleaning agent for stuck-on foods?
Begin by filling your pot or pan with enough water to coat the bottom and toss in the tablet. Use the bricks of dishwasher soap, not the pods in a plastic casing. Once you've added the tablet, bring it to a boil on the stove.
Reduce heat, then let it simmer in the pot for approximately ten minutes before removing from heat. The burnt pieces should slide right off, though you can also use a plastic spatula for particularly stubborn particles.
Boil Lemons to Remove Tough Foods
We've already discussed the fantastic properties of boiling water to remove stuck-on foods and burnt particles from pans. What we haven't discussed is that, beyond soap and dishwasher tablets, lemon juice is another fantastic way to remove tough foods in minutes.
Bring your ingredients to a boil, then leave them for about two minutes. Toss out the lemons and the water, then scrub the surface of the pan. The food particles will give way much faster, making your task simpler, as well.
In addition to their ability to remove burnt foods from your cookware, they also replace the smoke smell from burnt food in the microwave with a fresh citrusy fragrance. Start by cutting up one or two lemons into small wedges. Place the slices of lemon and water in a bowl before microwaving it to release the smell.
Hopefully, you enjoyed learning about all the best ways of removing burnt foods from a pot or pan. Now that you have multiple techniques at your disposal, there's nothing to stop you from firing up the stove or putting together that next casserole. If you burn it, no problem! We've got you covered.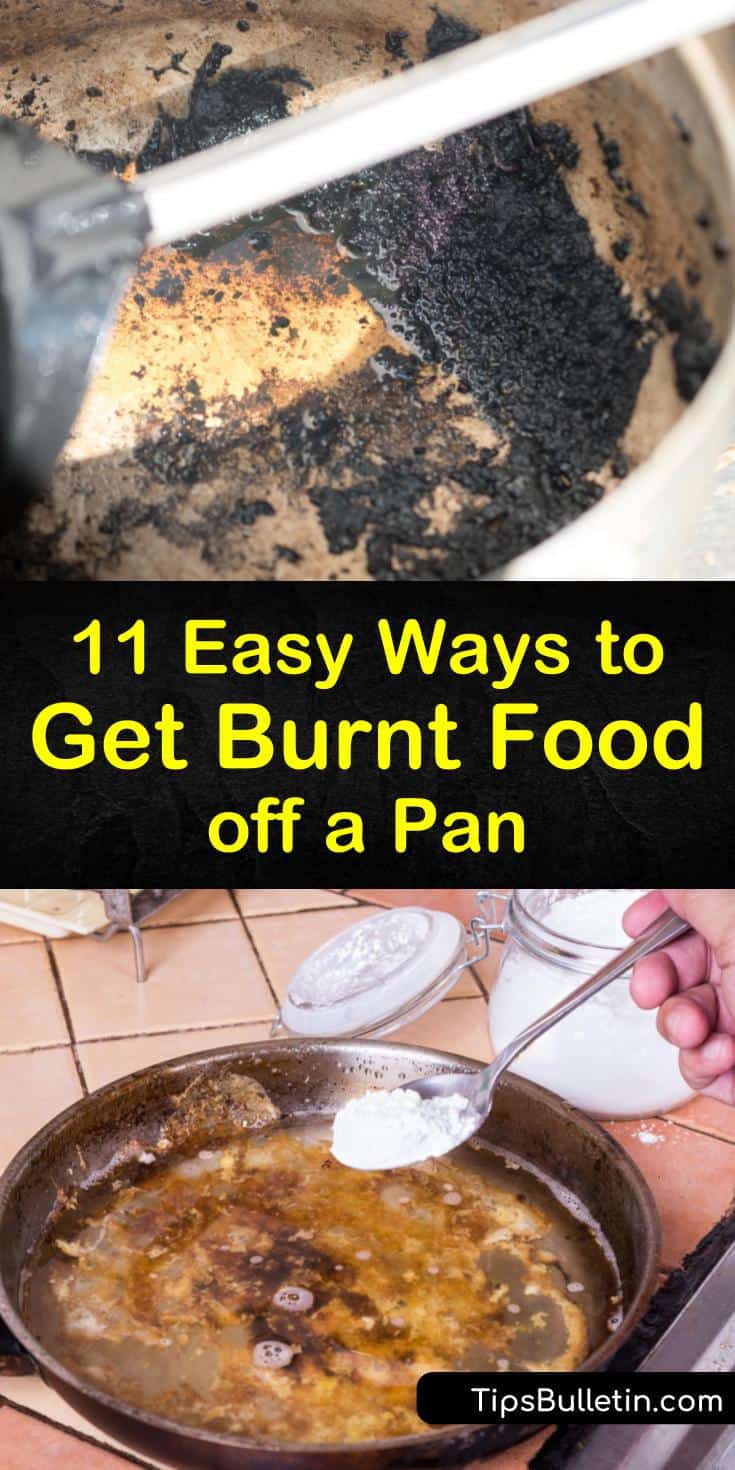 If you loved these tips for how to get rid of burn marks on pot surfaces, then please remember to spread the word about how to get burnt food off a pan with friends and family on Facebook and Pinterest.