Leaving food on the stove because you forget, become distracted, or overestimate the cooking time is a common mistake. For some foods, this results in an uncomplicated spill to clean, but getting burnt milk off a glass stove top is notoriously tricky. Do you need to find out how to get burnt milk off a glass stove top?
Milk is rich in proteins and sugars. When these molecules burn and dry, they adhere tightly to the glass or ceramic of your stove and refuse to wipe off with just a damp cloth and some elbow grease.
Here, you will be able to learn how to clean a glass stove top and remove burnt milk. Even the most burnt milk marks lift readily under the right conditions. Use things you already have at home to loosen the bonds keeping the milk on your stove, so you can clean it without scuffing, scratching, or fading your glass stove top.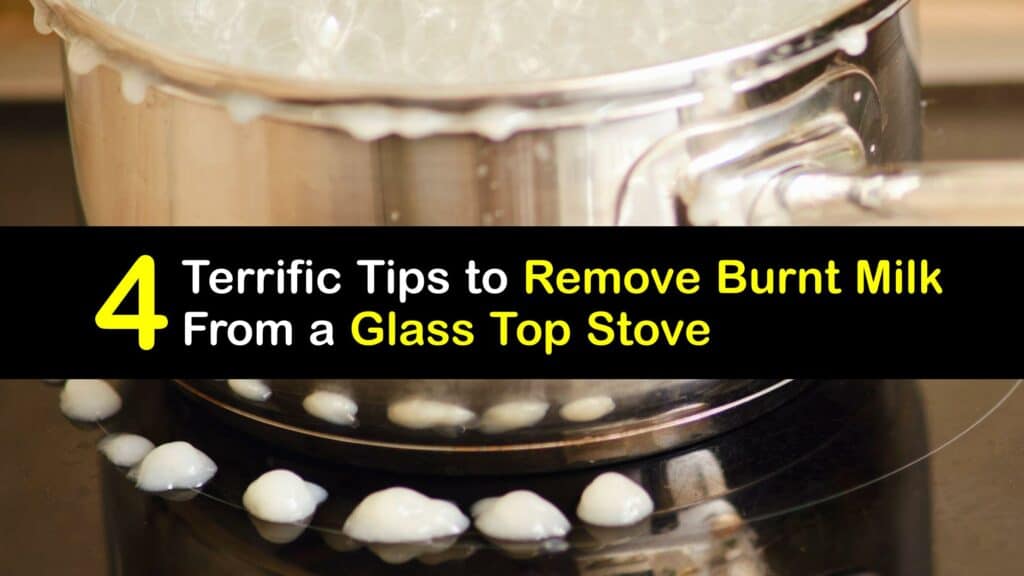 How to Remove Burnt Milk From a Glass Stove Top
Getting burnt milk off a glass stove top is a nightmare none wish to face. When the worst happens, uncover how to get burnt milk off a glass stove top and clean the bottom of an oven to make life simple. Trust familiar items such as white vinegar, liquid dish soap, and baking soda to loosen the burnt residue so you can wipe it easily.
Why is Getting Burnt Milk off a Glass Stove Top Tough?
There's nothing worse than burnt food on your glass or ceramic stove top. Milk proteins make dairy products like butter and burnt milk particularly challenging to remove. Follow for more ways to clean a burnt glass stove top and eliminate any stains left by burnt milk.
Cleaning dairy is trickier when working with a surface prone to scratches like glass. Tough stains ruin the look of your induction cooktop, but so do scratches and scrapes from cleaning attempts gone awry. Discover how to get cooked on grease off a stove top effectively and without causing damage.
How to Get Burnt Milk off a Glass Stove Top
Mix a baking soda paste to lift a burn mark off your glass or ceramic cooktop. A baking soda paste is also a great method for cleaning gas fireplace glass. Baking soda is well known for its stain removal ability, making it an intelligent choice for a stubborn stain like burnt milk. Better still, baking soda is a gentle cleaner that won't discolor or scuff your stove's surface while loosening the milk stain.
Mix the soda powder and hot water in a bowl until thick paste forms, and apply it to the burnt milk. Let the paste sit on the milk stain for half an hour, then clear it off with a damp cloth or paper towel. If any milk marks remain, use a razor blade positioned at a 45-degree angle to scrape them off lightly.
Removing Burnt Milk From a Glass Stove Top
Distilled white vinegar is an affordable and natural alternative to Cerama Bryte glass cleaner. Craft a stain-removing spray using vinegar and lemon juice.
Shake the liquids in the spray canister and saturate the milk stain. Allow the cleaner to rest on the burnt milk for 15 minutes before wiping it with a damp microfiber cloth. Repeat until all signs of the milk are gone.
Cleaning Burnt Milk off a Glass Top Stove
Dish soap is designed to clean persistent food staining, making it an ideal method to get white film off a glass top stove top, drip pans, or slow cooker.
Add three tablespoons of dish soap to a cup of warm water to create a concentrated cleaning liquid. Use a very soft cloth to rub the solution into the stain, let it stand for ten minutes, then peel the milk away with a razor blade.
Don't worry about figuring out how to remove burnt milk from a glass stove top. Your glass stove top is an investment to make cooking fun and ensure your kitchen looks great. Prevent unsightly staining from ruining your kitchen experience, and get burnt milk off your stove with easy strategies.
If you loved this informative article on how to get burnt milk off a glass stove top, please share these excellent ideas with your friends and family who are struggling with getting burnt milk off a glass stove top on Pinterest and Facebook.