Whether you're a chef, casual cook, or enjoy a good meal, it pays to learn how to get butter out of clothes. While butter can improve the flavor of food, it has little cosmetic benefit on the appearance of clothing, carpet, or upholstery. Due to their greasy nature, butter and margarine stains on cloth can be challenging to remove.
The best method for getting butter out of clothes depends on whether it is fresh or dried. However, removing these stains at home is feasible by using remedies from the store or your own kitchen. Never rub the stain because this will spread the color and force the oils into the fabric's fibers.
Wet butter marks need to be soaked with an absorbent powder such as baking soda or baby powder first, while dried stains are ready to be cleaned. Discover how to remove butter stains from fabric and cook confidently, knowing your outfit won't end up ruined if you spill, splash, or smear butter and grease.
How to Remove Butter Stains from Fabric
Butter contains lots of fat and leaves behind a greasy, oily mark when it comes into contact with your clothing. As with most grease stains, butter is tough to remove and usually doesn't come out in a regular wash cycle. Understanding how to get butter out of clothes saves your outfit from the trash.
Rely on proven tricks and tips for how to remove butter stains from fabric if the worst happens and you end up with a greasy stain. Skip chemical cleaners and use familiar products to destroy the butter mark without damaging your clothes.
Does Butter Come Out of Clothes?
A butter or grease stain seems like a disaster for your outfit. Butter leaves behind heavy, greasy staining and is difficult to remove without the proper techniques. Most greasy stains are dealt with the same way, so once you know how to erase butter, you're ready to tackle several related marks.
Don't panic if you get a butter or grease-based stain on your clothes. Remove them with uncomplicated at-home methods.
How to Get Butter Out of Clothes with Baking Soda
Baking soda is a dual-purpose cleaner to tackle butter and grease stains when wet and after they've dried and bonded to the fabric of your clothes. When you notice butter on your clothing, remove what you can with a paper towel and sprinkle a fine layer of baking soda over the rest.
The powder absorbs the liquid butter and grease, preventing some of it from permeating deeper. Brush the baking powder away and treat the residual mark with a baking soda stain remover paste.
Incorporate the baking powder and cool water into a thick paste. Apply it liberally to the stained area to get butter or a grease stain out of your jeans or other clothes. Leave the paste on the butter stain for at least half an hour before rinsing it with cool water and laundering as usual.
Try Lemon Juice for Getting Butter Out of Clothes
We think of lemon juice as a tasty drink addition or seasoning, but it is an incredible remedy to remove a stubborn stain such as butter from your clothes. Thanks to its acidity and potential to bleach, lemon juice is best used to remove butter from white or pale clothing.
If you need clarification on whether lemon juice is an appropriate tool for your garment, test the juice on a small spot before a more extensive application.
Squeeze fresh lemon juice directly onto the butter stain, sprinkle the site with salt, and work it into the fabric with your fingers for a few minutes. Rinse off the salt crystals, squeeze a little more fresh lemon juice on the spot, and allow the clothes to dry in the sun.
Once the garment is completely dry, wash it as usual. You may find that this home remedy even works to get butter stains out after drying in the clothes dryer.
White Vinegar is a Butter Stain Remover
White vinegar is a prominent cleaner for lifting heavy stains and removing foul odors from clothes. Distilled white vinegar contains acetic acid, a mild acid that acts as a gentle solvent to eliminate even greasy stains like butter. It will even work to remove butter from a polyester shirt, pants, or other clothing.
Mix distilled white vinegar into a cleaner with water to craft a powerful DIY stain remover to tackle dried-on butter and grease stains.
Combine the liquids, dip a cloth or paper towel into the mixture and work it into the butter stain. Leave the vinegar mixture on the butter mark for up to five minutes, rinse with cold water, and inspect the fabric. If you still detect a greasy spot, reapply the vinegar and rewash.
Removing Butter from Clothing with Liquid Laundry Detergent
Your liquid detergent is often not strong enough to remove an oily stain during the wash cycle. When you use liquid laundry detergent in the machine, it's diluted by copious amounts of water. Applying the laundry detergent directly to the butter mark as a concentrate improves its cleaning potential to erase the discoloration. Use straight detergent for getting baby oil stains out of clothes, as well as other types of greasy marks.
If the butter is still soft, use baby powder to soak as much as possible before you apply a thick layer of your regular liquid laundry detergent directly to the mark. Let the detergent sit for ten minutes and rinse it with warm water. Repeat until the butter staining is gone.
Getting Butter Out of Clothes with Dish Soap
Dish detergent is the best cleaner for food stains. Dish liquid is made to destroy a greasy stain and lift dried on food residue, making it adept at removing butter from your clothing. Mix dish liquid with water to make a simple soapy cleaning solution to eliminate butter marks from your outfit.
Dip a cloth into the dish liquid solution and saturate the stained area. Work the soap into the fabric without scrubbing, and rinse clean with water. Repeat until the butter stain is no longer visible.
Talcum Powder Eliminates Butter Stain Marks
Use talcum powder or baby powder to remove oil and butter stains from your shirt or jeans. If the stain is still wet, sprinkle baby powder over the area to absorb the grease. Although baby or talcum powder effectively removes stains, it only works if the butter spill is new.
The baby powder prevents the oil from further permeating the fabric's fibers. Keep the powder on the pants as long as you can while the oil is absorbed. If the stain is still noticeable, use another cleaning technique.
A Prewash Stain Remover Tackles Butter Stains
Prewash stain removers are an increasingly popular trick used to remove difficult stains, including butter or grease marks. Purchase a store-bought prewash treatment, or make your own with two simple ingredients.
Combine and put the mix in a dark spray bottle. Selecting an opaque spray bottle is crucial as light dissolves hydrogen peroxide. Lay the stained shirt on a flat surface, saturate the butter stain with the prewash treatment, and let it sit for at least 15 minutes. Launder your garments as usual in the washing machine. If butter staining persists, repeat.
Butter Stain Removal with Enzymatic Detergent
A laundry enzyme detergent is a natural substance used as a cleaning catalyst. Since people are looking for replacements for harsh chemicals like chlorine bleach, which may damage and discolor fabric, laundry enzymes have become more and more popular. An enzymatic or biological detergent will be labeled if it contains enzymes.
Enzymes are much kinder to delicate skin than chemical-heavy treatments. Choose an enzyme detergent appropriate for the fabric you're working with and follow the directions carefully to eliminate a butter stain without fading. After you use an enzymatic cleaner, you'll find that it also will take the smell of oil or butter out of the garment while it eliminates the stain.
Remove Stains Left by Excess Butter at the Dry Cleaners
If you don't have the time or tools to remove the butter stain from your clothes at home, consider bringing your garments to the dry cleaner.
Dry cleaners have a wealth of experience working with many fabric types, including delicates, with many harsh stains. Dry cleaning solvent disintegrates butter and greasy stains without affecting the fabric of your clothes.
Discover how to get butter out of clothes and save your apparel from ruin. Greasy stains like butter are notoriously challenging to remove, yet with the right supplies and knowledge, it's straightforward to erase them from your favorite clothes.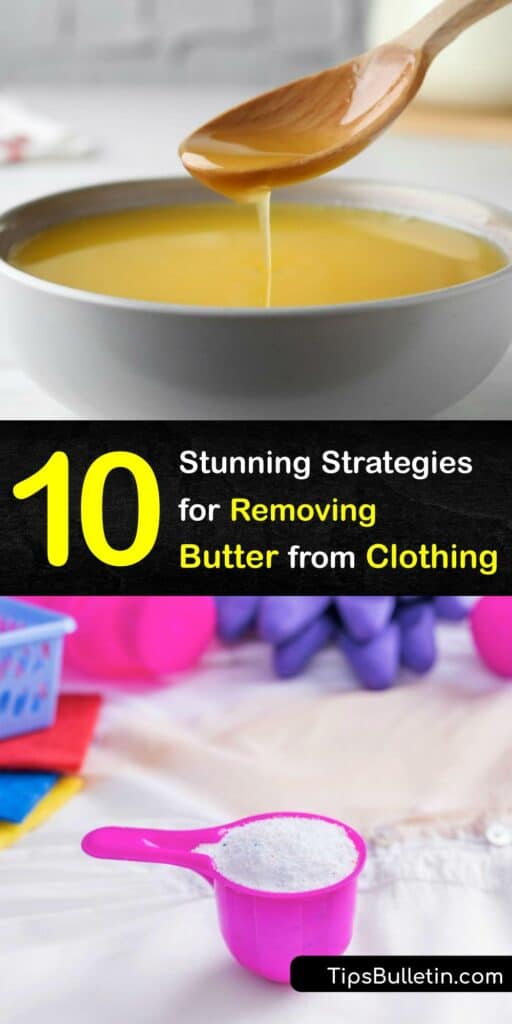 If you learned from this article on how to get butter out of clothes, please share these brilliant tips on how to remove butter stains from fabric with your interested family and friends on Pinterest or Facebook.